Long before Kevin De Bruyne, Toni Kroos, Luka Modric and their ilk wowed crowds with their playmaking skills, there was a blond haired Spaniard. Jose Maria Gutierrez Hernandez or Guti as the world knew him, was a Galactico before, during, and after the Galacticos era.
Playmaker Guti back in the day for Real Madrid = 🔥🔥🔥

😎 @GUTY14HAZ#UCL | @realmadriden pic.twitter.com/EUisnAYsQd

— UEFA Champions League (@ChampionsLeague) March 31, 2020
The headband wearing, killer passes threading, outrageous assists king, versatile number 14 came through the ranks of Los Blancos before going onto play more than 500 times for the senior team, having joined the club's cantera aged 10. Over his 25 years of association with Madrid, he won 15 trophies and set the theme for the winning mentality so heavily espoused now.
One of the best passers of the ball EVER. 🙇‍♂️

🤍 @GUTY14HAZ 🤍 pic.twitter.com/GFxGOgkNDA

— LaLiga English (@LaLigaEN) August 21, 2020
Guti was also a Spanish international through various age groups, winning the U18 and U21 Euros before going on to make 13 appearances for La Roja.
Though his career did not reach the heights they could have personally given his lifestyle and mercurial nature off the pitch, it would be morally wrong to put him in the bracket of 'also-rans." Guti was a magician on the best day and entirely capable on his worst, who played through some of the most star-studded times of Madrid.
Feliz cumple to Spanish attacking midfielder José María Gutiérrez Hernández known as #Guti who played almost exclusively for @realmadrid (542 official games serving as vice-captain) helping the club to win 15 trophies, most notably 3 #ChampionsLeague and 5 #LaLiga championships. pic.twitter.com/gKNy8b44Aq

— Fútbolismo ⚽️🌎🌍🌏⚽️ (@ftblsm) October 31, 2019
FootTheBall recounts the career of a legendary player who always seemed to never get the credit he fully deserved. 
PLAYING CAREER
REAL MADRID
Guti started his career as a striker but was soon moved to his midfield role as he progressed through the junior teams. He featured 26 times for Real Madrid B during the 1995-96 season, scoring 11 times. 1995 also saw his debut with the senior squad against Sevilla in December. His first campaign at the top yielded one goal from nine appearances.
His first taste of silverware came at the end of next season, adding the La Liga and Supercopa de Espana titles, though Guti failed to get on the scoresheet. The 21-year-old started seeing more and more game time as the seasons went on, appearing twice in the 1998 Champions League with Los Blancos that ended in triumph.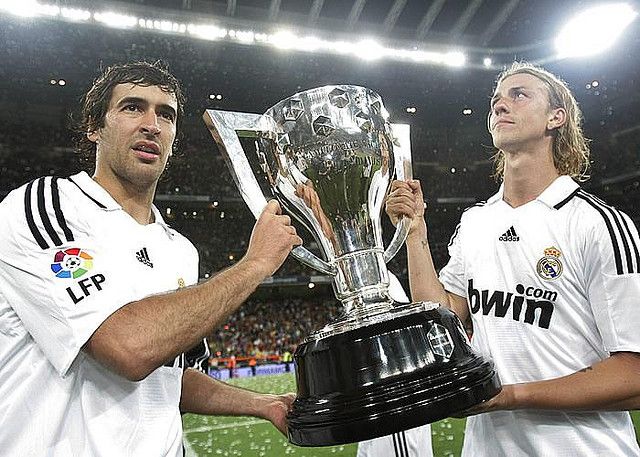 Guti had his best personal season till then in the 1999-2000 campaign, scoring seven times and providing four assists across all competitions. His six strikes in the league came from just 22 shots on-target (1.05 P90). 
La Liga returned in 2001, and Guti truly announced himself to the world stage as he was pivotal to the summit finish. Fernando Morientes was out injured for long parts of the season which pushed Guti into an advanced role as a striker, a task he performed superbly. He scored 14 times in the league to go with his four assists.
All of it came from just 28 shots on-target, meaning he was finding the net every second strike which was a truly incredible rate of conversions.
There are goals…and then there are GOLAZOS! 😱

✨ @GUTY14HAZ ✨#LaLigaSantander pic.twitter.com/849xTC6iZn

— LaLiga English (@LaLigaEN) July 3, 2021
Add another four and two to the respective contributions and this would become the most successful campaign in his career. However, it would also serve as a reminder of what could have been if he had continued like this but it became impossible to.
Madrid were fully embracing their superstars' era, and the arrivals of Zinedine Zidane in that same year followed by Ronaldo in 2002 meant that he always had a fight on his hands in order to get into the team and leave a significant mark.
This would become a familiar story for Guti as in the beginning of his time, he had to play second fiddle to the mighty Clarence Seedorf.
As expected, the entrance of those star names had a marked effect on Guti's goal scoring contributions going forward. Madrid won the 2002 Champions League, with the Spaniard netting three times while he found the net one more time in La Liga and no assists.
🏆🔙 ¡Tal día como hoy, en 2002, ganamos nuestra 1⃣ª Supercopa de Europa!#RMHistory | #RealFootball pic.twitter.com/7xeQ8PIlOF

— Real Madrid C.F. (@realmadrid) August 30, 2021
The most damning aspect of it all was the fact that out of the 29 times he appeared in the league, only nine were starts. Not once again would Guti score more than four goals in La Liga though he won the title three more times in 2003, 2007, and 2008.
In the 2003 campaign, he had four goals and five assists as well as netting five times in the Champions League. The goals, as mentioned above, would dry up quickly after this.
بكل براعة 🕺 @GUTY14HAZ 🕺#AthleticRealMadrid #LaLigaSantander pic.twitter.com/Exxl9gZVsh

— LaLiga (@LaLigaArab) July 4, 2020
Two goals, two assists in 2003-04 was followed by a goalless next season, though he did manage four assists. The 2005-06 season would see something of a revival for the 27-year-old, as Guti managed four goals and six assists. One of those assists has been called among his top two ever and it is easy to see why. Against Sevilla, Guti was near the opposition's penalty box as the ball made it to him.
¡Guti, clave en la remontada de la temporada 2006/07 ante el Sevilla (3-2): dio dos asistencias de gol en 35 minutos! pic.twitter.com/gyfk2EEWbB

— Real Madrid C.F. (@realmadrid) February 3, 2015
After taking a touch, his sumptuous pass with the heel bypassed four defenders who were rushing out to meet him before landing with Zidane. The Frenchman of course scored and this moment, in a nutshell, was what Guti was all about- moments of brilliance out of nothing. His last title win with Madrid would see him break records once again. 
Legends doing legendary things!@GUTY14HAZ 👌 Zidane #RealMadridSevillaFC pic.twitter.com/FD7zgfmdnn

— LaLiga English (@LaLigaEN) January 18, 2019
With 14 assists in the 2007-08 campaign, Guti was crowned the leader in setting teammates up across the league. This was a timely reminder of just how influential he still was, even surrounded by players who were heralded as better than him.
#TalDíaComoHoy en 2010… 𝒑𝒂𝒔𝒆 𝒎𝒂𝒈𝒊𝒔𝒕𝒓𝒂𝒍 de @GUTY14HAZ y 𝙙𝙚𝙛𝙞𝙣𝙞𝙘𝙞𝙤́𝙣 𝙞𝙢𝙥𝙚𝙘𝙖𝙗𝙡𝙚 de @Cristiano 😍😍😍

¿Tu mejor recuerdo de aquel Madrid? 🤔#UCL | @realmadrid pic.twitter.com/ZyHSWEOplK

— Liga de Campeones (@LigadeCampeones) March 10, 2021
Nevertheless, it was clear that his time with the club was coming to an end, more so after Los Blancos signed Kaka after the conclusion of the season.
The final two seasons produced six goals and 11 assists across all competitions along with one marvellous highlight reel in 2010. The 'Heel of God' as it would come to be known was another reminder of his game sense even in the most tense of times.
11 years on, we still can't believe @GUTY14HAZ actually did this… 😱#OnThisDay pic.twitter.com/Xx5OozoTti

— LaLiga English (@LaLigaEN) January 30, 2021
Facing Deportivo La Coruna, a team against whom Madrid had historically struggled, Guti found himself through on goal with just the goalkeeper to beat. Where everybody else would have shot, the genius of the playmaker saw him actually backheel the ball to the onrushing Karim Benzema behind him as the defence was taken entirely out of the equation. 
BESIKTAS
Guti left Madrid in 2010, signing a two-year contract with the Turkish giants. He made an instant impact, assisting the game winner in his very first match. It would end up being an extremely fruitful season for the veteran as he finished with seven goals and seven assists in the Super Lig.
Il y a 10 ans, jour pour jour, Guti Hernandez a été présenté à İnönü devant nos supporters ! ✨🦅🤍🖤 @GUTY14HAZ pic.twitter.com/ZTArhtHYex

— Beşiktaş JK France (@_BESIKTAS_FR) July 27, 2020
Furthermore, he would also play in the Turkish Cup final which Besiktas won on penalties, thus giving Guti the first domestic cup trophy of his long career. He only played a solitary game of the next season as a new manager came in that saw him fall out of favour. Guti was released by the club in November 2011, before announcing his official retirement just under a year later. 
INTERNATIONAL CAREER
Compared to his club career, his time with the national team failed to reach the same heights. Guti won just 13 caps, scoring three goals. Though he had been part of the successful Spanish teams in the lower age levels, there was always some hesitancy in bringing the player to the senior fold.
Spain's formation of 4-4-2 saw them go with more rounded central midfielders like Xavi, David Albelda, Pep Guardiola, Andres Iniesta and others. Moreover, Guti did not help himself with his playboy-ish lifestyle that concerned managers a bit as to how he would perform on the pitch.
His maverick ways were not to everyone's liking and Guti had clashed with managers as well as the media more than once. All of these combined to see his international career truly take off as he was reduced to a bit-part player who was soon discarded with time. 
INDIVIDUAL ACCOLADES
As the evidence above, Guti was never involved with individual awards, but won as part of some superbly built teams throughout his career. He was top-scorer in the 2001-02 Copa del Rey along with being the top assister in La Liga in 2008 as discussed.
#tbt #ThrowbackThursday #RealMadrid #Paris #octava pic.twitter.com/P382UQ7xib

— Alvaro Benito Villar (@AlvaroBenitoV) September 5, 2019
More than individual prizes, Guti was renowned for doing what was needed for the team and his lack of game time over most of his career hindered him from being counted among the best of his time. 
LIFE AFTER FOOTBALL
Guti has kept busy since retiring, earning his coaching honours while managing Real Madrid's youth teams from 2013-2018. He helped the side win divisional and cup honours in 2016-17 before leaving to join Senol Gunes as assistant manager of Besiktas.
Real Madrid Juvenil A 2016/17 treble winners. 🏆🏆🏆

Manager: Guti. 🙌

Top five articles on the way. pic.twitter.com/Jwfkcm9eyi

— Squawka Football (@Squawka) June 25, 2017
Most recently, Guti was manager of Almeria from November 2019 to June 2020. During his football career, Guti has also appeared in two films, one of which is the wildly popular second instalment of Goal named Goal II: Living the Dream. He was also involved in the 2005 documentary movie about Madrid, named Real, The Movie.