The 80s were not a good time for British football. Then PM Margaret Thatcher had a tiff to pick with football fans over their working class origins. The Heysel stadium disaster in 1985 led to a five year ban on English clubs from Europe. Liverpool were the most successful club domestically, which tends to depress the rest of the country.
At the turn of the decade, the sport desperately needed reinvention. Rupert Murdoch, via Sky Sports, brought neoliberalism to football but before that, the mass appeal was brought by another divisive individual – Paul Gascoigne.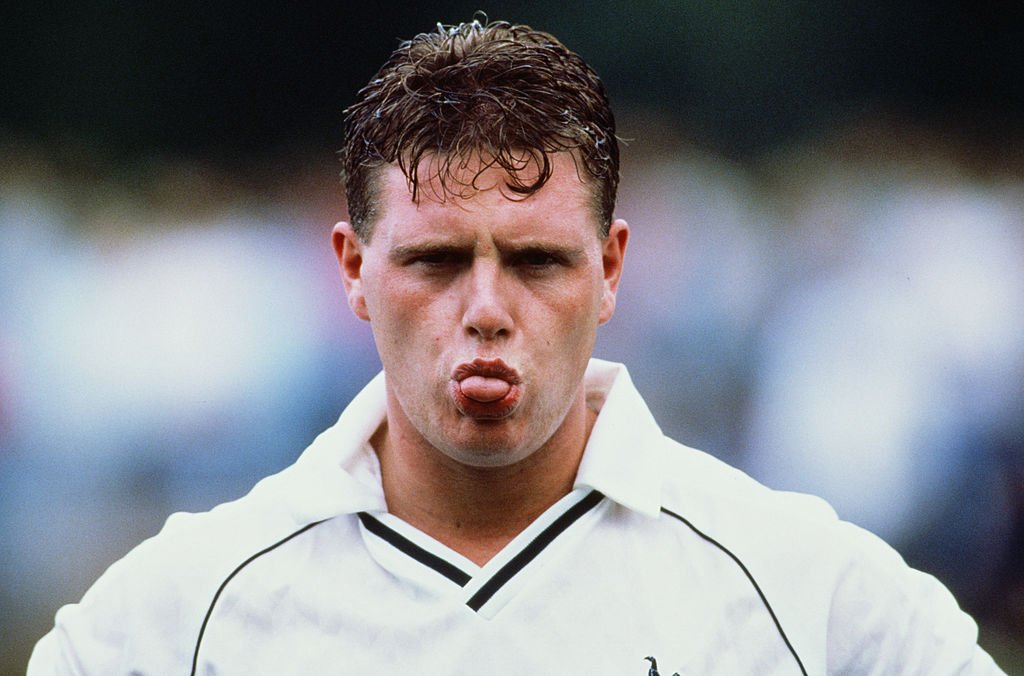 At a time when English football prided itself on being physical and career threatening tackles were celebrated, Gascoigne was a beacon of hope. Technically gifted and tactically adept, Gazza, as he was lovingly called, was behind the guiding light of England's two most successful international tournaments in the modern era.  He was an imperfect genius having struggled with alcoholism throughout his career and depression for a long time, but he brought joy to fans of the beautiful game every time he stepped onto the field.
PLAYING CAREER
While Gazza's greatest moments arguably came in the Three Lions shirt, his club career was nothing short of a soap opera rollercoaster. Born and bred in Newcastle, he captained the Toons to FA Youth Cup success in the 1984-85 season before being promoted to the senior team which signified the start of one of England football's most controversial characters.
Newcastle United

Legendary manager Jack Charlton gave Gascoigne his debut for the Newcastle senior team but it was under Willie McFaul that he truly shone. In his first proper season as a senior player, at the tender age of 18 he scored nine goals – a good return at the time.
Gazza provided many iconic moments in the North East in the old First Division. Wimbledon's infamous footballer-cum-gangster Vinnie Jones was responsible for some special treatment for the teenager. He infamously grabbed Gascoigne's genitals in an attempt to intimidate the midfielder, which did not really work.
After three seasons at Newcastle, having scored 20 goals Gazza was on the move. An emerging manager by the name of Alex Ferguson had thought he had secured his signature at Manchester United and went on holiday. However, Tottenham Hotspur managed to convince Gascoigne to move to London instead, allegedly by buying his parents a house in Newcastle.
Tottenham Hotspur

Gazza's move to Spurs led to a huge turnaround of the club under Terry Venables. They finished third in his second season at the club which was followed by a run to the semi-finals in the World Cup in the summer of 1990.
In the 1990-91 season, Spurs won the FA Cup. However, for Gazza the season ended in animosity as he got injured 15 minutes into the showpiece at Wembley. He had also agreed terms with Lazio for a transfer but the injury postponed the transfer by a year.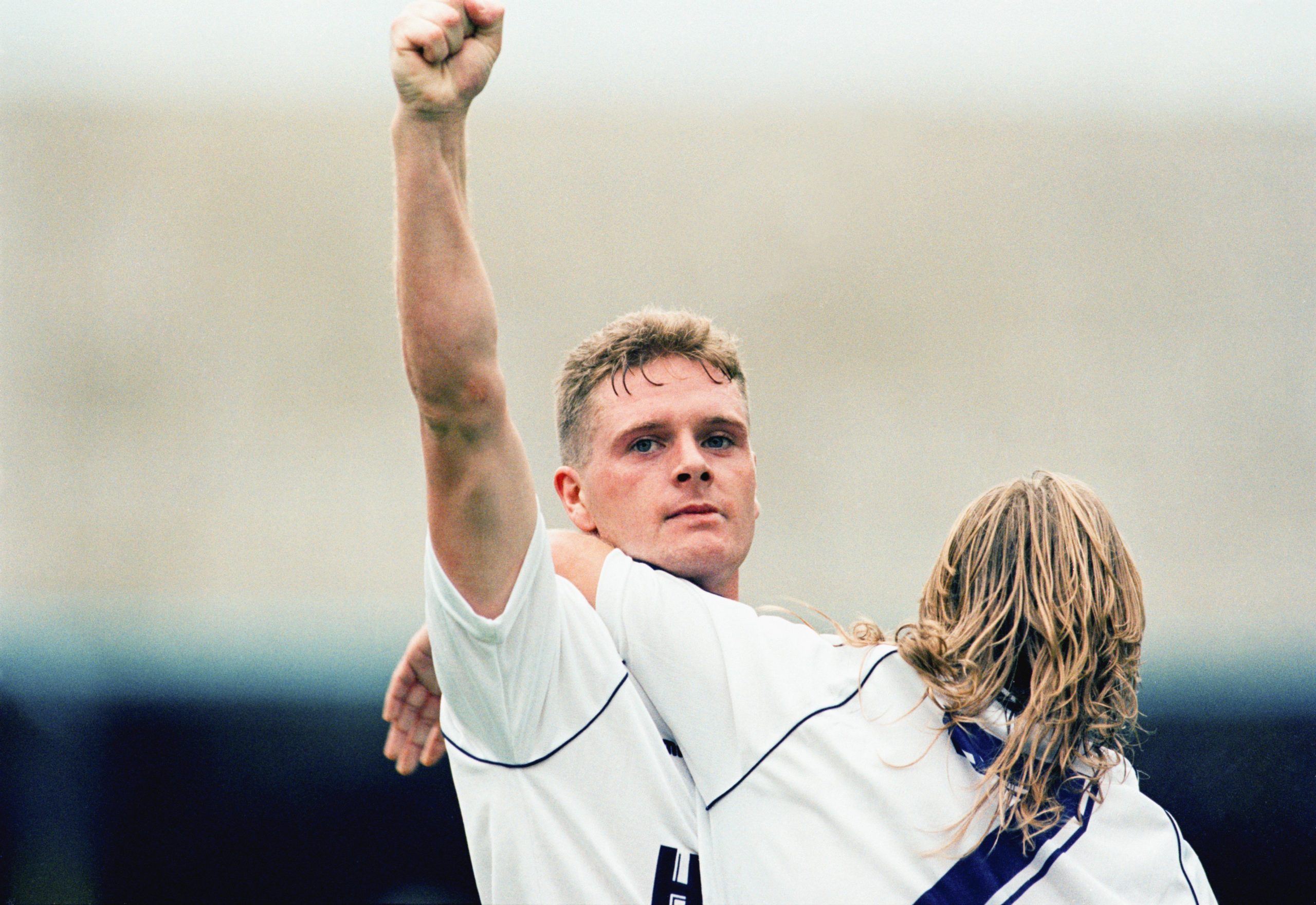 He missed the entirety of the following season after aggravating his injury and picking up a new one in an incident in a nightclub. He completed his move to Lazio at the end of the season.
Lazio
The adage that English footballers don't do well abroad was, in-part, down to Gazza's time in Italy. His three-season long spell in the Serie A was marred by run-ins with the media, fitness issues, and a tenuous relationship with the club's owner.
Nevertheless, Gazza remained Gazza. He quickly became a fan-favourite after scoring a late equaliser against rivals Roma in the local derby. He never settled in but Lazio fans still remember him endearingly.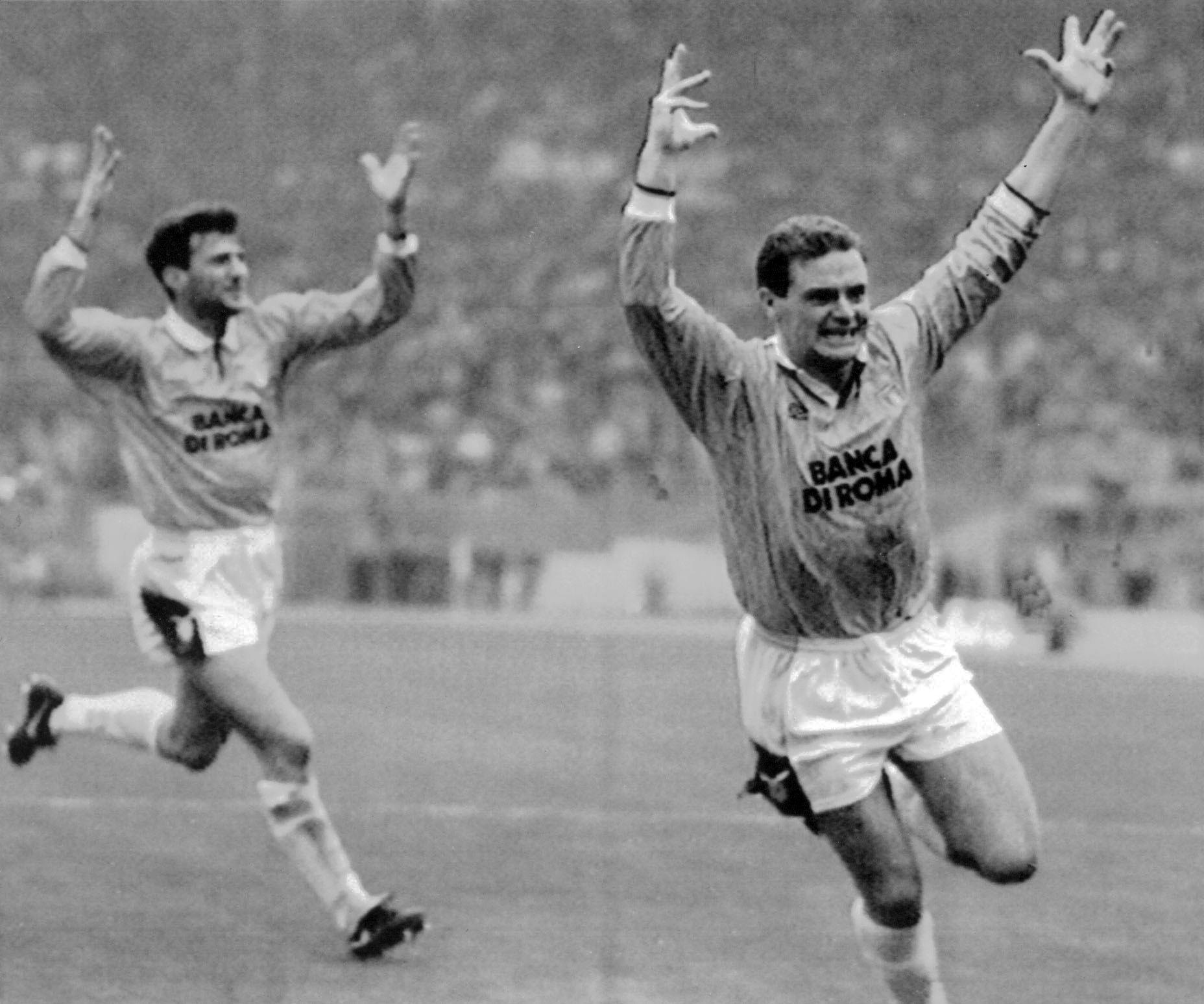 Lazio and Paul Gascoigne decided to go their separate ways in 1995 after new manager Zdenek Zeman failed to impress the Englihsman with his methods. He signed for Scottish champions Rangers for a fee reported to be just over 4 million GBP.
Rangers
Gazza's return to the UK was an instant success. Perhaps it's the colder climate which helps balance out the hot head. He was the star player as Rangers completed a league and cup double beating Old Firm rivals Celtic in key matches in both tournaments making the victories extra sweet.
In the league win, Gazza showed just how good he could be when he turned up. He sprinted from deep inside his own half to get on the end of a pass to score past the Celtic goalkeeper in a 2-0 win. That was Celtic's only loss that season and the result proved instrumental in taking the title to the Ibrox.
On the second last matchday of the season, Gazza scored a hattrick at home against Aberdeen which ensured that Rangers retained the title. The Blues retained the league the following season but Gascoigne's habit of falling away in the third season continued.
He scored just three goals in 28 appearances and was sold on as Rangers lost the title to Celtic. Gascoigne decided to move back to England and joined MIddlesbrough for a reported fee of  3.45 million GBP in March 1998.
Appearances 1️⃣0️⃣4️⃣
Goals 3️⃣9️⃣
Hattricks 2️⃣
League 🥇🥇
Scottish Cup 🏆
League Cup 🏆🏆

🎉Happy 50th Birthday Gazza!https://t.co/IjO4YMXEZb pic.twitter.com/qGCjjI0OGw

— Rangers Football Club (@RangersFC) May 27, 2017
Return To The Premier League

Gazza got promoted back to the Premier League with Boro but his return to England was overshadowed by personal problems. A night out of drinking with friends turned sour with one of Gazza's friends passing away. He blamed himself for the death and struggled with depression for a long time. Gascoigne also had a spell in rehab to deal with his alcoholism.
After Boro, he joined Everton but injury problems and his ongoing bout with depression reduced his playing time. He went on to have spells with Burnley in the second division, Gansu Tianma in China and with Boston United in League Two. Still struggling personally, he retired from the game in anonymity in 2004.
INTERNATIONAL CAREER
Paul Gascoigne will forever be remembered for his adventures in the England shirt. It was not just that he played his best football for the national team but perhaps played it in a way that has long been idolised by English fans.
Despite being amongst the most technically gifted players in the world, Gazza never shied away from a tackle. It was this combination of grit and skill that endeared him so much to supporters.
He made his competitive debut in the 1990 World Cup and took the tournament by storm. Despite not scoring a goal, he was inarguably England's best player. He created the winner for Mark Wright in the group stage against Egypt, repeated the trick for David Platt against Belgium in the Round of 16 before going on a brilliant run against Cameroon in the quarters to set-up Lineker which resulted in the decisive penalty being won.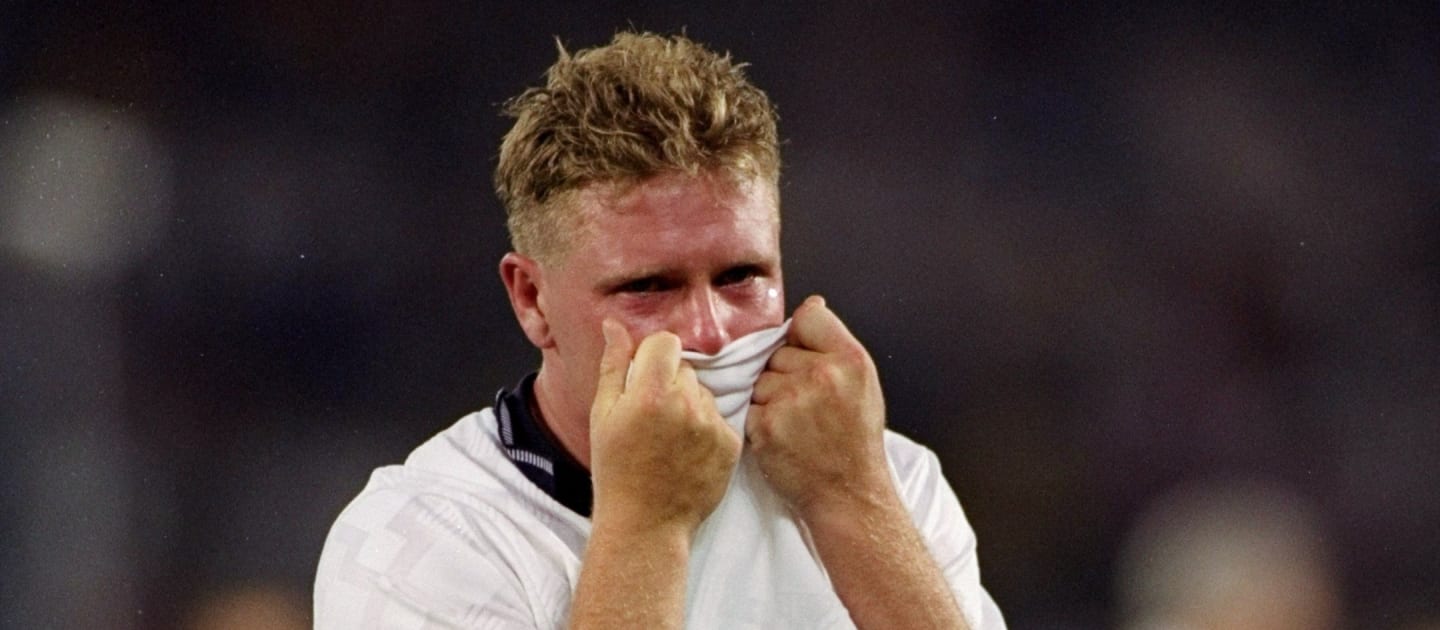 Against Germany in the semifinals, Gazza was yellow-carded which meant he would miss the final should England reach. Upon realization, he burst into tears showing the passion that the national team was missing for decades. It ended up being irrelevant as England crashed out on penalties but served up one of the most iconic photographs in English football history.
Gazza's injury meant that he missed the 1992 Euros and England failed to qualify for the 1994 World Cup. He returned to the international scene in 1996 with the Euros taking place at home for England.
He scored one of the best goals in Euro history in the group stages against Scotland. A long ball pumped forward (shocking) was knocked down to Darren Anderton who played in Gascoigne. Gazza nonchalantly flicked the ball over the head of onrushing Scotland defender Colin Hendry before smashing a volley past the goalkeeper, helping England to a 2-0 win. He stood out in England's 4-1 win over Netherlands before scoring the fourth penalty in the shootout win over Spain in the Quarter-final.
Gazza again was at the heart of another what-if moment in the semifinals against old-nemesis Germany. He had a golden chance to give England the lead in extra-time but he just could not reach Alan Shearer's cross. England once again went out on penalties, with current national team manager Gareth Southagte's miss proving costly.
Post the Euros, Gascoigne retained his place in the national team. He was instrumental in ensuring qualification to the 1998 World Cup but his 'bad boy' image and fitness issues before the tournament made Glenn Hoddle leave him out of the final squad.
Paul Gascoigne's first half by numbers vs. Germany:

3/4 tackles won
2 interceptions
2 successful take-ons

Putting in a shift. 🔥 #relivEURO96 pic.twitter.com/CnzafB5DS8

— Statman Dave (@StatmanDave) May 28, 2020
Despite only playing in two tournaments, Gazza was the best England player in competitive international football since the class of 1966. His performances lifted an aura of doom from the national team and made a nation believe in the sport again.
INDIVIDUAL AWARDS
Gazza was awarded the PFA Young Player of the Year award in his breakthrough season at Newcastle in 1987-88. He also featured in the PFA Team of the Season that year – a feat he repeated again in 1990-91. He was also included in the FIFA All-Star Team for the 1990 World Cup.
His exploits in Scotland earned him quite a few individual accolades. He did a PFA and SFWA double for Player of the Year in 1995-96 and was again in the team of the tournament for the 1996 Euros. He was inducted into the England and Rangers Hall of Fame in 2002 and 2006 respectively.
LIFE AFTER FOOTBALL
Paul Gascoigne tried his hand at coaching small teams like Kettering Town FC and Boston United, but never lasted more than a few weeks at any club. His life since the twilight of his career has been marred by personal problems. He has had a few stints in some reality TV shows as well.
https://twitter.com/MundialMag/status/1391044585833500672
He was sectioned under the Mental Health act after reportedly attempting suicide by overdosing on alcohol and drugs. He has had multiple run-ins with the law for drunk driving and assaults among other charges. Gazza has gone into rehab and relapsed multiple times. He also faced financial problems due to his profligate lifestyle.
Despite his shortcomings, Gazza captured the minds and hearts of an entire nation. He was never the most disciplined and an analytical mind often wonders just how good he could have been. However, there is no denying that Gazza was bigger than football. He was a cultural icon whose impact on British football cannot be undermined.