India reached the top of Group A in the 2019 AFC Asian Cup qualifiers after registering a 1-0 win over Kyrgyzstan, all thanks to an incredible finish from the Indian captain Sunil Chhetri.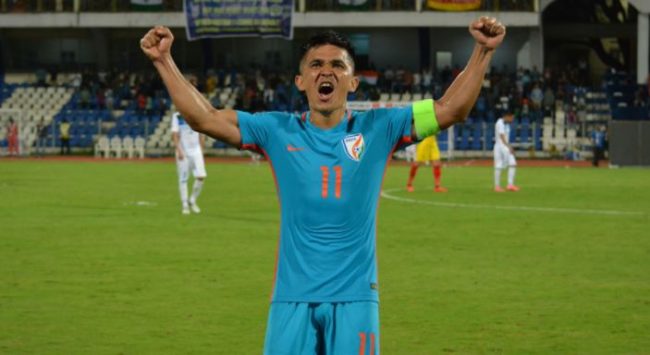 Kyrgyzstan were clearly the dominant side but India held on to their nerves and defended Chhetri's wonder goal to maintain their winning start in the group.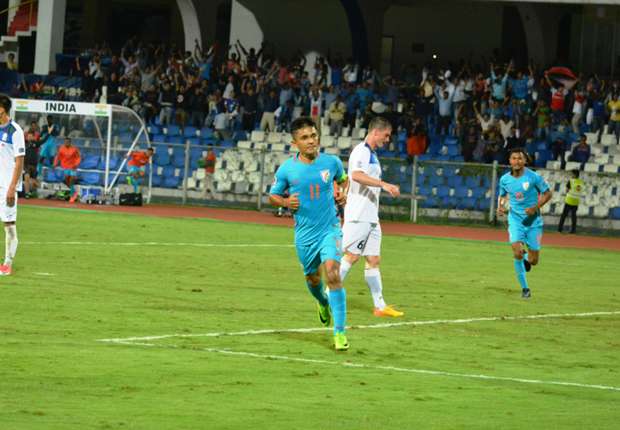 India has now maintained their incredible run of results and Tuesday's victory was their eight consecutive win in a row (including an unofficial friendly win over Bhutan) and this will now see them climb further in the FIFA World rankings table.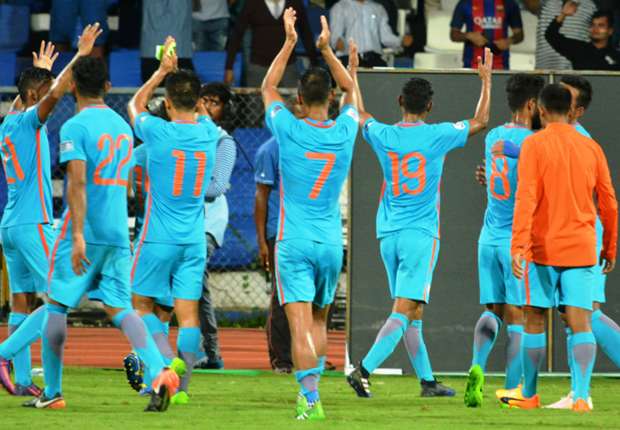 The crucial win has now put India in a comfortable position to qualify for the AFC Asian Cup 2019 in UAE and fans and players celebrated it both in the stadium and on social media.
Indian skipper Sunil Chhetri scored this wonderful goal today. Don't know when will my country focus more on football than cricket. pic.twitter.com/oUCdT18sQZ

— Lewy+Müller=? (@Mullerodowski) June 13, 2017
FootTheBall takes a look at how Twitter reacted.
What a win. What a night! #INDvKGZ #IndianFootball pic.twitter.com/lK0b8PPVzY

— football news india (@fni) June 13, 2017
Brilliant @IndianFootball Team! Congrats on the win against Kyrgyzstan WonderMan @chetrisunil11 leading from the front #INDvKGZ #BackTheBlue pic.twitter.com/Qhfm10tzC7

— Vijay Goel (@VijayGoelBJP) June 13, 2017
What a huge result for us last night am so proud of the players, at no point did they ever give up. We are top of the group pic.twitter.com/fKdkt6bNca

— StephenConstantine (@StephenConstan) June 14, 2017
Today is what happens when a team decides to stick together,battle for each other and get the job done. Tough,tough game but did enough.

— Sunil Chhetri (@chetrisunil11) June 13, 2017
What's as remarkable as @chetrisunil11 stunner is our tight defense must say very well played @IndianFootball – but we have a legend in SC11

— Parth Jindal (@ParthJindal11) June 13, 2017
#INDvKGZ. I see this trending and I am trying to figure which cricket fixture this is. My lesson that there is more to sport than cricket!

— Naomi Datta (@nowme_datta) June 13, 2017
After twin wins, @IndianFootball rise to 341 points from 331 in FIFA Rankings. Ceteris Paribus, it will take them to 97th. #INDvKGZ

— Swapnaneel Parasar (@Swapyo) June 13, 2017
India is very much Sunil Chhetri's team, even at the age of 32! #OneManArmy #INDvKGZ

— Ashwin Muralidharan (@AshwinMNair10) June 13, 2017
Congrats @IndianFootball on the win …..I didn't see the game but if I had to guess the goal scorer it would be @chetrisunil11 #WhoElse

— Joe Morrison (@joefooty) June 13, 2017
Sree Kanteerava Stadium is roaring tonight and the reason is none other than Sunil Chhetri. "Cometh the hour, cometh the man". #INDvKGZ

— Manasi Pathak (@ThatUnitedLady) June 13, 2017
At 32, Sunil Chhetri's legs are faster than the brains of some of his teammates. Honestly. #INDvKGZ

— Arun George (@saysarun) June 13, 2017