To be scouted by Manchester United, Barcelona, Real Madrid and Bayern Munich at any age is a huge compliment. To be scouted by these clubs while still a teenager? It takes something special. Special is perhaps the easiest way to describe the burgeoning talent that is Eduardo Camavinga.
The 18-year-old Frenchman is one of the most exciting talents in the world – he is the most coveted teenage midfielder in the world. It is hard to describe Camavinga. He can do, well, pretty much everything you could ask from a midfielder. He is technically proficient, has great quick feet, is physically gifted and has a tactical understanding well beyond his years.
Manchester United are progressing in direct contacts to sign Eduardo Camavinga. 🔴 #MUFC

Rennes would be open to negotiate on potential €30m fee – as they'd lose Camavinga for free next summer. 🇫🇷

He's one of Man Utd long term targets – PSG have always been interested too.

— Fabrizio Romano (@FabrizioRomano) July 4, 2021
Any football fan worth their salt would have heard his name by now but why exactly is everybody crazy about Eduardo Camavinga? Why exactly are these huge clubs ready to spend millions of pounds on a kid from Stade Rennais?
PLAYING CAREER SO FAR
Camavinga was born in Angola in a refugee camp. His parents had fled from Kinshasa before his birth and his family moved to France when he was just two. They settled down in Fougeres but had to face a lot of hardship, including their house burning down destroying most of what they owned.
The French international joined local club Drapeau-Fougeres in 2009 and stayed in their youth setup for four years before joining Rennais in 2013. He continues to play for their youth teams before becoming the youngest player in the club's history to sign a professional contract at just 16 years and one month, in 2018.
He spent some time with the B team before making the step up to the senior first team. He made his Rennes debut in April 2019 aged just 16 years, 4 months and 27 days. And since then, Camavinga has not looked back.
He has made 82 appearances already across all competitions for Rennes and has two goals and five assists to his name. Camavinga also already has European experience under his belt having featured in four Champions League and four Europa League matches for the French side.
He made his full international debut last autumn, replacing Paul Pogba in the squad who had tested positive for Covid-19. He came on as a substitute against Croatia in the 4-2 Nations League win at the Stade de France before making two more appearances – against Ukraine at home and in the return fixture in Croatia.
Camavinga was very unlucky to not make France's squad for the Euros and could perhaps have offered Didier Deschamps something different. He instead was a part of the French U21 Euro team that lost in the quarterfinals to Netherlands. Camavinga did not play in that match and the result might easily have been different had he featured.
STATS
Camavinga is amongst the best midfielders in terms of defensive output in Europe. As can be seen in the graph below, only four midfielders have won more tackles than him and have had more successful pressures than him (both per 90) across all of Europe's top five leagues (Data: fbref.com, Min. qualification: 20 90s completed).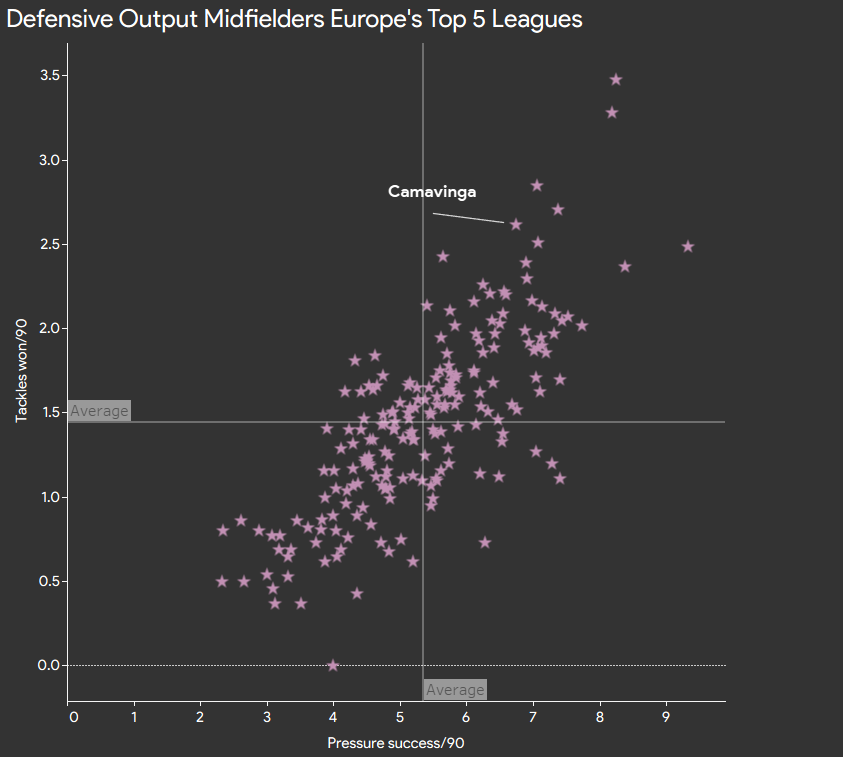 Camavinga is clearly very proactive in defence, which means that his numbers in other defensive aspects – interceptions, blocks, etc – are not as high. This perhaps hints at an over-zealousness which could be tempered down with time and he could become smarter with his defensive work.
The Frenchman is also a very good passer of the ball – especially between the middle and attacking thirds of the field. He records numbers well above average for passes into the final third while his overall progressive passing is decent. The size of the mark in the graph below shows the total number of passes completed per 90 and it is apparent that Camavinga is one who likes to get on the ball often.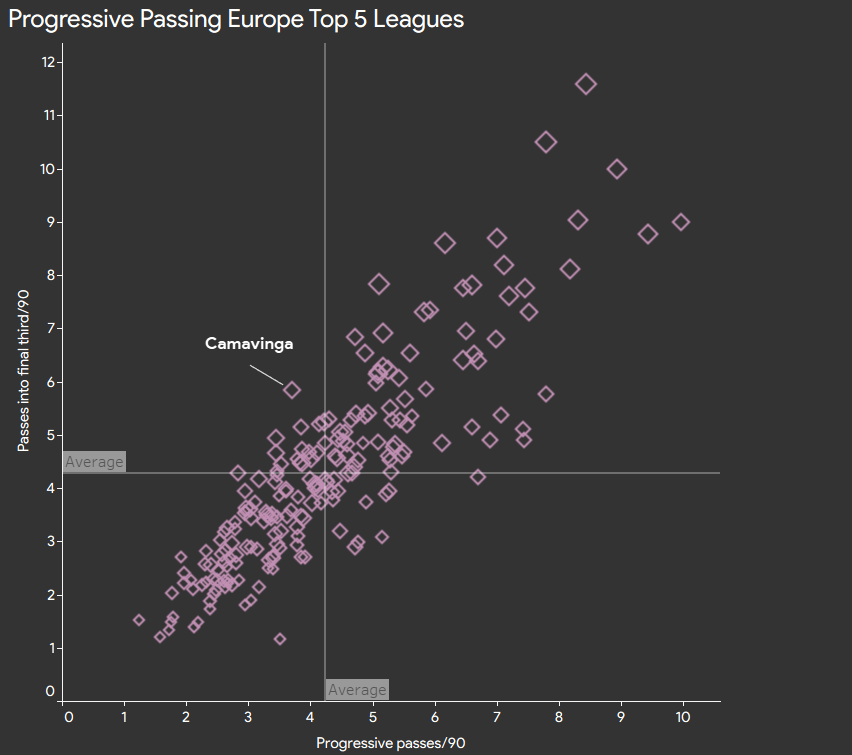 A caveat for the lower progressive passing is that Camavinga often likes to pass and move and plays in a Rennes side that plays more short passes. Thus, progression may always not be apparent in the numbers as a lot of the movement forward is off the ball.
Furthermore, Camavinga uses his physique well to carry the ball. He records 6.43 progressive carries per 90 (88th percentile in Europe's top five leagues midfielders), 0.33 carries into penalty area (86th percentile) and 2.44 carries into the final third (92nd percentile).
His attacking metrics are nothing to write home about as he does not get into positions where he can take shots or supply strikers regularly. His key strengths are clear – win the ball, keep the ball, and get it into the attacking third.
WHAT THE STATS DON'T TELL
Arguably the most important aspect that stats cannot measure is decision making and Camavinga is the most mature teenage midfielder in recent years. He likes to drop deep, shoulder responsibility and dictate the play for his side – a characteristic that cannot be undermined. The Frenchman looks like a player at home under pressure which is an important trait to have given the heights he is set to climb.
He has a tendency to be aggressive off the ball which is helped by his physical development. Camavinga can easily brush aside opponents already and he will expectedly fill out some more, which makes him a very scary proposition to play against.
WHAT MAKES HIM SPECIAL
There is no one thing that makes Camavinga special. Which is perhaps what makes him even more special. The youngster is the archetypal modern day midfielder. He has a bottomless tank of energy to go with his technical, physical and tactical mastery.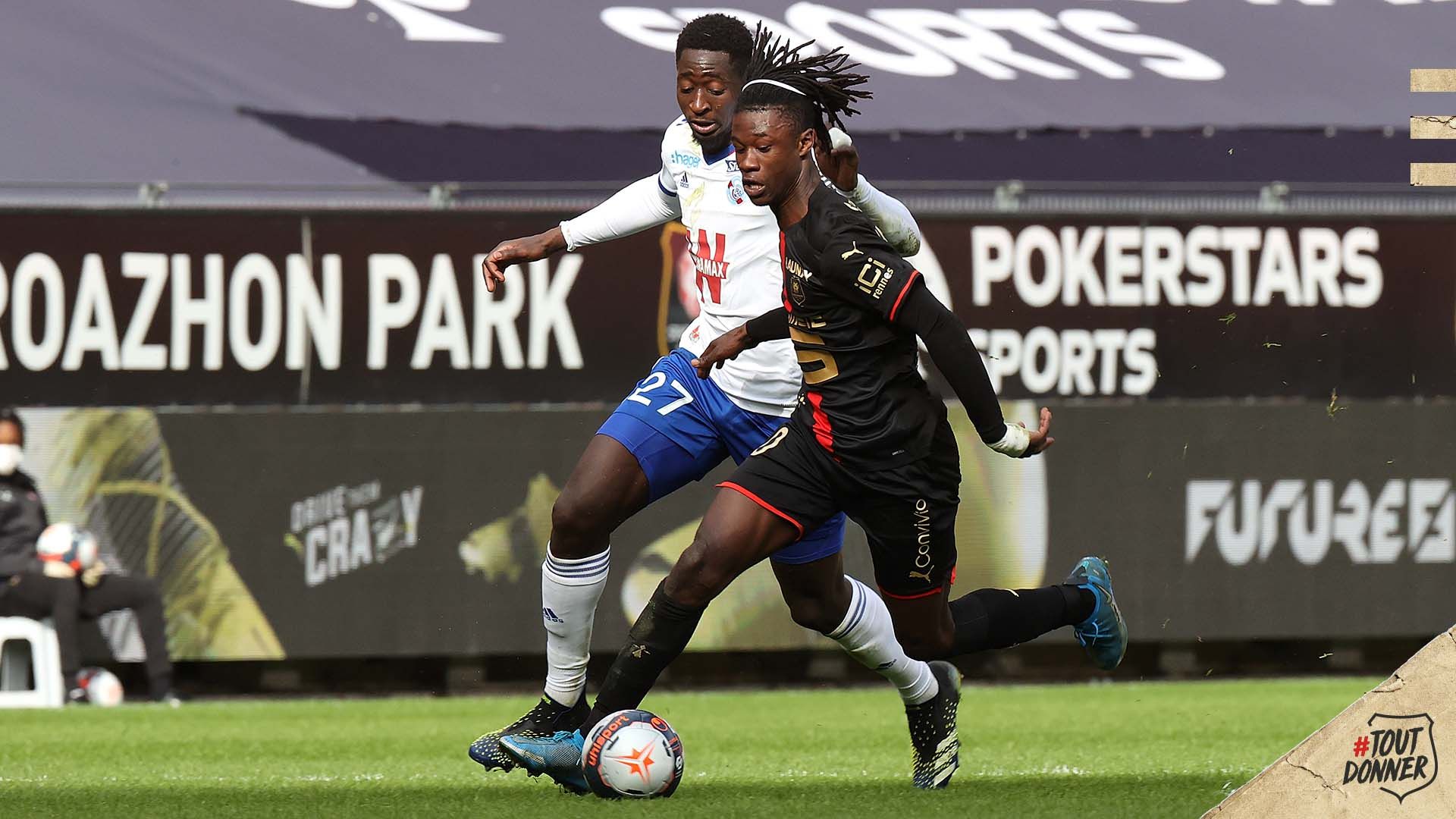 At Rennes he has been used as a deep lying playmaker as a pivot or, more frequently, on the right side of a midfield three. Camavinga can just as easily fit into a double pivot, a midfield two playing box-to-box, or even a single screener in front of the defence. He is a manager's dream with the ability to play any central midfield role possible.
He is N'Golo Kante, Fernandinho, Paul Pogba and Jordan Henderson all neatly rolled into one 18-year old and that talent is difficult to find anywhere in the world.
POTENTIAL
According to the latest news, Camavinga is most likely on his way to Old Trafford this summer. Ole Gunnar Solskjaer's Red Devils mean serious business this summer, having already signed Jadon Sancho and closing in on Raphael Varane and the Rennes midfielder is the next target. With Nemanja Matic's decline, Fred's inconsistencies and Paul Pogba's impending contract expiry, Manchester United do desperately need reinforcements in midfield.
Below we can see how Camavinga measures up defensively to Manchester United's current midfielders. None of Solskjaer's present options offer him the robustness that the Frenchman does – he tackles more often per 90 minutes (Data: fbref.com, Time scale: 2019-21) than any of his prospective future colleagues in all three divisions of the pitch.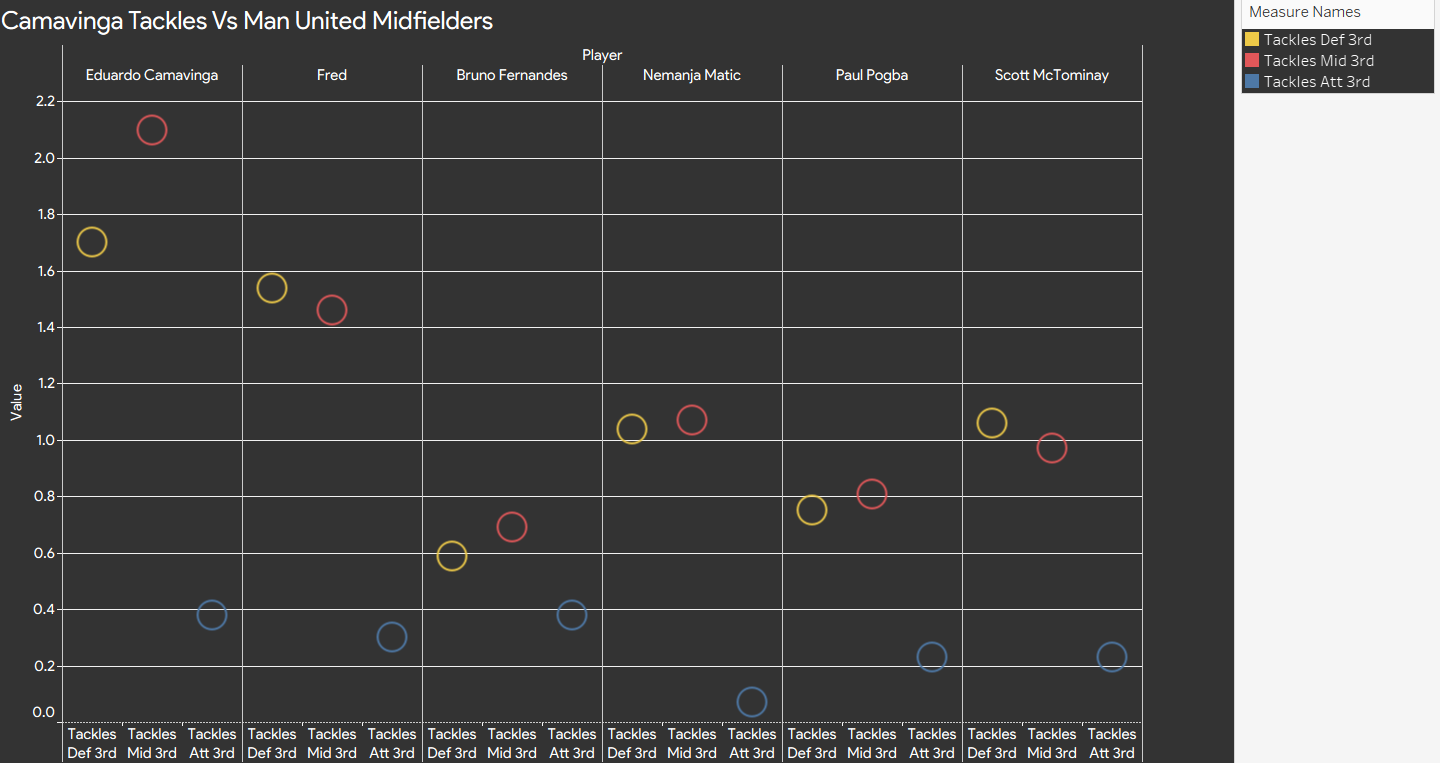 Further he presses more in the midfield than any Manchester United midfielder while only Fred presses more than him in the defensive third. This again is also a function of the roles that the two play – Camavinga has not played the majority of his time in a defensive pivot while Fred has. In the attacking third, Bruno Fernandes and Fred press more than him which can be improved upon with time.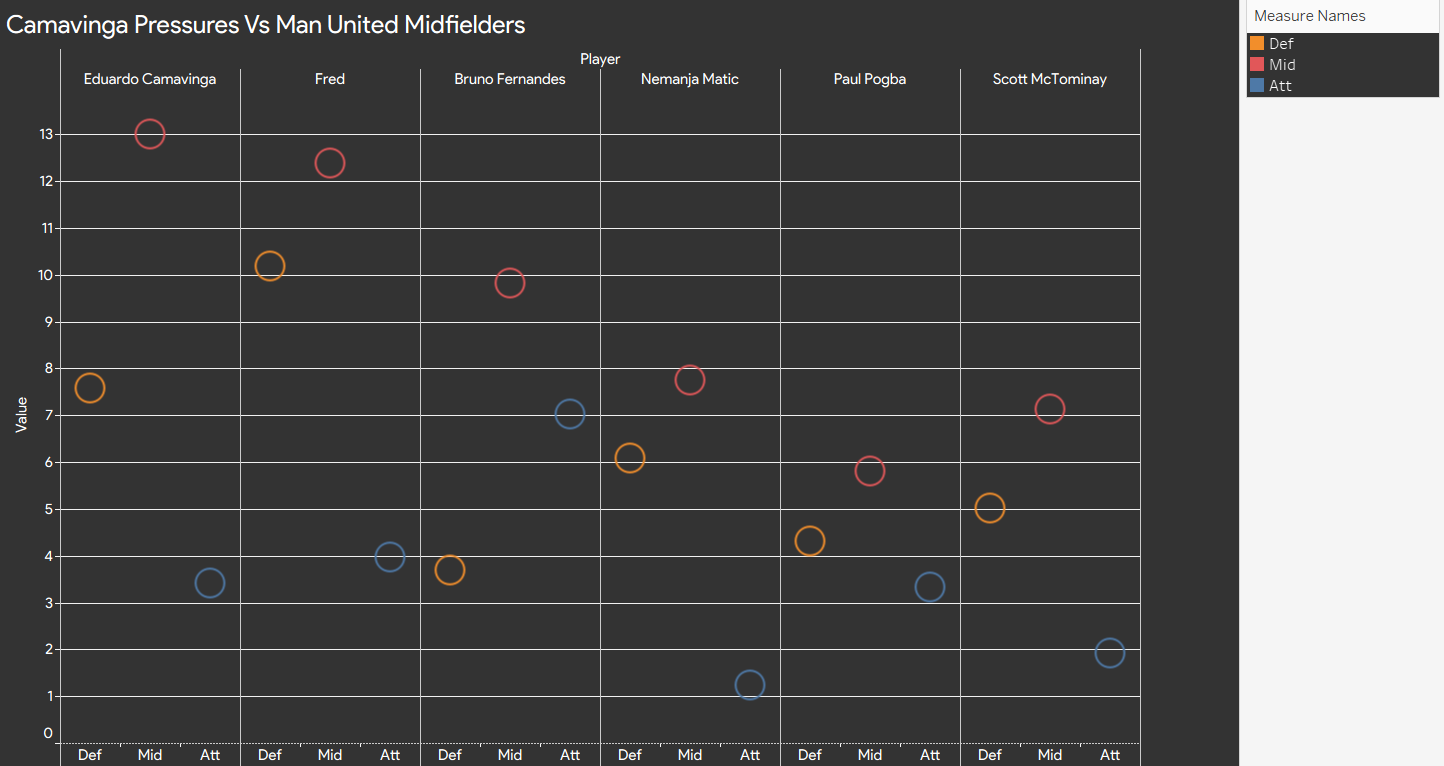 Combined with his technical soundness and progressiveness with the ball, it is clear why Solskjaer wants him. Another possible reason is that Camavinga operates more from the right where Man United desperately lack ball progression. The past season showed just how lopsided a side United are with Shaw, Rashford and Pogba all prefering the left but with Sancho's arrival and Camavinga on the scene, United's right could rise again.
Did someone say Eduardo Camavinga? pic.twitter.com/9xhs3u5nAH

— Maram AlBaharna (@maramperninety) July 4, 2021
Even if he does not move to Old Trafford, Camavinga's star is only going to shine brighter. The biggest clubs on the continent want him and his ceiling is as high as any young footballer on the planet. Discounting unfortunate injuries, Camavinga will surely conquer Europe and etch himself into footballing history – which club will be fortunate enough to rise with him remains to be seen.