British youth players have found it hard to make the transition from academy to first team football over the years, but in recent times it seems young British players are willing to take the risk and move abroad to get playing time and exposure. 
This path has proven quite effective in recent times after the success of players like Jadon Sancho and Marcus Edwards, who did not make a single appearance for the senior sides of Manchester City and Tottenham, secured moves abroad  to Dortmund and Vitoria S.C. respectively. Both Sancho and Edwards have been performing admirably in foreign leagues, especially Sancho who has become a superstar at Dortmund and the poster boy for success for British youth players abroad.
Noni Madueke, is one such youth player, who is looking to emulate the success of the former Manchester City academy player, at PSV Eindhoven. 
Born on 10th March 2002, Chukwunonso "Noni" Tristan Madueke, rejected the likes of Manchester United after it became evident that it will be hard for him to get playing time for Tottenham's first team, he chose to move abroad instead to join PSV Eindhoven in 2018.
This year the 18 year old English player looks like one of the most promising players in Europe and is generating a lot of chatter around his name in a  league littered with youthful talents, the Eredivisie.
A physically strong and supremely creative playmaker, Madueke possesses a wand of left foot which allows him to execute killer through balls and a powerful shot from distance.
NONI MADUEKE
IT'S 4

90' #RKCPSV 1-4 pic.twitter.com/X08EE4nXtT

— PSV (@PSV) December 19, 2020
Capable of playing on either of the wings and in the hole behind the striker, Madueke predominantly plays on the right flank for Roger Shmidt's PSV side, where he has been exceptional this season, as he has scored 8 and provided a further 8 assists. Madueke is fast becoming one of the best all round attackers in the Eredivisie and Europe.
PLAYING CAREER SO FAR
Before moving to the Netherlands, Madueke spent the entirety of his youth career in Tottenham's youth system. He captained their under-16s side at the age of 15, where his performances got him promoted to the under-18s, where he stood out too. He made his name in the Sonnenland Cup, where he picked up the best player of the tournament accolade, as he led Tottenham's youth side to the semi-final of the tournament. Madueke became a star at the youth levels, earning a lot of praise from Ex-Spurs coach Mauricio Pochettino, who was a massive fan of the winger.
𝗡𝗼𝗻𝗶 𝗠𝗮𝗱𝘂𝗲𝗸𝗲.
𝚃𝚑𝚎 𝚜𝚝𝚘𝚛𝚢 𝚌𝚘𝚗𝚝𝚒𝚗𝚞𝚎𝚜…#Noni2024 pic.twitter.com/p4MH19JDvb

— PSV (@PSV) March 10, 2020
Madueke was pursued by Chelsea and Manchester United after his performances, but chose to move to PSV. After arriving in Netherlands it took Madueke very little time to settle in as he was fast tracked to the first team after he scored 18 goals and set up a further 8 goals for PSV's youth sides since joining. He made his first team debut against Groningen on the 8th of March 2020, just before the Dutch league was voided due to the pandemic.
STATS
This season arguably is turning into the young star's breakthrough season. Madueke, has looked at home playing in Roger Schmidt's attacking and high pressing system at PSV. In the Eredivisie he has 6 goals and  4 assists, and his underlying numbers are extremely promising.His direct goal involvement per 90 sits at an astounding 1.30 for this season. He takes about 3 shots on each game with half of them coming from inside the box. Noni Madueke has also showcased elite dribbling ability as he beats his man 3.5 times a game, which often allows him to create high quality chances too. He averages about 30 accurate passes a game and creates about 1.9 chances a game, which makes his assists number sit at 0.5 per game.
Noni Madueke scored again last night! 💫

𝙏𝙝𝙞𝙨 𝙨𝙚𝙖𝙨𝙤𝙣…
✅ 3 games
⚽️ 2 goals pic.twitter.com/QQSTDNzz4A

— PSV (@PSV) January 28, 2020
Arguably he does not play in a very strong league and in fact plays for one of the strongest sides in the Dutch league his numbers are still extremely impressive for a 18 year old playing in a foreign league.
WHAT THE STATS DON'T TELL YOU
A player's mentality is often one of the most important and intangible parameters of success,It is often seen as the reason why promising youth players fail to make it at the highest level.
In an interview with ESPN, Madueke was caught saying  "I am developing well, but I can still improve in enough areas. I demand a high standard of myself. But so far it is going well. Hopefully I can continue with this form for a long time and score in the next game, and the game after that and the game after that." This shows a certain drive and professionalism at a young age that is seen rarely, he also showcases leadership skills that landed him the captaincy of the spurs youth sides up until the under-16s, despite being just 15.
Noni Madueke also seems to love healthy competition, he seems unfazed under pressure and thrives in tense situations. In the same interview with ESPN he can be quoted saying 'We have a lot of talented players in the front, while there is only room for three or four players. Of course there is competition, but there is also a nice harmony between the players. I always want to be the best, that's my mindset. The fact that we have to compete with each other every day is only a good thing. It keeps us on our toes. I like competition, so this is perfect."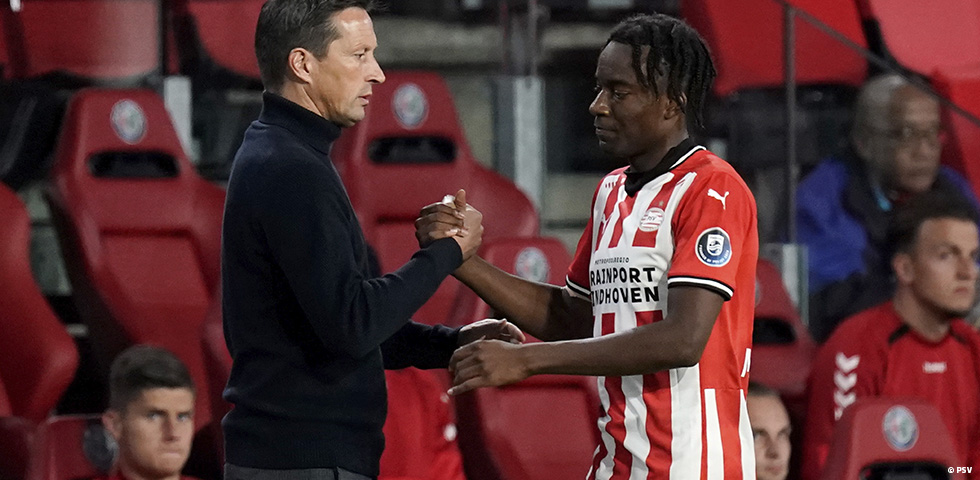 (Courtsey: Psv.nl)
The younger winger sure looks ready for the world stage and seems to have a very focused head on his shoulders and his willingness to improve and learn has caught the attention of his current manager Roger Schmidt who said "He is also able to read the situation, get to the right rooms and thus be in the right place". He further went on to say  "He has a good sense of that, with his timing. Technically he has the skill a in one-on-one. He is ready to fight for a place in the team." Schimdt finally summarized that he thought Noni Madueke is a 'Special' talent and can be one of the best players in the world in the near future.
WHAT MAKES HIM SPECIAL
In fact the Madueke's number and style of play is often reminiscent of a young Arjen Robben, who was also a left footed right winger and made his name at PSV, before earning his first big move to Chelsea.
Madueke loves to cut in from the right wing on to his preferred left foot to cause havoc for defences. Capable of beating any defender in a one-on-one and blessed with sublime vision he can open up defences. He is also capable of  unleashing devastating shots with his dominant foot from distance . He possesses flair with a killer instinct, something not seen commonly in a player as young as Madueke. So it is quite apt to compare him to the former Bayern Munich winger.
𝘓𝘦𝘧𝘵, 𝘭𝘦𝘧𝘵, 𝘭𝘦𝘧𝘵…
Nooo 𝗠𝗮𝗱𝘂𝗲𝗸𝗲 goes right!

What a way to complete his 𝐡𝐚𝐭𝐭𝐫𝐢𝐜𝐤 😍#VERPSV #PSVinDUI 🇩🇪

— PSV (@PSV) August 8, 2020
Hopefully, the void that has appeared in world football for an elite left footed right winger after Robben's decline can be filled by Madueke, and according to many scouts he is well on his way to do so.
(Courtsey: Psv.nl)
 His performances this season have garnered interest from the likes of Arsenal, Manchester City and  RB Leipzig, who have been looking at the winger since the start of 2020/2021 season.Although his contract at PSV is valid till 2024, surely we will see Madueke move to a top five league very soon.
POTENTIAL
Noni Madueke has lit up the dutch league this season with his displays. He has truly announced his arrival at the European stage, we see him developing into a world class winger , who can play for the best clubs in the world such as Real Madrid, Juventus and Bayern Munich.
If PSV ends up winning the league this season we will get to witness his majestic and dynamic style of play in Europe's premier competition the Champions League next season. It would surely be a  treat for fans, especially English fans, who would get a chance to see a lot of young British players performing at the biggest stage in Europe in the coming years.
Even FIFA agrees with us and recognizes his talent and potential. He has a base stat of 72 and a potential of 87 in the career mode of the game's latest edition.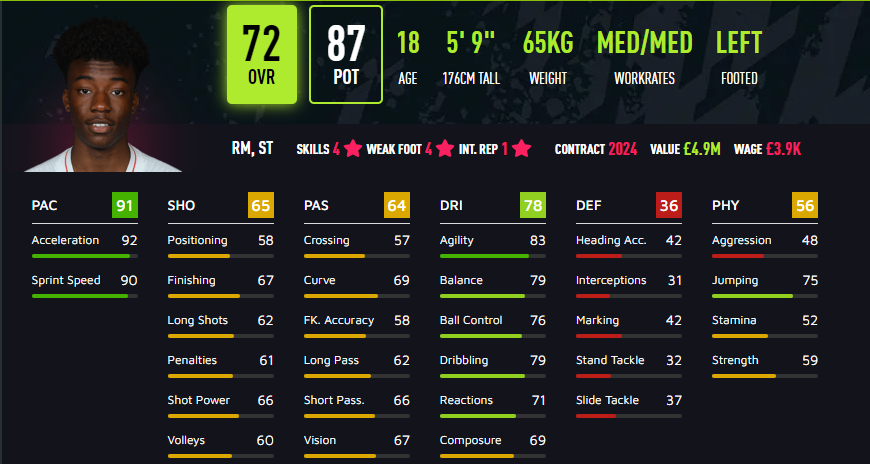 (Courtsey:Futwiz.com)