Many Real Madrid fans may be hesitant to accept it, but with Toni Kroos at 31 and Luka Modric at 35, both midfield maestros can no longer consistently play at their best, and their careers are nearing their endpoint.  
The Modric-Kroos partnership is a dream partnership, and are two of the most fascinating players to watch in the world. Their virtues get enhanced together: Modric orchestrates with his golden touches and magical control and turns, while Kroos anticipates, reads the game, makes line-breaking passes and long-balls, and is extremely effective.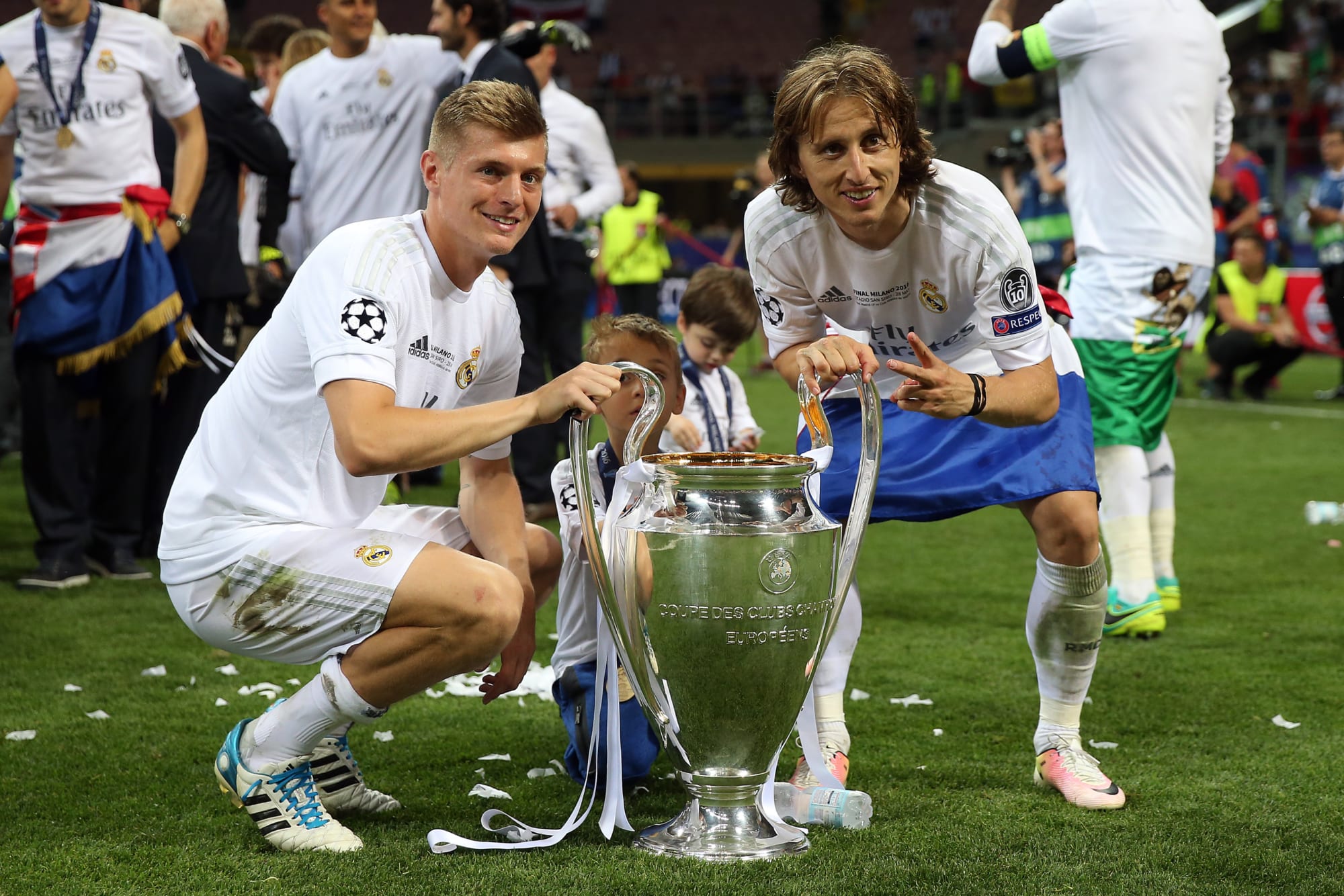 Both the metronomes are still at the pinnacle of their powers, but their ages are a major factor in their inability to deliver consistent performances for Los Blancos night in and night out. And hence, Real Madrid will have to look for a central midfielder who can take the ball from Modric and Kroos' feet and be the next big thing for the Spanish giants. 
With that being said, here are five central midfielders Real Madrid should be looking to sign this transfer window. 
RYAN GRAVENBERCH
Ajax have one of the finest youth setups in the world, and Ryan Gravenberch is yet another Dutch prodigy from their academy who seems ready to take the next big step in his career.  
The 19-year-old, at such a tender age, already has all the weaponry in his arsenal that is required to be among the best in the world. Dictating the flow of possession with his quick thinking, composure, and silky-smooth passing, Gravenberch doesn't overcomplicate things. 
He keeps everything simple yet effective and purposeful. He will dribble when he has to and will keep the ball until he finds a better pass. 
Ryan Gravenberch p90 in the #UCL & #UEL this season:

85% pass accuracy
8.2 ball recoveries
6.6 progressive passes
2.8 tackles won
2.5 interceptions

Such an impressive midfielder. 🇳🇱 pic.twitter.com/ux2CikHhnM

— Statman Dave (@StatmanDave) April 8, 2021
Playing out of pressure and breaking lines with ease, he can not only retain the ball and be properly positioned but protect the defense too. With a maturity that outweighs his 19 years, Gravenberch is ready to dominate the game from deep.
EDUARDO CAMAVINGA
Aged 18, Eduardo Camavinga is already displaying an exuberant superiority that is quite rare for someone his age. Following a tremendous individual season for Rennes in Ligue 1, the midfielder is almost certain to excel in the years ahead. 
Last year, SPORT called him a physical midfielder, but he's far from that. While off the ball he's very good, having the most successful tackles per game in the top 5 leagues and the most recoveries in the Ligue 1 2019/20 season, with the ball Camavinga is even better. He debuted one season before the prior one, but he truly burst into the spotlight in the previous one. Eduardo has shown that he is not a one-hit-wonder with stellar performances against major French clubs like PSG, Monaco, and Lille. 
He has mostly been a pivot, being well-positioned and calm to dance out of pressure, spread long balls, and break up possession. With his elasticity and technique, carrying the ball may well be his biggest strength. That's why he has also been used as an interior. 
With his long legs, he turns around very fast, evades pressure seamlessly, and always knows in which direction to turn. Huge personality and a calm head on his young shoulders which are perfect for a club like Real Madrid. 
HOUSSEM AUOAR
Houssem Auoar is an unconventional playmaker. He is a footballer that was bound to be produced at some point but which was unheard-of until now. He is a modern mixture of two profiles, both of which major clubs like Real Madrid greatly appreciate.
#FridayFeeling 😁 @HoussemAouar pic.twitter.com/yQwErCX4i5

— Olympique Lyonnais 🇬🇧🇺🇸 (@OL_English) July 30, 2021
On one hand, he has the nimble and lively movements, the controls with his back foot, the ability to receive on the turn and the savvy positioning that Kroos and Modric have. On the other hand, he possesses the directness, dribbling, quickness and electricity of a winger. When he has possession of the ball, he is a force to be reckoned with. 
Aouar's diverse skill set enables him to adapt to the game's speed. The Frenchman excels in all areas, whether it's ferocious counter-attacking bursts into the box or commanding the midfield with quick one-twos or lay-offs.  
Real Madrid will definitely admire his versatility, as will his perfect blend of talent and dedication. Passing and distribution of any range, positional awareness to press and offer assistance in any area, and the skill to provide end product, the 23-year-old has it all. 
RENATO SANCHES
A prodigy at Benfica, a star at Euro 2016 for the champions Portugal, a flop at Bayern Munich followed by a flop loan spell at Swansea City, and now back on the radar of several major clubs following incredible performances for Ligue 1 winners Lille and at Euro 2020, it has been quite a rollercoaster ride for Renato Sanches. 
Five years after becoming the youngest player to win the European Championship, the young Portuguese is back and is determined to write his own career script after the horrendous previous years. 
Still 23, Renato Sanches is super dynamic. His body orientation before making a control, and his first touch to accommodate the ball, are superb, while later he makes sharp moves to turn around, dribble or advance with fast one-twos and lay-offs. He is the kind of player all coaches would want, but which all fans and sporting directors would hesitate about. Ever-dependant but unglamorous, the Portuguese is rarely injured and is a tireless machine.
Renato Sanches' game by numbers vs. France:

95 total touches
93% pass accuracy
15 duels contested
9 duels won
4 attempted tackles
3 successful tackles
3 attempted take-ons
3 successful take-ons
3 fouls suffered
1 key pass

Absolutely outstanding. 🇵🇹 pic.twitter.com/T6Q4LJbJ3L

— Statman Dave (@StatmanDave) June 23, 2021
His work may go under the radar as he is not easy to classify as an attacking nor defensive midfielder. He does not offer plenty of creativity, but he has a lot of quality to retain possession and play under pressure and in tight spaces. He keeps things ticking. If Real Madrid acquires him, he will bring the midfield presence, box-to-box energy, a thunderous shot, and plenty of effort.
MIKEL MERINO
Mikel Merino has played a key role in Real Sociedad's sudden uptick, pulling the strings with his inventiveness and orchestrating the midfield. Today, the 25-year-old is one of La Liga's most in-demand midfielders and is poised to make a significant step forward in his club career.  
While the Spaniard is more of a defensive midfielder like Casemiro than an interior like Modric or Kroos, he has flourished when used as a no. 6 or no. 8 on occasion. 
The 25-year-old Spanish midfielder possesses the majority of the characteristics that one would look for in a box-to-box player. At 1.88 m, he is taller than average for his position, which frequently converts into excellent body strength that he can utilize against some of his opponents. 
🇪🇸 Mikel Merino scored Spain's goal in a 1-1 draw against Argentina to book a spot in the quarter-finals 👏👏👏#EURO2020 | @SeFutbol | #OlympicFootball pic.twitter.com/QCYDNP2ekE

— UEFA Nations League (@EURO2024) July 28, 2021
He has a tremendous passing range as well and the ability to play make from deep. He may not be a perfect replacement for midfield wizards like Modric or Kroos, but he can certainly be a perfect replacement for a player like Casemiro, but replacing the Brazilian does not appear to be realistic for several years.