Premier League side Chelsea have joined Manchester United in the race to rope in Atletico Madrid forward Antoine Griezmann in the upcoming winter transfer window.
Sources claim that Chelsea would use former Atletico man Diego Costa to convince Griezmann to make a switch to Stamford Bridge in the coming months.
Mourinho has made an immediate impact after signing Eric Bailly, Zlatan Ibrahimovic, Henrikh Mkhitaryan and Paul Pogba this summer. Recent reports claim that he is still on the hunt another striker and it is believed that the talented Atletico forward Antoine Griezmann is the final piece of the jigsaw puzzle that Mourinho has been desperately looking for.
Mourinho is set make a move for Griezmann in the January transfer window and the Portuguese manager is confident that Man Utd would be able to offer Champions League football to the Atletico Madrid man in the next season.
Mourinho has already broken the world transfer record for roping in Paul Pogba for £89million. Griezmann's contract at Atletico expires in 2021 and it is believed that 'The Special One,' would have to splurge a hefty amount to land Griezmann at Old Trafford.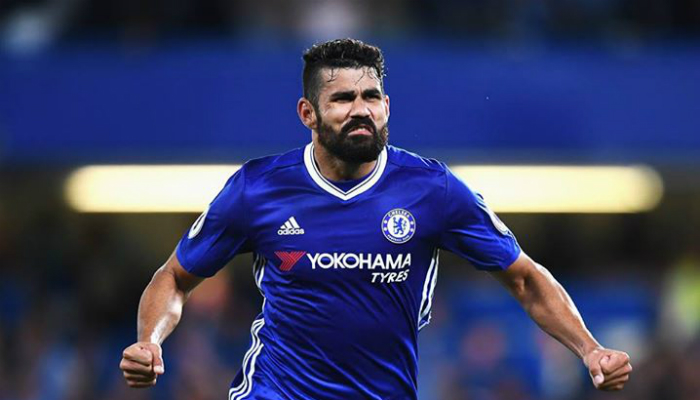 Earlier this summer, Atletico Madrid were keen on roping in their former star Diego Costa but Chelsea managed to hold on to their man as they failed to bring in a top quality striker. Conte was keen on bringing in Real Madrid's Alvaro Morata and later Everton's Lukaku, but both the players decided to stay put at their respective clubs.
After failing to land a top-notch striker, Conte wanted Costa to take charge up front and the Spanish striker has displayed incredible from right from te kick-off of the new season. But now it is believed that Chelsea would finally land another striker in the next transfer window as the Blues officials are set to use the services of Costa in order to convince Griezmann to make a move.
ALSO READ: Griezmann Commits Future To Atletico Madrid For As Long As Diego Simeone Stays
Atletico Madrid forward Griezmann documented his name among the top three candidates for UEFA best player of Europe award  after a successful season with 32 goals to his name before playing a crucial role in guiding France to the finals of Euro 2016, and bagging the player of the tournament award.
Atletico Madrid's star forward Antoine Griezmann has committed his future with the club after signing a new contract which also includes a release clause of €100m.
Griezmann was touted to be the number one target for French champions Paris Saint-Germain, but the striker has stated that he will stay at the club for as long as boss Diego Simeone stays.
The former Real Sociedad man has vowed to help the club grow and take them to their city-rival Real Madrid's scale.
However, rumours that Diego Simeone might make a move somewhere else in the next season can lead Griezmann to think about his future away from Atletico Madrid.
It is believed that Atletico Madrid would not be willing to offload Griezmann unless they get a tempting offer from the right club. But with Costa on their side, it seems that Chelsea has the upper hand in capturing their target. Chelsea may also push Costa as a part of a swap deal for Griezmann. Man Utd might face an uphill task as they would have to trigger the release clause which is close to the present world record transfer deal for Pogba.