Ever since Mesut Ozil's absence and his subsequent departure from the Arsenal squad due to the pay cut issues and his comments on the conditions of the Uighur Muslims, from which the club have distanced themselves, there has been a gaping hole in the creative sense for Arsenal which hasn't been tackled by the management fully.
It wasn't until the January transfer window of the 2020-21 season that there was a sense of stability around the number 10 position. After Martin Odegaard's arrival in the winter on a six-month loan, he and Emile Smith Rowe had become Mikel Arteta's first choice options in the role of the attacking midfielder whose primary responsibility is to create chances.
They were successful to an extent as the Norwegian had 4.61 Shot Creating Action (SCA) per 90 in the 20 appearances that he made for the Gunners while the Englishman had four goals and seven assists in 33 appearances, along with 2.61 SCA/90.
But Arsenal, if they want to return to the top and challenge the other big six clubs, will have to strengthen their number 10 position, and the reports are suggesting that the Gunners are targeting Leicester City's James Maddison for the same.
However, that would not be easy as Leicester's tough transfer negotiations with their fellow Premier League clubs are well known and Maddison would cost a minimum of £60 million, which will take a large chunk of the transfer budget of Arsenal as they look at a squad overhaul this summer.
Arsenal remain very interested in signing James Maddison, however any potential deal would be difficult as Leicester's valuation is thought to be in the region of £70m. 💰

— Sky Sports News (@SkySportsNews) August 4, 2021
So here is FootTheBall bringing you Five alternative and cheaper options Arsenal can consider buying in order to improve the squad.
JULIAN BRANDT
Brandt, who had made his debut with Bayern Leverkusen at the age of 17, was touted to be the next big star from Germany and his move to Borussia Dortmund in 2019 amplified those expectations. However, the 25-year-old has not been able to set the Westfalonstadion on fire and has been underperforming when compared to what he did at Leverkusen in the previous seasons.
In the 2018-19 season, his last at Leverkusen, Brandt had 5.10 SCA/90 and had racked up seven goals and eleven assists from an xG of 7.9 and an xA of 9.0, indicating his consistency in front of goal as well as creating chances for his teammates.
Julian Brandt: Has made more key passes (85) than any other player in the Bundesliga this season

For more player stats — https://t.co/tchHOzaUwI pic.twitter.com/0ME2X0jPth

— WhoScored.com (@WhoScored) May 15, 2019
That has drastically reduced in the two seasons he played for Dortmund, with him registering only 3.50 SCA/90 while having only six goals and nine assists in 64 league appearances across two seasons.
His contract runs till 2024 but the gaping need for a creative midfielder at Arsenal can be appealing to the German, who looks like wanting a change in scenario and the Premier League might suit his skills. Dortmund would want to make a profit on Brandt and although they might ask more, a fee of around €30 million, half of what Maddison could cost Arsenal, should seal the deal.
MIKKEL DAMSGAARD
When Damsgaard moved from FC Nordsjælland from his native to Denmark to Sampdoria in Italy, not much was expected from the youngster, then aged 20. And the minutes he was given were an indicator of that. He had played for 1773 minutes, or 19.7 90's for Sampdoria and had managed to rack up two goals and four assists his first full season in Europe's elite.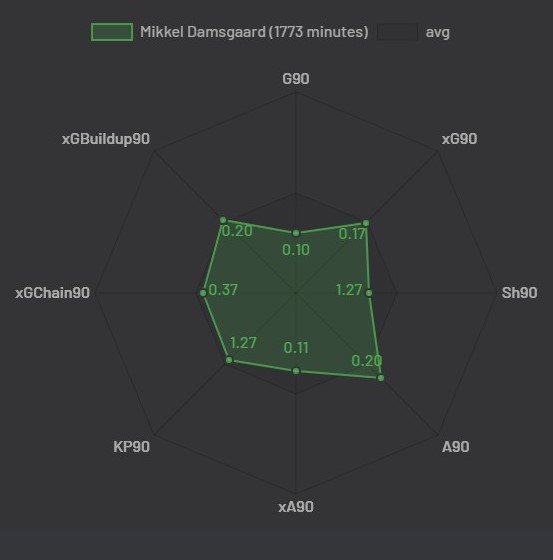 Damsgaard in the Serie 2020-21 season. (Image Courtesy: Understat / Website)
But the recently concluded European Championship had thrust the 21-year-old into the limelight as he dazzled throughout the tournament, taking the mantle being the creator-in-chief for the side from Christian Eriksen, who was ruled out of the tournament after his unfortunate incident in the opening game.
Damsgaard had shown immense versatility in the five games that he featured for Denmark, first appearing on the left wing against Belgium, then playing in a free role against Russia before settling down in a more central role akin to an attacking midfielder.
Although he is valued at only €20 million, it shall take a much greater fee to bring Damsgaard from Italy to England, and with the likes of Barcelona, Milan, Tottenham, and Everton interested in acquiring his services, Arsenal must act quickly if they feel the Dane is the correct man.
YUSUF YAZICI
One of the vital cogs of Lille winning the Ligue 1 titles last season, Yusuf Yazici is one of the talented players situated right now in the top five leagues and still none of the top clubs ever seem to be looking at him as one of the main targets for their attacking midfield roles.
After moving from Trabzonspor in the Turkish Super Lig to Lille, his first season was curtailed by numerous injuries and had seen him only appear 25 times in the entire 2019-20 campaign, out of which only 13 were starts.
But the 2020-21 season saw a new Yazici as he was one of the major reasons why Lille were able to topple Paris Saint-Germain at the summit of Ligue 1. The Turk racked up four assists apart from the seven goals just in 12.1 90's in the league. It was in the Europa League where he was a regular and registered another seven goals and two assists, which amounted to 5.76 SCA/90 across the season.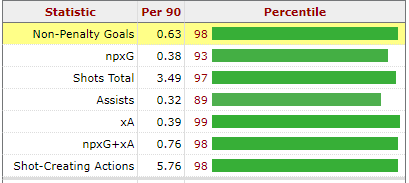 (Image Courtesy: FBRef / Website)
Yazici is a great alternative for Arsenal instead of Maddison, and with many of the Ligue 1 clubs, including Lille, struggling financially, it would not be that difficult for the Gunners to find a deal if they wish to.
ENIS BARDHI
A cheaper option for the Gunners, Enis Bardhi could join Arsenal for nearly 1/4th of the price quoted for Maddison. And people might think he isn't quality, and this is because of him playing for a country like North Macedonia and a mid-table club like Levante rather than his true skill as a player.
https://www.instagram.com/p/CRvwi5eBOzS/
Although more used as a player who would cut in from the left-hand side, Bardhi can be used as an attacking midfielder in the number 10 role for his creativeness and his directness as a dribbler, in addition to the wicked shot off of his right foot.
Key player: Enis Bardhi

Versatile midfielder with 100+ games in La Liga, creative player with a brilliant shot. Needs to be good to maximize his team's chances. pic.twitter.com/iWLZjFQ0Ar

— Marcus Bring (@MarcusBr22) June 7, 2021
Along with his ability to find defence-splitting passes from difficult positions, his set-piece prowess and him being the primary free-kick taker at present for Levante be the path for his explosion at the Premier League if the Gunners make their move on a target who has been scouted for the past year.
RUSLAN MALINOVSKIY
After moving from Genk to Atalanta for a fee of €13.6 million, Malinovskyi was first seen as this goal-scoring midfielder who could chip in with some assists here and there. In the 2019-20 season, the Ukrainian ended up with nine goals and five assists in 44 appearances, although only 14 of them were from the start.
But it was in the last season that the 28-year-old showed his true potential as an attacking midfielder as he registered 12 assists in all competitions while scoring another ten in a total of 43 appearances across all competitions. Even his underlying stats are out of the world. Across the two Serie A seasons, Malinovskyi had 6.35 SCA/90 while also having 0.7 Goal Creating Actions (GCA) per 90.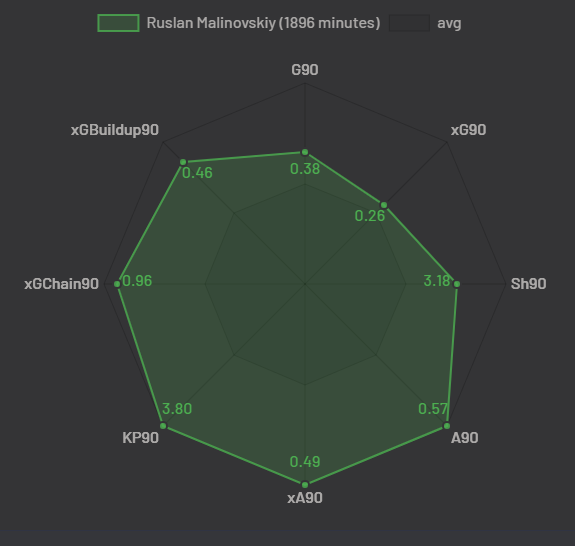 Malinovskyi in the Serie 2020-21 season. (Image Courtesy: Understat / Website)
At 28, Malinovskyi is on the older side for Arsenal, and for a club that are looking to rebuild from scratch, paying a fee of around €30 million for a player of that age might not be feasible in the long-term. But with the present squad which is full of young players and the Ukrainian can certainly add his experience apart from the bag of creativeness and skills that he would obviously bring.