After months of speculations, the wait is over as Juventus have finally reached an agreement to sign Manuel Locatelli, with the Italian midfielder poised to sign from Sassuolo for €35 million. The whole situation surrounding Cristiano Ronaldo's future in Turin as well as following a season that saw The Old Lady's dominance in Serie A brought to an embarrassing end, Juventus fans finally have something to rejoice about.  
𝘈𝘯𝘯𝘰𝘶𝘯𝘤𝘦 𝘓𝘰𝘤𝘢𝘵𝘦𝘭𝘭𝘪? ➡️ 🤲

✍️ https://t.co/Ijw91pHjIS
 #LocatelliAnnounced pic.twitter.com/AJT368qvJx

— JuventusFC (@juventusfcen) August 18, 2021
Manuel Locatelli to Juventus, done deal confirmed and here-we-go! Total agreement completed with Sassuolo for €35m plus add ons. Contract until June 2026. ⚪️⚫️🇮🇹 #Juventus

Official announcement in the next few days. Done deal. pic.twitter.com/ge7nUgXGOc

— Fabrizio Romano (@FabrizioRomano) August 17, 2021
The two parties have been negotiating for months and the player has always been keen on taking his talents to the Allianz Stadium. Following a spectacular last season with Sassuolo that saw them finish eighth and lifting the Euro 2020 title as well with Italy this summer, the 23-year-old midfielder is all set to join The Old Lady and shine under the guidance of Maximilliano Allegri. 
How does Manuel Locatelli suit Juventus? Is his transfer a value for money deal? What will be the expectations from the talented Italian midfielder? FootTheBall grades the Manuel Locatelli to Juventus transfer.
PLAYER QUALITY
When Manuel Locatelli was promoted from AC Milan's academy, he appeared to be a midfielder with maturity and tactical acumen beyond his years, ready to flourish when given the opportunity, but inconsistency was a notable drawback. 
However, Locatelli has evolved as a player since joining Sassuolo in the summer of 2018. The 23-year-old has established himself as one of the finest deep-lying playmakers in Serie A, flourishing under the supervision of Roberto De Zerbi.
A metronome and creator, all in one, Manuel Locatelli is an academic midfielder having recorded the most passes and first-time passes in 2020/21 Serie A. His maturity has joined hands with his exceptional natural abilities. He can operate either as a central or a deeper midfielder, always through the middle third. From there he has the full perspective of the pitch and can pick his best options with his pinpoint short or long distribution. 
1 – Manuel Locatelli made the most touches (3304), passes (2749) and was the midfielder with the most tackles (81) in the 2020/21 Serie A . Spiderweb. pic.twitter.com/IDzsPU4OWw

— OptaPaolo 🏆 (@OptaPaolo) August 17, 2021
The Italian combines horizontal with vertical passes, taking the ball from the first stage of build-ups and then assuming risks to break lines in the opposing half. He gives meaning to possession. 
 The 23-year-old can occupy spaces even when the ball isn't there, keeping the structure intact while deforming the opposing one. He can offer support to the defence in build-ups but also provide direct runs to get behind the rivals' midfield
VALUE FOR MONEY
Everyone loves a mega-money signing – it signals purpose, it excites the fans – but equally, who doesn't love a bargain? €35 million is an amount that may get a club a decent player, but when one acquires a genius playmaker like Manuel Locatelli for that price, it is unquestionably a bargain purchase.  
🌟 #EURO2020 Highlights 🌟

🔝🎯⚽️ @locamanuel73 🆚🇨🇭#ITA | @azzurri | @Vivo_Azzurro pic.twitter.com/sa86lXHV6A

— UEFA Nations League (@EURO2024DE) July 18, 2021
Juventus was one of the victims of the upheaval caused by Covid-19, which robbed the majority of clubs of their money and plunged them into a financial catastrophe. The pandemic wreaked havoc on the Old Lady's finances in 2020/21, causing a €185 million loss. This is a record financial loss for the Turin side since the previous worst figure was €95 million in 2010/11. 
Juventus acted quickly, as a number of major clubs were vying for Locatelli's signature. The combination of talent, tactical acumen, natural gift, and maturity is unlikely to be priced at about €35 million, yet the Italian midfielder ticks all those boxes, and Juventus have undoubtedly snagged a bargain that the club and fans will cherish for years to come.
FIT AT THE CLUB
Juventus have dominated Italy since Andrea Pirlo's departure in 2015, but have been unable to address the playmaking vacuum left by the Italian legend. Interestingly, throughout his youth career in Milan, Manuel Locatelli was compared to his idol Pirlo, and is therefore nicknamed "the new Pirlo." 
Considering their similar playing style, Locatelli undoubtedly fits the criteria of a playmaking midfielder like Andrea Pirlo, a profile Juventus desperately needed. 
🥇 Most passes p/90 in Serie A last season (85.7)
🏆 Euro 2020 winner

🤝 Juventus have 𝙛𝙞𝙣𝙖𝙡𝙡𝙮 agreed a deal for former AC Milan midfielder Manuel Locatelli pic.twitter.com/NrY7WUA2mK

— WhoScored.com (@WhoScored) August 17, 2021
Not only did Juventus require a high level of technical quality to play short and quick one-touch passes, but they also required someone who could rapidly scan the surroundings since they are constantly pressed. They needed someone to dictate the tempo and direct the play towards a direction with their passes and body orientation and be extremely accurate in measuring the distances, as they are the core of the team and need to keep the occupation of spaces balanced.
Locatelli certainly has the potential to tick all the boxes to be the pivot of this wounded Juventus side that is looking to reestablish their supremacy in Serie A. Massimiliano Allegri, a manager who employs a well-balanced system that combines possession and transition-based football, requires his pivot to be extremely intelligent and caring with his moves. 
With his excellent distribution, the 23-year-old can cover a lot of ground without abandoning his zone. Using few touches, moving the ball from one side to another with much reasoning, and being very precise in his deliveries, Locatelli can prove decisive for Juventus. 
EXPECTATIONS
Roberto De Zerbi-led Sassuolo's positional play was the purest one in Italy, and perhaps in Europe, last season. The fluid system, the personality to play out from the back under pressure, the overloads in the centre, the quick touches and changes of rhythm, Sassuolo exhaled possession. And manning the club's playmaking tower was none other than Manuel Locatelli.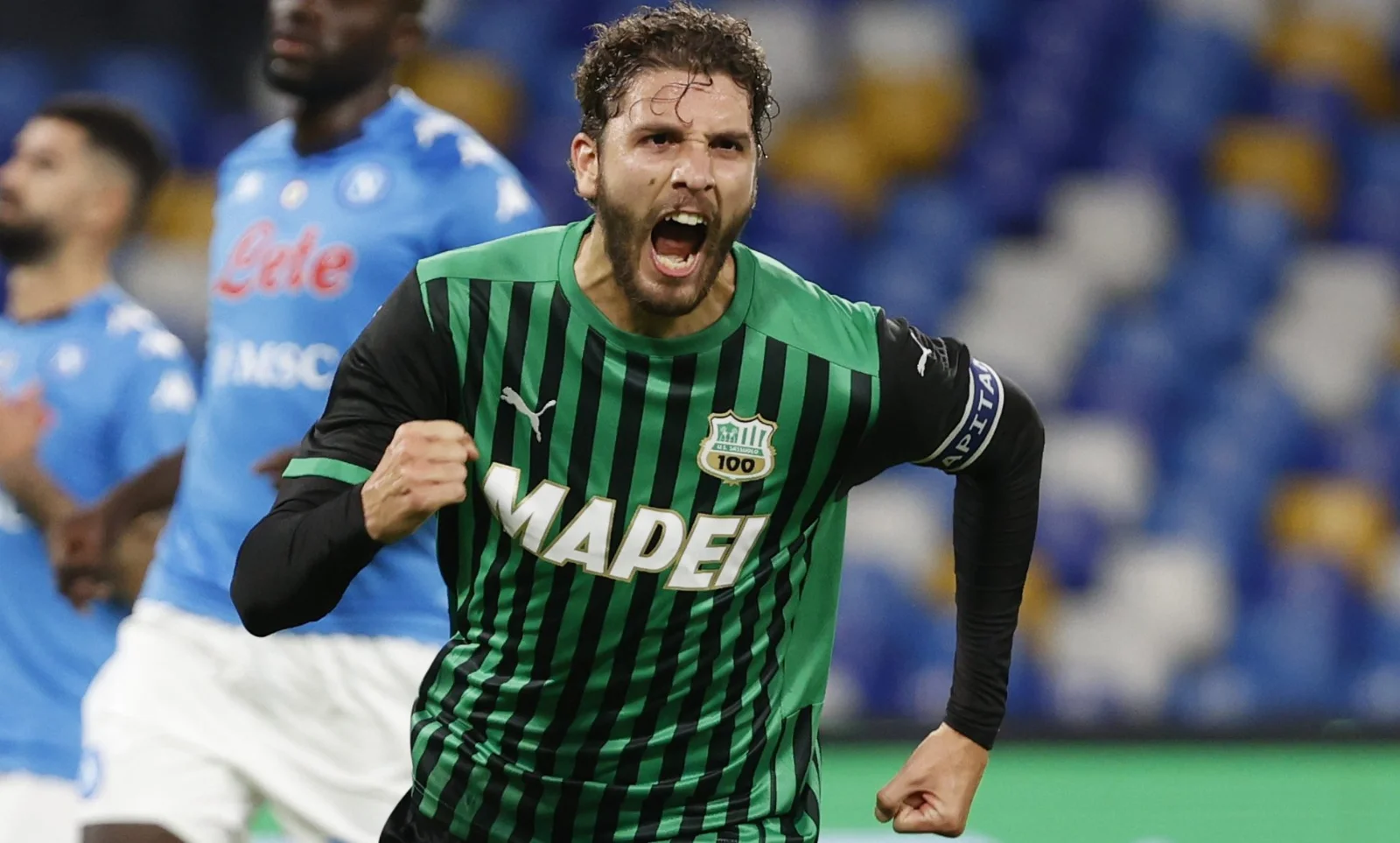 A single glance at Locatelli, one can point out that the Italian plays with a chip on his shoulder and adapts exceptionally well to high-pressure situations. The upcoming season will certainly be a pressure test for Juventus and their new signing as they soon begin their conquest of conquering Serie A once again. 
Manuel Locatelli discovered that sometimes taking one step back permits you to take three steps ahead. He left AC Milan to join Sassuolo, a decision that many would consider a step back, but it was this move that allowed him to develop into the player he is today, and he is now poised to take the next major step in his career.
Non ho la minima idea di cosa scrivere .
Siamo Campioni D'Europa !!!! pic.twitter.com/e8QbZYPx61

— Manuel Locatelli (@locamanuel73) July 11, 2021
Will he be able to aid in Juventus' hunt for Italian supremacy? Who knows? But the midfielder will certainly bring that consistency, personality, genius, and elegance that Juventus have been missing for years now.
FINAL GRADE: A