The best team in the world according to the Fifa World rankings are living up to their reputation so far in the Euro 2020 as they are one of the few teams to have already qualified for the Round of 16. They haven't lost a single game so far and with star players like Kevin De Bruyne back in the squad, there is no reason why Belgium can't lift the Euro 2020 trophy.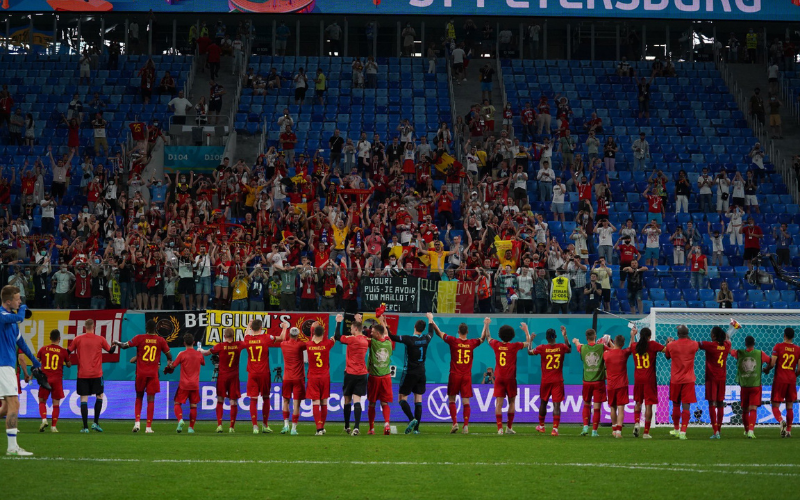 Although the knockout fixtures haven't been decided yet as there are still games to be played in the final matchday, we can figure out how things will happen by looking at the group table as it stands right now. FootTheBall brings you the teams Belgium would face in the knockout rounds and also how they will progress in Euro 2020.
BELGIUM IN THE ROUND OF 16
Belgium are set to face the 3rd place team of either group A, D, E and F. The teams that will finish 3rd in the respective groups haven't been confirmed yet, but we do have an idea about what's about to happen. From Group A, Switzerland have ended up third and with a goal difference of -1, we are certain they will qualify as the lucky losers.
ROUTE 1
Switzerland shouldn't give too much trouble for Belgium. They played well in their last game against Turkey, but their performance against Wales and Italy isn't commendable.
Turkey has lost all their games so we aren't sure if judging the strength of the Swiss side looking at that game is going to help us. Switzerland would be brushed aside by the Belgians if they end up facing them.
ROUTE 2
The winners from the game between Croatia vs Scotland tonight will finish 3rd from group D. Scotland had a horrible outing against the Czech Republic on their opening day but pulled themselves back against England in that goalless draw.
They have been predicted as one of the dark horses of the tournament and are a bright young outfit. Although Belgium is too much for them to chew and no matter how hard they try, their backline won't be able to stop Lukaku and De Bruyne from working their magic.
ROUTE 3
💪#EURO2020 #Vatreni🔥 pic.twitter.com/kNI7shzSDc

— HNS (@HNS_CFF) June 20, 2021
Croatia also has had a loss and draw in the tournament so far and even if they manage to qualify, their aged squad will not be able to stop this golden generation of Belgium.
ROUTE 4
In Group E, Slovakia are facing the star-studded Spanish side in their final group stage game and will probably lose due to which they will end up third. If Poland wins their game against Sweden, they will end up 3rd knocking Slovakia out. Anyway, it won't matter if they face Belgium as both the sides are really weak on paper compared to they would be crushed by the Red Devils.
ROUTE 5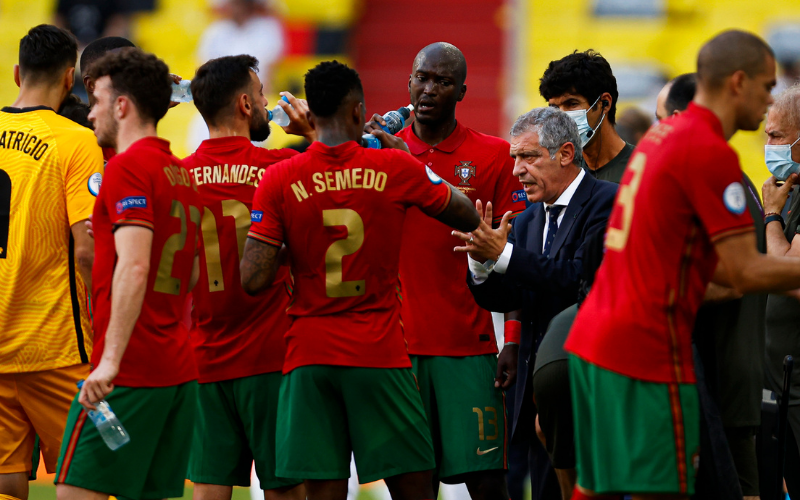 Group F is really tricky to predict as anything can happen in the group of death. Portugal seems likely to finish third in the table as they face France in their final game desperate for a win. Like their 2016 campaign, the Portuguese are finishing third but to progress ahead they will have to face a massive red hurdle.
Both teams are evenly matched on paper, but Belgium are in better form. Portugal nearly lost their game against Hungary and got pushed aside by the Germans. If they lose against France as well, we wouldn't bet on Portugal winning against Belgium, but it is going to be a close matchup.
BELGIUM IN THE QUARTER-FINALS
After beating one of the teams mentioned above in their first knockout round in Euro 2020, Belgium will face the winners of the second Round Of 16 game which is between Italy and Austria.
ROUTE 1
Belgium would surely be hoping that Austria wins over Italy as they are the weaker side out of the two. Austria's David Alaba and Sabitzer have been in top form and have a huge impact on the Austrian camp. If they win over Italy, they will have momentum on their side and would be confident ahead of the game.
Austria can actually surprise Belgium with a challenging performance but we wouldn't count on it since their backline hasn't impressed us so far in the tournament.
ROUTE 2
✅ 2-0 Estonia
✅ 2-0 Poland
✅ 2-0 Bosnia
✅ 2-0 Northern Ireland
✅ 2-0 Bulgaria
✅ 2-0 Lithuania
✅ 7-0 San Marino
✅ 4-0 Czech Republic
✅ 3-0 Turkey
✅ 3-0 Switzerland
✅ 1-0 Wales

11 consecutive wins.
11 consecutive clean sheets.#VivoAzzurro #ITA #EURO2020 pic.twitter.com/eiKcwtqzGr

— Italy ⭐️⭐️⭐️⭐️ (@azzurri) June 21, 2021
Italy are the favourites to face Belgium in the Quarters and what a tough game it is going to be for both sides. Italy haven't lost a game since 2018 and they haven't conceded a single goal in the tournament so far!
The top players in the team will have to up their game, the defenders especially will have to play like their lives depend on it and lady luck should be with them for the whole of 90.
BELGIUM IN THE SEMI-FINALS
After somehow getting past the Azzurri's, Belgium will have many possible opponents waiting for them. Predicting who they will face in the penultimate round is a long shot, so we'll look at multiple sides who might reach so far in the tournament.
France will face either Ukraine or Finland in the first knockout round and we feel they will go ahead either way. The Frenchmen will then face the winners of the game between two of the 4 teams that can reach the round of 16 from their respective groups. England, Czech Republic, Sweden or Spain in the quarter-finals.
So for now Belgium can either face France, England, Spain, Sweden and the Czech Republic in the semifinals.
ROUTE 1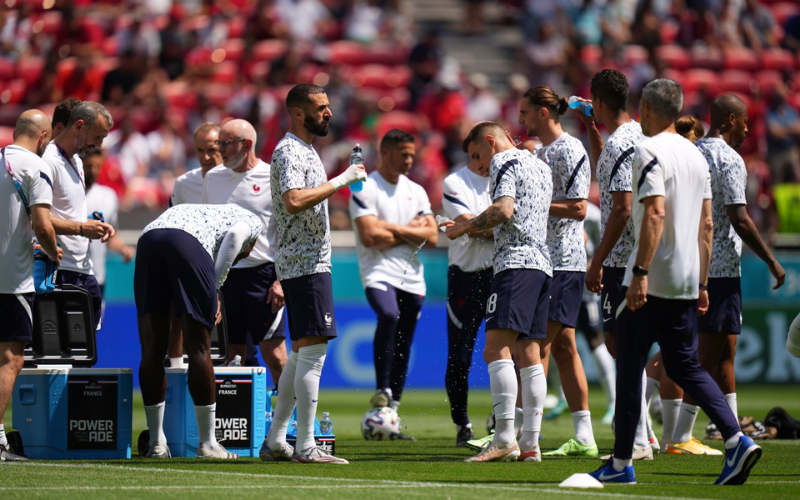 France were amazing in their opening day against Germany but something went horribly wrong for them as they drew their next game against Hungary. Their main strength is their pace. Pogba or Kante play long balls ahead for the forwards to chase which completely opens up the opposing defence.
They only attack on counters and have nailed them so far. Belgium will have to find a way to keep Mbappe in a cage cause he can do a lot of damage to their title-winning dreams.
ROUTE 2
Spain haven't really gotten into their stride so far in the tournament. They have been working the ball well but just can't find the finishing touch. A side that can't score goals isn't really what a side playing in the semi-final looks like. Even if they somehow play against Belgium, they won't win for sure.
ROUTE 3
England also have been playing below expectations. They couldn't win against a blunt Scotland side so beating France or Spain is far above them for now. If they reach the semi final it would mean that their team has found their last form so we feel Belgium will have a time tough against England.
Putting in the work on MD-1️⃣

Tomorrow: 🇨🇿 at @wembleystadium! pic.twitter.com/a4LGyLBr79

— England (@England) June 21, 2021
ROUTE 4
The Czech Republic have been the biggest surprise in Euro 2020. Looking at their side before the tournament, they didn't look anything special but after a great performance against Scotland, they have shunned the haters. If they end up beating France and face Belgium, it would be a fairytale campaign for them.
Sweden is a promising side but we don't feel they have it in them to make it so far in the tournament just yet. Maybe they will be one of the contenders by the next Euros but for now, they won't reach the semi-finals.
BELGIUM IN THE FINAL
There are possibly two sides that might face Belgium in the finals of Euro 2020. First up we feel the Netherlands will reach the finals of the tournament after a successful outing in the group stages in these past couple of weeks.
ROUTE 1
The Dutchmen won all their group stage games and have a nice spring in their steps so far in the tournament. They have fast players which really helps them in counterattacking play. Their backline isn't that strong but it has worked for them so far so it might be enough for them to lift the trophy.
Wijnaldum is looking in great form and so is Denzel Dumfries. If these two players can carry their form throughout the tournament, the Netherlands are most likely to win the whole thing.
ROUTE 2
Strong performance of @DFB_Team_EN 💪
4:2 win against @selecaoportugal ⚽️👍🏼
This match was the right answer! @EURO2020 #Deutschland #PORGER #immerweiter pic.twitter.com/Wn960ynj2U

— Thomas Müller (@esmuellert_) June 19, 2021
The second contenders that might play Belgium in the finals are Germany. They have been excellent so far in the tournament as well. They were a bit unlucky in their game against France as the narrow loss doesn't do justice to their performance in the game.
They attacked better and handled the aggressive French frontline as well, they just slipped up once and that cost them the game.
They dominated their game against Portugal and hence got the dub. Belgium would most likely face Germany in the finals and the game will be close since the strong German defence is not going to be easy to break. Belgium don't have a strong enough defence to win Euro 2020 and are coping for it with a good frontline. It will be an entertaining final and we feel that the Golden generation of Belgium will finally get the trophy they have been seeking for so long.