David goes up against a goliath. It's a gross mismatch but still, David manages to overpower him and slays the Goliath. We all cheer for David. Long story short everyone enjoys a good underdog story. The world of football is no different.The story of the Belgium side at Euro 1980 is one such story full of  joy, drama and memories.
Euros have produced many wonderful underdog stories. Today we bring that one story that could've topped every other underdog story. So near yet so far, Belgian dark horses stunned the world in 1980. Their incredible run to the final gave them a shot at history. Yet those hopes were brutally quashed by a bullish West-German team.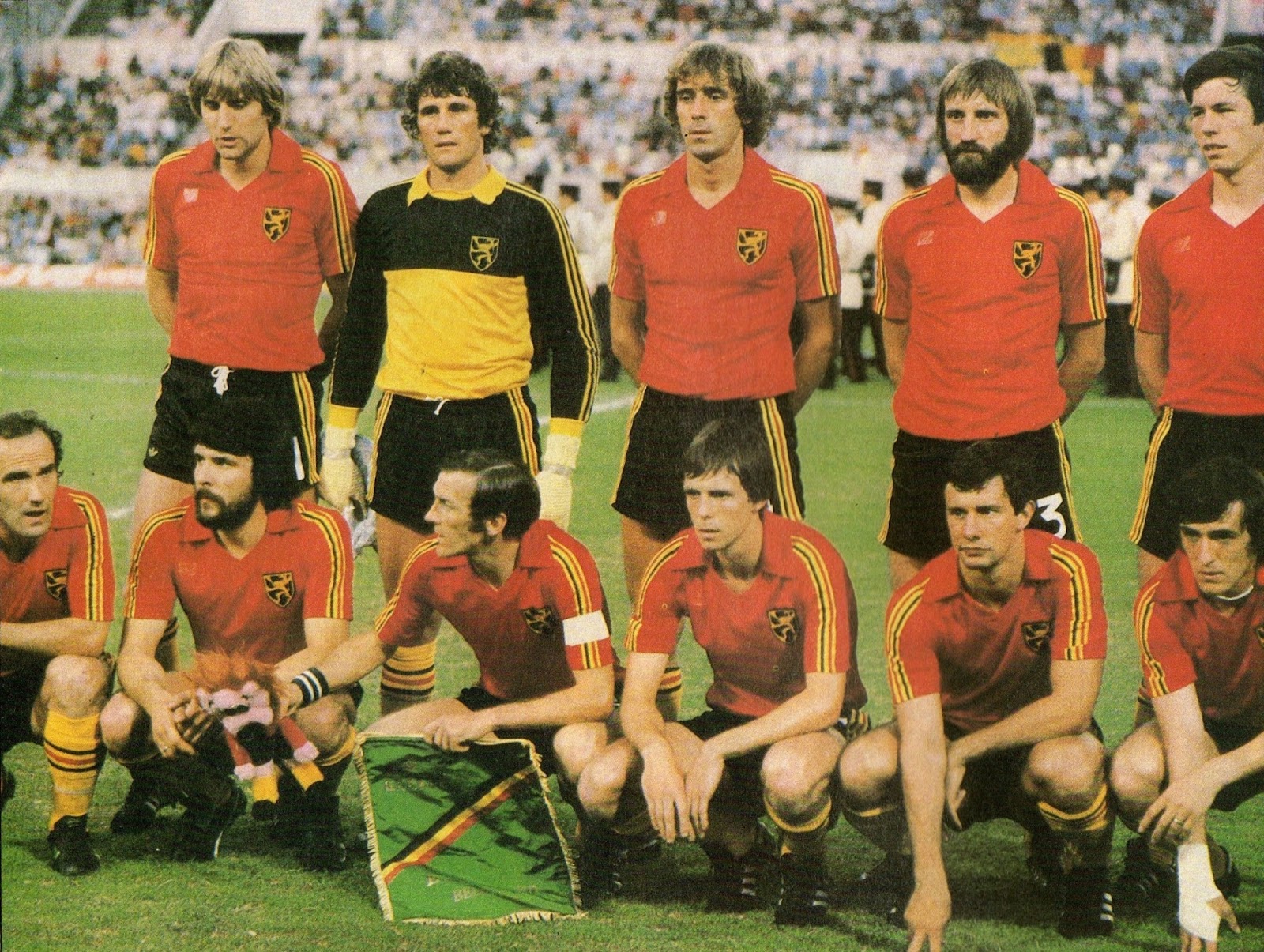 Jump in with us to relive one of the best close shaves in Euro history
A BUMPY ROAD
Before the 1980 Euros, Belgium were considered minnows on the International stage. Guy Thys, a former Belgian international was trusted with coaching the Red Devils in 1976. It was a phase when qualifying for a major tournament was celebrated as winning it. All the Belgian national team players were playing in the local Belgian leagues. Thys had a monumental task at hand.
Guy Thys, coach of the Belgian Red Devils from 1976-1989 and 1990-1991 #GuyThys #RedDevils #coach pic.twitter.com/bRp9Uz7dlT

— Old Football pictures (@FootballpicOld1) November 11, 2020
The road to Euros started in 1978 as Belgium were placed in a tough qualifying group alongside Portugal, Austria, Scotland and Norway. They came out of the group unscathed as group winners with 4 wins and 4 draws. Francois Van der Elst scored 5 of the 11 goals scored by Belgium in the qualifiers.
Only the group winners used to qualify for the Euros and the Red Devils made their country proud. It was celebrated grandly in Brussels.
THE 1980 EUROS- ITALY
"Before Euro 1980 we were amateurs" these were the exact words of goalkeeper Jean-Marie Pfaff while remembering glory days with Belgium. He wasn't wrong. They were players spending the entirety of their career in Belgium. A chance to travel to Italy and play on Europe's biggest stage changed their lives. They were determined to make their people happy, give them a reason to cheer.
The Euro 1980 in Italy had a different format. It was the first time 8 teams played in the competition. A knock-out format was absent. All teams were divided into two groups of four and had to play each other once. The winners of the group directly advanced to the finals. The runners-up played a third-place playoff.
Belgium were pitted in Group-2 alongside hosts Italy, England and Spain. They had their task cut out.
A DREAM START
Guy Thys was successful in filling confidence in his players that they were not less any star-studded squad they were taking on. The manager's words showed on the pitch. In their first match, they went toe to toe with England led by a fantastic Kevin Keegan. Ray Wilkins opener for England was canceled by a Jan Ceulemans goal as the game ended 1-1.
The second game saw them defeat Spain 2-1 sensationally thanks to goals from Eric Gerets and Julien Cools. Belgium knew that they were a draw away from a spot in the final.
Goal #JanCeulemans for #Belgium vs #England (1980) #Euro80 #Turin #StadioComunale #België #Europe #Italy pic.twitter.com/9dJ13wCIlO

— MotherSoccer (@MotherSoccerNL) June 29, 2016
A final group match against hosts Italy saw them put a defensive masterclass. The defenders fought with their lives to keep the scores level and the game ended 0-0. This result sent them to the finals as group winners.
They were only 90 minutes away from finishing the best ever underdog tale. But they had no idea what was waiting for them in the finals.
THE FINALE
Like every good story has a strong antagonist, this tale had one. The brute force of West Germany made their way to the finals without breaking a sweat. Coached by Jupp Derwall, they had world-beaters like Bernd Schuster, Hans-Peter Briegel, Horst Hrubesch, Hansi Müller and Karl-Heinz Rummenigge. They went on to win so many accolades in their careers, this was a start to that glory run.
The stage was set at Stadio Olimpico for an epic clash between the two gladiators. West Germany landed an early blow as they took the lead just 10 minutes into the game. Horst Hrubesch finished a sublime team move orchestrated by Bernd Schuster. The Belgians hung and fought their way back as they leveled the game through a René Vandereycken penalty.
As we were heading into the extra time, the final plot twist arrived. Karl-Heinz Rummenigge put a beautiful cross for Horst Hrubesch from a corner. The Hamburg striker duly nodded it into the far corner and won the Euros for Germany. He produced the performance of a life time to break the Belgian hearts.
A dejected Guy Thys lifted his team up as they finished runners-up after a sensational tournament.
CHIN UP HEROES
The valiant fight of the Red Devils inspired a generation of Belgians as the Euro 1980 changed the footballing fortunes of the country. They continued their rise as the dark horses of world football. A 4th placed finish at the 1986 world cup made it evident.
Who can't wait for our first game at #EURO2020? ⚽😍 pic.twitter.com/xKjhdeoC6N

— Belgian Red Devils (@BelRedDevils) April 23, 2021
They are on the continual rise and have a golden generation now at the Euro 2020. Galaxy of stars from Belgium like Kevin de Bruyne, Eden Hazard, Romelu Lukaku would want to lift the Euro 2020. This would be an apt tribute by this golden generation of Belgium football to the heroes of Euro 1980.