Giorgio Chiellini and Leonardo Bonucci have been present in Italy's defensive guard for over a decade now. The duo has firmly cemented their place as one of the best centre-back pairings of world football. Only the best of attacking moves finds their way past the old guard. Exceptional game reading skills and brute tackling being their trademark. The Italian Wall has helped the team lift the European Championship!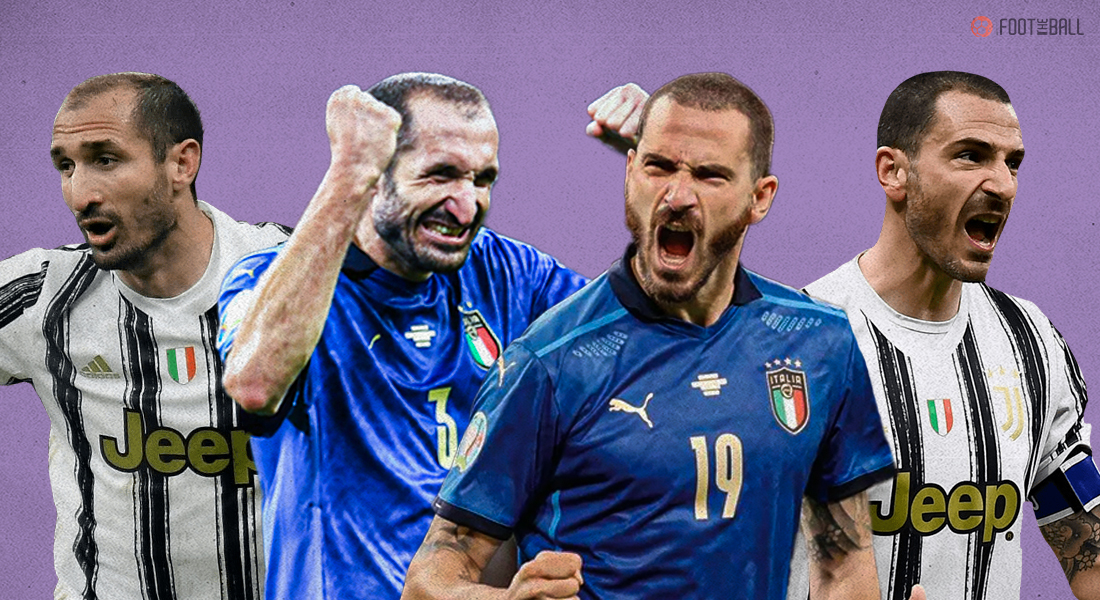 The two big veteran defenders are surprisingly calm despite being an intimidating presence. They rely more on their positioning and game intelligence rather than just depending on pure tackling ability. A characteristic that defines the modern defenders. There aren't many defensive pairings in the world that can claim to be as solid as this one. And so, Italy has a vital decision on their hands, one they have to ponder upon sooner rather than later.
Who can replace the veteran centre-back pairing? Italy has always been a breeding ground for good defensive-minded players, but in truth, there have been none that possess the capabilities of this duo, at least as of now. Chiellini might just retire before the World Cup, and although Bonucci might play, even his years are limited.
FootTheBall takes a look at the Top five defenders that can succeed the throne left by this duo.
1. ALESSANDRO BASTONI
It's not easy to fill the shoes of Chiellini or Bonucci, rather, it might well be a paramount task for many. But, this young defender might well be the man that can fill the void. Don't get me wrong, he isn't there yet, but at just 22 years of age, there is plenty of time to improve. Alessandro Bastoni has been immense for Inter Milan. The player was initially ready to be loaned out, but manager Antonio Conte realised his potential and gave him the green light.
https://www.instagram.com/p/CROlpkOt9nX/
Bastoni started 33 matches for Milan, playing close to 3000 minutes of football in Serie A. Boasting a passing accuracy of 90.5 per cent, he was one of, if not the best ball-playing centre-back in the league. The left-footer plays on the left side of the three-man defence for Inter and his contribution has led them to a Serie A title. Calm under pressure, he is capable of picking up passes even when pressed high. Line breaking long balls are his specialities.
Although not the fastest of players, he makes up for it with his excellent tackling skills. If he improves on his positional awareness and recovery runs, Bastoni might well secure his name among the Azzurri's starting XI.
2. ALESSIO ROMAGNOLI
AC Milan's 26-year-old captain would have topped this list if he enjoyed the kind of seasons, he did prior to this one. This campaign, although wasn't disappointing for him, wasn't exactly ideal either. Alessio Romagnoli had the worst possible system of football he could have been deployed in. Or maybe, this is one style that he needs to get accustomed to.
https://www.instagram.com/p/COWGQZqlM9-/
Romagnoli may be called the traditional sweeper, but that role is almost extinct in modern football. The Milan defender is not the gritty tackler or the head slamming big man, rather he's the kind of player that pinches things before it happens. Always on the lookout for dangerous situations, Romagnoli's positioning, awareness and reading of the game are right up there. After all, he did learn from Bonucci himself. But, Romagnoli's weaknesses were exposed this season.
The defender is not adept at recovery runs, a trait that is crucial to a high defensive line. He does read situations well, but, against the top attackers, his lack of pace will be punished. And so, he needs a partner that complements his ability. If so, Romagnoli can very well stay in Azzurri's backline for the coming decade.
3. RAFAEL TOLOI
Atalanta's No 2, Rafael Toloi, has been instrumental in their campaign in the Serie A. Capable of also playing right-back, Toloi is yet another Italian defender who is adept at reading the game. There has got to be something special about the way Italian's defend, almost everyone understands how it works!
https://www.instagram.com/p/CQMzcWngZas/
Toloi was paramount in defence and also scored two goals in a high scoring Atalanta team. Although not as the kind of clean defensive players like Bonucci and Chiellini, Toloi does possess the skills to maintain a good defensive record. Not reluctant to lunge into tackles when needed, Toloi makes sure that players do not get past him with ease. The kind of defender that can make life tough for the opposition while also chipping in up-front when needed.
4. DANIELE RUGANI
Daniele Rugani is the kind of player that keeps you on the edge of your seats for a while but then suddenly falls off the radar. He was pinned as a potential world-class centre back, the likes of which can deputise in the Italian national team for a long time. So far, he hasn't been that man but definitely shows the potential.
L'abbiamo sudato, difeso e l'avremmo meritato.
Ora guardiamoci negli occhi e alziamo subito la testa, con coraggio e fiducia.#forzaCasteddu #CagliariAtalanta pic.twitter.com/zqI7PtOVhc

— Daniele Rugani (@DanieleRugani) February 14, 2021
Rugani is yet another tall centre back that has the ability to read the game. When things are in front of him, Rugani is at his best. Strong and intelligent, Rugani can shake off any attacker on his day. Exceptional marking ability and even better aerial dominance is a plus worth having. Rugani has the potential to one day lead Italy's back-line, all he has to do is hone his skills. Being on the same team as Bonucci and Chiellini should help his cause.
5. ARMANDO IZZO
Armando Izzo is the real deal. The Torino centre-back does not play around. He does what needs to be done and does not make a huge fuss about it. Be it a lunging tackle or a body slam, Izzo puts his body on his line to protect his goal. Anticipation is second nature for the 29-year-old and he uses it to the best of his ability.
https://www.instagram.com/p/COfa3zwjlzL/
Izzo has the experience and the grit, he also has pace. Oftentimes deployed as a right full-back, Izzo works tirelessly to win back possession. In his 109 appearances for Torino, he has scored nine goals. Izzo is a dynamic player worth considering for Italy's future plans.