The final round of group stage matches begins with uncertainty. Each team is still hopeful of qualifying for the knockout phases by winning their respective games and wishing for the other results to go in their favour. Group B is no different as there's still uncertainty regarding who all will progress further in the tournament.
🇧🇪🇩🇰🇫🇮🇷🇺 Your favourite stickers from #EURO2020 Group B? 🤔@cocacolaco | #EUROalbum

— UEFA Nations League (@EURO2024) May 18, 2021
Euro 2020, just like the previous edition, has the third-placed qualification rule, which means the teams finishing third in their groups can still find a place in the next round if they end up being one of the best four third-placed teams out of the six groups in the tournament. This rule has allowed underdogs to afford to play for a draw against stronger sides and scrape their way into the knockouts.
Despite the drawbacks, it has definitely made the group stages much more fascinating and intense. As a result, no team is completely out of the Round of 16 race until now and the final round of group games will be a mini-final for many teams including the likes of Portugal, Germany and Spain.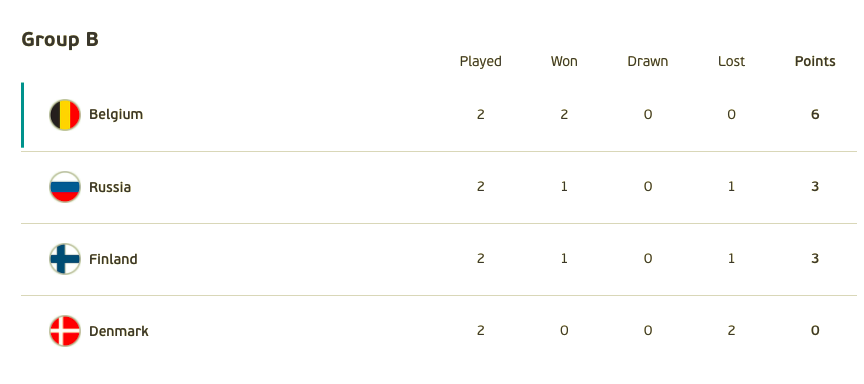 Only three groups have a fixed member in the next stage and Group B is one of them. There is still one, and possibly two spots up for grabs and each team will aim for the best possible result. We, at FootTheBall, will analyse what each team Group B needs to find their way into the Round of 16.
BELGIUM (6 POINTS)
The Red Devils are the group leaders after two games and have certainly booked a place in the Round of 16, keeping a 100% record in Euro 2020, including the qualifiers.
Final training before #FINBEL ✅ #DEVILTIME #EURO2020 pic.twitter.com/80UqCWuqd9

— Belgian Red Devils (@BelRedDevils) June 20, 2021
The world number one side has just conceded one goal until now, scoring five on the other end. A motivated Denmark breached their fortress early on in the second group game, only to concede two in the second half, which set Belgium through to the next round.
Belgium has no shortage of firepower, with the likes of Romelu Lukaku, Kevin De Bruyne and Yannick Carrasco in the squad. The final group game against debutants Finland is expected to be an easy ride for them, but even if it isn't, they only need a point to confirm the top spot in Group B.
🇧🇪 De Bruyne & Eden Hazard ballin' out for Belgium 🤩🤩🤩@HisenseSports | #EUROSkills | #EURO2020 pic.twitter.com/draqZC0ed7

— UEFA Nations League (@EURO2024) June 17, 2021
There is a possibility of a tie between them, Russia and Finland if both the latter teams win their last games. In such a case, the table will shape according to the goal difference of the teams.
RUSSIA (3 POINTS)
The 2018 World Cup hosts are currently second in the group standings and have a bright chance of going through if they manage to secure all three points in their game against Denmark.
Russia bounced back from a hefty 3-0 defeat at the hands of Belgium and defeated the enchanting Finland side in the second round. The Aleksei Miranchuk inspired 1-0 win over the Finns has kept them in the competition, despite having a negative goal difference (-2).
Автор гола и лучший игрок матча 😍 Поздравляем, Лёша 👏🏻 #НашиПарни #ФинляндияРоссия pic.twitter.com/QlZeQRDrjD

— Сборная России (@TeamRussia) June 16, 2021
Their final group game against Denmark will be a difficult fixture as the Danish side shocked Belgium and showed great resilience despite losing.
A win over Denmark will keep them in the second position only if Belgium manages to avoid losing all three points to Finland. If Russia and Finland win their respective games, the decision on who gets through as the second-placed team will depend on the goals scored in the games, and how majorly it affects the goal difference.
🇷🇺 Russia celebrate their first win at a EURO since 2012 opener 👏#EURO2020 pic.twitter.com/Kr3eRo1WI9

— UEFA Nations League (@EURO2024) June 16, 2021
If Russia draws this game and Finland wins over Belgium, they will finish third in the group and their ambition to progress further will depend on how the other third-placed teams finished in their groups.
A loss to Denmark will mean that only goal difference and fate can help them go through.
FINLAND (3 POINTS)
Finland came into the tournament as one of the lowest-ranked teams (54) and were the predicted losers of Group B, but they have fought their way into the final round of group stages. They can possibly finish second in the group, above Russia and confirm their place in the knockouts without any external influence.
Huuhkajat vietti perjantaina vapaapäivää, mutta lauantaina palattiin jälleen treenikentälle Spartak-stadionin helteessä 🦉☀️🥵#Huuhkajat #MeOlemmeSuomi #EURO2020 pic.twitter.com/rPNhUoRKS6

— Huuhkajat (@Huuhkajat) June 19, 2021
A huge task awaits them in the last group match against Belgium, in a scorching form and prepared to demolish anything that comes in their way. The difference in their FIFA world rankings will be put on a show and they will need to give their all to avoid a defeat.
Currently third in the group, Finland can finish anywhere between first to fourth depending on the final matchday results. Finland can be assured of a Round of 16 seats if they manage to upset the world leaders on Monday, which looks highly unlikely.
Pohjanpalo goal seals victory for Finland. #EURO2020

— UEFA Nations League (@EURO2024) June 12, 2021
The other possibility of a second-place finish is if they draw against Belgium and Denmark beats Russia. But if Russia wins their game and Finland can't, they will finish third in Group B, placing their hopes on being one of the best third-placed teams.
DENMARK (0 POINTS)
Denmark suffered a major blow in their opening game against Finland when their star player Christian Eriksen, unfortunately, collapsed during the game and had to be stretchered off. They eventually lost the game and their chances of progressing to the next round were heavily affected.
They fought valiantly against Belgium in the second game and took an early lead, but couldn't defend it for the rest of the match and eventually succumbed to the Belgian pressure.
Vi er klar til tredje akt på mandag. Nu skal vi have en sejr! 🇩🇰

Danmark-Rusland 👀#ForDanmark #EURO2020 #DENRUS #DEN pic.twitter.com/ikTGckgVEh

— DBU – En Del Af Noget Større (@DBUfodbold) June 19, 2021
Losing both games has put them at the bottom of the pile, but hasn't completely wiped off their possibility of going through. The match against Russia will be the last attempt to revive themselves, and nothing less than a win can help their cause.
Winning against Russia will put them in third place irrespective of the other results, but they can still finish second Belgium hand out a heavy defeat to Finland. In case all of Denmark, Russia and Finland finish with three points, the bottom three spots of the group will be decided on goal difference.
❤️ Denmark and Belgium unite to show their support for Christian Eriksen.#EURO2020 pic.twitter.com/jaaTpCNA3n

— UEFA Nations League (@EURO2024) June 17, 2021
A draw or a loss will result in a group stage exit for the 1992 winners without exception and the Danes are expected to fight till the end for their hospitalised teammate.