Before the Euros in 2008, Spain had gone 44 years without lifting a major international trophy, after their victory at Euro 1964. In fact, it had been 24 years since they reached their last final, losing 2-0 to France in Euro 1984. Between 2008 and 2012, they would win three international titles. The triple triumph began with a crushing defeat of Russia at the hands of one man.

🇪🇸 Spain 2008-2012.
⠀
■ 2008: Euro Winners 🏆⠀
■ 2010: World Cup Winners 🏆⠀
■ 2012: Euro Winners 🏆⠀⠀
⠀
One of the greatest teams in football history. pic.twitter.com/JyuOicVXK5

— FutbolBible (@FutbolBible) March 25, 2020
Spain came into Euro 2008 with a squad packed with upcoming superstars. Fernando Torres, David Silva, Cesc Fabregas, Andres Iniesta, Xavi, Puyol, Casillas… there was no end to the names that would soon be dominating the world scene for years to come. Among them was a 26-year-old striker by the name of David Villa, already with 31 caps, looking to establish himself as one of the best in Europe.
#Spain legend Luis Aragonés (28-7-1938, 1-2-2014) played for #Getafe #Recreativo #Hércules #Oviedo #Betis #Atlético pic.twitter.com/OzoXe3RKOA

— Classic Football (@classic1863) July 28, 2016
Led by manager Luis Aragones, who implemented the tiki-taka style of passing and movement, Spain were quietly confident in their chances of going deep into the tournament with such an exciting bunch of players. Little did he know the tournament's opening match would provide the template for what was to come.
THE MAN FROM VALENCIA
David Villa had been known in Spain as a talented goalscorer with a deadly lethality in front of goal, as already evidenced by his 14 goals in 31 caps for La Roja. Coming off the back of a 22 goal season with the club in all competitions, and the Copa Del Rey trophy, David Villa was tipped to lead Spain's charge at Euro 2008. 
David Villa, Valencia CF. pic.twitter.com/QA8vZs6MpB

— Nostalgia Futbolera ® (@nostalgiafutbo1) November 14, 2020
Spain had been drawn with Russia, Sweden and Greece in Group D. Their opening match against the Russians saw Villa being paired up with Liverpool attacker Torres in Aragones' preferred 4-4-2 formation. But nobody was expecting what came next.
COMETH THE MATCH, COMETH THE MAN
As the clock ticked over to the 20th minute, Torres latched onto a forward pass and as Russian defender Denis Kolodin got his legs in a tangle trying to stop him, he burst into the penalty box. With goalkeeper Igor Akinfeev rushing to close down, Torres bypassed him with ease before laying the ball off for Villa for a simple tap in into the empty net. 1-0 to Spain.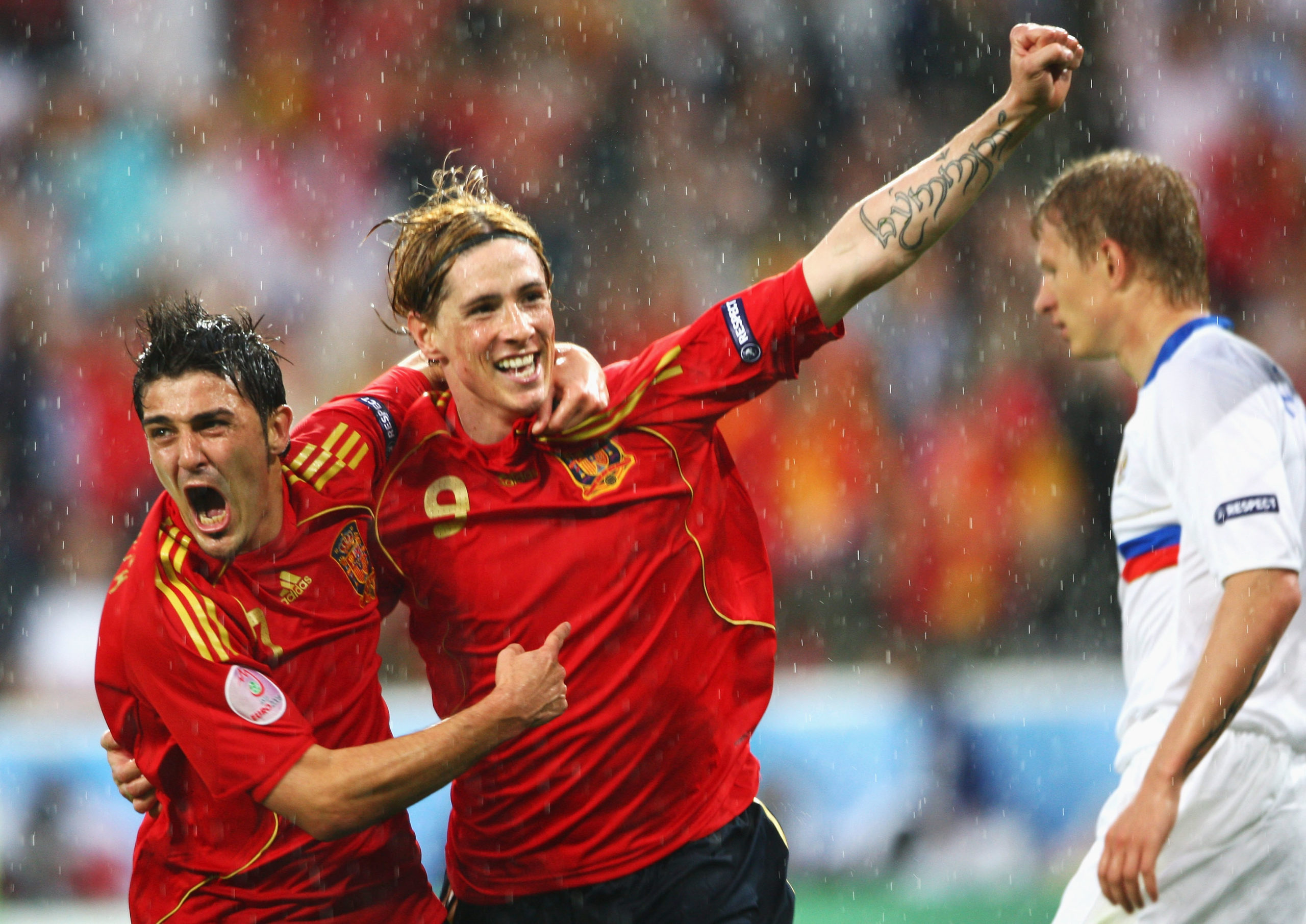 That was the way the teams seemed to be heading in for halftime but it was not to be. With Iniesta bringing the ball up the pitch with some jinking and quick feet, a crowd of Russia players converged on him in order to close the Barcelona man down. 
Villa, ever the willing runner, spotted his chance of running behind the last man and with Iniesta's laser eyes finding the striker, the outcome was a certainty. The 26-year-old slotted the ball past Akinfeev to make it 2-0. Half-time.
The passing and finishing for these goals 🤤🤪

🇪🇸 #OTD at EURO 2008, David Villa scored a hat-trick against Russia ⚽⚽⚽#EURO2020 | @SeFutbol pic.twitter.com/7MLNEN6Xap

— UEFA Nations League (@EURO2024) June 10, 2019
Post the break, it was all about whether Villa would be able to complete his hat-trick. For large chunks of the game though, it seemed like the elusive third goal would not come. As the Russians became desperate to score, a defence splitting pass from the right again found Villa one-on-one with the last defender. He twisted and turned Roman Shirokov around to get free, before wrong footing Akinfeev for this third of the night. Hat-trick complete.
David Villa finished as the tournament's top scorer with four goals but missed the EURO 2008 final through injury. pic.twitter.com/eznLZq9dGZ

— UEFA Nations League (@EURO2024) May 16, 2016
Russia would get one back five minutes from time, before Fabregas would score to make it 4-1. The most auspicious of starts for Spain, as Villa grabbed the match ball.
GOING ALL THE WAY
Spain would go on to win the tournament, defeating Germany 1-0 in the final for their second trophy in history. Villa would miss the final due to injury, but won the Golden Boot with four goals scored as well as making the UEFA Team of the Tournament. 
At EURO 2008, Spain No1 Iker Casillas kept clean sheets in the quarter-finals, semi-finals & the final itself. pic.twitter.com/beI47y4uUb

— UEFA Nations League (@EURO2024) May 16, 2016
Aragones' men were finally on top of Europe, and with Vicente Del Bosque at the helm soon after, Spain and Villa would go on to become World champions in two years' time. It was this match where it all started and David Villa's role at the centre of Spain's success is typified by this performance.