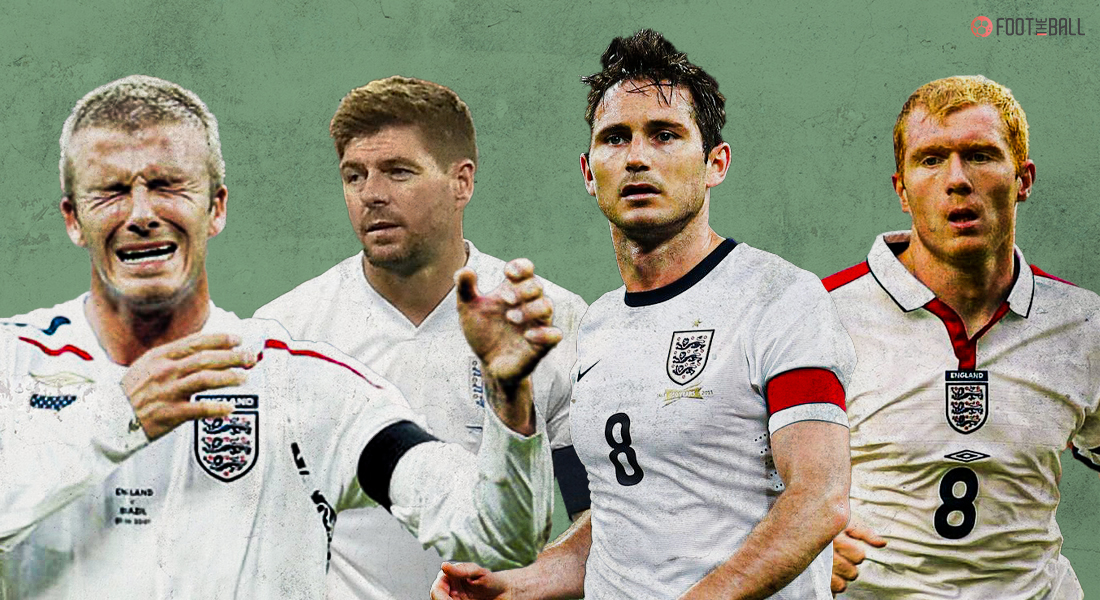 ICONIC MOMENTS - PORTUGAL A THORN IN ENGLAND'S GOLDEN GENERATION AS HOSTS BEAT THEM AGAIN AT EURO 2004
England's love story with Portugal in major tournaments has been one for the fairytales. Having suffered at the hands of Portugal at two successive Euros 2000, 2004 and the FIFA World Cup in 2006. Among all the disappointing heartbreaks, the 2004 quarterfinal loss was a gut-wrenching moment for the golden generation of England against Portugal at Euro 2004.

The team led by manager Sven Goran Eriksson was on paper by far the strongest it had fed at any tournament before. England started the tournament with a 2-1 loss to France. The three lions picked up the pace, it was the tournament for a young hungry Wayne Rooney. Rooney lit the Euros alight and scored a brace each in the following two games to send England into the quarters. 
England played against hosts Portugal in the quarterfinal of Euro 2004 screamed menace. Barring Rio Ferdinand who was suspended, the Three Lions had a starting 11 of David James, Gary Neville, John Terry, Sol Cambell, Ashley Cole, David Beckham, Steven Gerrard, Frank Lampard, Paul Scholes, Wayne Rooney and Micheal Owen. 
It was a squad at the peak of its prowess. The Portugal side England was facing was no walk in the park. It was a highly successful year for Portuguese football. Jose Mourinho's, Porto had just won the UEFA Champions League, the second in their history. 
THE MATCH
The Three Lions started on the front foot and rocked the host nation by an early Micheal Owen goal in the third minute of the game. 27 minutes into the game star sensation Wayne Rooney who took the tournament by storm, took a knock to his foot and limped off injured.  It was a blow at the heart of England's attack. If there ever was a moment Rooney could deliver International succeed this was to be it, but the Gods were not that kind. Despite the bludgeoning blow England held on to go into half time 1-0 ahead. 
Vintage Wayne Rooney.

Check out the England striker's Euro 2004 performance here: https://t.co/RxrGEvawAo pic.twitter.com/SD49MFhvDe

— BBC Sport (@BBCSport) June 9, 2016
The second half began with both sides cautious, England ploughed their roots to take the game deep. With seven minutes to Portugal equalised. The depth of talent on show for the Portuguese with likes of Cristiano Ronaldo, Rui Costa and Luis Figo, it was the unlikely hero Helder Postiga who headed past David James to give Portugal a much-needed lifeline. 
In extra time a hapless and tired England were soon on the ropes, in the second half of extra time Rui Costa crafted a goal of substance and beauty after brushing past the English defence he fired a pile-driver past David James to give Portugal the lead.
England were down and out heading to the exit of another tournament, but it wasn't to be just yet. John Terry pulled a rabbit out of the hat for a twist in the tale, the defender rose the highest to meet Beckhams's corner, which he then nodded to Lampard who put the ball past Ricardo. England celebrated but then what followed was the ghost of the penalty shoot out. 
Just trying to work out how England didn't win Euro 2004 with this side. pic.twitter.com/MMDVFv7aRd

— Football Tweet (@Football__Tweet) May 27, 2016
Beckham started the proceedings by launching his spot-kick into oblivion. Up stepped Deco to place it past James and give Portugal the advantage. Rui Costa's miss drew parity and the shootout was locked at 5-5. Vassel's miss and Ricardo's conversion sent England crashing out by the most fork-tongued of ways as Portugal halted their charge at Euro 2004. 
WHAT FOLLOWED
England never really recovered from the blow and two years later, the Three Lions suffered a similar fate in the World Cup, after being knocked out by Portugal in the quarterfinal on penalties. England had never won a penalty shootout at a major tournament but broke the jinx more than a decade later when Jordan Pickford saved Carlos Bacca's spot-kick before Eric Dier sent England past Colombia into the 2018 World Cup semifinal.
England's golden generation failed to deliver, "what might have been" is a debate that is still being dissected to this day. Two years ago, before his final cap for England, Wayne Rooney suggested that had it not been for his injury he would have led England all the way to continental glory. A lot of pundits and his teammates still believe it, Wazza was electrifying in that tournament, but alas it was never to be. 
Now as England beckon on their new charge at a major tournament, Gareth Southgate's boys will do best to believe they have a chance, it will be a crime to say, but I will this generation can achieve what the golden failed to.