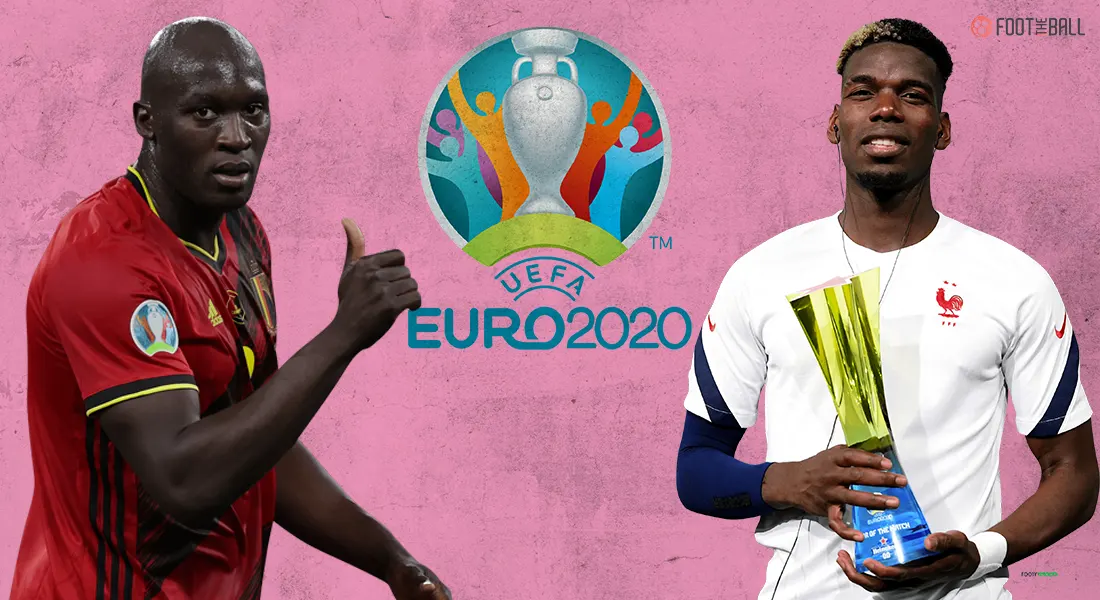 ROMELU LUKAKU AND PAUL POGBA RULED EURO 2020 IN THE FIRST WEEK OF THE SUMMER COMPETITION LEADING THEIR RESPECTIVE TEAMS TO PHENOMENAL VICTORIES
The new summer of Euros has had a mouth-watering start to their newest edition. Some thundering goals, a few world-class saves, Eriksen's magical revival, and some surprising results the roller-coaster week one has drawn to a close. It has already become clear after the first round of fixtures who all will be the top-performers at Euro 2020.
From Simon Kjaer's formidable heroics against Finland to Cristiano Ronaldo smashing records against a fighting Hungary the first week lived up to its expectations.
Although two players were head and shoulders above their rivals and outclass everyone on the pitch. Inter Milan and Belgium striker Romelu Lukaku is the first name on the list. A hungry poacher in front of goal, Lukaku demolished Russia with 2 thunderous goals.
And Paul Pogba dropped a magical midfield maestro against 2014 World Cup Winners Germany in the clash of titans in Group-F.
FootTheBall takes a look at how Lukaku and Pogba impressed the world on the European stage?
POG-BOOM!
The fulcrum of France's midfield, Paul Pogba once again dropped a jaw-dropping performance against former world champions, Germany. The Manchester United midfielder turned out to be a headache for Low throughout 90 minutes. Running the German defenders on his fingers, Pogba's world-class outing helped last time's silver medalist kick-off this summer with a magnificent 1-0 victory. Seeded in the 'Group of Death', Deschamps' army had a daunting task in front of them when they arrived in Munich.
A winning start to @EURO2020 for Les Bleus 👊
🇫🇷1-0🇩🇪 #FRAGER #FiersdetreBleus pic.twitter.com/706oV8EqTF

— French Team ⭐⭐ (@FrenchTeam) June 15, 2021
But an authoritative display by the 28-year-old Frenchman bolstered his nations' hopes. A fairytale match-up was on the cards with Pogba and Kroos locking horns. One ruling Spain while the other is Manchester's King. All though it was the Red Devil who got the better of his German counterpart. Continuously dispossessing Kroos, giving him less room, and stopping him from weaving magic, Pogba had a miraculous night. Paul Pogba was at the heart of France's first and only goal of that match. Lightning-quick on the ball he exchanged a few delicate passes with Pavard before scooping the ball to Bayern Munich left-back, Lucas Hernandez.
Pogba + trivela = 🤤🤤🤤

🇫🇷 THIS sensational pre-assist wins Skill of the Day 🔥@HisenseSports | #EUROSkills | #EURO2020 pic.twitter.com/O0glC04R5D

— UEFA EURO 2020 (@EURO2020) June 15, 2021
The energetic defender was in acres of space as he made a darting run before playing a thunderous ball to the chasing Kylian Mbappe. Although the ball had been turned in by Mats Hummels' boots who was the centre of attraction. A star-studded French lineup but Paul Pogba was the man who captivated the world. With a total of 12 recoveries and constantly conquering duels, Pogba stamped his controlling nature.
1 – Paul Pogba against Germany tonight:

🏅 12 recoveries, highest tally of the game

🏅 13 duels won, highest tally of the game

🏅 4 fouls won, highest tally of the game

Masterclass. @paulpogba @ManUtd pic.twitter.com/uu4j0XF9XV

— OptaJean (@OptaJean) June 15, 2021
The Les Bleus' engine, made an outstanding 40 passes throughout the game hardly misplacing even one of them. A perfect partner of Chelsea's N'Golo Kante, France are yet to lose a game when the two have started. A Star Of The Match performance to round-off France's first game in a difficult group, Paul Pogba surely proved his haters wrong in the perfect manner.
BELGIUM'S STRIKING DEVIL
With Belgium's golden generation failing to land silverware, the European summer of 2021 seemed like the last bite at the cherry. A remarkable roster picked by Roberto Martinez as the Red Devils looked to capture the European title. A perfect 3-0 victory against underdogs Russia ensured that Martinez's quest for silverware started perfectly.
First of all my thoughts are with @chriseriksen8 and @timothycastagne. Stay strong my friend and i hope both of you make a fool recovery 🙏🏿. Good win by the team @belgianreddevils 🙏🏿❤️ pic.twitter.com/lVzoY7N1Fc

— R.Lukaku Bolingoli9 (@RomeluLukaku9) June 12, 2021
And the man leading Belgium attacking line was an emotional but dominant Romelu Lukaku. Emotional because Lukaku's Inter teammate Christian Eriksen had collapsed on the pitch hours before kick-off, dominant because the Belgium striker is enjoying a purple patch. The winner of the Scuddeto, Lukaku smashed 44 goals for Inter this campaign. And once again he was the main man for Martinez's Devils. Ruling the Russian defenders, Lukaku constantly found pockets of space behind his rivals.
This guy 😍 #DEVILTIME #BELRUS pic.twitter.com/tKkxNSxpxx

— Belgian Red Devils (@BelRedDevils) June 12, 2021
Exploiting the acres of land at his exposure the talismanic striker was troublesome for the Russian goalkeeper, Anton Shunin. The veteran broke the shackles in the 10th minute of the game with a lightning strike that found the back of the net. Screaming 'I Love you Chris' after his beautiful goal, Lukaku surely touched the hearts of many fans. The 28-year-old was exploiting even an inch of space given to him. The lethal poacher bagged another goal just before the stroke of full-time explaining to the world why he's the best striker at this moment. A hungry monster in front of goal, Lukaku European summer has just started.
A FEW PLAYERS WHO ALSO HAD AN EXCITING WEEK
A week of exciting fixtures ended but not without offering some exceptional performances by players. Other names established a footing in the initial week making headlines with their glittering showcase of talent.
Cristiano Ronaldo guided Portugal to a 3-0 victory over Hungary. The weakest team in Group-F, Hungary battled valiantly till the 82nd minute. But an 87th-minute penalty dented their hopes of a draw. An injury-time effort to seize the game turned out to be the icing on the cake as Ronaldo became the all-time top-scorer of the Euros.
England and Leeds midfielder Kalvin-Phillips is another name who came under the limelight. Strongly holding the Three Lions' midfield, Phillips rounded off his extraordinary display with a match-winning assist. Praised by pundits all over the world, Phillips was fundamental for England's 1-0 revenge against Croatia.
49.7 – Patrik Schick's second goal (49.7 yards) is the furthest distance from which a goal has been scored on record at the European Championships (since 1980). Ridiculous.#Euro2020 #CZE #SCOCZE pic.twitter.com/imssf0WAxj

— OptaJoe (@OptaJoe) June 14, 2021
Locomotives' attacker Patrik Schick spoiled Scotland's return to major football with an outstanding outing. Scoring from the half-line, the Bayern Leverkusen man is on the road to bagging the goal-of-the-tournament award.