An international tournament like the Euro, or the World Cup is a prime opportunity for players to play themselves into the wider public consciousness. Watched by millions across the world, these tournaments break all barriers of league and language.
A team that performs well in these tournaments plays at most 10 matches, but still, the performance in those matches sometimes can have a greater impact on a player's career than a sustained period of excellence with his club side.  Someone like James Rodriguez got his dream move to Real Madrid on the back of a sparkling World Cup campaign in 2014.
FootTheBall is here to tell you about such players that teams should "Buy Before They Boom". These are the players that are primed for a breakout with glittering performances in the Euro, which is sure to rocket their valuation through the roof. One such player is Mikel Oyarzabal.
WHO IS MIKEL OYARZABAL?
Mikel Oyarzabal is a 23-year-old winger who plays for Real Sociedad in the Spanish La Liga. A youth product, and the vice-captain of La Real since the age of 13, Oyarzabal progressed through the ranks quickly and made his debut for the club under David Moyes as a substitute in a 4-0 win over Levante.
Quick impressions in his starting matches caught the eye of the manager that replaced Moyes, Eusebio Sacristán and soon, he was a starter in the team, primarily in the role of a left winger but also occasionally playing through the middle as an attacking midfielder when required.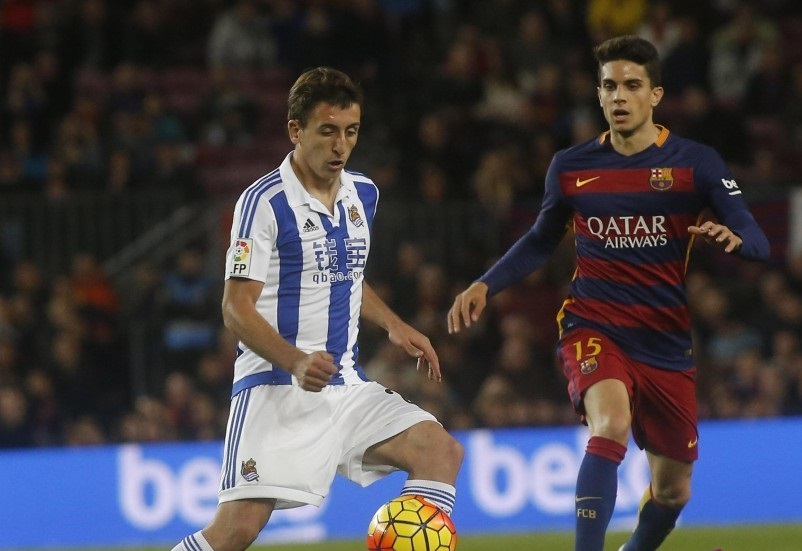 Mikel Oyarzabal in a match against Barcelona in his debut season. (Image Courtesy: La Liga / Website)
After an underwhelming 2016-17 season which saw him only contributing two goals and seven assists in the league, Oyarzabal went to four consecutive seasons in which he crossed the double-digit mark for goals.
In the 2020-21 season, Oyarzabal finished with 11 goals and eight assists in the league alone, second only to the freakish season that his teammate Alexander Isak had. This has been one of the best returns in his career so far, which shows the consistency at which the forward is performing.
PLAYER ANALYSIS
Oyarzabal primarily plays on the left-wing for Imanol Alguacil's 4-3-3 but at times he also started as an attacking midfielder in the absence of veteran David Silva.
In the world of inside forwards, where right-footed players like to cut in from the left-wing to shoot at goal, Oyarzabal is of the older, traditional set of left-footed wingers on the left-side and providing assists for his strike partners.
Although his 11 goals in the league this season comes from an xG of 10.8, mostly affected due to his penalty duties, the eight assists on his name from an xA of 5.5 indicate the overperforming asset in him and the tendency to find his striker from a difficult position on the field.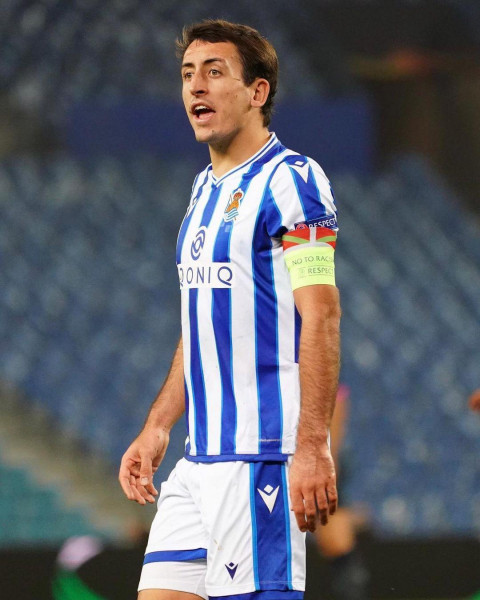 Mikel Oyarzabal captaining the side in the absence of Asier Illarramendi. (Image Courtesy: Real Sociedad / Website)
However, Oyarzabal's best ability is his off-the-ball movement that tends to break defences open. Not only does he make dangerous runs to create opportunities for himself, he also creates space for his teammates by dragging the defenders from their usual positions.
He is also quite adept at passing the ball and also carrying it when required, given his priority to stay up the pitch. With Nacho Monreal being a naturally attacking left-back, Oyarzabal tends to shift inside into the left half channel, affecting the game as an additional attacking midfielder at times, by playing his incisive inside passes into the box, making him extremely talented in terms of technique.
On the defensive front, Oyarzabal is quite underrated to be honest. According to FBREF, the winger has made 26 tackles, while also making 18 interceptions. When out of possession, Sociedad defend as a 4-4-2, with Oyarzabal playing as a left-midfielder rather than a winger, and is in the 91st percentile for attacking midfielders/wingers for successful pressure percentage and in the 90th percentile for shots blocked, with 0.19 blocks per 90.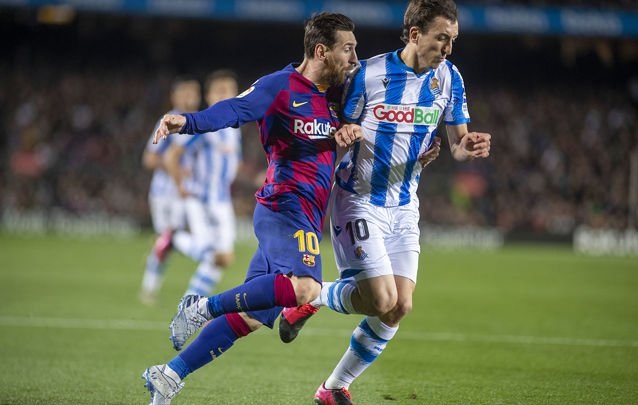 Oyarzabal defending against Lionel Messi. (Image Courtesy: La Liga / Website)
One caveat that can be improved could be his decision making and his inconsistent defensive work. At times, he tries to find the tougher pass rather than the easy one, which leads to his team potentially not having taken a lead. Also, this decision making leads to him suddenly not tracking back and not helping his teammates when out of possession which portrays his inconsistent defensive work.
BOOMING FACTOR
The Spanish League has often being a good market for prospective buyers to buy players who are in or about to reach their prime. On top of that left-footed attackers have been a hit in the Premier League primarily with Juan Mata, David Silva and the ambi-pedal Santi Cazorla making a name for themselves in England. And Euro 2020 could be the time to make a good impression.
If Oyarzabal can carry over his impressive performances from La Liga to the Euros, it could be enough to convince prospective buyers to take a plunge on him.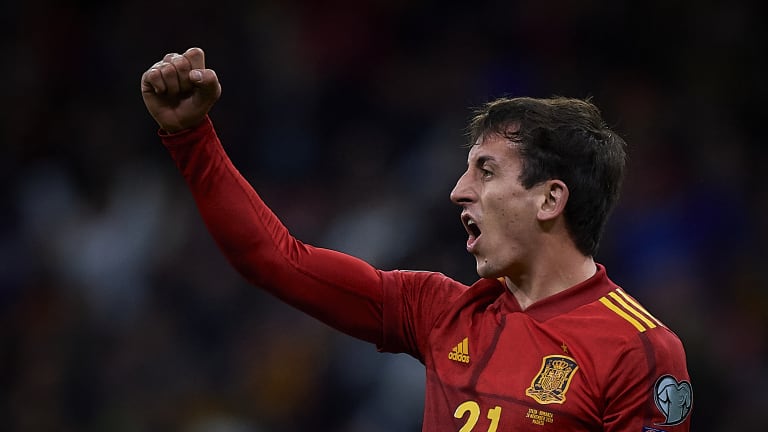 Oyarzabal, while playing for Spain. (Image Courtesy: Marca / Website)
Also, his ability to find that incisive pass can carve the path for his explosion at the European Championship and although he is not the first-choice set-piece taker for Spain, he can be a handful on the pitch for the opponents.
His time as the vice-captain for Sociedad will help him and the squad as a whole, which is currently devoid of real leaders after Sergio Ramos' omission and Gerard Pique's retirement. After Sergio Busquets and Koke, only the Real Sociedad man has some form of captaincy experience which could only be an advantage for La Roja.
PREDICTION FOR EUROS
Despite his impressive performances for Sociedad in the league, Mikel Oyarzabal might not be guaranteed to start at the Euros for Spain. Such is the attacking, albeit less experienced, talent at Luis Enrique's disposal.
Dani Olmo and Gerard Moreno have been the star performers for RB Leipzig and Villarreal respectively, while Alvaro Morata and Ferran Torres have influenced their clubs in some way or the other at times.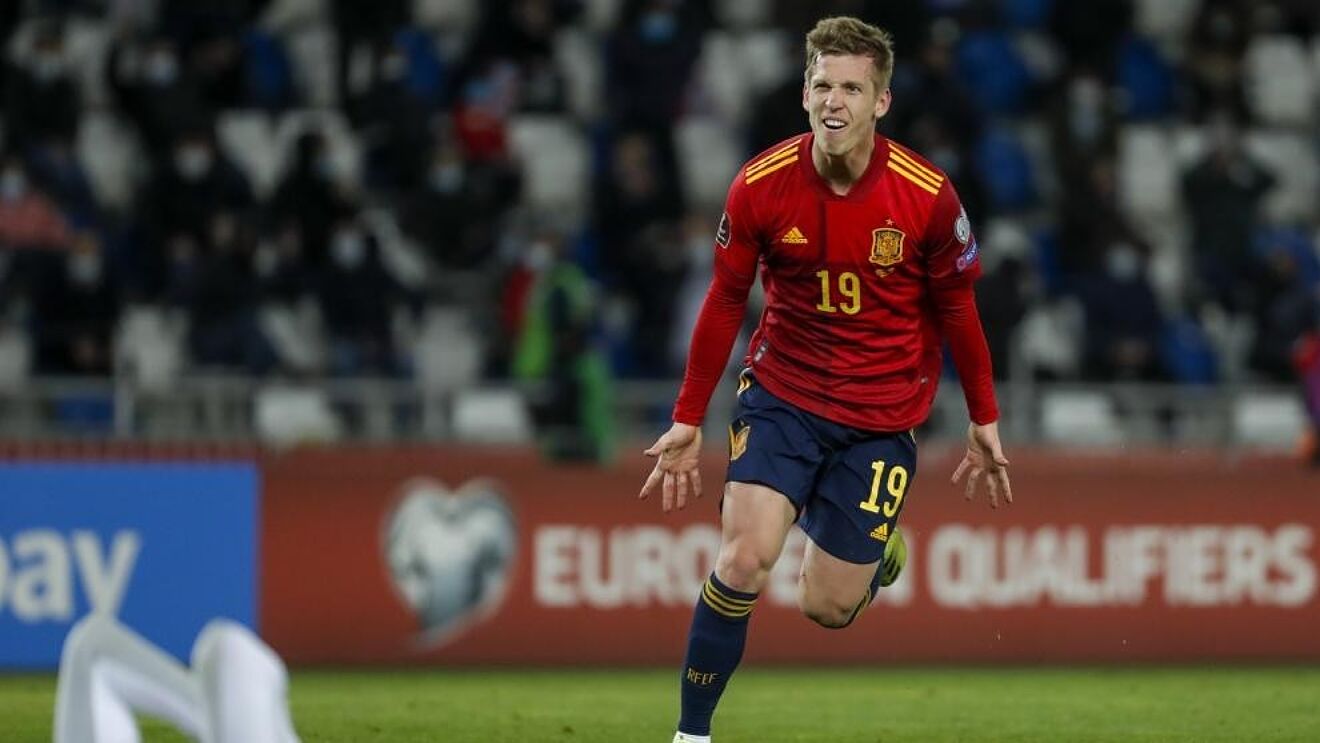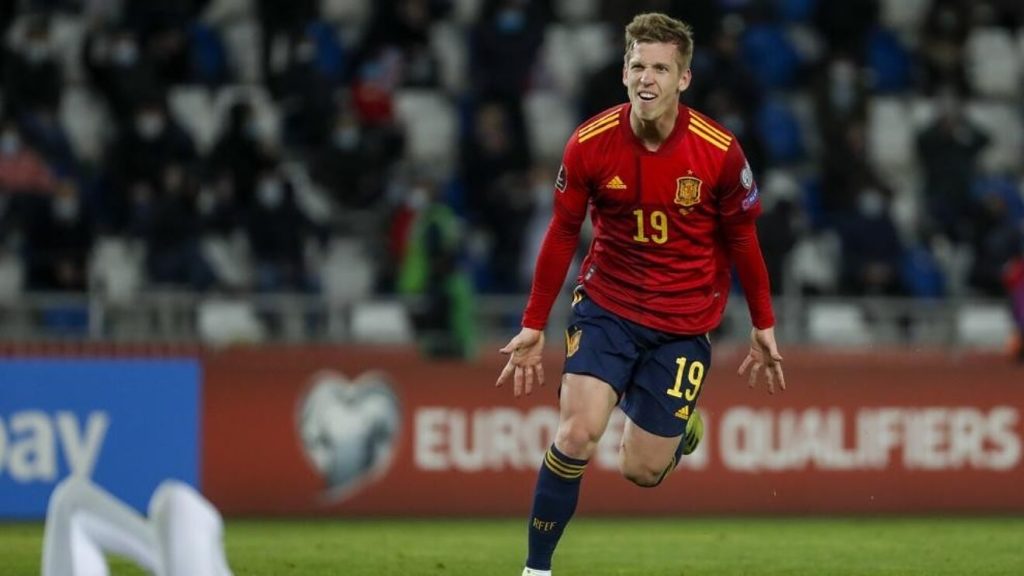 Dani Olmo might start alongside Gerard Moreno and Mikel Oyarzabal in Spain's attack. (Image Courtesy: Marca / Website)
But Morata's inconsistencies in the recent games for Juventus and Spain and Torres' limited game time might make Enrique start Oyarzabal on the left-wing with Moreno as the centre-forward and Olmo on the right in the trusted 4-3-3.
A competent performance at the Euros combined with noteworthy numbers for the Basque club in the league could very well be a message for clubs looking for players who can make it work in any kind of system or league.
IDEAL LANDING SPOT
With Sociedad only qualifying for the Europa League this season, Mikel Oyarzabal might want to take the next step in his career and move to a club that can offer Champions League football.
Rumours have it that Spanish giants Real Madrid and Barcelona are amongst the clubs who are keenly looking at the 24-year-old. Real Madrid have faced a lot of injuries this season, mainly to their attackers in important periods of their season.
Eden Hazard's big-money move from Chelsea has not worked until now while Vinicius and Rodrygo haven't reached their full potentials yet, having been in the first team for more than two seasons.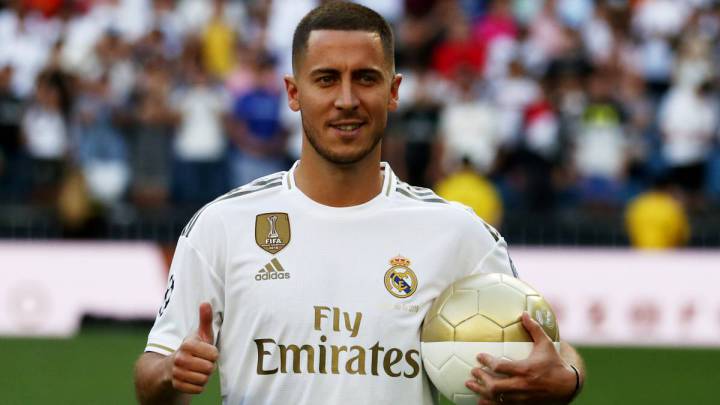 Eden Hazard has had tough season at Real Madrid due to various injuries. (Image Courtesy: Marca / Website)
Barcelona, on the other hand, have a stacked attacking force, which has been bolstered by the signing of Sergio Aguero and the potential arrival of Memphis Depay from Lyon on a free transfer might make it one of the best attacks in Spain.
All these conditions would mean very less game time for Oyarzabal in the above-mentioned clubs, and while Arsenal are also looking at the Spaniard, they cannot even offer European football after finishing eighth in the English Premier League.
The above reasons would indicate that he would not move from Sociedad this season, but if he wanted to, for a new challenge, West Ham United might be his best option. He would easily fit in at the left-wing spot which is occupied by Pablo Fornals at present as he is a more technically gifted player than the West Ham midfielder.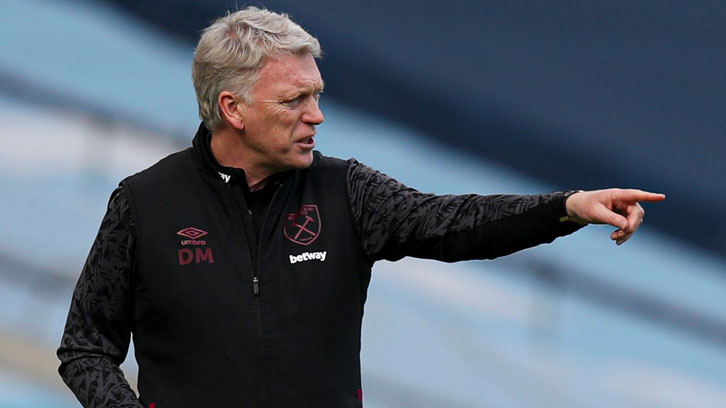 David Moyes and Oyarzabal will meet again if the Spaniard makes the move to West Ham. (Image Courtesy: Premier League/ Website)
And the idea of playing under David Moyes again, now in Europe, would be a mouthwatering prospect.