Tournaments such as the Euros or its bigger brother, the World Cup, are opportunities for players to showcase their talent to the wider public which can include clubs, scouts, or millions of fans alike, irrespective of any barrier such as language or nation.
The teams which go on to play the final will feature in seven games, and while it may be only seven, it is enough for those who have the urge to showcase themselves and get a prized move in the summer, which has the potential to change their lives completely.
We, at FootTheBall, are here to tell you about such players that teams should "Buy Before They Boom". These are the players that are primed for a breakout with glittering performances in the Euro, which is sure to rocket their valuation through the roof. One such player is Nikola Vlasic.
WHO IS NIKOLA VLASIC?
Nikola Vlasic is a 23-year-old attacking midfielder who plays for CSKA Moscow in the Russian Premier League. He started off at the youth system of Croatian club Omladinac Vranjic at the very young age of nine before moving to top-flight club Hajduk Split in 2010. After making his debut for the first team in 2014, Vlasic left for English Premier League club Everton in 2017.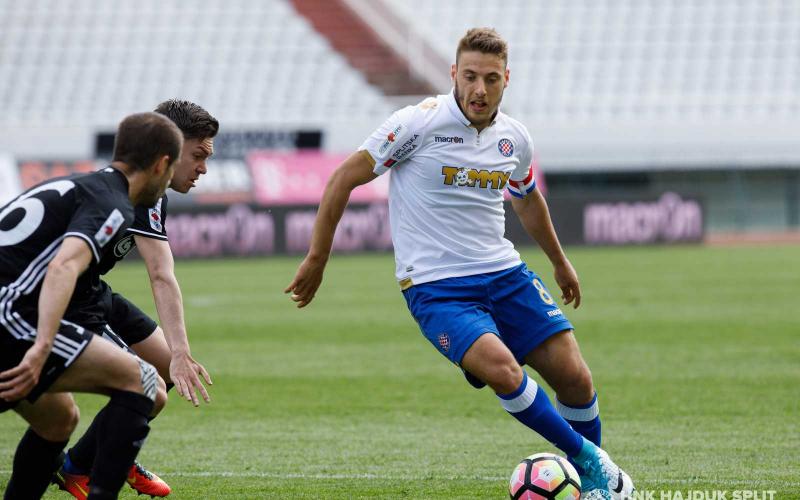 Vlasic during his days at Hajduk Split in Croatia. (Image Courtesy: Hajduk Split / Website)
In the one year at the Merseyside club, Vlasic failed to register any goals or assists, after which he moved to CSKA Moscow, first on loan, then making the move permanent in 2019.
In the 2020-21 season, Vlasic finished with eleven goals and five assists in the league, topping the charts for his club in goals and assists, and was the star performer in the capital club's topsy turvy season which saw them finish sixth in the league.
PLAYER ANALYSIS
Vlasic primarily plays as the attacking midfielder for Viktor Goncharenko's predominant 4-2-3-1 but whenever the system changes into a defence of three or five, the Croatian starts as one of the support strikers behind one of the centre-forwards Fyodor Chalov or Salomon Rondon, or even on the wings when needed.
One of those rare breeds of having a great physical strength along with skill and talent, Vlasic is very much encouraged to join his centre-forward in the box for the scoring and this is visible with his eleven goals in the league comes from an xG of 8.39, which indicates his overperformance in the games that he has played and these numbers are very much the same when compared to his previous seasons with the Russian club.
However, Vlasic's best ability is his off-the-ball movement as he often tries to create space for his teammates and is very skilful at doing that stuff and also provides himself as an option in the box for crosses and passes.
He is also quite adept at passing the ball, with two key passes per game in the league, and also carrying it when required, given his priority to stay up the pitch, and has formed a lovely relationship with his wingers Chidera Ejuke and Arnor Sigurdsson as they provide the width on the wings, providing Bardhi with the freedom to run at the defenders and have a shot after beating them for pace.
2. Nikola Vlašić
He gets in the box, he creates, he moves the ball forward, he beats defenders. Seems to have a pretty good corner delivery. He can drift to either flank or operate through the centre. Hopefully he can score a long shot or two to get people hyped. pic.twitter.com/561nD1lKph

— Sam (@GoalAnalysis) June 9, 2021
As well as technical quality, Vlasic showed a grit to his game. His willingness to work hard defensively and put his foot into tackles belied his slight frame has contributed to the compliments that he has received in recent years and his physical prowess is indeed a gift to himself.
One caveat that can be improved could be his decision-making and his inconsistent defensive work. At times, he tries to find the tougher pass rather than the easy one, which leads to his team potentially not having taken a lead. Also, this decision-making leads to him suddenly not tracking back and not helping his teammates when out of possession which portrays his inconsistent defensive work.
BOOMING FACTOR
The Russian Premier League has regularly being a decent market for prospective buyers to buy wingers or attacking midfielders who are fast and supremely skilled and those who are about to reach their prime.
Attacking midfielders who are also capable of help their defence in pressing while out of possession are luxurious items in some markets and this Euros could be the time to make a good impression for Vlasic if he wishes to make a move to the top leagues again.
If the Croatian can find a way to display the same performances at the Euros, it might be enough to convince prospective buyers to splash the cash for the 23-year-old.
Along with his ability to find defense-splitting passes from difficult positions, his set-piece prowess, and him being having the skill of taking free-kicks can be the path for his explosion at the European Championship.
PREDICTION FOR EUROS
Although he has been having a phenomenal season with CSKA Moscow, Nikola Vlasic will not be a guaranteed starter at the Euros for Croatia.
Such is the quality of the first-choice midfield that Croatia has in the likes of Luka Modric, Marcelo Brozovic, and Mateo Kovacic. But he could be used as an impact sub by manager Zlatko Dalić as he predominantly plays a 4-3-3 with wingers and Vlasic can also be used as a substitute on the wings if there was a need.
A competent performance at the Euros combined with the superb quality shown in the league for the Koni could very well be a message for clubs looking for players who can make it work in any kind of system or league.
IDEAL LANDING SPOT
Due to CSKA Moscow finishing 6th in the Russian Premier League, Vlasic will not play any kind of European football this season after featuring in the Europa League last season.
Reports had emerged before the start of the Euros that Everton were looking to re-sign the Croatian from the Russian capital club but Vlasic's agent had neither confirmed nor rejected the rumours, keeping them in the air.
Although Everton now have two decent creative attacking midfielders in James Rodriguez and Glyfi Sigurdsson, the addition of Nikola Vlasic might be helpful for the Toffees to bolster their depth. But he might be in the plans of an upcoming manager after the departure of Carlo Ancelotti.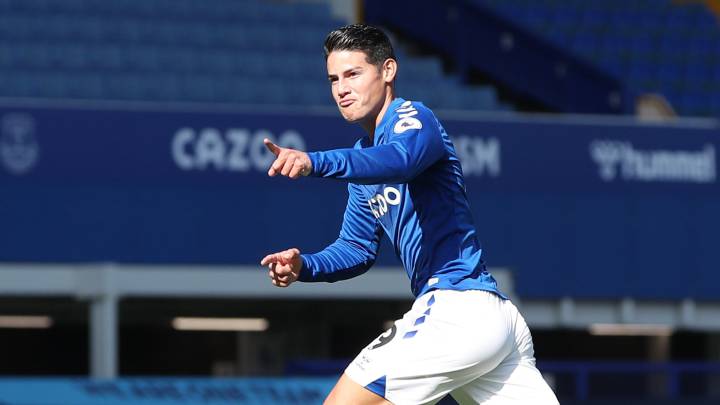 James Rodriguez has been impressive for Everton after signing in 2020. (Image Courtesy: AS / Website)
If Vlasic does make the move to the Premier League, Arsenal would be the best club for him as the Gunners are still looking to replace Mesut Ozil after his departure to Fenerbahce in 2020. Although Emile Smith-Rowe had shown flashes of talent in the number 10 role, Mikel Arteta would want to get in extra talent before the start of the next season.
But the best move for his career would be signing for AC Milan as the club are looking to replace Hakan Calhanoglu, with the Turk's contract expiring this year and the negotiations regarding an extension having reached an impasse in the recent weeks.
Vlasic might perfectly fit into Calhanoglu's role of being the main creator for AC Milan and can use his skill and physical attributes to hold off the defenders and opening up opportunities for his teammates.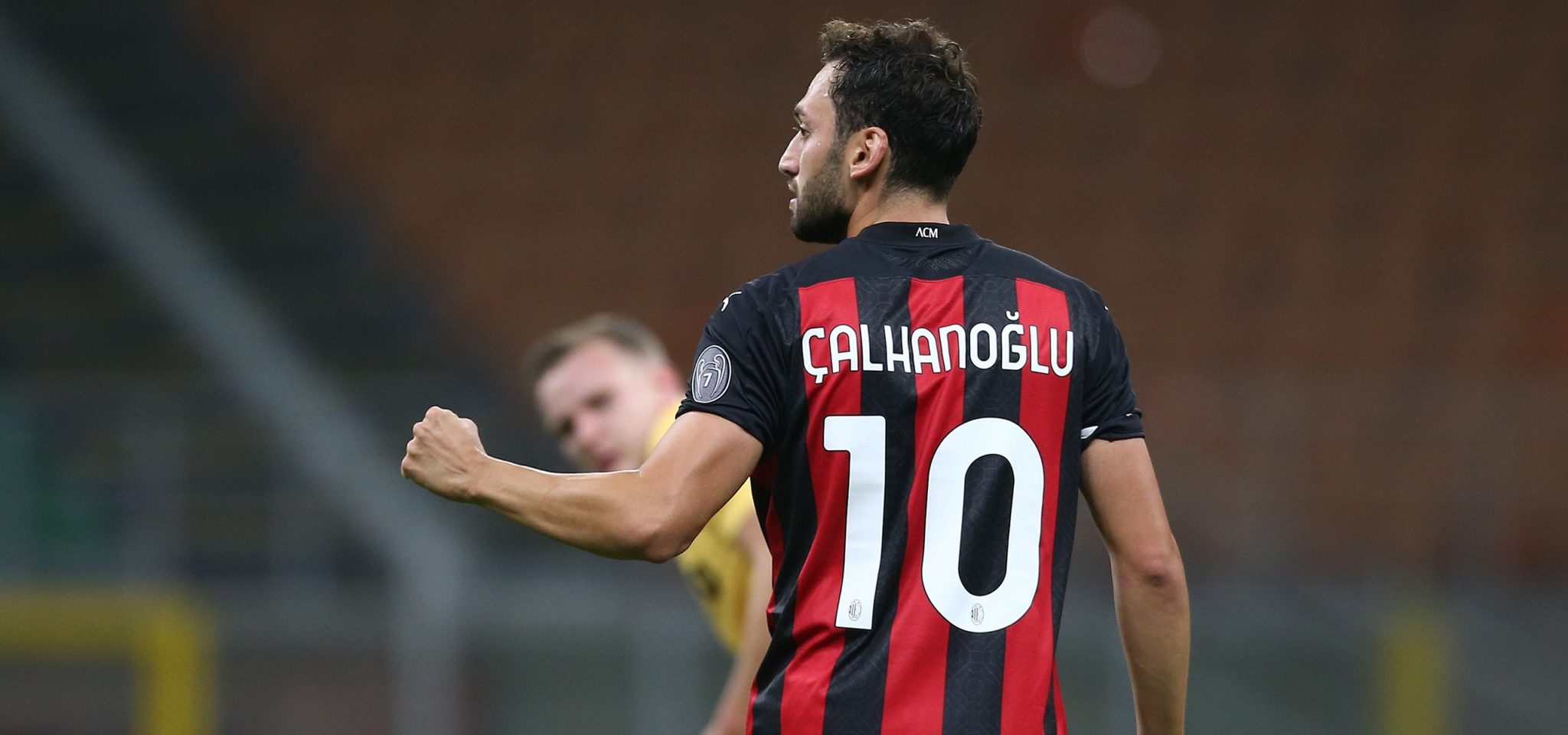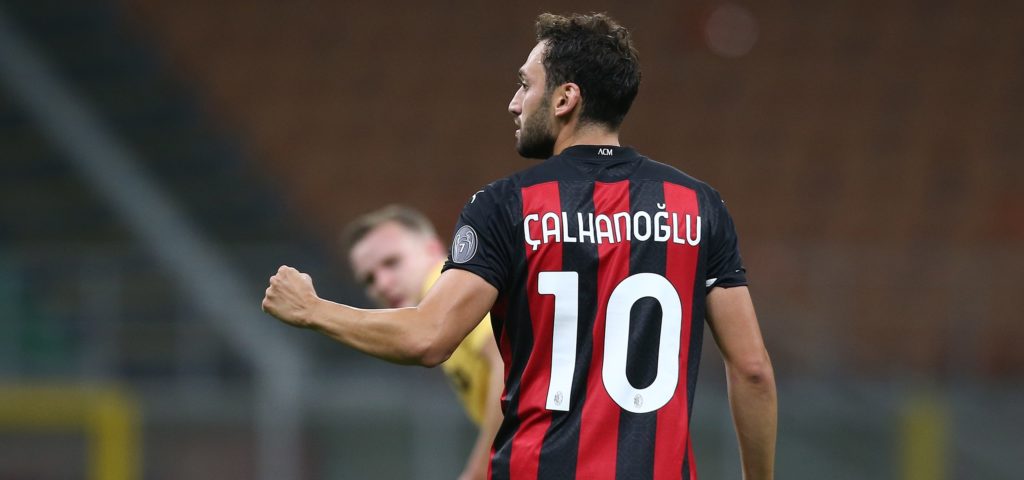 Calhanoglu's potential departure might open up the number 10 spot for Vlasic at AC Milan. (Image Courtesy: AC Milan / Website)
Arsenal, like CSKA Moscow, cannot provide European football but the club's name and stature might be enough for Vlasic but a move to AC Milan will be bigger, both in terms of European football and also the amount of game time he would receive. And if he wants to move, the right offer will only arrive if he has a great and productive Euros.