The golden generation of Spain (2006-2012) was one of the best and most dominating teams ever assembled. That Spanish team was the 2010 World Cup champion and won back to back European Championships in 2008 and 2012.
Euro 2008 🏆 World Cup 2010 🏆 Euro 2012 🏆

Spain's golden generation won Euro 2008 on this day—and kick-started a dynasty 🌟 pic.twitter.com/bvfbcbdOTw

— B/R Football (@brfootball) June 29, 2020
Since then La Roja have failed to make a mark in the major international tournaments. Spain was unable to defend its European Championship of 2012, as they were eliminated by Italy in the Round of 16 of Euro 2016. They were also eliminated in the Round of 16 of 2018 World Cup at the hands of the hosts, Russia. 
With most players of that golden generation retired now, will we see a birth of another Spanish golden generation, starting from Euro 2020?
Spain are in Group E this summer against the likes of Poland, Sweden and Slovakia. They will kick start their Euro 2020 campaign against Sweden on Monday 14th June.
THE MANAGER
The former treble-winning Barcelona boss, Luis Enrique, took over in his current spell in November of 2018 and has overseen a period of consistency and growth of young players into the team. Having moved on from their veterans over the past half a decade, Enrique has created a team based on youth and exuberant talent.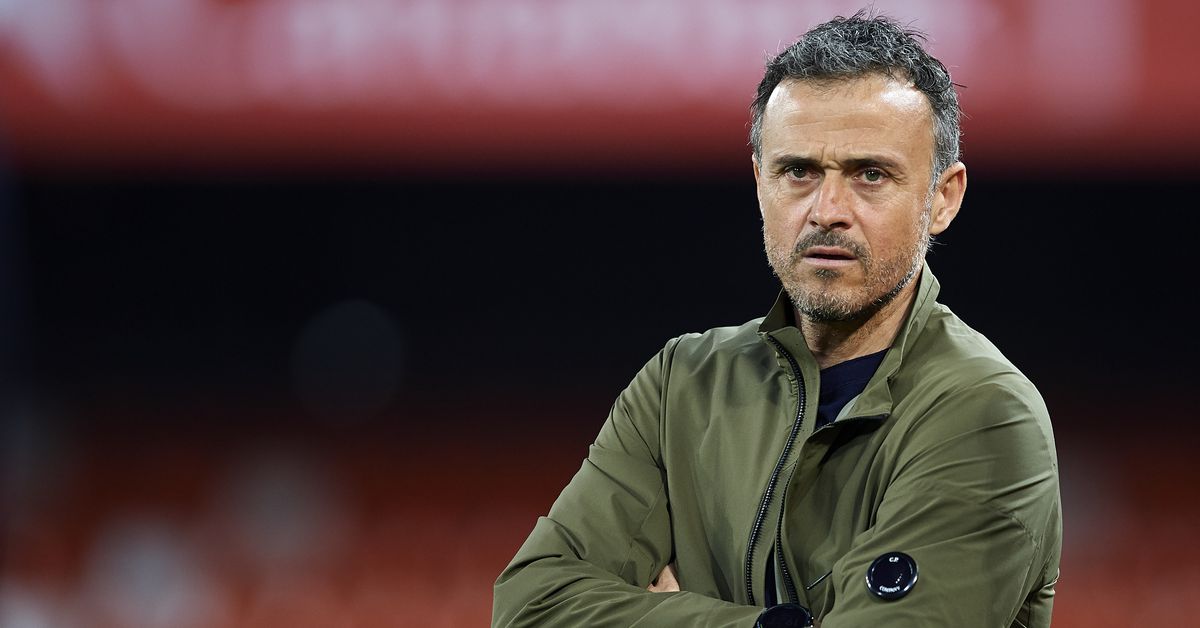 Luis Enrique took over the team, and aside from a brief stint by former assistant Robert Moreno in 2018, has managed the side pretty well. The team just missed out on qualifying for the knockouts of the 2018-19 UEFA Nations League tournament. They smacked Germany for six, as they came roaring back in this year's edition with a semi-final against Italy set to be played in October.
More good news follows as they sit atop their 2022 World Cup qualifying group after three games. He has been using the 4-3-3 in the recent World Cup qualifiers and would probably use this formation at Euro 2020.
THE FLAGBEARERS
SERGIO RAMOS
The most capped player in the history of Spain and the captain himself, Sergio Ramos has been representing his national side since 2005. Now 35, the Real Madrid defender hasn't lost his edge and is still one of the best and most feared defenders of the footballing world. With 180 appearances under his belt, he would be marshaling the back line for La Roja.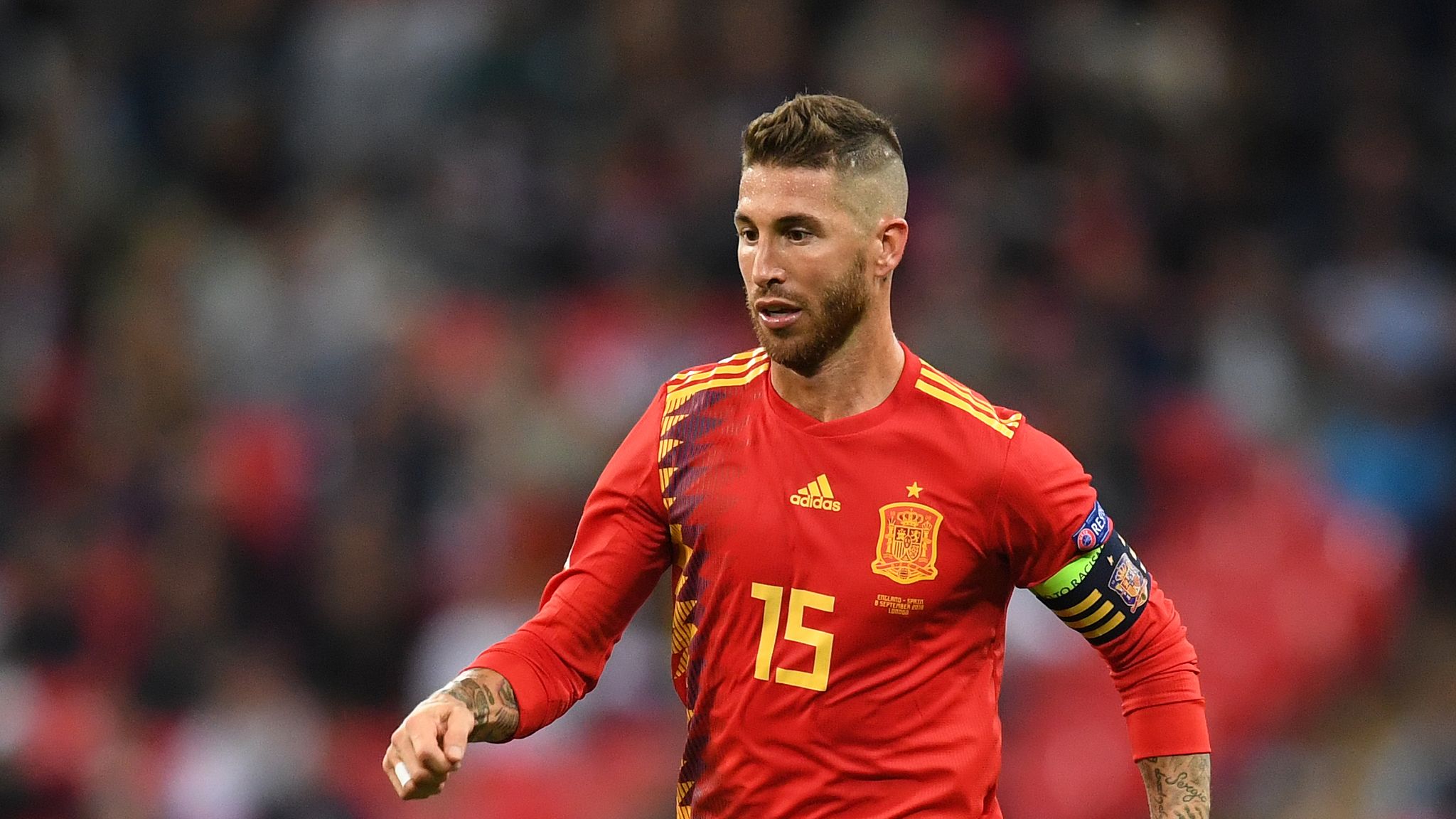 Probably this being his last European Championship, he would be hoping to make the most out of this chance and guide this young Spanish squad to a Euro.
SERGIO BUSQUETS
For the last couple of years, Busquets has been doing his job quietly and effectively. Recently the Barcelona man said that he would hope to play for Spain for a long time after representing his country for the last 12 years.
There are things no one can do other than Sergio Busquets. And there are things no one can do as well as Sergio Busquets. Space and time are football's most precious magnitudes and he controls both like no one else can. Knowing where to be positioned to be at the centre of everything and how much speed to give to each action is one of the hardest, and most underappreciated things to do which he does with unbelievable perfection.
His football isn't the one made for highlights, but he's still the best at what he does: anticipating, recovering and constructing. He has had consistently good performances for Barcelona lately and would look to do exactly that for his national side.
THE FUTURE
RODRI – DEFENSIVE MIDFIELD
The natural successor to Busquets, this Euro campaign, 24 year old Rodri will unarguably be the most important player for Spain in the centre of the park. He belongs to the same breed of defensive midfielders as Sergio Busquets, extremely positional and, while little mobile, with a superb reading of the game.
Rodri is a master of dictating the tempo, choosing the touches, direction of passes and maintaining proper distances with teammates and hence is Busquets' clearest heir going forward.
🔎 | FOCUS

Manchester City can be satisfied with the performance of their players tonight, as Rodri also impressed for Spain:

⏱️ 90' played
👌 120 touches
⚽️ 1 goal
🔑 2 key passes
🔭 7/8 acc. long balls
👟 103/107 acc. passes
📈 8.3 SofaScore rating#ESPGER #NationsLeague pic.twitter.com/smday3AWVC

— SofaScore (@SofaScoreINT) November 17, 2020
Although unlike Busquets, the Manchester City man is unafraid of the physical battle and is a hard man on the field. Having a dream campaign with City this season, Rodri will be looking forward to replicating that for his national side.
PEDRI – MIDFIELD 
18 year old Pedri is a veteran in the body of a boy. He plays with a self-efficiency and maturity that is unbelievable for someone of his age. A regular starter for his club, the Barcelona sensation plays every match with a chip on his shoulder.
He positions and orients himself, controls the ball and turns in one single movement with complete naturalness. He uses feints and tricks that are beautiful but tremendously effective. Pedri attracts rivals but then knows how to exploit the gaps generated through this.
It is common for players in his position to try to be hyperactive, moving all across the pitch and invading others' zones. But Pedri doesn't play to impress anyone, as he does everything as if he was in the street.  His tactical intelligence and technical gestures always convey a sense of calm. A La Masia graduate like Xavi and Iniesta, Spain's midfield is in bright hands. 
MIKEL OYARZABAL – FORWARD
La Joya de La Real Sociedad, 24 year old Oyarzabal is a joy to watch. At the age of 18 he made his professional debut with Real Sociedad and made his first appearance with the Spanish national team aged just 19. He is the definition of the modern Spanish winger.
He isn't blessed with blistering pace or unique skill but his ferocious agility and constant willingness to run into half-spaces make him an extremely versatile attacker. The left-footed player has often admitted that his preferred position is as an attacking midfielder in the central lane. Yet he is deployed as a left winger.
Gran victoria en un partido complicado! Pensado en el del martes desde ya! 💪💪 pic.twitter.com/iXlOHWF5ZG

— Mikel Oyarzabal (@mikel10oyar) October 10, 2020
He is a fan favourite at the Anoeta and a future legend of his club. With his technical quality and stature one can draw comparisons with David Silva. Although, his ruthless movements and constant alternation of flanks to drag defences open make him more decisive offensively.
FERRAN TORRES – FORWARD
21 year old Ferran Torres is a traditional winger. He is a right footed right winger so his main tendency is to dribble down his flank before bombing a dangerous and tense cross into the box. The Manchester City man hardly ever decelerates, being very vertical and attack-minded.
\With extraordinary dribbling skills and one-on-ones, he is dizzying as he drives the ball at full speed, being capable of creating chances out of nothing and providing chances from many metres out. 
🇪🇸🆚🇽🇰 Ferran Torres has scored 5 of the last 11 goals for Spain ⚽️#WCQ pic.twitter.com/4G1itiJhm6

— UEFA Nations League (@EURO2024) March 31, 2021
Having made his debut last August, he has been balling the national side out of late with five goals in his four matches, including a hat-trick in the 6-0 demolition job of Germany in November. 
But the list doesn't end here. Players with the likes of Unai Simon and Kepa between the sticks, Eric Garcia and Diego Llorente in defence, Marcos Llorente and Fabian Ruiz in the midfield and Dani Olmo, Bryan Gill and Gerard Moreno in the forward position, this Spain squad is full of young and exciting talent
How far will Luis Enrique be able to guide this young team in Euro 2020? Who knows? But it would be safe to say that another Spain golden generation isn't far away.