Spain make it to the last 4 as they have won their Quarter Final game of Euro 2020 against a 10-men Switzerland on penalties. It was a close game throughout and the scoreline ended saying 1-1 after extra time. The Swiss players couldn't handle the pressure and ultimately failed to win from the spot.
Switzerland were beaming with confidence after beating the world champions in their last round and were fully determined to make it to the last 4 for the first time in their history. Spain had a tough match against Croatia and their defence especially were fully determined to prove their worth ahead of the semi-finals.
Form doesn't play too much of a part at this stage of the tournament and the team that is more up for it and is ready to give it their all, is the team that usually progresses ahead. In this case, Spain.
FootTheBall brings you 5 important things that shaped the fate of this game and that one player who made the most difference on the pitch in this fixture.
THE SPANIARDS WON BUT SOMETHING NEEDS TO CHANGE
👏🏻 ¡¡AHORA ES CUANDO MÁS HAY QUE ANIMAR!!

👏🏻 ¡¡Vamos equipo!! ¡¡VAMOOOOOS!!#SUI 🆚 #ESP | 1-1 | 71' #SomosEspaña #EURO2020 pic.twitter.com/kfjIKGnrSX

— Selección Española de Fútbol (@SeFutbol) July 2, 2021
At times, Spain's backline was found even beyond the halfway line when they had the possession. All major chances created by the Swiss were when they were running with the ball towards the goal with no Spanish defenders in sight. Spain's defenders are simply not fast enough to catch up to the pacey forwards of the opposition which made them prone to a lot of mistakes.
If Spain had just been a little bit more on the backfoot, they wouldn't have been so vulnerable defensively. Jordi Alba and Azpilicueta on the flanks are just too old to keep running back while fending off the counter and we could see them slacking at times.
THE IMPACT OF EMBOLO'S DEPARTURE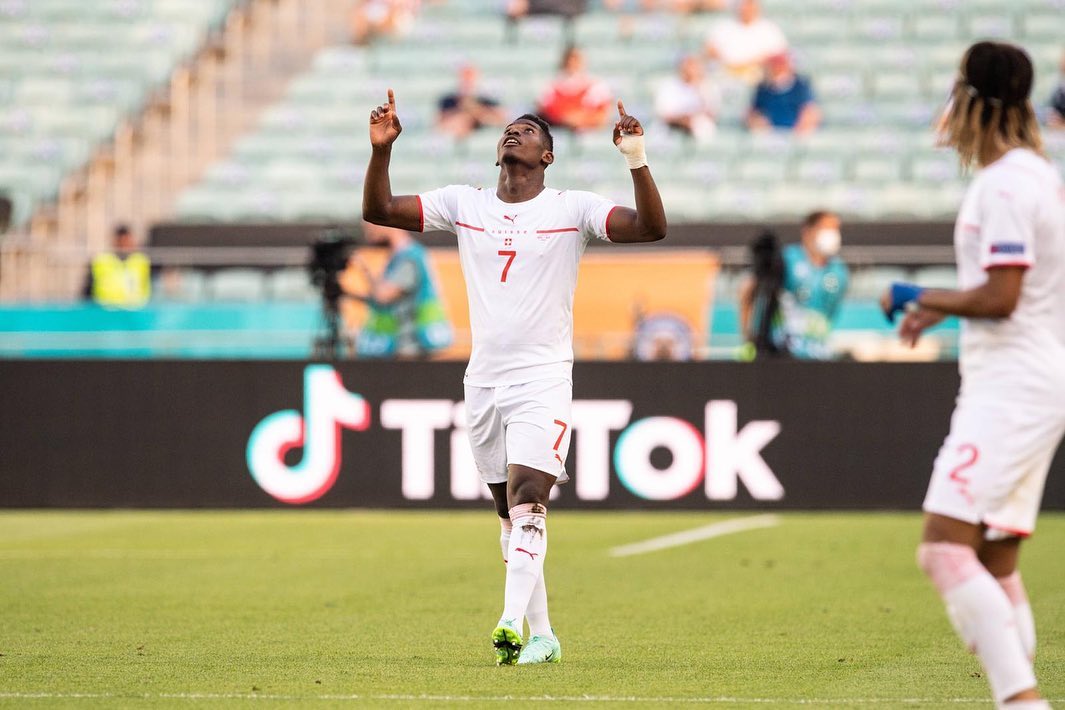 Breel Embolo has arguably been one of the best and most consistent performers for Switzerland in Euro 2020. Switzerland's chances of making it to the semi-finals witnessed a huge drop when Embolo walked off the pitch in the early minutes of the game. He has been one of the key players involved in pushing the ball into the final third for his team and it is safe to say things would have happened differently for the Swiss.
Embolo used his pace to counter quickly when in possession but without him, they just couldn't move the ball as quickly and effectively as they would have hoped for. Switzerland were also finding it difficult to create chances in the extra time and we feel Embolo would have helped them in that department had he stayed fit throughout the game.
THE SWISS PUT UP A GOOD FIGHT
There is no doubt that Switzerland deserves to reach so far in the tournament. They had a shaky group stage campaign but came back and defeated a side like France. Their backline has been phenomenal throughout the knockout stages and there are surely positive things waiting for them after the Euros.
Even though Spain likes to keep the ball and pressurize their opposing defence, the Swiss attackers didn't hold back at all. They tried to push the ball ahead rapidly whenever they had the possession and came awfully close to scoring on multiple occasions.
It has been a fairytale campaign for Switzerland so far but they couldn't find the perfect ending to their magical journey. They would surely be proud of their performance and it looks like we can expect great things from Swiss football in the future.
PLAYERS NEED TO BE A BIT MORE CAREFUL
There has been a total of 6 red cards in the tournament so far and we are only at the quarter-final stage. A controversial red card decision was given against Switzerland as Remo Freuler was sent off in the 77th minute because of a tackle on Gerard Moreno.
Majority of the fans were unhappy with the decision since it wasn't a straight-up red card-worthy offence. Freuler slid into a tackle with both feet off the ground and crashed into Moreno's legs. People feel this was not a horrible offence since Moreno had the ball on him and there was a slight chance of Freuler making some contact with the ball. A yellow card would have been justified, but the referee went for the bold move and gave a straight red without even referring VAR was a bit harsh by him.
Rob Holding on Instagram story, voicing his opinion on Remo Freuler's red card for Switzerland against Spain: "Red card???! You can't even tackle anymore 🤦‍♂️ Games gone" [IG: rholding95] #afc pic.twitter.com/CCro0q878f

— afcstuff (@afcstuff) July 2, 2021
Wales' defender Ethan Apadu had also received a red card for a similar offence that was arguably a yellow card tackle. Referees are being consistently a bit harsh throughout Euro 2020 and the players have to careful from here on to the business end of the tournament. Losing a player due to suspension can be a huge loss for the teams and can even result in their team getting knocked out of the tournament.
SPAIN WERE LEFT BEGGING FOR A GOAL
⌛️ ¡¡CINCO MINUTOS PARA EL FINAL DE LA PRÓRROGA!!

💪🏻 ¡¡Vamos, chicos!! ¡¡Lo estamos mereciendo!!

🙌🏻 ¡¡VAMOS, ESPAÑAAAAAA!!#SUI 🆚 #ESP | 1-1 | 115' #SomosEspaña #EURO2020 pic.twitter.com/WmWoTntOvW

— Selección Española de Fútbol (@SeFutbol) July 2, 2021
The game should have never reached the penalties and it is completely Spain's fault. They were on the front foot throughout extra time and had more than 10 shots in those 30 minutes. Sommer did his best and kept stopping the shots since Spain weren't doing anything special in front of the goal.
They were shooting the ball but the attempts were weak and predictable. With the catalogue of chances they have been creating, it is just baffling to see how they end up scoring just once in the game.
They have to improve on that since they are playing against Italy or Belgium in the semi-final. They won't be able to create as many chances against them as they have been doing all tournament and hence Spain will have to make the best of the opportunities they get.
STAR PLAYER: MANUEL AKANJI
Switzerland had not have made it even to extra time if it wasn't for their central defender, Manuel Akanji. He has been a headache for the Spanish attackers ever since the ref blew the whistle. He read the Spanish plays so well and made a number of crucial interceptions right in front of the goal.
In the dying minutes of the first 90,  Akanji stopped a shot from Dani Olmo which would have been a sure goal if it wasn't for his block. He did the same thing again in the first half of extra time and kept his team in the running till the final whistle. Sadly, he succumbed to the pressure and missed his penalty kick but he gave it all on the pitch and probably had the highest work rate in the game.