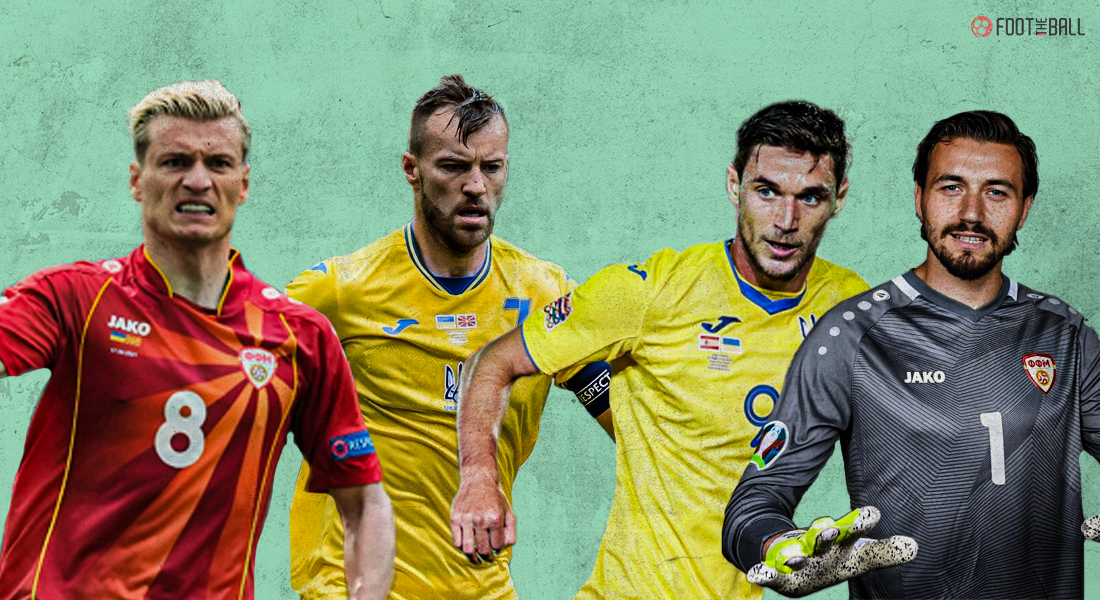 Match Report: Ukraine vs North Macedonia - North Macedonia give Ukraine a run for their money
Ukraine were expected to win this match comfortably, but that was hardly the case as North Macedonia once again impressed with their grit, resilience and perseverance.
The Blue and Yellows came back with all the three points in the bag, but they were made to slog it out in Romania by the Lynxes in Group C in UEFA Euro 2020.
⏰ RESULT ⏰

🇺🇦 Yarmolenko & Yaremchuk net for Ukraine
🇲🇰 Alioski scores rebound; Dimitrievski saves penalty

🤔 Who impressed you? #EURO2020

— UEFA EURO 2020 (@EURO2020) June 17, 2021
FootTheBall takes a look at what unfolded in the match in the Romanian capital of Bucharest as Ukraine won their first match in UEFA Euro 2020.
UKRAINE MAKE INTENTIONS CLEAR FROM THE START
Ukraine dominated the match right from the off. They had impressed in their defeat to the Netherlands in the opening game and had to win this match to ensure survival at least. 
And Shevchenko's charges didn't disappoint as they were in the thick of things in North Macedonia's half and made their intentions clear of aiming to earn all three points.
🇺🇦 Top Ukrainian forwards ⚽️#EURO2020 pic.twitter.com/cYEBBRrAC5

— UEFA EURO 2020 (@EURO2020) June 17, 2021
Malinovskiy, Yaremchuk and Yarmolenko put in excellent performances in the first-half of the match as the Ukrainians built a healthy 2-0 lead within the space of 5 first-half minutes.
They had the lion's share of possession as North Macedonia were left to chase the game for the majority of the match. Ukraine's defensive work was also pretty solid as they only let North Macedonia create 2 chances in the entirety of the first-half.
YARMOLENKO SHINES FOR THE BLUE AND YELLOWS
Andriy Yarmolenko came close to manager Andriy Shevchenko's all-time top scorer record for Ukraine as he scored his 42nd goal for Ukraine in the 29th minute off an assist by Karavaev in the aftermath of a Ukrainian corner. 
Just a minute earlier he had missed from close range for the Blue and Yellows as the ball was turned behind for a corner, but he made no mistake inside the 6-yard box to tap in home.
🇺🇦 Andriy Yarmolenko & Roman Yaremchuk have both scored in each of Ukraine's last 3 matches ⚽️⚽️#EURO2020 pic.twitter.com/v9eH8k6bd0

— UEFA EURO 2020 (@EURO2020) June 17, 2021
He also released teammate and fellow forward Yaremchuk five minutes later as the Ukrainians doubled their lead and firmly sat in the driving seat in Romania.
NORTH MACEDONIA REDUCE ARREARS
The North Macedonians got back right into the match and breathed new life into the game as they pulled one goal back, showing resilience and grit as the clock approached the hour mark.
Their marquee player Goran Pandev was brought down in the penalty area for a foul after Bushchan pulled a beautiful save just moments ago the 37-year old was fouled.
🇲🇰 First goal at a major tournament for Ezgjan
Alioski ⚽️#EURO2020 pic.twitter.com/UmoWLL78Jv

— UEFA EURO 2020 (@EURO2020) June 17, 2021
Aliosky stepped up to take the penalty but missed, although he redeemed himself after scoring on the rebound to enliven the game as Ukraine's lead was cut by half.
This phenomenon briefly saw the Macedonians dominating the proceedings in the match on the back of newfound confidence and self-belief in the Lynxes as they piled on the pressure on the Ukrainians.
UKRAINE MADE TO WORK BY NORTH MACEDONIA
The Blue and Yellows were expected to make light work of North Macedonia, but the Lynxes made sure that the match was not merely a walkover for Ukraine as they were made to work hard for the victory in Romania by the North Macedonians.
The Lynxes conceded a penalty late on as Ukraine looked set to regain their two-goal advantage, but Malinovskyi missed from 12 yards as North Macedonian goalkeeper Stole Dimitrievski literally 'stole' the show at the very end.
🇺🇦🆚🇲🇰 Will Dimitrievski's penalty save prove crucial?#EURO2020 https://t.co/AETUEE9ic8 pic.twitter.com/vOmXzarcka

— UEFA EURO 2020 (@EURO2020) June 17, 2021
This spurred a late revival for North Macedonia as they pushed for an equaliser with time running out by going all out, but Andriy Shevchenko's charges held on to earn a crucial victory in Group C that sees them live to fight another day.
Meanwhile, the North Macedonians can take heart from an all-round impressive performance where they showcased why they deserved to play in UEFA Euro 2020 and will definitely go back home with their heads held high.