Arsene Wenger is one of the most revered figures in the history of Arsenal and of course, the Premier League in itself. Le Professeur's 22-year stay with the Gunners was peppered with world-class players, silverware, great European nights and the move to Emirates Stadium under his watch.
Arsene Wenger, the man who gave us two doubles, the Invincibles, winning the league at WHL, Thierry Henry, Patrick Vieira, Robert Pires. This is 100 per cent the right decision for him and for Arsenal, but it still leaves me feeling a bit numb. Thank you Arsene. pic.twitter.com/CI2XuFc7pf

— Charles Watts (@charles_watts) April 20, 2018
However, his exit at the end of the 2017-18 season came after a sustained campaign of "#WengerOut" from a section of supporters. The complaints were many- restricted spending, a drought of trophies, falling behind their competitors in the league, out of the top-four over his final two years.
'Wexit': Arsenal fans staged an Arsene Wenger protest before their #FACup match. https://t.co/55CqgFgfVt pic.twitter.com/JAfjVQ1EfX

— ESPN FC (@ESPNFC) March 11, 2017
Since leaving the club, Wenger has spoken out many times to indicate the kind of "sadness," "hostility," and the like he felt from fans who were judging too harshly. Though his final years were a far cry from his initial decade, there is some truth to what Wenger had said in his defence.
THE ARSENE WAY
Ever since his arrival in 1996, the largely unheralded Frenchman has had a revolutionary effect on the fortunes of the club. Bringing in youth talents who would go on to become superstars and playing a supremely attacking style of football which excited fans. The signings of Thierry Henry, Patrick Vieira, Dennis Bergkamp, and a whole host of other names would form the bedrock of the team.
On 30th September 1996, Arsene Wenger started his long and illustrious Arsenal career…#PLMoments pic.twitter.com/k4lpYDVnEB

— Premier League (@premierleague) June 15, 2017
His innovative tactics, fluidity during gameplay and compactness at the back remain the guiding principles even today. Manchester United were the topmost force in those days but Wenger shocked the league by winning the Double in just his second year. It is a time fondly recalled by everyone associated with his rivalry with Alex Ferguson, and then Jose Mourinho made for spectacular viewing.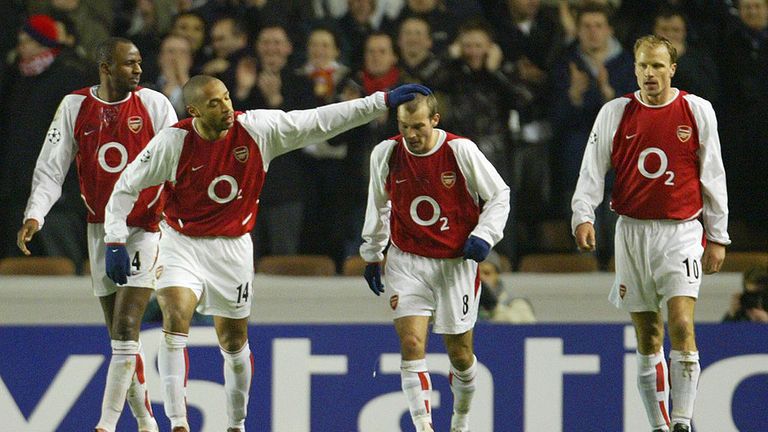 The DNA installed by Wenger helped him take the club over some lean patches too, particularly after the arrival of Mourinho, with Arsenal being forced to take austerity measures. Nevertheless, the 2003-04 season has gone down in history as the finest ever by a professional team.
The Gunners became "Invincibles-" the only team to do so in the Premier League and the first since Preston in the late-1800s. However, the next decade would produce just a solitary FA Cup win in 2005 before 2014 arrived.
📅 14 Years Ago Today:

🔴 @Arsenal completed an entire @PremierLeague season undefeated.

🏟 WWWWDDWWWDWWWDDWDWWDWWWWWWWWWDWDWDDDWW

🏆 The only 'Invincible' team in @PremierLeague history. pic.twitter.com/WCU7hYNlgE

— SPORF (@Sporf) May 15, 2018
The intervening years were rough and fans grew increasingly disillusioned with how the club was functioning. It was only in 2014 that the next trophy would arrive- the FA Cup once again. It was followed by two further triumphs in 2015 and 2017. Along with all of this, the consistent qualification to Champions League for 20 years was a true testament to the manager that Wenger was.
Arsène Wenger at Arsenal:

👀 22 years
🔴 1228 games
✅ 704 wins
🏆 3 Premier League titles
🏆 7 FA Cups
🏆 7 Community Shields
🙌 20 consecutive years in the Champions League pic.twitter.com/NP19GGDbpX

— Football Tweet ⚽ (@Football__Tweet) April 20, 2018
Even with first-team members leaving season after season, he managed to outperform expectations. Given the financial stability that Wenger provided, it would be remiss to not talk about that aspect of his tenure.
SHOW ME THE MONEY
A major burden on Wenger's spending capabilities during the lean years since 2005 was the move from Highbury to Emirates as their new stadium. £390m spent, most of it taken on loan from banks, and with the famously stingy owners in Kroenkes. The change which came in 2006, would have a lasting impact as Wenger was forced to sell his best talents over the coming decade.
Then and Now. The #Emirates Stadium, #Highbury. @Arsenal#gunners #afc #arsenal
More London views https://t.co/wCVVpcCENT pic.twitter.com/t0iLHWAH2U

— Jason Hawkes (@jasonhawkesphot) January 21, 2021
Thierry Henry, Cesc Fabregas, Samir Nasri, Theo Walcott, Robin van Persie, Gael Clichy- some of the best players in that time all had to be let go.
To put that into context, between the 2006-07 and 2012-13 seasons, Arsenal made a net profit of £40m on transfers, with United, Liverpool, Chelsea and Manchester City all spending far more. Wenger has been very open in this area, stating many times that he had to be careful in how he spent in the transfer market.
Arsene Wenger kept Arsenal in the top four for 20 seasons in a row.

He still doesn't get enough credit 🐐 pic.twitter.com/2XV9N9Fotq

— SPORTbible (@sportbible) April 22, 2021
The pressure to repay loans was immense which curtailed the "big name" signings in a great way. Promoting youth names and looking for cheaper alternatives through a detailed scouting system helped cushion the blow somewhat. All of the savings and forethought eventually paid off with Arsenal ranking 7th in the Deloitte Football Money League in 2016. They were above the likes of Chelsea, Spurs, Juventus, and AC Milan.
Pep Guardiola's comments intrigued me.

Guardiola:"Arsene Wenger… spent a lot of money to be there [top of table]."

Arsenal net expenditure in 1996/97 and 1997/98: £8.55m pic.twitter.com/Dg1154nPTk

— James Benge (@jamesbenge) July 15, 2020
Match-day income (from $57m in 2006 to $130m in 2014), broadcasting revenues, and commercial earnings have all played a big role as well as the fact that Emirates helped in bringing new sponsorship deals. Furthermore, Wenger also eventually started freeing up the purse strings with the signing of Mesut Ozil in 2013.
£349m – Arsene Wenger net transfer spending in 21 years at Arsenal

£371m – Pep Guardiola net transfer spending in 21 months at Man City pic.twitter.com/3b4uj1yK7Z

— Nick Harris (@sportingintel) February 24, 2018
The transfer record was broken again by the likes of Alexandre Lacazette and Pierre-Emerick Aubameyang. Coupled with others such as Alexis Sanchez, Granit Xhaka, Sead Kolasinac, Arsenal lifted the final six trophies of Wenger's reign (three FA Community Shields included).
YOUTH POWER TO THE FORE

Wenger was one of the biggest proponents of youngsters from abroad as well as from their Hale End Academy. Apart from signing Fabregas and Nasri, he promoted several graduates, some remain to this day and others who had stellar showings or are at other clubs.
Sixty-two graduates from the Arsenal academy have progressed to the first team under Arsène Wenger #AW17 pic.twitter.com/yZ2VFZocnN

— Arsenal (@Arsenal) October 1, 2013
Hector Bellerin, Francis Coquelin, Joe Willock, Reiss Nelson, Jeff Reine-Adelaide, Serge Gnabry, Alex Iwobi, Ainsley Maitland-Niles, Eddie Nketiah, Josh DaSilva have all come under the tutelage of Wenger at the start of their careers. Moreover, the two standout teenagers on the current team- Emile Smith Rowe and Bukayo Saka have also been watched over by the former manager when he was in charge.
Arsene Wenger: "They [ESR & Saka] already were there when I was there a few years ago. We always had a good youth system, with good young players. It's good to see that they come out. They look to me to have top quality and as well a good mentality so I am optimistic for them." pic.twitter.com/iKE2hkUkkK

— AFTV (@AFTVMedia) February 23, 2021
His vision falls in the line with what Technical Director Edu said in his revealing interview a few days ago, emphasizing the need for time and patience in culturing a young team. Wenger has long been a staunch advocate of speaking the facts as he sees them, which he realized early on during the shifting stadium years. He knew he had to be tactically efficient for the present and invest in the future at the same time.
Arsene Wenger says Arsenal are in 'good shape' 🤔 pic.twitter.com/RnAPsKd3kL

— ESPN FC (@ESPNFC) September 3, 2021
There is little doubt in the annals of the Gunners, no manager comes close to the impact Wenger has had. Though his final years were not up to the "mark" demanded by supporters, it is hardly fair to not take the wider context into consideration when looking at it.