When Cristiano Ronaldo left Real Madrid in the summer of 2018, the big question was who would be the Portuguese superstar's successor. Madrid needed a young player up front who had the potential to lead the club in the long run and they were dead set on bringing Vinicius in. The day Vinicius Jr turned 18, he was legally allowed to move out of Brazil and sign a professional contract and the club wasted no time.
Big things were expected of the Brazilian who was also dubbed as the next Neymar with the parallel of his move to Barcelona at a really young age. Although Vinicius has been consistently decent for Madrid in his first 3 seasons, his performances never stood out. That is until last season as we can see Vinicius's true potential in the opening games of their new campaign. Since then he has gone from strength to strength, set to take the centre stage this campaign.
HUMBLE BEGINNINGS
Vinicius was born and brought up in Rio de Janeiro, Brazil and he came from a simple family. The player actually started training for Futsal at a really young age and later decided to switch to playing football. He was playing for Sao Goncalo FC, a local club in his locality and matured into a fine looking player.
Flamengo had their eyes on Vinicius ever since he was 8 and he later joined their U20 squad. When he was 17, he joined and made his debut for Flamengo's senior team and two days later, Real Madrid had already approached the Brazilian club for the youngster's services.
Vinicius Jr also made it into the senior squad of Brazil and played his first game for them in 2019 during an international friendly against Peru and was also included in the Copa America 2021 squad of Brazil and had two appearances in the tournament as the Selecao reached the final on home soil.
VINICIUS JR STYLE OF PLAY
Vinicius Jr has been playing as a left-winger in Real Madrid ever since he joined the Spanish giants and he will surely continue to do so considering how he perfectly fits the job description. He is one of the fastest players out there even with the ball on his feet since he has commendable ball control for a 21-year old.
He is a right-footed left winger which naturally means he often cuts in and takes the shot or plays the ball in the final third. Vinicius, like most Brazilian players out there has many tricks up his sleeve to deceive the opposing defenders which complement well with his pace as well.
He is also a tough man to mark with his explosive nature often leaving the defenders chasing him astray. His movement both on and off the ball is generally wide near the sideline since he likes to stretch the opposing backline thin and exploit the open spaces.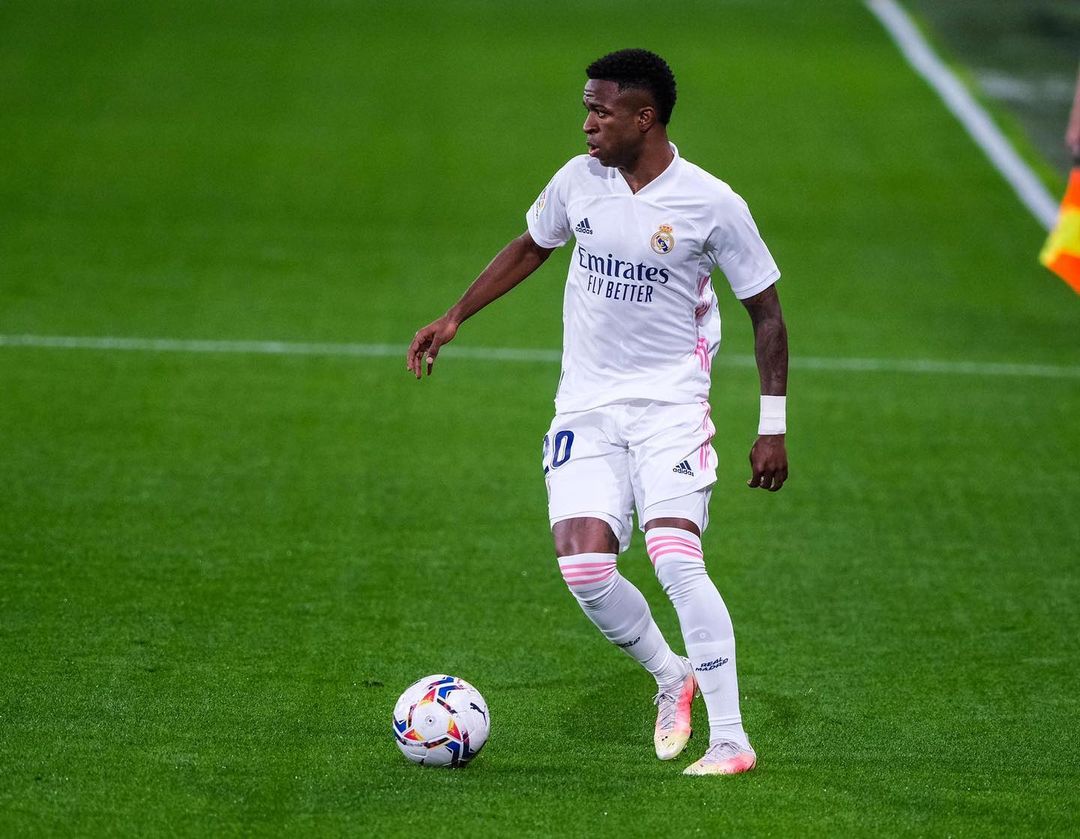 Although he could work on his passing more, his aggressive pressing helps them win back the possession if lost up the field. What makes him different from other players in Spain is how confident he is in everything he does. There is a certain flair in his movement and game which makes him a showman and match-winner.
PERFORMANCE SO FAR THIS SEASON
When Carlo Ancelotti joined Real Madrid back earlier this summer, he said, "he has quality and is going to be important for us this season." It seems like Don Carlo actually meant it since he has played Vinicius in all their games so far this season.
He has scored 5 goals and provided 1 assist in his 6 appearances in all competitions and has an Xg (expected goals ratio) of 0.68 per 90 which is even higher than Karim Benzema. Under Ancelotti, Vinicius has started to play more centrally than he used to do which is why he is getting into good goal scoring positions. He takes 3.72 shots and has a goal involvement of 1.73 per game on an average. He takes 6.89 touches in the penalty box per 90 which depicts how big a threat he is for the opposing goal.
Vinicius has unlocked his true potential under Ancelotti this season and who knows what's in store for us ahead. Although there is still a long way to go, if Vinicius keeps this up, Real Madrid might be able to make him their starting left-winger and the first name on the team sheet just like Cristiano Ronaldo was for them in his 9 years for Los Blancos. Real Madrid are currently unbeaten and first in the table and are looking stronger with every week.