A newly conducted research by the World Trademark Review (WTR) has revealed the trademark portfolios of leading football clubs in Europe. This article will focus on the brand portfolios of various leading clubs, the disparity of portfolios among the top footballers, and how the pandemic and the ill-fated European Super League caused loss of brand revenue and value. 
FC Barcelona and Man Utd are brand champions – the football clubs and players with the largest trademark portfolios revealed. https://t.co/WG3Ksn285P pic.twitter.com/RJBw9riilW

— World Trademark Review (@WTR_Alerts) May 19, 2021
It has been one of the most unusual years in football filled with drama and unprecedented circumstances. The global pandemic had an underlying impact on the footballing world, with major tournaments like the Euro 2020 and the Copa America getting postponed. In addition to the pandemic, a move that no one saw coming, as the hallowed elite struck at the heart of football's ethos. Twelve of the elite football clubs in Europe planned a breakaway league. 
The league which was met with global outrage from fans, players, pundits, managers etc was left to fend for itself within a couple of days of its proposal. These two unforeseen circumstances had a relatively significant impact on the brand value of the elite clubs. 
THE ESL CONSEQUENCE
This week "Brand Finance" a leading consultancy firm of brand evaluation and brand strength released research that heralded that the estimated loss of brand value in consequence to the ill fated European Super League amounted to €600 million. This equated to a 6% decrease in the year on year brand value of 12 of the leading clubs.
Furthermore, another notable impact of the European Super League was that their Brand Partners took drastic steps and adhered to their ethical policies by pulling out of major commercial deals. For example, Liverpool lost out on a sponsorship deal with Tribus Watches and rivals Manchester United lost out on a ten year £200 million training kit deal with Manchester-based company The Hut Group. 
Manchester United lose £200m training kit deal with The Hut Group over fans' anti-Glazers campaign.

By @JamieJackson___ https://t.co/mXAYZAMzZ7

— James Dart (@James_Dart) May 8, 2021
Research also revealed that clubs continued to attract lucrative sponsorship deals despite the taint in the brand image. Manchester United signed a $325 million shirt deal with German Software company TeamViewer. The deal which begins from the 2021-22 season will generate United $65million for the next five years. 
Although the deal is less than the amount paid by a previous sponsor, American Car company Chevrolet, the new deal has fewer commercial rights access. This allows United to seek a new automotive sponsor, one that could even exceed the original deal with Chevrolet. 
PREMIER LEAGUE TRADEMARKS
WTR has published data for the sixth year running on the trademark portfolios of all 20 Premier League clubs. It has also underlined the most valuable Non-UK clubs. The research was conducted based on filed registered trademarks recorded through the TMview search engine. 
In their first research conducted in 2016 Manchester, United and Chelsea had near-identical sized trademark portfolios. However, last year's research saw United pull further ahead of Chelsea. This year's results has showcased a continued trend of United soaring past the rest with a three-fold growth since 2016. Manchester United boasted a trademark portfolio of nearly 600 marks.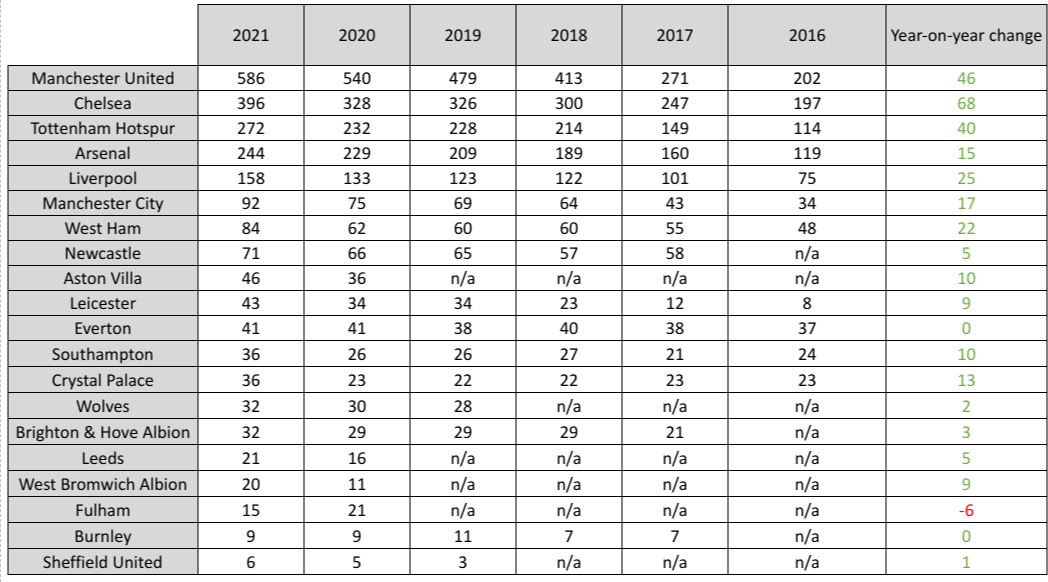 United's superiority is highlighted by the disparity where the bottom 15 clubs, including Premier League champions Manchester City, showed combined trademarks equivalent to United. Chelsea boasted the 2nd highest trademark count. With 68 new filings, the London club bolstered its portfolio by nearly 21% over the past 12 months. 
Despite certain consequences of the pandemic, nearly every club increased its trademark portfolio over the last year. Liverpool saw a major growth with 25 filings while Crystal Palace increased their trademark portfolio, representing a 1/3rd growth with 13 new filings. 
BEYOND ENGLAND
The research conducted by WTR also revealed an increase in Brand portfolios of clubs beyond England. Leading the way were Catalan giants, FC Barcelona with a 10% growth in their portfolio to amass over 440 trademarks in total. Rivals Real Madrid came second with 368 filings followed by Juventus with 213 filings and last seasons Champions League Runners-up Paris Saint Germain with 201.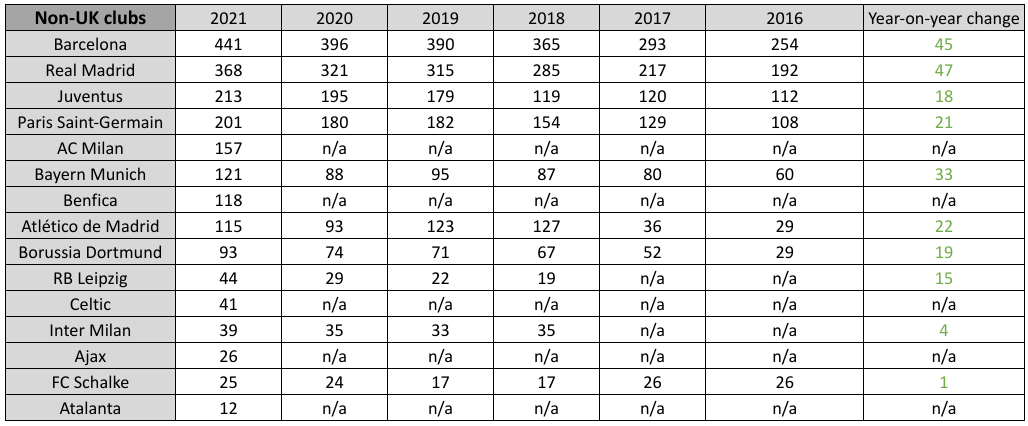 Other notable increases include DFB Pokal Champions Borussia Dortmund with 29 marks in 2016 to 93 marks. While Atletico Madrid which recorded the same in 2016 have now earned 115 marks. The increase since 2016 has represented growth in brand ambitions. 
TRADEMARKS OF LEADING PLAYERS
Barcelona's Lionel Messi leads the way, with nearly double the value of nearest rivals, Neymar and Cristiano Ronaldo. The Argentine recorded 115 trademarks followed by Neymar with 60, Ronaldo with 53 and Pogba and Leroy Sane to complete the top five with 46 and 37 respectively.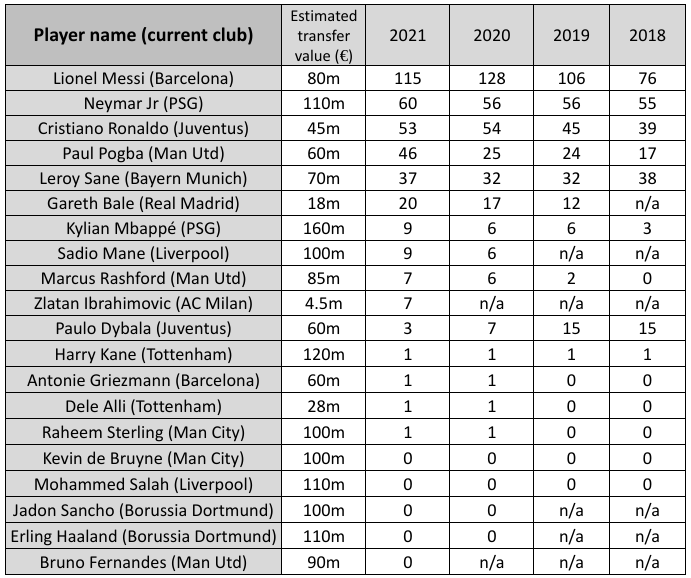 The intriguing factor of the recently published research also revealed that some of the most expensive players in the world like Mohammed Salah, Jadon Sancho, Kevin De Bruyne, Erling Halland, Bruno Fernandes recorded zero brand registrations. 
CONCLUSION
Statistics show that this year published results represent minor and not so significant growth at football clubs. This has been partly due to major challenges caused by the pandemic which has resulted in significant losses. 
With stadiums slowly beginning to open the growth is estimated to significantly increase. This will also depend on the risk that clubs are willing to take in order to increase their brand strength, value and footprints in the global market.