Another game to forget for Manchester United fans around the world in a season already full of them. A 1-1 draw with 20th-placed Burnley is not what was expected when a team signs Raphael Varane, Cristiano Ronaldo, and Jadon Sancho. All three of them featured at Turf Moor, but the three points were not coming. Sancho was the brightest spark offensively while Varane had a goal ruled out. Ronaldo had a couple of headed chances but skewed them over.
Not the result that your support deserved, Reds.

Thanks for your magnificent backing, as always.#MUFC | #BURMUN pic.twitter.com/5iGeMs0c3h

— Manchester United (@ManUtd) February 8, 2022
The most disappointing part has to be that they had a plethora of chances once again but were undone almost immediately after break. Conceding after going in front has been a recurring theme this season, but this time, the blame can be mostly attributed to one person- Harry Maguire. It has been a less than stellar campaign from the captain and though he has been praised mightily for his footwork with the ball, his on-field performances leave a lot to be desired at times.
Stats do not tell the whole story
Maguire has been a regular fixture at the back for United ever since his record-setting signing. However, the fanbase has been divided as to how exactly to approach his performances with time. Maguire is clearly a very efficient player when having the ball. He has the ability to launch long field crosses, thread through balls and his efficient tactic- moving forward with the ball, which allows the team to press high. Moreover, one of his greatest strengths is his heading and winning aerial duels. Maguire has scored quite a few goals in this manner as well and his overall defensive stats actually make for good reading when compared to last season's FWA Player of the Year, Ruben Dias as illustrated below.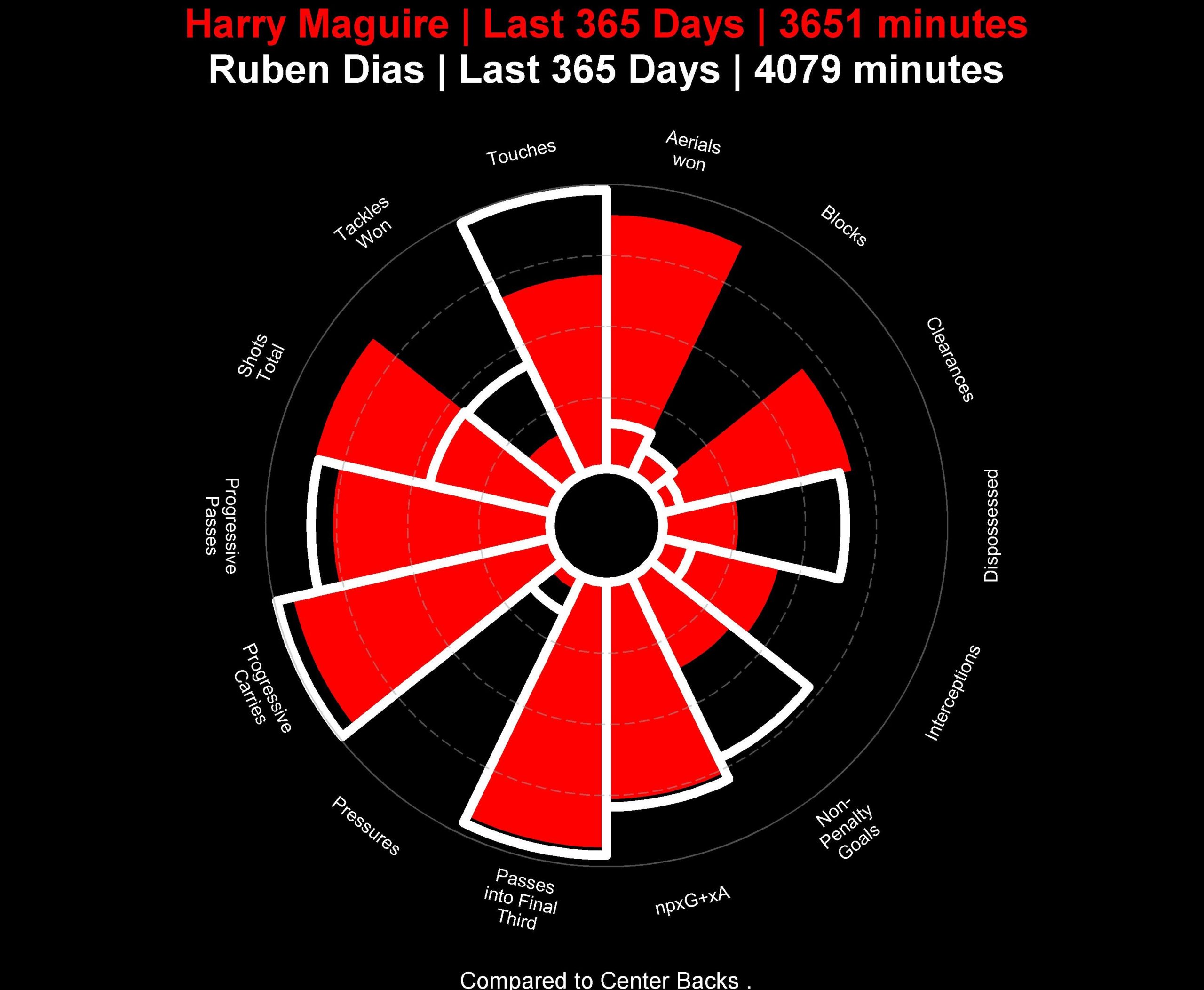 However, his on-field performances and decision-making in defensive situations without the ball has often been suspect. Whether it be his horrendous showing against Leicester City or getting spun far too easily by Wout Weghorst when out of position, Maguire has been found wanting. Granted last night's mistake was also the result of Scott McTominay failing to cover his position and colliding with Maguire in the end, but the fact that Maguire came lumbering out of his position when not required has raised eyebrows.
Maguire should never step out to the opposite side in the way Scott did. Scott can do that as a midfielder but a CB cannot just ignore that he's a CB. Maguire firstly moved deeper, then was late to close down, then closed down incorrectly, then wasn't fast enough.

Really bad.

— UtdArena (@UtdArena) February 8, 2022
Clearly, there is a crisis of confidence surrounding the club at the moment, with nary the belief of winning easily, let alone dominating these games. But the questions will continue to come thick and fast at Maguire, whose captaincy burden will always put him under sharper focus.
Game awareness has been a question
There have been several notable defeats already this season for United, and Maguire was a part for almost all of them. He had a calamitous outing against Liverpool when the defence shipped five goals and Maguire earned a Fotmob rating of 4.8, the second lowest for the Red Devils that day. Further ignominy arrived against Watford which proved to be the last game for Ole Gunnar Solskjaer.
Rio Ferdinand on Maguire: " There has been too many of those performances from him this season. Whether that's the hangover from the Euros, physically and mentally there hasn't been the consistency you would expect from a player of his stature." [@btsportfootball]

— United Zone (@ManUnitedZone_) February 8, 2022
Maguire's dallying on the ball allowed Tom Cleverley to pick the ball off of him, and his eventual lunge to stop the attack resulted in a second yellow for the captain. He was dropped against Aston Villa last month, before playing only 19 minutes of the second half against Brentford the following week. With Victor Lindelof and Eric Bailly not featuring in recent times, Maguire alongside Varane has been the only combination that Ralf Rangnick has been able to field. However, the interim manager is certainly no stranger to dropping starters as he has already shown with Cristiano Ronaldo more than once already.
United spent £80m on Maguire and yet they need to find a replacement for him if they want to challenge for the Premier League.

Some reflections here on another disappointing performance #mufc https://t.co/Df9MYvSDXK

— Steven Railston (@StevenRailston) February 9, 2022
Maguire knows that he cannot be guaranteed of his place in the lineup but the fact remains that even if United want to sell him in the summer, which is almost impossible, there will be no willing takers at the asking price.
Average at best
Maguire's presence in the side will always be questioned, but there is almost no doubt that he will be a key piece for the next season as well. The team has been stuttering along for most of the campaign, but he was not brought in to facilitate attacks as his primary job. His positioning in the backline has been a matter of great debate from onlookers around the world, but could Maguire really improve his game to a great extent at such a stage in his career?
Successful defensive actions per 90 this season United CB's

Bailly 10.1
Varane 9.72
Lindelof 7.79
Maguire 6.83

You do wonder if United bother analysing the overall performance of players….

— Mark Goldbridge (@markgoldbridge) February 4, 2022
There are just too many little things that have to go right in the moment for his transfer to be considered an impactful signing. Currently, there have been no signs of a truly world class player at the top of his craft. Just one more mediocre player in a squad full of them.
*This article is sponsored by Data Security Council of India (DSCI), is a not-for-profit, industry body on data protection in India, setup by NASSCOM®, committed to making the cyberspace safe, secure and trusted by establishing best practices, standards and initiatives in cyber security and privacy.