Italy's monumental rise back to the top of World football has been nothing short of astonishing. To every fan that has followed football down the years, Italy has been nothing but a deep defensive line capable of ousting even the best-attacking teams the World has ever seen.
The four-time World Champions may have been boring, but for a very very long time, they were effective. But nothing lives forever, Italy's absence in the 2018 World Cup is definitely one of if not the lowest points in their footballing history.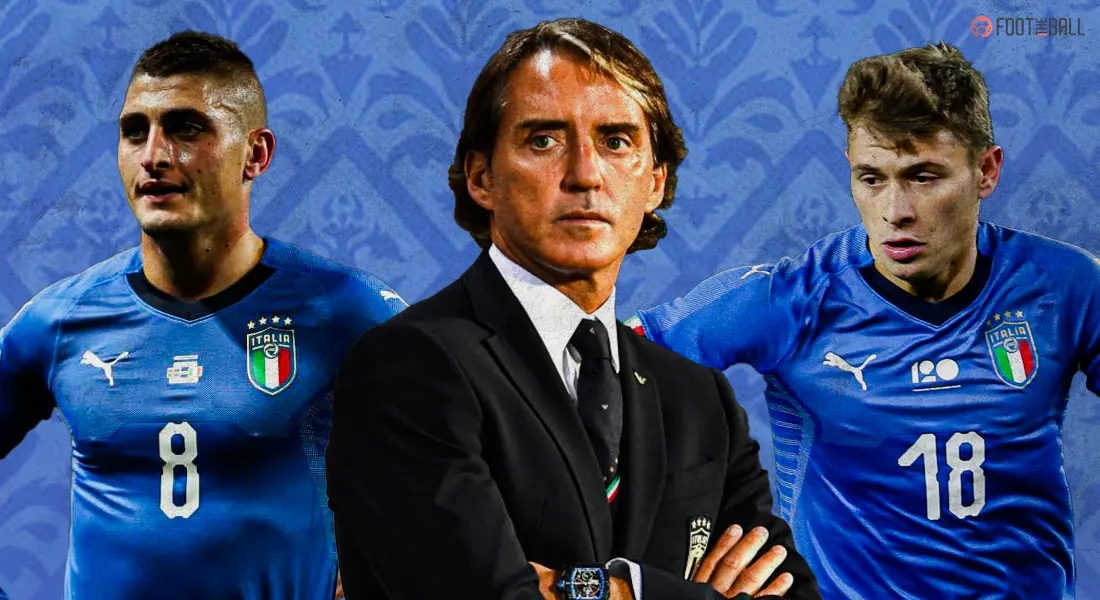 Roberto Mancini was tasked with the job of reviving these seeming shackles of a team back to its glory ways. Well, there was no better man for the job. Gone are the days of sitting deep and attacking in hope, Italy no longer are content without the ball.
The brand of football that Mancini has brought to the national side is refreshing and revitalising. A brand of football that fans from around the globe would love to watch.
Retaining the ultra-effective defensive characteristic with the veteran Chiellini – Bonucci combo, introducing a gifted midfield trio and a ticking bomb in attack, quality shines across all areas of the Italian line-up.
🧠 Jorginho made 8 interceptions in Italy's semi-final penalty shootout win over Spain on Tuesday night, a record in a game at #EURO2020

👀 Ballon d'Or form…#ITA pic.twitter.com/NcQE8bp3ml

— WhoScored.com (@WhoScored) July 7, 2021
Marco Verratti and Champions League winner Jorginho are some of the most gifted midfielders in world football. Berardi, Barella, Locatelli and Chiesa are new faces that provided a pinch of much-needed freshness.
The impeccable Insigne in attack alongside a goal machine in Immobile saw the completion of one of the most underrated attacking units in World football. Combine that with a goal stopping machine at the back in Donnarumma, one that could cement his place between the sticks for a lifetime like his predecessor, and Italy's reformation was complete.
2 – Italy have become just the second side in European Championship history to have as many as five different players (Chiesa, Pessina, Insigne, Immobile & Locatelli) score 2+ goals at a single edition of the competition, after France in 2000. Collection. #EURO2020 #ITA #ESP pic.twitter.com/waxc3K7JAl

— OptaJoe (@OptaJoe) July 6, 2021
UNSTOPPABLE ITALY
Many might not associate Mancini with the kind of tactical genius that reforms teams and that might be true to an extent. Mancini knows what it takes to win matches and he would do all the necessary to do so. Does he bring anything new? Does he add variety and flavour? Well, maybe not! But one thing this man does well is to pick his players.
Almost every good Italian was given a chance at the national level since his takeover in 2018. Younger blood was given more emphasis but Mancini did not go overboard.
10 – Italy have now reached their 10th major tournament final (World Cup/Euros) – only Germany (14) have participated in more major tournament finals amongst European nations than Italy (incl. Euro 2020). Pedigree. #EURO2020 #ITA pic.twitter.com/DlMASt57Cf

— OptaJoe (@OptaJoe) July 6, 2021
He chose his players wisely, picking the best of the lot, testing them to see if they would fit. The results bear witness to his bold efforts. Spinazzola's role in left-back is a testament to the style of football that Mancini has brought. An attacking left-back that creates chances while also plugging in defensively. Italy works as a unit and when inflow, they are mesmerising to watch.
Although Spain and Austria made their lives as difficult as possible, the strength in character was visible. Unerring and motivated, the Italians were never broken. Even against the run of play, they were able to outwit their opponents. A true mentality needed to win the war!
As of now, the Italians have not been beaten for 33 games running and if they manage to make it 34, they go back to Rome with a European title. Things are bright for them and even with all the support and hype England has been getting, Italy is the better "team" going into the finals. This unstoppable Italian fairy tale campaign might well conclude with stopping England from taking it home!
SERIE A'S ATTACKING FLAIR
Cristiano Ronaldo's introduction in the league was probably the biggest attention that anybody has given them in a while. However, things are changing, Serie A is no longer the boring league that lacks entertainment. It is not just a defensive league and its changes are being reflected on the national stage as well.
15 – Including the qualifying rounds, Italy have won each of their last 15 European Championship matches – a new competition record. Belgium themselves had won 14 consecutive matches before today's defeat. Goliath. #EURO2020 pic.twitter.com/JOqngYjNIC

— OptaJoe (@OptaJoe) July 2, 2021
Even though their star acquisition bagged more goals than any other team, Juventus failed miserably to defend the title. Inter Milan gave them a run for their money last year but no one foresaw this outcome. Atalanta retained its plush attacking style and was just two goals shy of a century last year. AC Milan, Napoli, Roma and even Sassuolo were all brilliant, giving fans of Serie A, a new variant of football.
Attacking importance and the need to entertain was being given precedence. Teams no longer simply sat back in hope, they focused on build-up play and creativity. Locatelli and Berardi's involvement in Sassuolo and their presence on the national side is a testament to the change in style.
The Champions of Italy scored 89 goals while 3rd place Atalanta scored a goal more. Even 5th placed Napoli scored 86 goals during the campaign. In comparison, last years champions, Juventus, scored just 77 goals. Two years ago, there was no team from Italy that crossed the 80-goal mark. In 2017/18, there were just three teams that scored more than seventy goals.
This refreshing style of football has been more than welcome in Italy and their national team is bearing fruits of the change. The frightening part is that the Azzurri are still evolving, there's more to this team than we have witnessed and, in a few years, they might just defy our expectations. Italian football is definitely on the rise!