What would you do if you knew that your first choice centre-forward was injured and the backup centre-forward was not up to the task? What would you do if you knew you had to cope with this injury crisis for more than half the season?
And that too at the top level of football in England – the Premier League, which is popularly known for its intense physical competition with players having to keep their fitness levels in top gear from matchday 1.
Under normal circumstances, you would wait for the winter transfer window to try and sign a centre-forward in an attempt to salvage the season with a respectable finish.
𝙏𝙧𝙤𝙥𝙝𝙮 𝙜𝙖𝙡𝙡𝙚𝙧𝙮 📸🏆

Tap for more! ⬇

🔷 #ManCity | https://t.co/axa0klD5re

— Manchester City (@ManCity) May 23, 2021
But obviously, normal circumstances don't apply to Pep Guardiola and his Manchester City squad. The Spaniard was without Sergio Aguero for much of the season due to the Argentine's injury and backup centre-forward Gabriel Jesus was not performing up to the mark for the Sky Blues.
Any other manager would have bought a centre-forward during the winter transfer window, but Guardiola had plans of his own. City were 8th in the Premier League on January 1st, 2021 and a little over five months later they won their third Premier League title with Guardiola at the helm, without a traditional centre-forward in their ranks.
CITY WON IN EXTRAORDINARY CIRCUMSTANCES
Aguero had injured his meniscus and as a result, spent several weeks out injured as City visibly struggled without him. Back-up centre forward Gabriel Jesus wasn't able to shine for Guardiola as City stared at a horrific season ahead as they were in the tenth position in the mid half of the table in November.
As January arrived, Aston Villa and Everton were ahead of the Etihad Stadium outfit, albeit they had played one and two more games than City at that point respectively.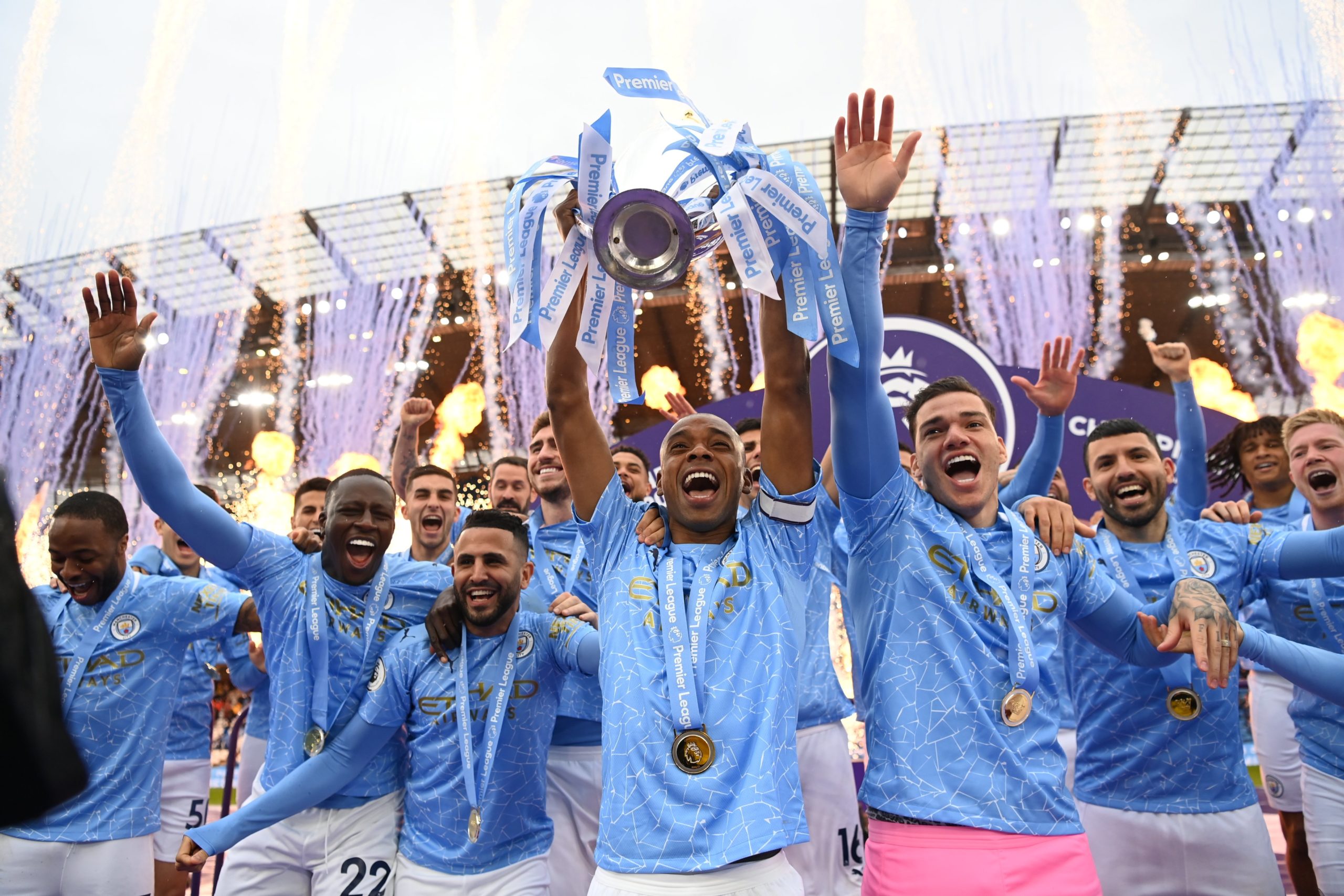 But as May arrived, City were cruising towards a third Premier League title in four years and were ultimately victorious. Guardiola's charges have been relentless in their pursuit of silverware ever since the Spaniard finished trophyless in the 2016-17 season – the only time the 50-year old was condemned to not winning any title during a season. The former Barcelona manager has relied on the quintet of Kevin De Bruyne, Riyadh Mahrez, Bernardo Silva, Phil Foden and Ilkay Gundogan. The German midfielder has been City's top scorer in the Premier League this season as they powered towards a first-place finish without any recognised centre-forward playing in the starting line-up.
Today was a good day.

🔷 #ManCity | https://t.co/axa0klD5re pic.twitter.com/SlsS4PDQI1

— Manchester City (@ManCity) May 23, 2021
And what is astonishing is that they have been able to reach the Champions League final along with becoming Premier League champions this season.
City have reached their first-ever Champions League final and European glory is the thing that was on the owners' minds when they brought Guardiola to Manchester in 2016. The 50-year old has suffered disappointments in Europe's most prestigious club competition ever since he came to Cottonopolis.
WITHIN TOUCHING DISTANCE
But this season at last, at long last City, are on the cusp of glory in Europe, but they need to be wary of Chelsea in the title decider on Saturday. There is no team in Europe to which Guardiola has lost more matches than Thomas Tuchel's Chelsea.
The Blues ousted Guardiola and City from the FA Cup and in their latest meeting won courtesy of a last-gasp Marcos Alonso goal at the Etihad Stadium.
#UCLFinal bound in @Dsquared2 🛫🤩

🔷 #ManCity | https://t.co/axa0klD5re pic.twitter.com/isu8oC7gUQ

— Manchester City (@ManCity) May 27, 2021
Even in Germany, Tuchel's Mainz gave Guardiola's Bayern Munich a hard time. Almost every team in Germany would try to park the bus to prevent loss from a humongous scoreline, but Tuchel's Mainz actually made life difficult for the Bavarians and it was there that Tuchel caught the Spaniard's eye.
🔵 Thomas Tuchel = first man to take two different clubs to the European Cup final in successive seasons…

2⃣0⃣2⃣0⃣🥈
2⃣0⃣2⃣1⃣❓#UCL | #UCLfinal pic.twitter.com/ocm6deguSL

— UEFA Champions League (@ChampionsLeague) May 28, 2021
On Saturday, both these managers will meet in Porto – Tuchel in his second consecutive Champions League final while Guardiola is making an appearance in European club football's biggest game after a decade.
But history is on the Spaniard's side – he has two wins from two finals while Tuchel has lost the only time he contested in the final with former club PSG
BATTLE OF WITS IN 
The last time Guardiola took charge of a Champions League final, his Barcelona ran out 3-1 winners at Wembley to hand him his second Champions League title. But will he be able to do it this time, especially without an acknowledged centre-forward?
🗣️ Tuchel: "We are very well aware that Manchester City are the benchmark. But in football you are always able to close the gap."#UCL | #UCLfinal pic.twitter.com/ksjQJLGJTF

— UEFA Champions League (@ChampionsLeague) May 28, 2021
Sergio Aguero and Gabriel Jesus will most likely be starting on the bench for the Sky Blues as Guardiola would prefer his much effective quintet to come with the goods against a Chelsea side that vanquished record Champions League winners Real Madrid in the semi-finals.
PEP 💬 I am pretty sure we have to suffer to win the final. Most of the time in finals you have to suffer. You have to be resilient. Adjust to the bad moments that are going to happen. At the end we have to be ourselves and do a good game.

— Manchester City (@ManCity) May 28, 2021
Will Guardiola be able to deliver European success to a club that has since its Middle East takeover craved nothing more than the big-eared trophy in its museum? Will City's European dream be realised in Porto?
Or will Tuchel and Chelsea instead lift the famed trophy at the end of the game at the Estadio do Dragao on Saturday evening? Let's wait and watch what unfolds in this season's biggest game