Manchester City came into the season not just to win that elusive Champions League title, but to wrestle back the crown of domestic dominance relinquished by them to Liverpool in 2019-2020. Uncertainty surrounded the manager and this is the most vulnerable Man City looked since Pep's first season. How did this season pan out for the club? Let's find out in our Man City Season Review!
SEASON SUMMARY
The uncertainty crept into their performances at the start of the season. City looked lethargic in the opening weeks as a shortened pre-season caused them to lose that zip in their game, so reliant on passing quickly. Dispiriting losses like a 5-2 home loss against Leicester City and goalless draws in UCL against Porto characterised the start of their season. They found themselves barely hanging on to European places by Matchday 13, already 5 points off the top.
A draw against West Brom prompted Guardiola to acknowledge that "I don't like my team at this moment". From there on, City went back to basics. A 21-game winning run followed and the momentum carried forward to propel them to the PL title and Carabao Cup. 
Ultimately, a successful season was prevented from becoming a historic season as their Achilles heel, Chelsea, prevented them from a clean sweep of trophies. The Blues beat them in both, the UCL final and the FA Cup semi-final. 
We'll be back 💙

🔷 #ManCity | https://t.co/axa0klD5re pic.twitter.com/6ramIuWoWh

— Manchester City (@ManCity) May 29, 2021
Premier League- Winners
Champions League- Runners-up
FA Cup- Semi-Final
Carabao Cup- Winners
BEST MOMENT OF THE SEASON
Man City 2-0 PSG (Champions League, SF, 2nd leg)
Relive a historic night as we booked our place in the Champions League final! 🏆💙

🔷 #ManCity | https://t.co/axa0klD5re

— Manchester City (@ManCity) May 4, 2021
Man City, in the four years since they got Pep Guardiola with the focus on winning the UCL, had never gotten past the quarter-final stage. Sometimes due to curious tactical choices, sometimes woeful finishing or just dumb luck, City had a mental barrier in the Champions League. 
Therefore, when City beat Dortmund 4-2 on aggregate in quarters, a cloud was lifted. Still, people were aware that this Dortmund side was not as imperious as that of previous seasons. 
In many ways, PSG in the semis was City's first matchup in the UCL where they weren't outright favourites. Unruffled by outside noise, City put on an absolute clinic in dominating football as PSG were swept aside as just a minor inconvenience in their path to UCL glory. A Mahrez double sealed a comfortable 4-1 aggregate victory and City were in their first UCL final. 
Honourable mentions: 1-4 win against Liverpool (PL), 0-2 win against Man United(Carabao Cup), 5-0 against Everton (PL)
WORST MOMENT OF THE SEASON
Man City 0-1 Chelsea (Champions League Final)
FULL TIME | Heartbreak in Portugal.

Congratulations @ChelseaFC

🔷 #ManCity | https://t.co/axa0klD5re pic.twitter.com/x6dzXwwq8b

— Manchester City (@ManCity) May 29, 2021
For a club that has won it all in domestic football with nearly frightening consistency, City have made no secret of the fact that the Champions League remains their holy grail. After 4 years of heartbreak, they finally had the chance to make their dream come true and sit alongside the elite of European football. However, the team that stood in their way was managed by the coach who had already bested him twice this season, albeit against rotated Man City.
City went into the game as heavy favourites but in an anti-climax, put in a whimper of a performance as Chelsea took the lead with Kai Havertz and seeing out the game comfortably. City recorded an xG of just 0.59. 
Guardiola fielded questions again about his tendency to overthink in big games and City were left to wonder what could have been. 
(dis)Honourable Mentions- 2-5 home loss against Leicester, 2-0 loss against Tottenham, 0-2 home loss against Man United.
THE SEASON MVP
Ruben Dias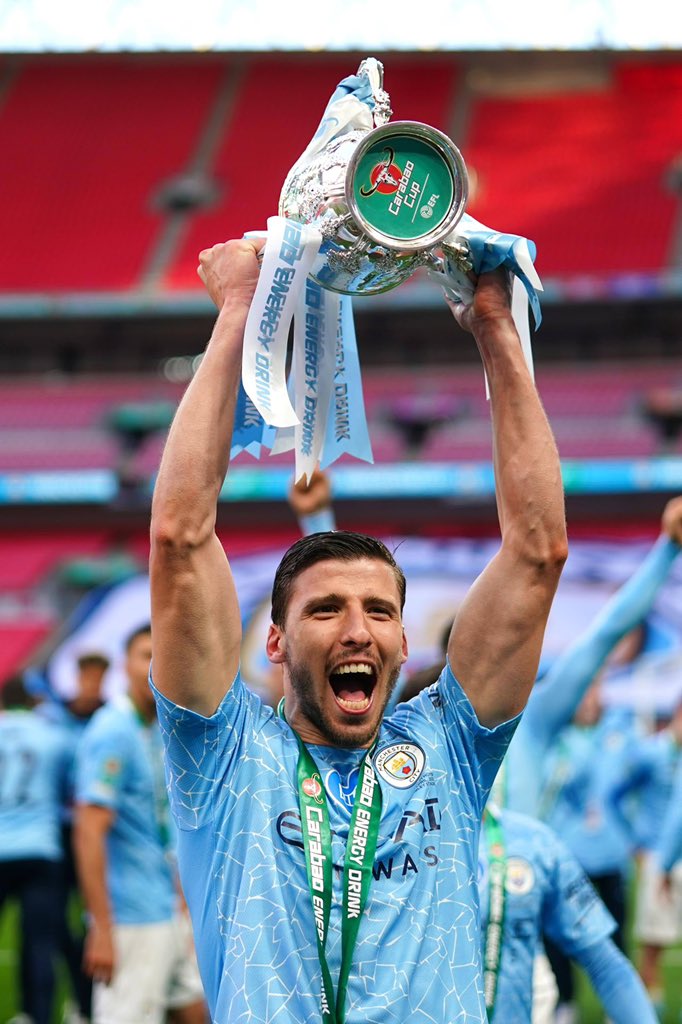 For a Pep Guardiola team to have a 13-goal midfielder as the team's top scorer is very uncharacteristic. Even more unbelievable is such a team being in the thick of biggest tournaments. However, City would describe their season as a confirmation of "Attack wins you games, defence wins you titles". The lynchpin of said defence was Ruben Dias. Coming from Benfica for nearly £65 million, his impact on the team was transformative and immediate. 
Out went the gung-ho basketball scorelines in City matches and in came comfortable 1-0, 2-0 victories. Starting next to him, John Stones' career was transformed due to Dias' leadership and organising qualities. 
Laporte's injury last season was widely explained as the reason for City being left in Liverpool's trail. Such was Dias' impact that Laporte could not get in the team this season. Dias wasn't believed to be City's first-choice buy at CB position but they still might have stumbled upon their leader for the next 10 years. 
Honourable Mentions- Kevin de Bruyne, Phil Foden, Ilkay Gundogan
BIGGEST UNDERACHIEVER
Raheem Sterling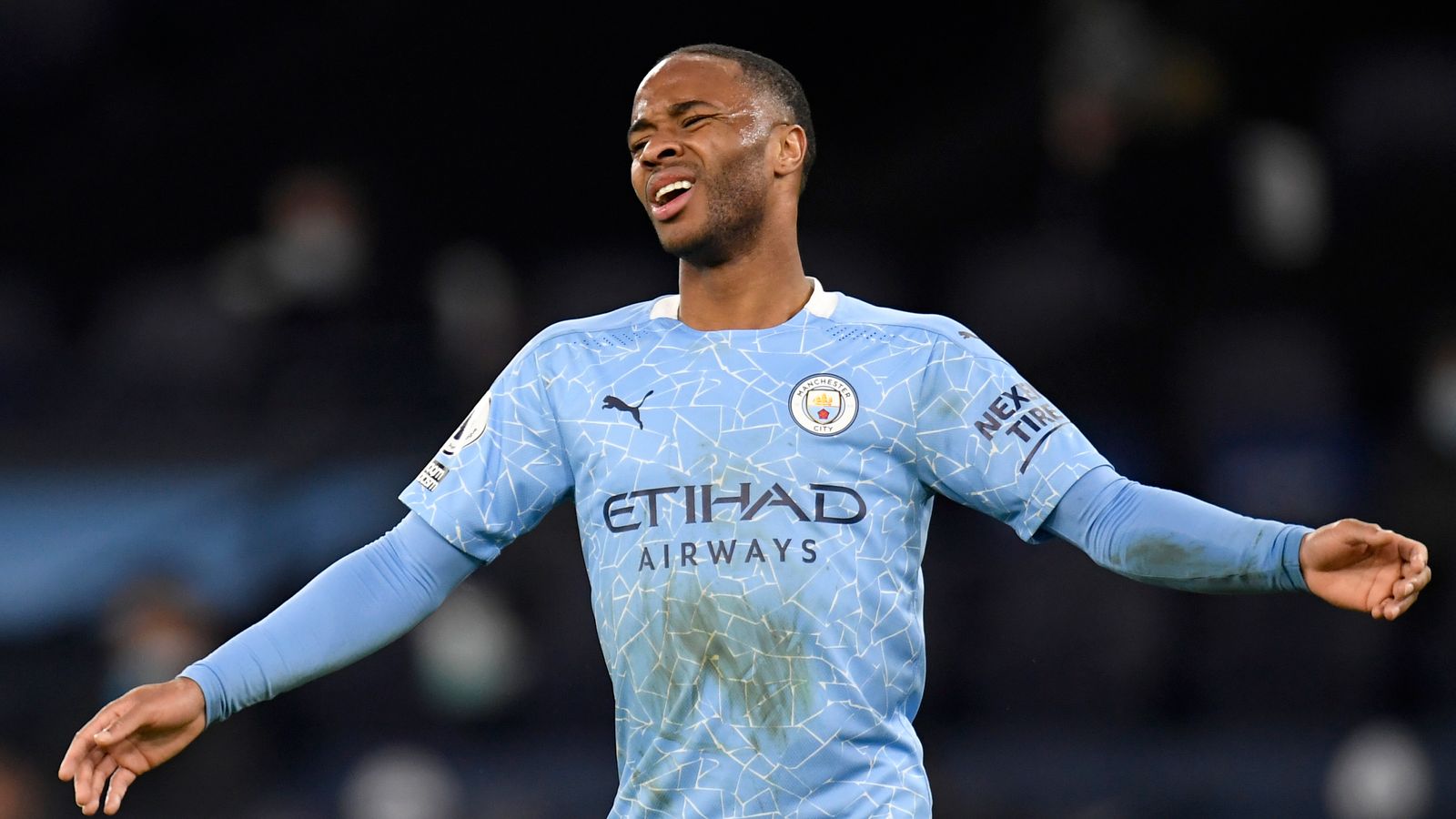 A return of 10 goals and 7 assists in the league alone would be an acceptable return for most players. There were many in City squad who performed worse than Sterling but relative to expectations, this season was a huge step back for him. 
After three consecutive seasons of nearly 30 goal contributions in the league, and a 20-goal season last time, Sterling was firmly placed to move into the elite, world-class tier of footballers and be England's primary attacker at the Euro 2020. However, such was his fall from grace that by the end of the season, there were murmurs of discontent from his camp as he lost his palace in the team. There was a genuine surprise when he made the England squad for Euro and for the right offer, City might even be tempted to sell. 
(dis)Honourable Mentions- Nathan Ake, Sergio Aguero. 
Despite winning two trophies, including winning back their PL title, City ended the season on a desolate note due to their gut-wrenching loss in the UCL final. Guardiola has already talked about an extensive reset of the squad so City could be in for a summer of upheaval with major incomings and outcomings. City look set for another assault at that elusive UCL title and continued domestic dominance. 
Final Grade: A-