In football, rivalries are common. When two fierce rivals go head to head the outcome is always historic. Apart from the team rivalries, the sport has also seen some top-notch individual rivalries. The legendary battle between Lionel Messi and Cristiano Ronaldo entertained footballing masses for years. A new rivalry like no other is set to take the centre stage this season. Jadon Sancho of Manchester United and Phil Foden of Manchester City are going to be locked in a new rivalry for years to come.
Nice to see you again bro 😁✌🏼 @PhilFoden pic.twitter.com/RIrwtOW9eZ

— Jadon Sancho (@Sanchooo10) October 8, 2019
Sancho and Foden are two of the elite youngsters in world football. At 21 years of age, they are already the mainstays of their teams and have the world at their feet. Besides, they now play for two rivals across the great city of Manchester. What's special about the rivalry is that both the youngsters played together at Manchester City earlier in their career. Now after taking different paths they stand on the opposite side of battle lines.
💎 @Sanchooo10#MUFC https://t.co/9HMWTH1UCl

— Manchester United (@ManUtd) August 9, 2021
Jadon Sancho returned to England this summer from Germany. Foden on the other hand has decided to stick with his club and fight for his place. Though both might have taken different paths, they have arrived at the same destination today albeit on the opposite corners. They have been pushing each other since their teens to be the best. But when the lines are drawn, who is gonna rise up above his rival. Is this new rivalry of Foden and Sancho going to define the new Premier League season?
HUMBLE BEGINNINGS
Sancho and Foden both had humble beginnings in their stories. Foden is a lifelong term Manchester City fan who was born and bred at the club. Right from his childhood, Foden is a strong left-footed player with impeccable technique and timing. With growing age, his value might only increase and his potential might just be limitless.
Jadon Malik Sancho is not a local throughout though. He was born in London and is a huge fan of Chelsea in childhood initially. For better opportunities, he moved to Manchester in 2015 for a meagre fee. This move brought the friends together for the first time at City's youth facilities.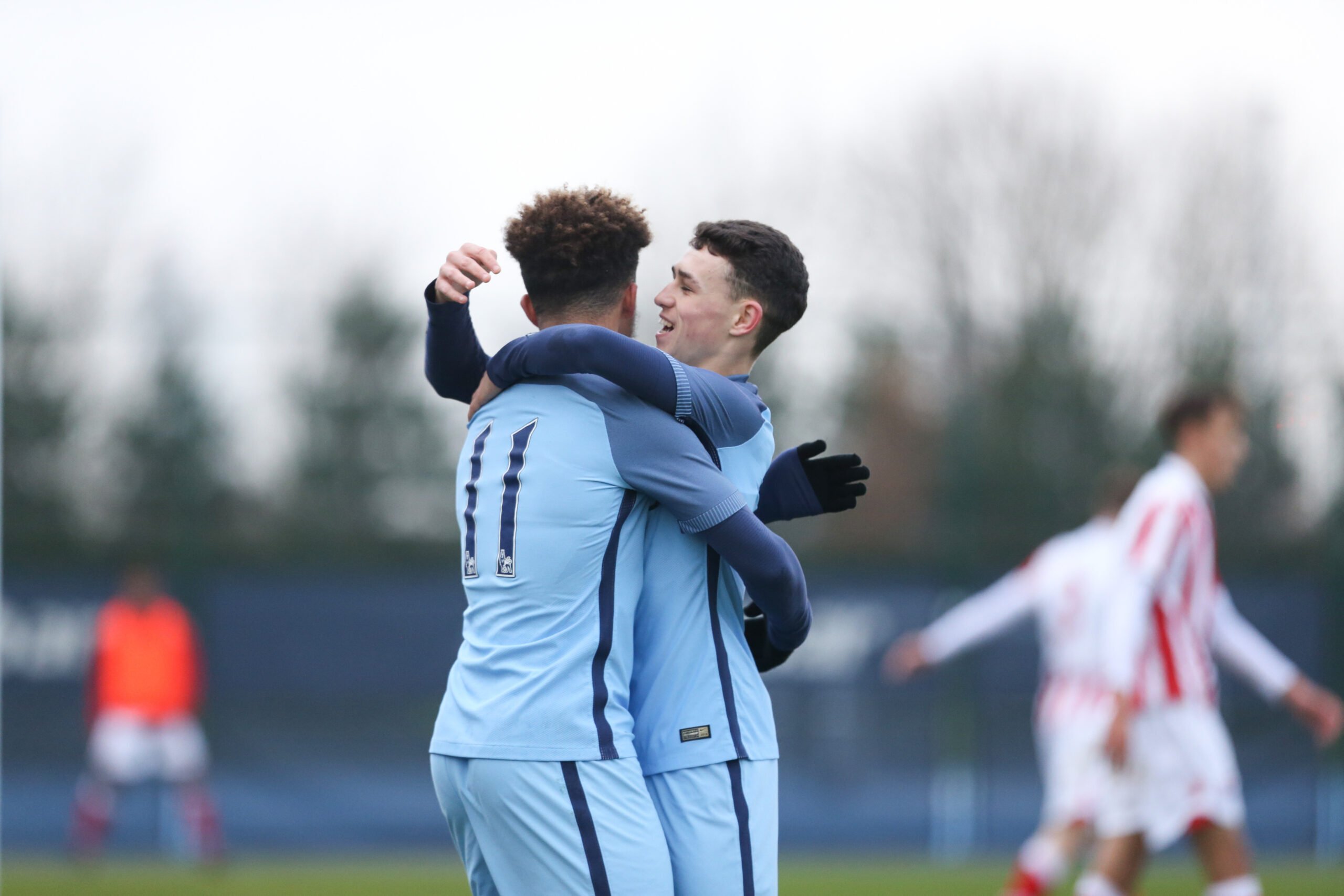 At 14 years of age, they met for the first time in Manchester. From mere kids into world-beaters in the near future, they have experienced so much in the past few years. The duo played together for City's junior teams and built nice chemistry.
At the academy, Manchester City chairman, Khaldoon Al Mubarak held the players in high regard. In 2017, he said, "Look at [Jadon] Sancho, you look at Phil Foden you look at Brahim Diaz, these players are extremely talented, If you ask Pep today, he will tell you they can and will be first-team players at Manchester City."
He tried to fast-track the development of these players into the first team. This gave rise to a new chapter in the superstars' lives.
THE PATHS DIVERGE
The summer of 2017 played a crucial role in deciding how the careers of these friends went. They had very simple end choices to choose from. But the process they choose would always be difficult and needed them to be in the best of shapes. Jadon Sancho was about to turn 18 and naturally, new contract talks were on. The youngster had some demands for regular playing time in the new season. When they weren't met, he made a bold choice by personally handing in a transfer request to force a move.
Jadon Sancho stats at Dortmund!

What a player Manchester United have got!🔴🔥#MUFC #BVB #Sancho #Transfers

[Stats via @rioferdy5 YouTube Channel] pic.twitter.com/UuV5viJyuW

— Daily Transfers (@DailyTransfer1_) June 30, 2021
Pep Guardiola always knew Sancho's potential and didn't stop him from leaving. To date, joining Borussia Dortmund for £10 million proved to be Sancho's best decision. The German club knew Sancho's worth as they offered him the number seven shirt and an opportunity to thrive as soon as he arrived. Sancho's pace, skill, directness made him a standout player in the Bundesliga as he was dubbed as the "assist king". This bold move of Sancho became a benchmark for young English players trying to do something different.
The stats behind a magnificent campaign for @philfoden 🔥

🔷 #ManCity | https://t.co/axa0klD5re

— Manchester City (@ManCity) June 13, 2021
Phil Foden chose a different approach from Sancho. The Manchester-born lad decided to stay and fight it out for his future under Pep Guardiola. It looked like he made the wrong decision initially as Sancho was thriving in Germany. But slowly with growing time, Foden impressed Guardiola to carve out a starting place for him. Pep wasn't famous for bringing through youngsters at Manchester City. This trend changed since early 2020 as Foden started getting more and more game time.
Ever since the post lockdown period, he has been sensational and became an undroppable on the teamsheet for Pep Guardiola.
WE MEET AGAIN OLD FRIEND
By 2021 it became evident. City's academy has produced two gems of players in Sancho and Foden. The pair got a chance to meet again in the English camp for Euro 2020. Talks were already going on to bring Sancho back to English football. Manchester United, long-time admirers of Sancho contacted Sancho's camp. After failing to get him in 2020, they returned for him back in the summer of 2021. As Foden and Sancho were enjoying their reunion at the English camp, moves were made in the background.
THE WAIT IS FINALLY OVER. @ManUtd 🔴 pic.twitter.com/k4rEbNYmdg

— Jadon Sancho (@Sanchooo10) July 24, 2021
As soon as the Euros were finished, Sancho was announced as a Manchester United player. The friendship and the bond they had had to change. From friends to derby rivals in a matter of days. Sancho would definitely become the new face of United and Foden is already the face of City in their rivalry. They would be the hot topic of every Manchester Derby from now on. The friendly smiles, handshakes and hugs have to stop now. In order to please the football faithful like Roy Keane, they have to put mean faces and go all out in the derbies.
How it started How it's going pic.twitter.com/QUfHqjxuAP

— Phil Foden (@PhilFoden) February 7, 2021
Apart from the direct rivalry, they hold the aces to their teams' fortunes in the new campaign. United lacked a genuine creator behind Bruno Fernandes last season. Sancho would solve that problem and also add goals to his side's cause. He must be the key in United challenging for top honours this season. Even Foden has his part to play in City's super squad as they look to retain the league title and triumph in Europe.
So here we are in Manchester, seeing friendship of Sancho and Foden turning into rivalry pushing each other to become the best in the world. Let these new " frenemies" entertain us this season.