It was in 2011 when a 21-year-old attacking midfielder was giving an interview to Süddeutsche Zeitung, one of the largest newspapers in Germany. Was macht Sie zu speziell oder besonders (What makes you special) ?
The interviewer asked the player.  Irgendwie bin ich schon ein Unikat. Es gibt Dribbler, die sich ziemlich ähnlich sind, auch Stürmer, aber was bin eigentlich ich (I am somehow unique. There are dribblers who are quite similar, also Striker, but what am I actually)? Then, Thomas Muller would drop that famous line, ich bin ein Raumdeuter (I am a space interpreter). 
It is perhaps the first and only time in football that a player has coined the term for his role, unlike other positions such as Regista, Mezzala, or Trequartista.  The Raumdeuter or the space interpreter was popularised in the football dictionary after Muller's interview. And the reason behind the term's popularity can be traced to the German's playing style.
Explaining the Muller effect :

Read if you want to understand why he called himself the "Raumdeuter". pic.twitter.com/4Wd2Mj5zhI

— AUGUSTUS 🔴 (@Der_Augustus) June 20, 2021
Muller has scored 270 goals and provided 251 assists in 723 games for Bayern Munich, winning 31 trophies. However, his physique, playing style, and skills don't even remotely match that of a typical goal scorer or a creative force.
For this, we will need to dissect the role of Raumdeuter.
What is a Raumdeuter?
Raumdeuter or space interpreter is a role in which the player has two main objectives. First, find the space in the opposition's defence. Second, exploit the space. The player does not occupy a fixed palace; his position on the pitch is determined by where the space is. One thing is sure, most of his play occurs in the attacking third of the pitch.
Due to this reason, the Raumdeuter usually plays behind the striker. This helps him form a two-player attacking threat for the opposition's team.  
After making his debut under Jurgen Klinsmann in 2008, Muller was fully integrated into the first team by Loui van Gaal. He repaid the Dutch manager's confidence in him with 19 goals and 16 assists that season.
And by the time the interview was conducted, Muller had scored 18 goals and provided 35 assists for Bayern Munich. 
At Ajax, Van Gaal gave a platform to likes of Kluivert, Davids, Seedorf, Van Der Saar, De Boer brothers etc.

At Barca, Iniesta, Xavi, Puyol.

At Bayern, Muller.

At Man Utd, Rashford & Lingard.

A lasting legacy

— Socanalysis (@SocanalysisHQ) March 12, 2019
Muller attracted interest because though he was a killer goal scorer and assist provider, his play had one thing in common. Most of his goals were what one would describe as tap-ins. It was the same case with his assists. 
The Raumdeuter would pop up in one place with no players marking him. This would be followed by two things, whether the ball would end up in the back of the net or passed to a player in a better scoring area.
And it is here that we understand the significance of a Raumdeuter. He is not a player who relies on pace and skill but on his mental toughness and reading of the game. 
His inclusion in the team shows the maximum damage that can be inflicted by intelligent off-the-ball movements. And Thomas Muller is the best at this. Thomas Muller's worst season was the 2018-19 season, where he scored nine goals and provided 15 assists, a good return but not up to his level.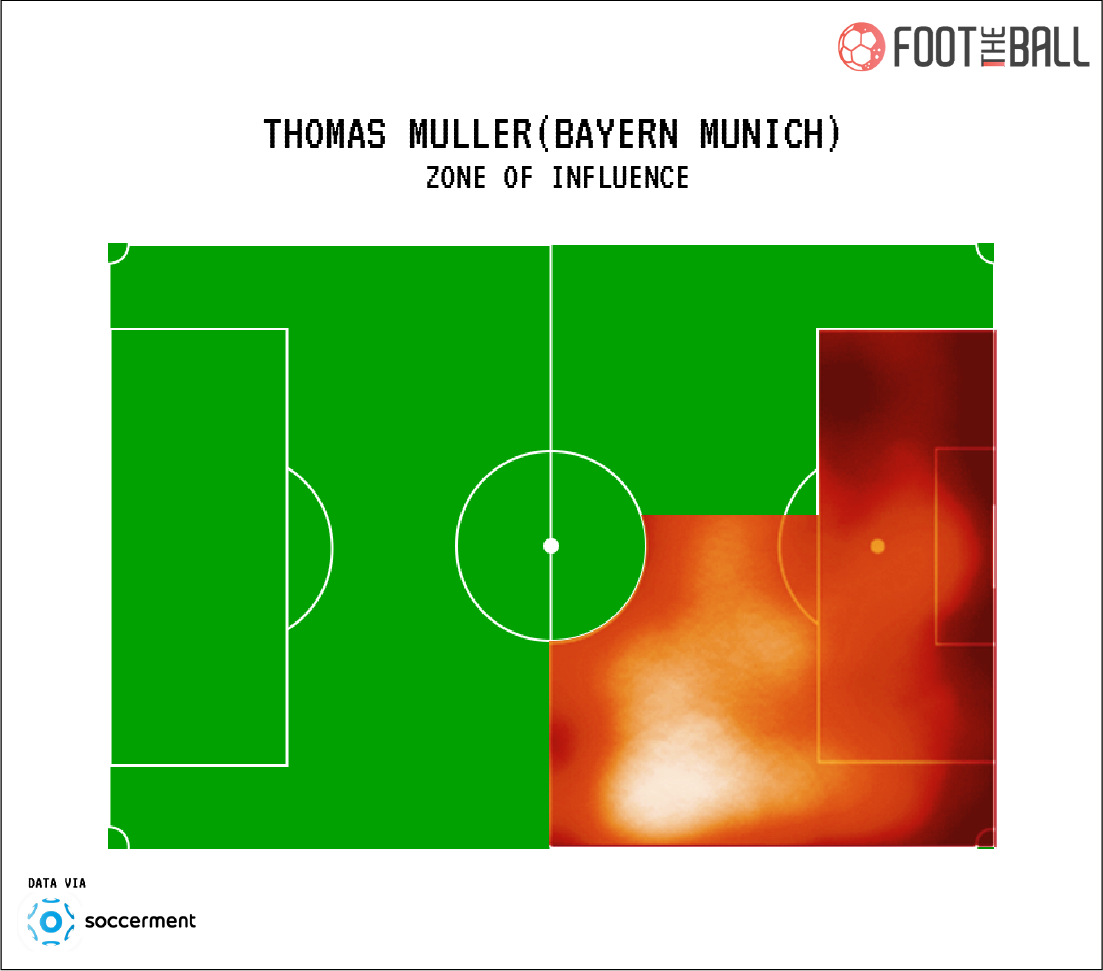 The german best record has been 40 goals and assists in a single season, which he has achieved three times. Out of this, Bayern Munich won a treble in one season and a sextuple in the other (the only team to win it after Barcelona's famous "tiki-taka" team).
The Raumdeuter's role is to find space in the attacking third, and there are two places in the attacking third where he does that most often. One is the space between the defensive midfielder and centre-backs, and the other is between the centre-backs and full-backs. Muller is particularly brilliant at the latter.
His game has also been helped by a change brought out by modern football in which fullbacks were tasked with increasing attacking responsibilities. Fullbacks had to tread a fine line between when to attack and when to stay back.
So, if there were any lapse in concentration, a player with a keen sense and reading of the game would exploit the space, which Muller has done time and time again.
A tale of brilliant off-the-ball movements 
July 8, 2014, and August 14, 2020. These two dates are historical in football. The first represents Germany's 7-1 thrashing of Brazil in the World Cup, while the other is of Bayern Munich's 8-2 win over Lionel Messi-led Barcelona.
While these two games are famous for their reasons, both had one thing in common, Thomas Muller opening the scoring in the early stages of the match. 
The first goal against Brazil came from a corner as Thomas Muller was left completely unmarked and scored. Against Barcelona, Muller started the move with a pass to Robert Lewandowski, who returned the ball for the German to finish.
If one looks at all three shots, the Brazil goal, the Barcelona pass and then the goal, there is one thing clear. All three actions are not clean. For the Brazil goal, Muller's body is in an awkward position, the same is the case with the Barcelona pass, and during the goal, the ball came a little behind him again, causing him to be in an awkward position.
Thierry Henry on why Thomas Muller is the perfect footballing role model. pic.twitter.com/7mVdu9z5js

— Bayern & Germany (@iMiaSanMia) August 5, 2014
Would he like to have been in a better position or have a better shot? Maybe, but as a Raumdeuter, he knew that if he exploited the shot, he would get in such a good scoring area that the quality of the shot does not significantly impact whether the ball ends in the back of the net.
As a player, he has learnt that his sole objective is to score goals, provide assists and be a menace for the opposition in the attacking third. And Muller will play any style which best fulfils that purpose. Therefore, it makes it almost impossible to set a plan for him. 
A Raumdeuter is not interested in playing the classical way, getting the crowd on their feet, dribbling past defenders. Instead, he has his unique style, which makes him a threat.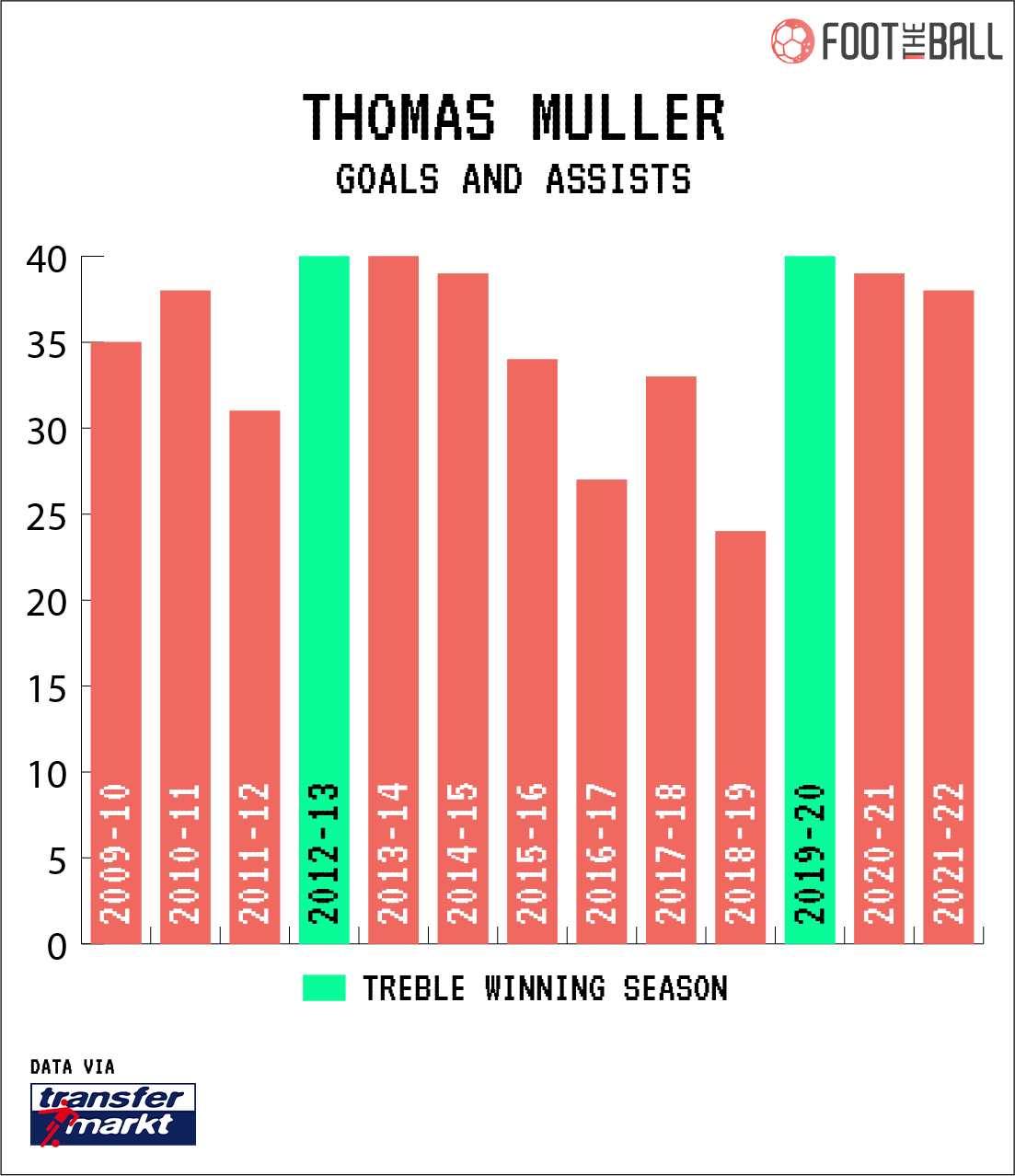 Another thing to notice about these types of players is that they play this position not only to show their strength but also to hide their weaknesses. 
Thomas Muller is neither strong nor pacey nor a skilled dribbler. So, what he loses in these skills, he makes up with his excellent mental talent. And the Raumdeuter is a perfect position for such a player.
Other Raumdeuters 
While the position has been synonymous with Thomas Muller, some players played roles similar to the Bavarian. For example, Dele Allie of Tottenham played a similar role to devastating impact at Tottenham. 
From 2015-to 18, the Englishman scored 45 goals and provided 40 assists forming a devastating partnership with Harry Kane. 
Jose Callejon of Napoli was another one who played the role to good effect. 
Thomas Muller is the best attacking midfielder of our generation and is top 10 players of our generation

Other than his 30 accolades mentioned below his stats are absolutely mindblowing pic.twitter.com/g3o52ARMcV

— BayernT (@BayernT1) February 5, 2022
However, none of them have been even close to the level of Muller. He is the undisputed star of the role. Er ist der Raumdeuter.