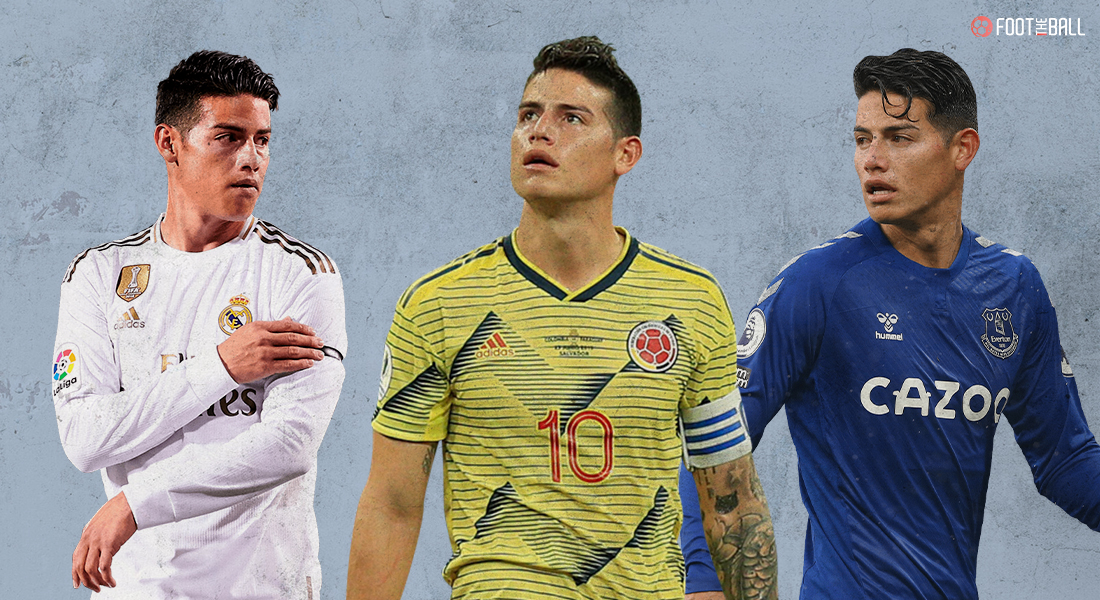 THE DEATH OF THE NUMBER 10 - JAMES RODRIGUEZ' JOURNEY SYMBOLIC OF MODERN FOOTBALL'S RUTHLESSNESS
The Greek myth of Sisyphus is well known. The king of Ephyra was punished for cheating death twice and had to push a boulder up a hill for eternity. The story of the number 10 in modern football is not too different – they cheated death throughout the late 20th Century and as penance they now have to learn to press, or perish.
Official, confirmed. James Rodriguez joins Al Rayyan from Everton, deal signed and completed. He leaves European football. 🇨🇴🇶🇦 #James #transfers pic.twitter.com/TfIBvY2DL5

— Fabrizio Romano (@FabrizioRomano) September 22, 2021
James Rodriguez typifies this decline of the technical creative attacking midfielder, free from the worldly burdens of defensive responsibilities. His bright start last season after joining Everton in a shock move has quickly faded away and he has joined Al-Rayyan of Qatar, where he can explore the deserted spaces both on and off the field.
JAMES' FALL FROM GRACE
In the heady days of 2014-15 it would have been hard to imagine how it could go all so wrong for James. He was flying high after a blockbuster move to Real Madrid on the back of an outstanding golden-boot winning World Cup campaign in Brazil. He adjusted well initially under Carlo Ancelotti, scoring 17 goals and assisting 18, but it was not to last.
Ancelotti departed the Spanish capital and in came Zinedine Zidane (Benitez doesn't really count). Over the next two seasons combined, James just about exceeded his return for the 2014-15 season. Injuries started to creep in often and playing time was harder and harder to get.
Rodriguez went out on loan to Bayern Munich to reunite with Ancelotti for two seasons and although his performances and output improved, he never looked at home in Germany. He had some exceptional individual moments but he was still never in the Bavarians' best lineup after Ancelotti's sacking.
He returned to the Santiago Bernabeu for the 2019-20 season but barely featured in an injury-ridden season. His days in Madrid were numbered and it was Ancelotti who once again came to his rescue, albeit in much different circumstances than at Real Madrid or Bayern Munich.
THE MERSEYSIDE MAGICIAN?
It was an unlikely trio – Ancelotti, Rodriguez and Everton- but for a very short while it looked like it just might work. With the shortened pre-season at the start of last season, teams were not as fit or well-drilled in their press and defence. This allowed a technician like James to exploit the space created as he powered Everton's early season form which saw them top the Premier League table after six matchweeks.
As the season wore on and teams grew into the campaign, James and Everton found it increasingly harder to replicate those results. Ancelotti did not make much adjustment to his system and in the end, they finished 10th – six points behind West Ham in sixth.
James Rodriguez 2020/21 stat update:

Games: 18
Goals: 5
Assists: 7
Pre-assists: 11
Idea balls: ∞ 😏

Another major impact from @jamesdrodriguez. 🎯 pic.twitter.com/RM73V3x4pk

— Everton (@Everton) February 7, 2021
Over the summer, Carlo Ancelotti left to return to the Bernabeu and this time did not take James with him. It was clear that Rodriguez was not a cultural fit at Everton and that he did not really have any interest in playing for anyone other than Don Carlo at Everton. He also had to miss the Copa America due to a bizarre disagreement with the Colombian FA over his supposed lack of fitness.
James even admitted to not knowing who the Toffees were playing at the weekend when he was recovering from injury at the start of this season. There was interest from AC Milan and Atletico Madrid reported but he was deemed too big a risk to take. Which brings us to Qatar where he can slowly fade into oblivion much like his favoured role of a number 10.
TREQUARTISTA NON PIU
There is little to fault in James as a player from a managerial perspective. He has been somewhat unlucky with injuries but he is largely trouble free and his quality is undoubtable. The simple fact is that there is no more space in the game for a player of his style anymore.
His decline can be likened to that of Mesut Ozil and they are two players who have been unwilling or unable to adapt to the demands of the modern game. They are luxury players in a sport that no longer has a budget to afford them tactically.
The most successful playmakers in football today all have to pull their weight defensively. Well maybe not Lionel Messi but it is unfair to compare him to mortals. Kevin de Bruyne covers as much ground as any, Bruno leads Manchester United's press, Thomas Muller is relentless on and off the ball, and Luka Modric runs himself into the ground every time he plays. Those young enough to adapt, like Martin Odegaard, have added dynamism to their game but the archetypal trequartista, number 10, creative midfielder – whatever you want to call it- is dead.
It may be a more efficient way of playing, but this tactical development does rob the sport of some magic. There is a certain appeal of that extra individual quality, of seeing the pass that has not been coded into your muscles. In another era, James might have been one of the world's best but right now he is off to do his penance, if you can call a highly paid deal playing below his level penance, with Al-Rayyan.