Gerard Piqué, the Barcelona star defender is loved by his fans all over the world. His game has provided many people with endless moments of joy and happiness in their lives, whether it be the FIFA World Cup with Spain or the Champions League title win with Barcelona, his presence on the field has made him an important part of the footballing history.
View this post on Instagram

But off the field, there are certain things that you probably didn't know about Piqué:-
1) Pique and Coma in childhood
The signs of a great footballer can be seen from a very early age and it was no different with Gerard Pique either. The moment he could walk properly, he was already kicking the football. Such was his love for the game that it almost cost him his dear life.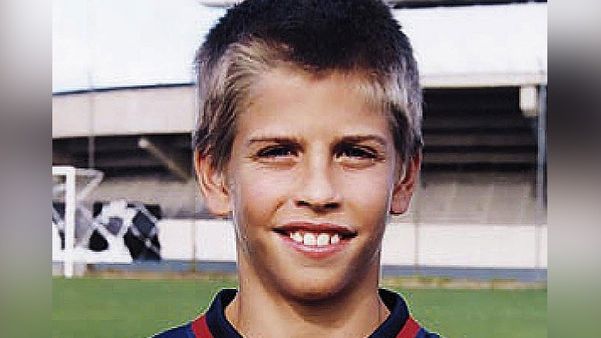 As a 17-month-old, the Barcelona defender was playing on the terrace of his grandparents' home. You may have already guessed what happened next. While playing, the ball went over the terrace and the chasing Gerard Pique also fell with it.
The former Manchester United rising baller had to be hospitalised immediately where he was in a coma. Thankfully, the Barcelona number 3 woke up from his elongated somnolence after 2 days, much to the joy of his relatives.
2) Roots of Bernabeu
The Bernabeu is a name synonymous to Real Madrid, thanks to their legendary president, Santiago Bernabeu. Such was the influence of Bernabeu in the Los Blancos' history that their home stadium is named after him.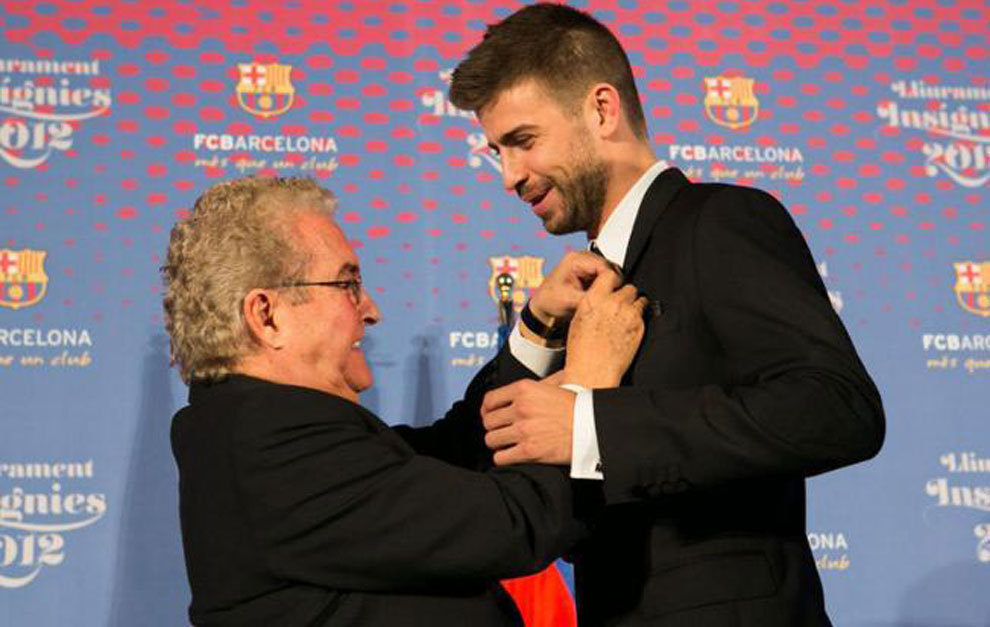 And it is only fair: after all, he was responsible for the rise of the Whites. However, when you see the very name being one of Gerard Pique's last names, it is sure to surprise you because the man is basically a Madrid-hating Catalan.
The name comes from his mother's side, who is the daughter of former Barcelona president, Amador Bernabeu. So now we know: the Bernabeu's have ruled the big two of Spain.
3) Similar Birthday – ft. Shakira
Together since they met at the 2010 World Cup in South Africa – where Gerard was part of Spain's winning team and the Colombian the voice of the tournament's official song – the two are ten years apart but interestingly they both share the same birthday which is on February 2, but one in 1987 and the other one in 1977.
It's the inspiration behind his famous 'double-V' goal celebration (2+2).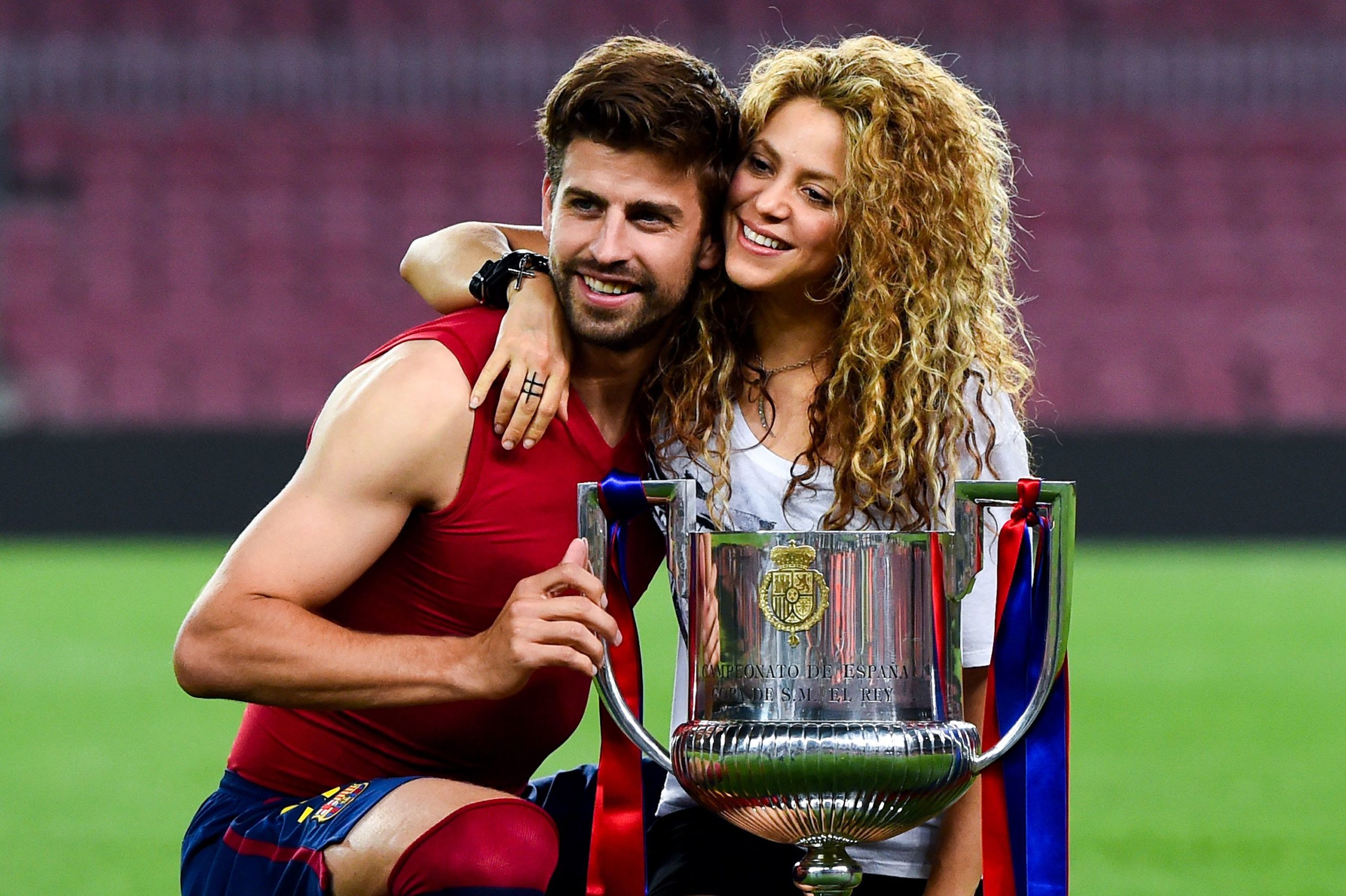 4) Story of Pique and Shakira
Gerard Pique is currently in a relationship with the love of his life, Shakira.
The two lovebirds met each other for the first time back in 2010 FIFA World Cup, where Shakira was filming the music video for "Waka Waka", known as "This time for Africa", and Gerard was with Spain national team.
However, their relationship was not confirmed till one year later when the 33-year-old star joined the singer onstage at her concert in Spain. Again, one year passed and this time Shakira revealed her pregnancy by posting a photo on Instagram in September 2012.
View this post on Instagram
It has to be mentioned that the couple are not married yet, though it seems like they are deeply in love; but why? In fact, Shakira opened up about this question in the couple's 60 Minutes interview in early 2020.
"To tell you the truth, marriage scares the shit out of me. I don't want him to see me as the wife. I'd rather him see me as his girlfriend", said the 43-year-old singer and dancer.
"His lover, his girlfriend. It's like a little forbidden fruit, you know? I wanna keep him on his toes. I want him to think that anything's possible depending on his behavior."
Cool as you like!!!@Cristiano doesn't chase records🙌#foottheball #ronaldo #cristiano #CR7𓃵 #manutd #manunited #MUFC pic.twitter.com/ztuUaH9s76

— FootTheBall FC (@FootTheBallFC) June 3, 2022
5) Pique's Favorite Singers and music
Well, obviously, almost everyone in this world listens to music of some sort. It is also a well-accepted consensus that everybody has their own musical preferences. And Gerard Pique, another human being like us, has his own too.
Given that Shakira is his other half, one would expect him to be a fan of his beloved, which he definitely is. However, he also has other music choices; some of which include Lady Gaga, U2 and Rihanna. His playlist is filled with their songs and he uses them as a way of relaxation before and after games.
Is there anything Cristiano cannot do?👀#andresilva #fernandosantos #portugal #ronaldo #cristiano #CR7𓃵 pic.twitter.com/b4HbVSu9vc

— FootTheBall FC (@FootTheBallFC) June 3, 2022
6) Business side of football
Football is not all that matters to Pique as he has shown his interest in other business projects as well.
"Kosmos is reimagining yesterday's sports and media businesses for the audiences of tomorrow. Merging sports, media, and entertainment innovation, Kosmos invests in impactful ventures that challenge the status quo".
This is what has been written on Kosmos Holding homepage and who do you think the founder of this holding is? Yea! That's right.
However, that was not the end for his ownerships as in 2019, he took over a majority stake in Gimnàstic Manresa, which is another Spanish football club.
Who's your G.O.A.T.?🐐#foottheball #messi #ronaldo #goat #Finalissima #Finalissima2022 pic.twitter.com/Kiz0BoYNCN

— FootTheBall FC (@FootTheBallFC) June 2, 2022
7) Net Worth and Salary
Pique was ranked 19th in the list of Highest-paid players in 2017, gathered by Forbes. However, as of 2022, there have been many different numbers on his salary and Net worth, but according to Celebrity Net Worth, Pique's current estimated net worth is $45 million.
In addition, he is still one of the highest-paid defenders in the world with a salary of £165k per week. This is while Shakira's net worth is reportedly $300 million.
Another asset about the Spaniard is his endorsements. According to Forbes' same report, Gerard Pique earned $3 million from his endorsements in 2017 and his major sponsor is Nike.
8) Charity work
Like many other famous stars, Pique believes that things are better when shared and so this is the guideline in his life.
Interestingly, him and Shakira did one of the most beautiful things they could do, during the birth of their second child back in 2015. In fact the couple dedicated the baby shower to UNICEF and Pique urged his fans to buy thank-you to raise funds for the vaccination of children around the world.
9) Father of two
Gerard shares two sons with Shakira, Milan Piqué Mebarak, 7, and Sasha Piqué Mebarak, 5.
It doesn't matter 'Whenever, Wherever' she goes, Shakira will always have a special place in her heart for her kids.
View this post on Instagram

Though Milan has joined his famous mom during some of her biggest appearances, Shakira revealed in a July 2021 interview with ET Canada that her sons are not exposed to her music at home.
The music genes run in the family because Milan is an incredible musician too. In December 2021, Shakira posted a video on Instagram of the youngster playing classical songs on the piano. In addition to music, Milan enjoys going surfing with his brother.
10) Piquenbauer
Football fans around the globe know that Beckenbauer is one of the legendary footballers, known as "Der Kaiser". The 76-year-old is considered as one of the greatest players in history and one of the best football defenders in the world.
It did not take much long for Pique to be noticed after the beginning of his career in Barcelona and under Pep Guardiola's supervision, he got better and better every day. Such a development was the reason for the media to link him with the legendary Franz Beckenbauer. Eventually, this gave Pique a new nickname: Piquenbauer.