It was a season of disaster for Olympique Lyonnais. The French side finished eighth in the league, accumulating just 61 points , the worst points haul since the 2013-14 season (except the 2019-20 season curtailed by Covid-19). Even though PSG restored their supremacy at the top, the fact that Lyon were eighth indicated their poor season, especially after finishing fourth the previous year. However, they fared a little better in the Europa League, topping their group before being eliminated by West Ham United in the quarter-finals.
However, all hope is not lost. Though the season was underwhelming on all fronts, Lyon did strike gold in one area, i.e. the youth players. In the past years, the club has generated several players such as Martin Terrier, Maxwell Cornet, and Rayan Cherki. Right-back Malo Gusto is the latest player to come out of the talent factory. 
Born in Decines-Charpieu, France, Gusto has been one of the few positives to take from the season. The 19-year-old burst onto the scene this year, and although he hasn't been able to nail down the right-back spot, it is only a matter of time before he is an integral part of the playing XI.
𝑴𝒂𝒍𝒐 𝑮𝒖𝒔𝒕𝒐 ✌️ pic.twitter.com/STW7XxOrkL

— Olympique Lyonnais (@OL) July 15, 2021
Playing Career so far
Born on May 19, 2003, Malo Gusto joined AS Villefontaine, a club based in a commune, Isere department, southeast France. He spent three years at the club's youth academy before moving to Football Club Bourgoin-Jallieu, a club playing in the fifth-tier of the French football league system.
The move to the club would bear rich dividends for him. It is because, in 2010, the club had signed a partnership agreement with Lyon. And it is here that Malo Gusto captured the interest of the club.
Lyon RB Malo Gusto has shown both sides of a developing game in the first 30 mins. His touch, pace and bourgeoning defensive awareness make him a thrilling prospect. But a rash trip on Payet deserved a yellow + his decision making is still erratic. Huge talent even so, just 18.

— Get French Football News (@GFFN) May 1, 2022
It took only one season for Lyon to make a move for the then 14-year-old. He made his way up the youth teams for the next four years before being promoted to Lyon's B team. 
Malo Gusto made his Ligue 1 debut on January 24, 2021, replacing another club star, Bruno Guimaraes. 
With an exodus of fullbacks from Lyon before the 2021-22 season, Malo Gusto was thrust into the limelight, and he didn't disappoint, putting in some good performances.
Stats 
Malo Gusto played 30 times in the league and seven times in the Europa League last season. And even at 19-years of age, he is an adept creator and passer of the ball. According to fbref, he creates an assists every five matches, which is among the top five per cent of fullbacks. Being a crucial part of an attack is a necessary requirement for modern fullbacks and Gusto passes that test with flying colours. 
His passing is also quite good for his age. Malo Gusto is a modern day full back who loves to venture into the forward areas. His four assists in the league are the seventh-best by any defender.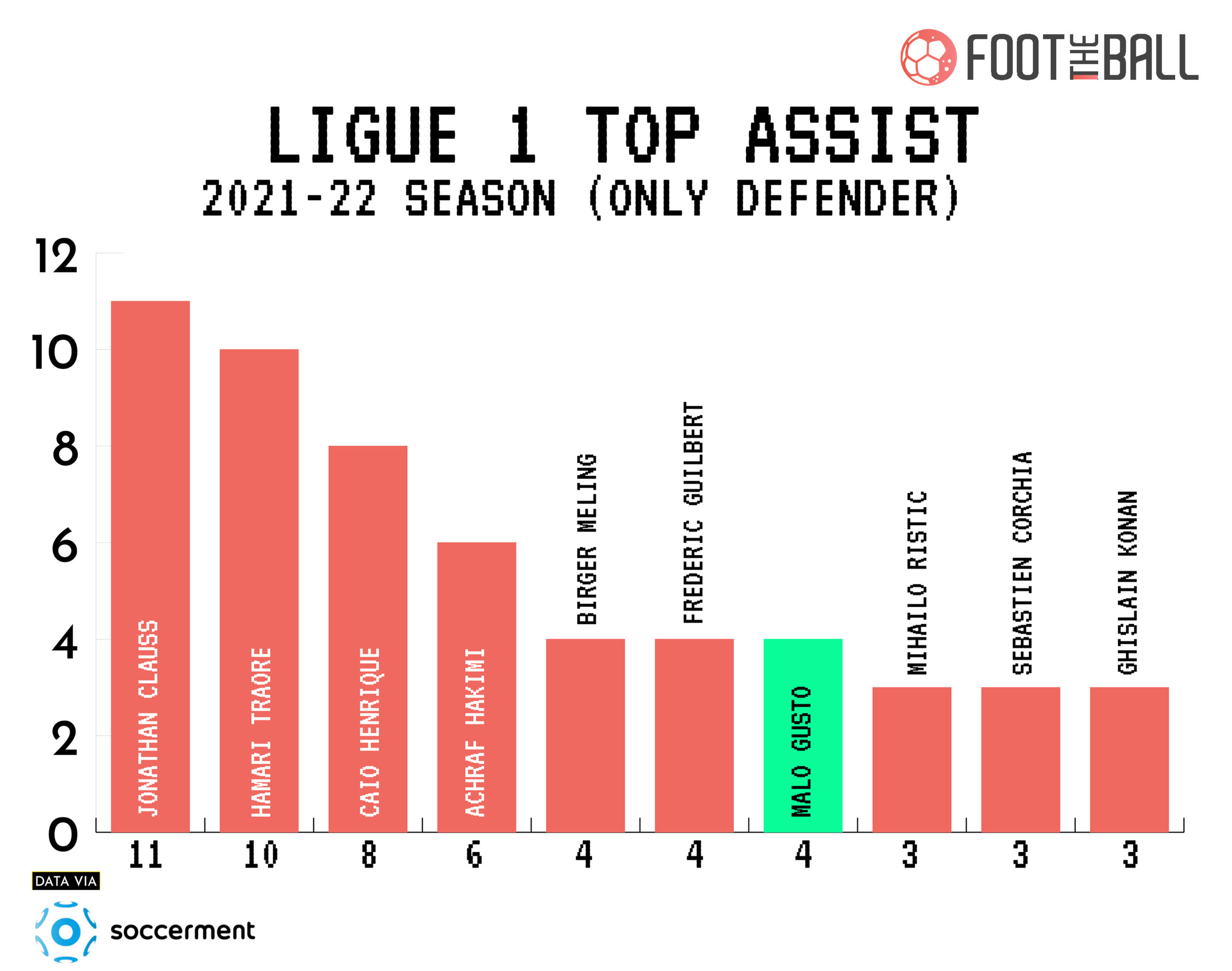 In addition, he also loves to help the team win the ball back. Fbref stats show that he makes 6.26 successful pressures per 90 minutes which is among the top three per cent among fullbacks. 
His carry numbers are also impressive at 56.24 per 90 minutes, which is among the top six per cent of fullbacks.
📊 #OL | La première saison professionnelle de Malo Gusto (18ans) 🇫🇷 est une grande satisfaction !

Ses stats comparés aux autres latéraux du big 5.
🔝 xAssists
🔝 centres réussis
🔝 Tacles, Interceptions, Pressing
❌ Duels aériens pic.twitter.com/yV39lKjMAZ

— Peter (@Peter__OL) April 24, 2022
While his defensive numbers are still good enough for a 19-year-old, he still has the time to improve them.
Malo Gusto also offers an attacking threat with the ball at his feet. According to Soccerment, he is the sixth-best players when it comes to expected threats (xT) in Ligue 1 among defenders.
    Ligue 1 Top Expected Threats (Only Defenders)
Player 
Ratings

Achraf Hakimi

5.32

Hamari Traore

4.88

Jonathan Clauss

4.83

Akim Zedadka

4.75

Caio Henrique

4.18

Malo Gusto

3.85

Pol Lirola

3.57

Ismael Traore

3.56

Romain Thomas

3.52

Jean-Clair Todibo

3.18

Vital N'Simba

2.98
Source: Soccerment
What the stats don't tell you 
Malo Gusto is a player who is wise beyond his years and does not like to lose. Speaking to the press after a loss to Brest, he said, "It's our job not to give up. All these defeats are hard to swallow, but we have to continue and prove that we can go all the way. We will have to keep fighting to show that we are not finished. It's quite frustrating, but we're going to keep believing in ourselves, that's all we have left to do. We're going to have to show a lot more desire and aggressiveness in our matches."
Youngest players with 1000+ minutes played this season:

1⃣ Gavi (17y, 295d) 🇪🇸
2⃣ Mohamed-Ali Cho (18y, 128d) 🇫🇷
3⃣ Lucas Douath (18y, 295d) 🇫🇷
4⃣ Jude Bellingham (18y, 332d) 🏴󠁧󠁢󠁥󠁮󠁧󠁿
5⃣ Malo Gusto (19y, 8d) 🇫🇷 pic.twitter.com/pyWpDWVzhL

— Matchday365 (@Matchday365) May 27, 2022
This shows us his indomitable spirit. He has also been performing good in a season where Lyon have struggled on all front and lost several players in the summer transfer window.
If the club manages to make some good signings that can plug the holes in the team, Malo Gusto's contribution will be even better.
What makes him special?
Lyon are one of the biggest football clubs in French football, and for a 19-year-old to come into it and perform straightaway shows his confidence, He is also one of the few players who can come out with his head held high after the catastrophic season. 
And this means that Lyon can build a team to which Gusto will be integral. The club will also be assured of having a future star in their ranks, allowing them to invest money in other positions. 
Malo #Gusto a compilé 43 sprints face à Reims, un record pour un joueur cette saison en Ligue 1@gusto_malo #Stats
(Ligue1 : https://t.co/ooefQn2jJ8) pic.twitter.com/GqLI1177aS

— OL+ (@OL__Plus) January 5, 2022
The last time Lyon had a golden generation, they won the Ligue 1 in 2007-08; this generation could repeat that.
So, we can expect Malo Gusto to keep his rise and Lyon to form another crop of players who can dominate the football world.
Potential 
With just a season under the belt, Malo Gusto has already started attracting interest from the club. Juventus has already enquired about his availability. However, with Fiorentina and Lazio chasing Lyon's other right-back Leo Dubois, expect Gusto to stay at the club for a few the next season at least.
He also signed a one-year contract extension last year, which will keep him at the club till 2024.
The right-back spot for France is also up for grabs, with Benjamin Pavard looking to play more at centre-back. And if he keeps up the level of performance, a national call-up can be expected soon. He has already made five appearances for France U21s and scored a goal. 
For now, Malo Gusto should prove himself to Lyon and help them regain their glory.