Watching Lionel Messi has been an escape from reality. The reverberating burdens of life would cripple you down to the bone, but one glance of Leo dancing past defenders is all it took for the monotony of everyday life to be alleviated. A diversion in the form of bliss – Messi mended broken hearts and stitched fragmented souls. Unfamiliar with medical equipment, yet a healer in endless ways.  
From boy to goat. pic.twitter.com/G0JPpPi5WC

— FC Barcelona (@FCBarcelona) August 5, 2021
Leo had expressed his desire to quit the club many times in the past. Tired of everything terrible that's been going on in the club, tired of being played around. Still, he was forced to stay. His wishes were undermined by a ridiculous scheme led by Bartomeu and his board. When, though, as the tides had turned, when Messi felt comfortable to stay, now, when he wanted to continue in his beloved club, he was forced to leave. Take a moment to process that.
Thank you, Leo. pic.twitter.com/cdS9xWe8Me

— FC Barcelona (@FCBarcelona) August 5, 2021
The club wanted him to stay, and the greatest no.10 wanted to stay as well, but it couldn't happen. All because the financial margins couldn't be worked out. Messi's route from Rosario to Barcelona to greatness has truly been a special one. On his special day, on his birthday, we reminisce on his amazing journey from a boy to one of the greatest. 

JOURNEY FROM ROSARIO TO BARCELONA
Messi was born in Rosario, Argentina, and displayed a natural talent for football as a toddler. From the age of five, he played for Grandoli, a local club managed by his father, before moving on to Newell's Old Boys.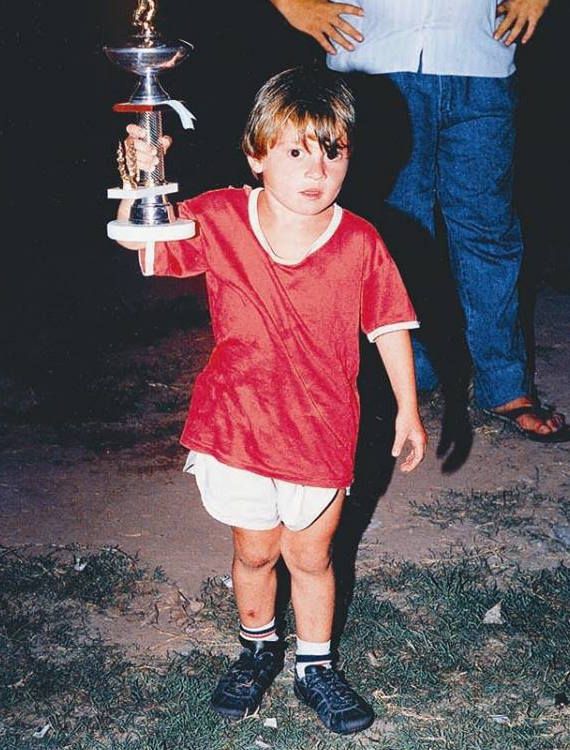 He appeared to have a bright football career ahead of him, but at the age of 11, he was diagnosed with a growth hormone deficit that necessitated costly treatment, meaning Lionel Messi's story could have ended before it even kick-started. 
His family couldn't afford it, but after seeing some consistent signals of interest in Messi's brilliance from Barcelona, they opted to relocate to Spain. Messi tested out for Barcelona, and the club was so taken with him that they decided to pay for his $1,000-a-month medical treatment.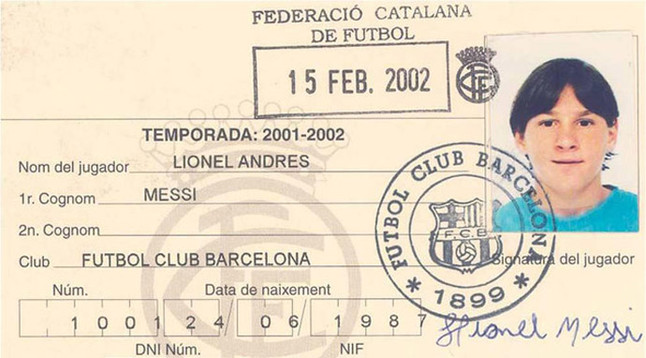 His maiden contract was inked on a napkin because Barcelona's executive Carles Rexach recognized his unrivalled talent and understood the Argentine would be too brilliant to let go, leading him to join the prestigious La Masia Academy.  
The 1987 generation virtually all progressed to the Cadete A (under-16 side) from Infantil B (under-12 side) category in 2002-03 and became recognized as one of the finest squads ever seen at La Masia, trained by the late Tito Vilanova and also Alex Garcia. However, at the end of the season, Lionel Messi's academy and former Barcelona teammate Cesc Fabregas departed for Arsenal, while Gerard Pique left for Manchester United a year later.  
🛣Lionel Messi's Journey to La Liga Gaints-Barcelona

2001 – Lionel Messi & family move to Barcelona to join La Masia 👶
2003 – Makes first-team debut as a 16-year-old 👕
2005 – Signs first professional contract ✍️#Messi #Barca #Barcelona pic.twitter.com/qlXVu7CvY5

— #ChampionsLeague (@alimo_philip) August 6, 2021
But Messi kept rising through the ranks, advancing from Juvenil A (Under-19s) to Barcelona C and then to Barcelona B in the course of a year. At 16, he earned his first-team debut, and at the tender age of 17, he was a regular member of the senior squad
Throwback to #Messi's first official goal for Barcelona…with a delightful assist from #Ronaldinho. From one legendary No 10 to another.

🎥 FC Barcelona / Twitterpic.twitter.com/JTweI2oUTW

— The Field (@thefield_in) August 26, 2020
Frank Rijkaard handed a young Messi his senior team debut, who was leading the club to one of its best seasons. Ronaldinho was the talisman for Barca, and Messi and the Brazilian legend shared a strong connection on and off the field. Ronaldinho even assisted his first senior goal for Barcelona, a legendary handover of the mantle.
HISTORICAL YEARS UNDER THE SUPERVISION OF PEP
While it was Rijkaard who introduced Messi to the world by handing him his deserved senior team debut, it was under Pep Guardiola that Lionel Messi blossomed from a budding sensation into one of the greatest to ever set foot on the pitch.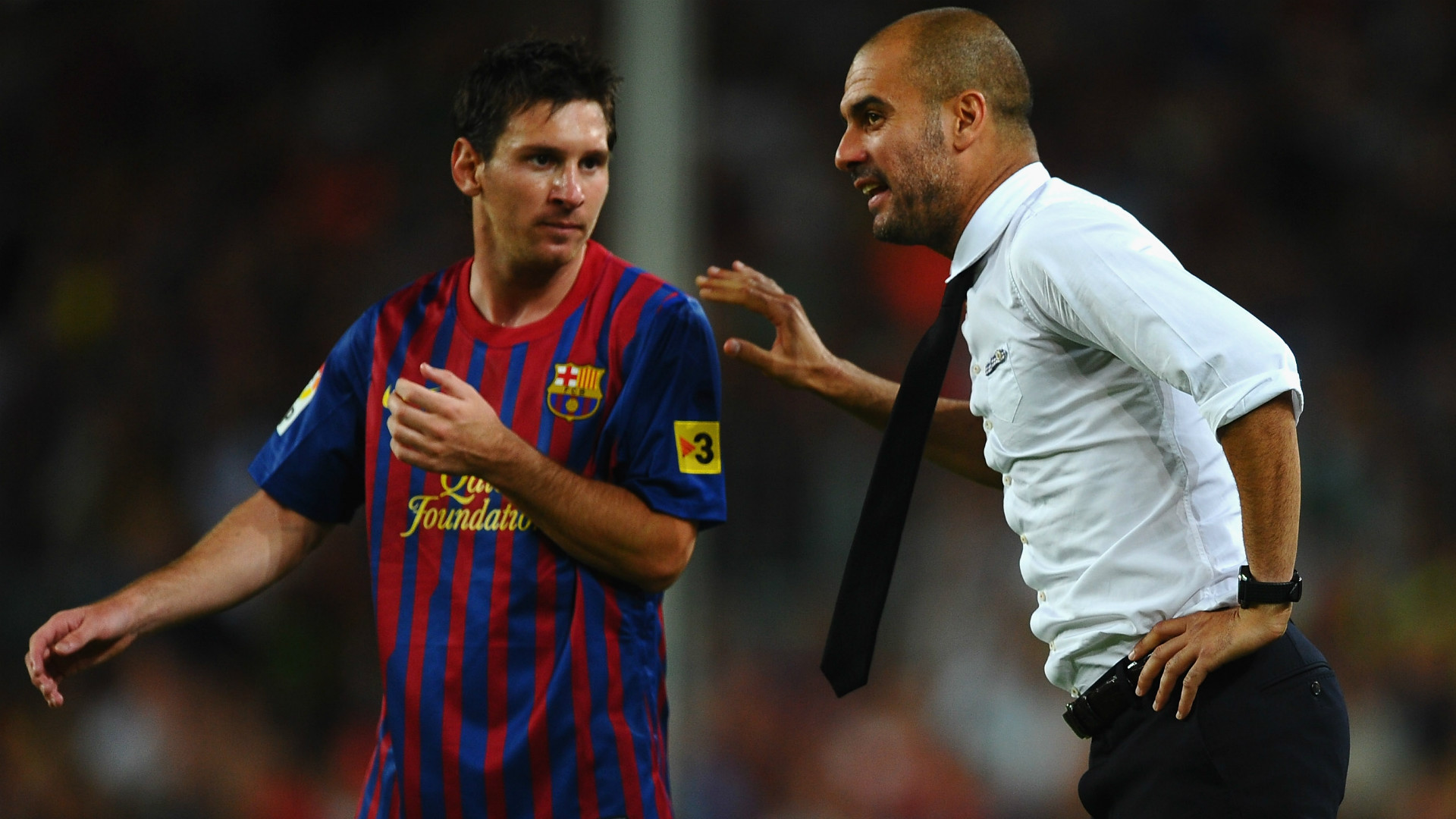 Following two years of sharing the field with Ronaldinho, Messi took over the number 10 jersey and donned and embraced it with his magical talent like no one else. Messi was primed to take over the footballing world, but Joan Laporta's genius in hiring Pep set the wheels in motion for the Argentine's route to greatness. 
Guardiola took over at Camp Nou, ushering in one of the most dominant eras for both the club and Messi. The Spanish manager won three La Liga crowns and two Champions Leagues during his four years at Camp Nou, unleashing Messi's beast potential while leading a squad that was constantly linking up, providing each other opportunities, and showcasing the genuine beauty of Tiki-Taka. For years, the trio, or really the quartet, of Messi, Xavi, Iniesta, and Busquets mesmerized the Camp Nou.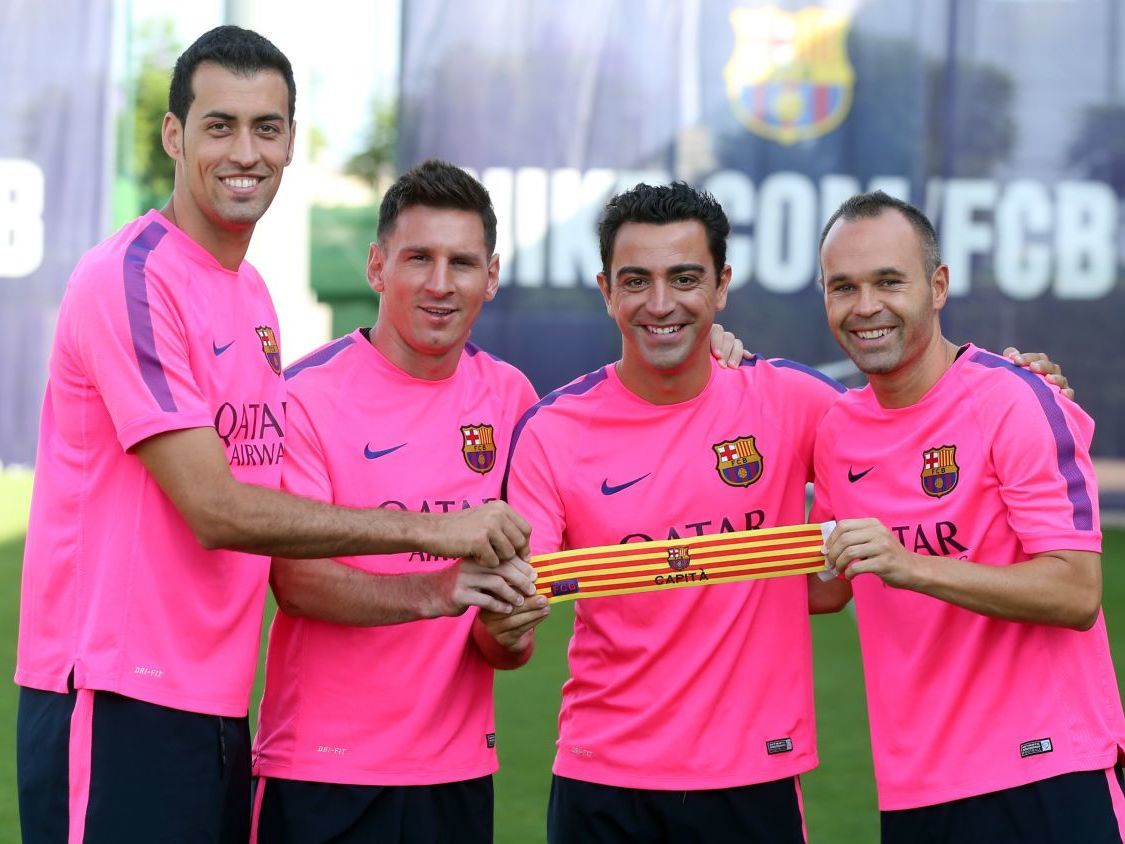 Barcelona won a historic sextuple in 2009 alone, including the Copa del Rey, La Liga, Champions League, Spanish Super Cup, European Super Cup, and Club World Cup, with Messi at the heart of it with 38 goals. 
He scored 211 goals and dished out 97 assists in 219 matches under the Spaniard, marking a really magical run for him as he had the creative liberty to spearhead that squad. Of course, a player of his calibre, creative brilliance, and technique fully deserves to be the link between everything. 
It is indeed fair to assume it was during Pep's tenure  Lionel Messi was able to unlock all his virtues as the Argentine claimed three consecutive Ballon d'Ors under Pep and a record-breaking fourth in 2012, after the manager left Camp Nou.   

MSN'S GLORIOUS DAYS AND POST-NEYMAR PROBLEMS
After Guardiola moved to Germany, there was a brief transitional phase, but Messi's exceptional talent always kept the world at his feet. Then he discovered an elite band of offensive players to be a part of, the fearsome MSN, and a new standard for the most dangerous attacking trios ever was established. 
Neymar, Suarez, and Lionel Messi joined hands and together formed an attacking trifecta that terrorized defences day in and day out for years. Both players contributed to reducing Messi's goal-scoring burden while scoring goals alongside in bunches. 
In just three seasons, the trio combined to bag a total of 364 goals. There were several outstanding partnerships Messi had up ahead, like Samuel Eto'o, Thierry Henry, and Zlatan Ibrahimovic, but none equalled the chemistry and lethality of this South American trio. 
MSN for @FCBarcelona (2014 ➡️ 2017):

Lionel Messi – 153 goals
Luis Suarez – 121 goals
Neymar – 90 goals

364 goals in 3 seasons. 😱 pic.twitter.com/jqzibhMJ5G

— 433 (@433) August 17, 2019
Goalkeepers were humbled, defences were demolished, and Barcelona matches became a visual art. It was like something out of a fairytale. But, eventually, everything comes to an end, and so did this legendary trio as Neymar left for PSG. 
Despite receiving a substantial amount of money for the Neymar transfer and spending significantly more, Barcelona embarrassingly failed to replace and re-sign him once it appeared that he was prepared to come back. 
On this day in 2017 Neymar joined PSG, becoming the most expensive signing of all-time (£200M) 💰🇧🇷 pic.twitter.com/OlIGZyTEtc

— GiveMeSport (@GiveMeSport) August 3, 2021
Ousmane Dembele, and subsequently Phillipe Coutinho and Antoine Griezmann, were aggressively recruited and bought for more than exorbitant fees, but evidently, they have failed to blend in and fill the void left by Neymar. 
BARCELONA'S DOWNFALL
Barcelona won the treble with MSN in Luis Enrique's first season as manager, but in retrospect, 2014-'15 appears to be the team's final heyday. While Messi continuously has lived up to his world-class standards since Neymar or Iniesta's departure, his footballing brilliance has been increasingly incapable of protecting his crumbling team on his own, as he had done so frequently in the past.  
In 2019, despite winning La Liga, Barcelona faltered at the conclusion of the 2018-19 Champions League campaign, bottling a 3-0 semi-final advantage to Liverpool, which included two goals from Lionel Messi. They eventually also lost the Copa del Rey final 2-1 against Valencia, with the Argentine scoring yet again for Barcelona.  
📅 A stunning second-leg fightback at Anfield, #OTD in 2019…

⏰0⃣7⃣ Origi
⏰5⃣4⃣ Wijnaldum
⏰5⃣6⃣ Wijnaldum
⏰7⃣9⃣ Origi

😮 Barcelona 3-0 Liverpool (agg: 3-0)
😱 Liverpool 4-0 Barcelona (agg: 4-3)#FlashbackFriday | @LFC | #UCL pic.twitter.com/FB6yvHNK1W

— UEFA Champions League (@ChampionsLeague) May 7, 2021
Although the 2019/20 season witnessed the most worn-out and wounded Barcelona the world had ever seen. Two managers, no silverware, your fiercest adversaries beat you to the league crown, and your most expensive player ever celebrates two goals against you, knocking you out of the Champions League. It was far from the finest campaign for everyone associated with Barcelona. 
Barcelona lost La Liga to Real Madrid after a string of poor performances following the return of football following the COVID-19 pandemic.  The most embarrassing and degrading moment for Barcelona though came in the Champions League quarter-finals versus Bayern Munich, when the Bavarians hammered the Blaugranas 8-2, their biggest loss since 1946. 
2018: Roma 3-0 Barcelona
2019: Liverpool 4-0 Barcelona
2020: Barcelona 2-8 Bayern Munich

Three consecutive years of Champions League heartbreak has taken its toll 💔 pic.twitter.com/XpAoVxnInr

— Football on BT Sport (@btsportfootball) August 26, 2020
The following season, where there was a lot to rebuild for Barcelona, ended following another disappointing season as they finished third in the league, their worst finish since the 2007/08 season. They were ousted in the round of 16 of Champions League as well by PSG. But last season didn't end without silverware as Barcelona were able to capture the Copa del Ray. 
MESSI BIDS FAREWELL
Through ups and downs, adversity and affliction, compromises and concessions, sustainable relationships are formed. Messi was not always treated fairly by his partner, but never did his commitment to the club wavered.  
He had earned the right to expect much more his boyhood club for his exploits and gargantuan contributions, but resolute on resurrecting the golden years, the lone wolf marched unescorted.  
It's true that the Argentine attempted to leave not long ago, frustrated and tired of his exuberance being greeted with coldness, but those feelings were obviously replaced by a fresh and more ambitious vision, with Messi realizing that his zeal was finally matched by Barcelona's board.
Being forced to leave Camp Nou while his heart was fixated on being in Barcelona for the coming years is definitely a breaking point for any Cule. Nonetheless, as fate had predicted, a forced move was spurred by the previous board's failings, incompetent financial management, and possibly even the present hierarchy's desire for the infamous super league. 
🗣 @JoanLaportaFCB: "Leo wanted to stay and the Club wanted him to stay"

The reasons for Leo Messi's departure 👇https://t.co/U2JDD9a6AE

— FC Barcelona (@FCBarcelona) August 6, 2021
While there will always be a wide spectrum of highs and lows in one's career, even Messi's lows were enough to light up a grin on one's face. With Messi bidding his final goodbyes, it's impossible to imagine how Barcelona will manage without their saviour. But this isn't about Barcelona; it's about Lionel Messi, whose unparalleled legacy will never be equalled.