The image of ISL is one of glamour and premier football in India. That means grueling levels of competition and a bag full of rejections until a boy gets here. Here, at the age of 25, Nikhil Poojary tells his own story—one of the ecstatic highs but also relentless downs—of how the Indian international made it to the top.
FIRST STEPS
It's Friday evening. GMC Balayogi stands aren't thundering. The pitch is deserted. The locker room does not echo off the players. It doesn't smell of their sweat. Gachibowli like the rest of the world, is inside their homes. Maybe a few brave souls loiter outside but apart from them, there's no hubbub on the streets.
650 km away in Navi Mumbai, Nikhil Poojary is seen shaved with hair neatly tied back, during the 50 minutes of Instagram live with @indiansuperleague. An unfazed look he has fashioned himself over the years. The audience has tested positive after being infected by his ear-to-ear smile. The hearts are pouring in the comment section.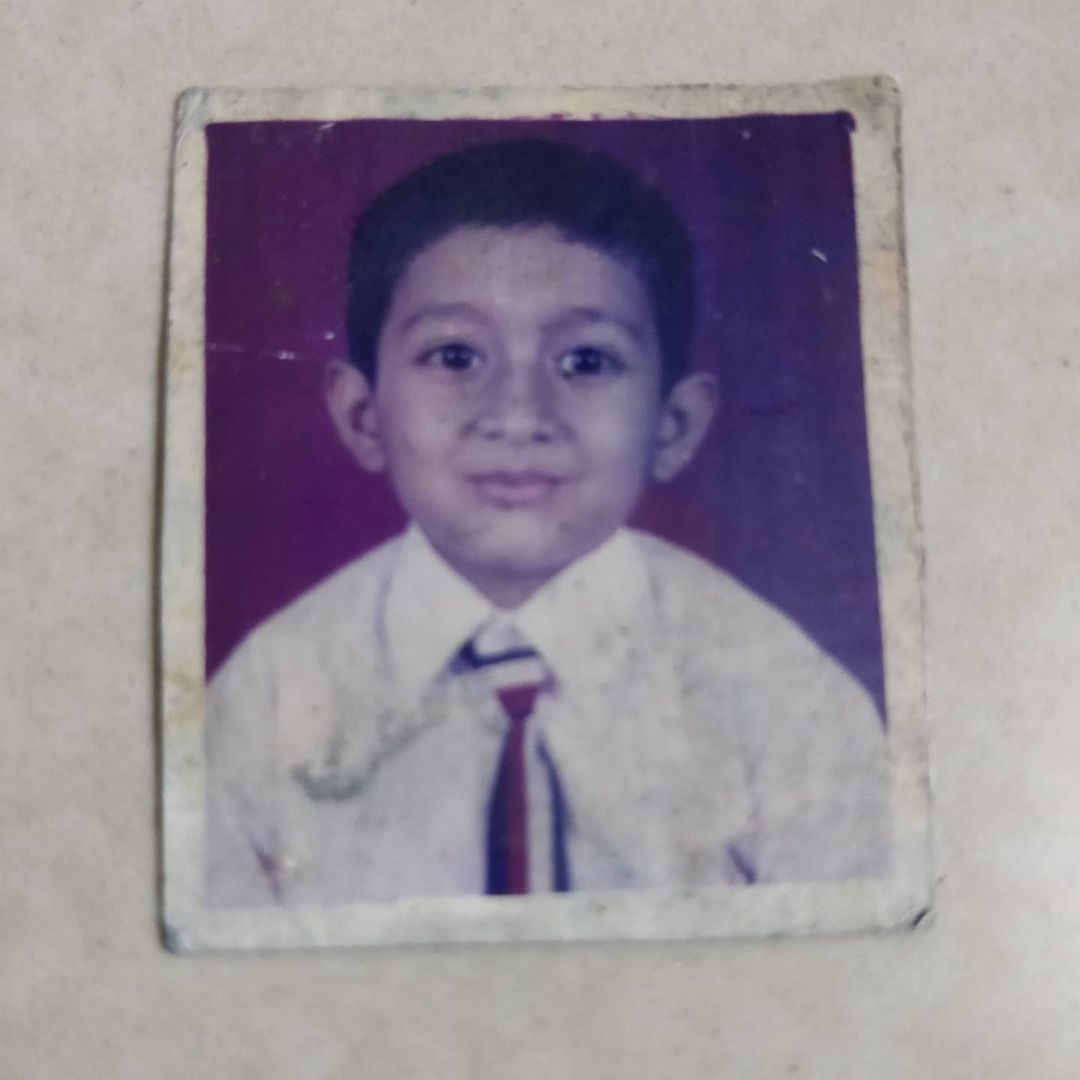 In India, a footballer's tryst with destiny starts either late or worse, too late, as a last-ditch tackle. That football is a dream to be realised even before the age of 10 isn't the norm here. Not surprisingly then, it wasn't much different for Poojary. As such, it was more than likely that he would be able to take senior appearances under his belt, as well as becoming known for expressing himself both on and off the pitch by taking calculated risks. But things weren't so cut and dry.
A FALSE START

So because of the conducive environment of St. Augustine's High School in Nerul in Navi Mumbai, it didn't matter when Nikhil Poojary comically landed right in the middle of a cricket trial instead. He assured us that he "had a good system in place with experienced coaches and players to guide us". Thankfully that initial stumble was let off, and Poojary's life was to forever take the road less taken.
The coaches saw through the innocence of a young boy who was keen to take up everything his parents wanted. "They wanted me to participate in all activities", he remembers.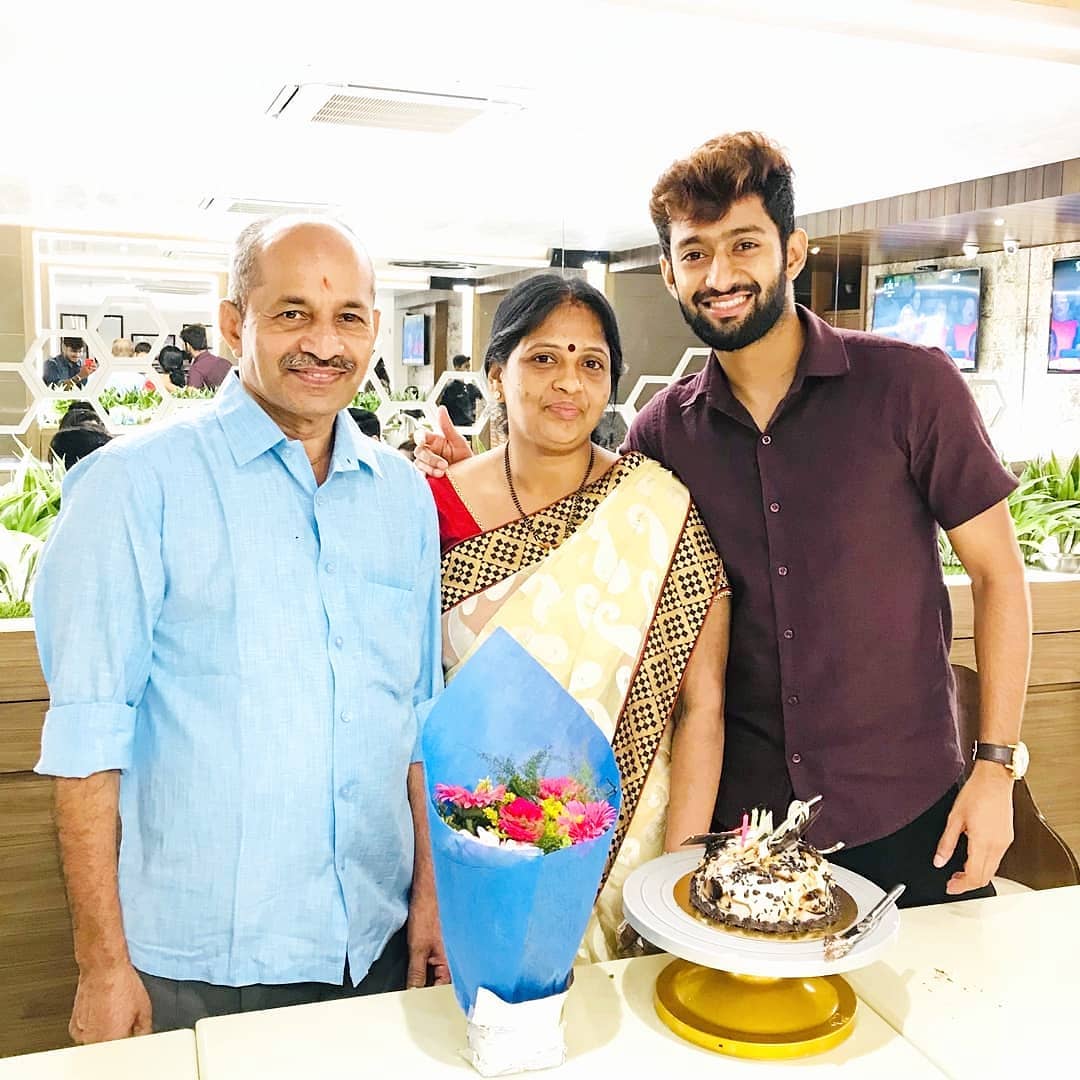 School time football train picked up its steam soon after the scouts and coaches started seeing his comfort at close control and running with the ball. His destiny was always in his hands. If there were footballing gods, they were busy teaching the young boy lessons on grit whenever he was to look away from the beautiful game.
A usual rite of passage for any footballer in today's times involves sacrificing securities. Typically, these are leaving the comfort of parental homes and set out to explore the horizon not knowing which way to go, who to sign for, which club will help their qualities shine. It is a brutal journey. One which not only asks athletes to go beyond the limits of a normal human vessel is made of, but can also leave them unrewarded due to extreme competition. And so when Poojary began, it was only natural he be forced beyond his control.
"It happened at CST. It was almost a month-long trial and I got selected and we went to Madhya Pradesh to play", says Poojary. During the month, Poojary played well and got selected for the Maharashtra state team. Though he missed out on the ultimate prize, he wasn't going away empty-handed. Nikhil Poojary was the player of the tournament. But football is a team game. The exit proved inevitable.
Shortly, Poojary then reached the final of Manchester United Premier Cup in 2011—a global youth competition held by Nike—where he performed well but his team crashed out against Salgaokar on penalties. Everyone was gutted to stumble at this stage because they would have had the chance to go to Thailand for the South East regional finals. Perhaps culpable of having put all their eggs in one basket. "But now when I look back, it was just the beginning of something special."
"That was a time that I thought I would give up on a career in professional football, join a call centre and see where my life would take me," Poojary says.
Returning to Mumbai and representing Ryan's group of schools, though Nikhil Poojary was the youngest member of the team, his number of appearances were yet to rise. But by that time he had absorbed the attitude of a pro, waking up at 4:30 AM and fighting through the two-hour commute to train with his new team. Football does that to you.
TIPPING POINT

There was something else that he couldn't miss. His financial instability and juggling academics in an engineering-doctor frenzied India. The dropping grades and failing 12th grade started tugging him like chains. Poojary soon gave try-outs for the newly formed Mumbai Tigers based in Vashi, a short distance away from his home. He was quickly drafted. No one could ignore him. He was to train around those who would become the backbone of Mumbai FC from I-League in Paresh Shivalkar, NP Pradeep and Steven Dias. His renowned trait of consistency began from then on, as he did not miss a single match for them. And was with Mumbai Tigers when he received his first pay-cheque of Rs. 10,000 (a little over $130).
This was enough for his family to be convinced that the boy can take his chance at football. "It was a relief for me and motivation for my parents to allow me to continue playing. You can call it God's gift," Poojary says. Had he not got this offer coupled with his detrimental grades, we wouldn't have been able to see his genius at play. It was all going well but out of nowhere the club was dissolved, paving way for another wave of doubts from his family.
#MediaWatch: @sportstarweb writes about @nikhilcpoojary who extended his stay at Hyderabad FC till 2023. #Nikhil2023 #HereToStayhttps://t.co/u3YPwE811J

— Hyderabad FC (@HydFCOfficial) April 21, 2020
He had to act fast, joining Air India, temporarily helping him subside ambiguity over the future. But that too ended soon. This time on the ill-timed advice of his then agent, who suggested Poojary should perhaps be in the hunt for more personal glory. The agent advised not to extend his contract with Air India. This proved too costly too soon in his career. Air India decided to cut their losses and no new offers were put on the table. Mumbai FC also turned him down. It was looking like a premature end to a journey that had already seen so many stop-start junctures.
"That was a time that I thought I would give up on a career in professional football, join a call centre and see where my life would take me," Poojary says.
In 2015 Nikhil Poojary's agent made him another offer. This time from Mohammedan Sporting, Kolkata was conducting try-outs. The question of involving his parents in this decision was out of the window, for he knew they would urge him to give up on football, once and for all. By that time, there was enough fire in his belly to ignore the negatives that awaited him, and knowing no other path but of putting his head down and grinding out results in his favour, he got a one-way unreserved ticket and set forth. On this train ride, his friendship with Rahul Bheke earned him a seat in the train and one in with East Bengal fans' hearts who were aboard.
The magnetic footballing culture in Kolkata provides a vent for many from the rigours of a ravaging life, often dousing the streets in the reverie of a carnival for their favourite clubs. You could be forgiven for assuming Poojary had it easy in the face of uncertainty then, simply because of the company he was in. Afterall all, he truly was in great company.
"An entire truckload of fans — I had never seen anything like it before, because who asks a footballer anything in Mumbai? I would join them to the ground and back, eat biryani with them and get to see what Kolkata football was all about. It was nothing like I had experienced before and when I spoke to my mother, I remember telling her that I wasn't going to find a team better than this one," he remembers.
But the ground was still shrinking beneath his feet. With home calling, Nikhil Poojary arrived in Kolkata and landed straight at Mohammedan's training facility, without a dime. He would give his trials during the day. In the evening he would go watch the first team play in the Calcutta Football League alongside the supporters.
His time was running out here and it almost proved to be a cul-de-sac. He was denied a contract, leaving him devastated. He had had enough. He wanted to quit. He called his father for a ticket back home. This was it.
"That evening, my agent called me again and said that East Bengal was offering me trials. I laughed at the prospect of such a big club calling upon me, when I had been rejected by Mohammedan. But he insisted so I went," he says.
🗣️ "We would've been playing in turfs right now." 🥅 🏃🏽@nikhilcpoojary opens up about his relationship with the Mumbai boys of #IndianFootball 👊🏼 💙 #LetsFootballLive #HeroISL pic.twitter.com/RGYM3Oqo1N

— Indian Super League (@IndSuperLeague) August 10, 2020
His momentum failed him again at the crucial stage as he endured 3 rough days at East Bengal trials. He was asked to pack up. After one practice game against Army XI. The penny dropped. That dejection was much too hard to ignore. But something was brewing that finally tipped over in Poojary's favour when it mattered most. He was caught in the middle of a storm.
It so happened that that season Army XI had recorded a shock defeat over East Bengal in the reverse fixture. It was the moment Poojary's life had conspired against him to build up to. Poojary came up clutch with all two goals as East Bengal had their revenge. The fans had a new hero's name on their lips. His winnings did not stop there. What was to be his last game, became the first time he was scouted by the Indian team.
The story of how Rahul Bheke was still an influential figure in his career is now like an open book. It was all because of him thinking East Bengal fans disapproved of him. Bheke made him understand that inflicting doubts on self was folly.
That next season became his defining year. He made 14 appearances in the I-League in quick succession and was called up for practice games in Singapore and Qatar for the Tri-Nations Cup in Mumbai 2017.
After the tournament, Poojary received a call from FC Pune City who asked him if he was interested in signing for them. He decided to go back to Kolkata to talk to East Bengal about his future. But during the first few training sessions, he hit rock bottom after all the highs, picking up an ACL injury that ruled him out through all of last year.
Though injured, Pune City stood by their man and signed him, taking over his recovery process. When it came to the national team, Nikhil Poojary had been sounded out before his operation that he would be considered for the SAFF Championship in Bangladesh and his rehabilitation had been planned in a way, that he would be ready in time for the tournament in September this year.

A FOSTERING PLAN FOR NIKHIL POOJARY

"I had no idea that they had a plan," he admits. During the first day at camp, he had the lowest score on the fitness test. The niggling pain was a constant source of torment and Poojary had serious doubts about playing. He revealed how Stephen Constantine, then Head Coach of India, instructed the medical staff to carry out the massage therapy that would go on until midnight. Nikhil Poojary also emphasized the role of his seniors. Poojary made the cut for the SAFF Championship. The time on the field had gradually helped him gain back his confidence and Constantine handed him his first chance as a second-half substitute against Sri Lanka. In only his next game against the Maldives, Poojary started the game and scored his first international goal.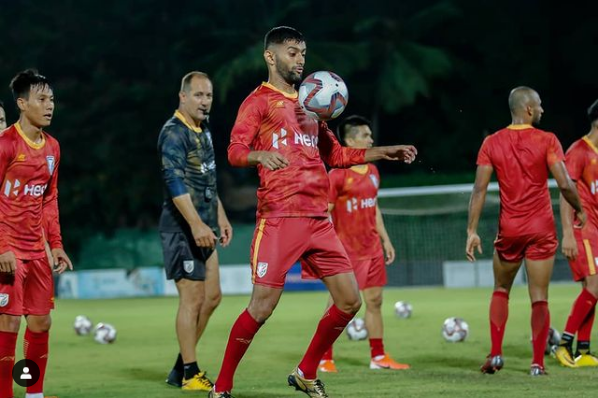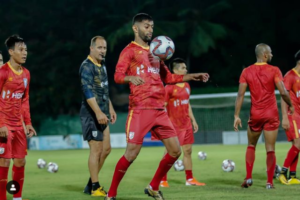 "The goal was for the coaching staff who had worked so hard on me", he says. Nikhil Poojary considers himself to be a very different person after undergoing all that he had.
All of the events that unraveled in his life, the concoction of fierce characteristic friends and the environment he was blessed with coupled with his untouched ability, has rubbed off its obvious effects. The way the 24-year-old carries himself both on and off the pitch resembles a captain in making.
In an iterative journey, Poojary learned just what was expected of him, with his humility proving like the Polaris. He still believes that it's not just his ability but also some fair amount of luck. 'Magic' as he would call it.
It is often alleged that India is 'the sleeping giant of football'. Sometimes even by Indians ourselves. But Poojary proves these are nothing more than a baseless remark today with his untouched record of playing every single minute of his first campaign with Hyderabad FC. Though he is a nimble-footed midfielder, he won't be going away from Gachibowli anytime soon. The Nizams penned a fresh new deal with the player before the beginning of the season, which will now see him wearing the black yellows for 3 more years. Nikhil Poojary is here to stay. He is eager to work with his new coach and bring Hyderabad to the top in his third season and still eats vadapavs. Hope Sunil Chhetri, who doesn't approve of this behaviour, isn't reading this.