And they've gone on and done it! AC Milan swpet aside Sassuolo in their last Serie A game 0-3 to get their hands on their first scudetto after 11 years. Stefano Pioli has orchestrated a massive turnaround in the club's fortunes since his arrival.
Congratulations to @acmilan for winning their 19th @SerieA title ❤️🖤 #acmilan #giroud #SerieA #Champions pic.twitter.com/DyigJpsaag

— FootTheBall FC (@FootTheBallFC) May 22, 2022
He has been helped by Sporting Director and club legend Paolo Maldini overseeing some prudent off-field moves. The wage bill was slashed massively while young talent was identified to take the club forward.
Read also: Who is Yacine Adli, the young French star ready to fire for Milan?
The end result has been Milan winning their first Scudetto since 2011. Things were a lot different 11 years back with Max Allegri in charge. Milan won 24 and only lost four of their 38 games to win with a margin of six points. The look of the squad was very different from the one that is seen today.
Champions of Italy on this day 🏆14/05/2011 Forza Milan sempre… 👊🏽 pic.twitter.com/MhuNulWj25

— Mathieu flamini (@mathieuflamini) May 14, 2021
It was filled with veteran stars or players ready to explode. Incredibly, three towering members of the squad are still playing on! FootTheBall reveals where each key player in the lineup is now.
Goalkeeper: Christian Abbiati
One of the stalwarts of the successful campaign. Christian Abbiati featured 35 times for Milan, keeping 19 clean sheets. Moreover, he only let in 19 goals with Milan having the meanest defence. Abbiati would go on to set the record for the most appearances (380) by a goalkeeper for the team.
Have you ever wondered why AC Milan's crest has an English tint? Here's why!
First goalkeeper, then Club Manager: always a true red&black heart! ❤⚫
Happy 40th birthday to Christian Abbiati! 🎂#weareacmilan pic.twitter.com/ic5bmk9L6h

— AC Milan (@acmilan) July 8, 2017
He left the Rossoneri in 2016 but returned as a manager for the club set up in 2017. However, after the collapse of the Chinese ownership, Abbiati left the club in all capacities and currently spends his time with his family.
Right-back: Ignazio Abate
The versatile fullback was adept on offence and defence. Abate came through the youth academy before establishing himself as a regular in 2009. His pace, crossing ability, and willingness to run helped in overpower opponents regularly. Abate would remain a key member of the team long after its Scudetto triumph.
❤️⚫️ @ignazioabate ❤️⚫️#MilanVerona #weareateam #weareacmilan pic.twitter.com/bxdNYly5iS

— AC Milan (@acmilan) May 5, 2018
He retired in 2019, having become one of the most beloved members of the squad. Currently, Abate is the coach of the U16s at Milan, preparing the next generation of players.
Centre back: Thiago Silva
The Brazilian defender is still going strong at 37. Thiago Silva is a serial winner wherever he has gone. He made 33 appearances for Milan in 2010-11, forming an impregnable partnership with Alessandro Nesta. Since leaving Milan in 2012, Silva spent eight years with PSG winning all the domestic honours.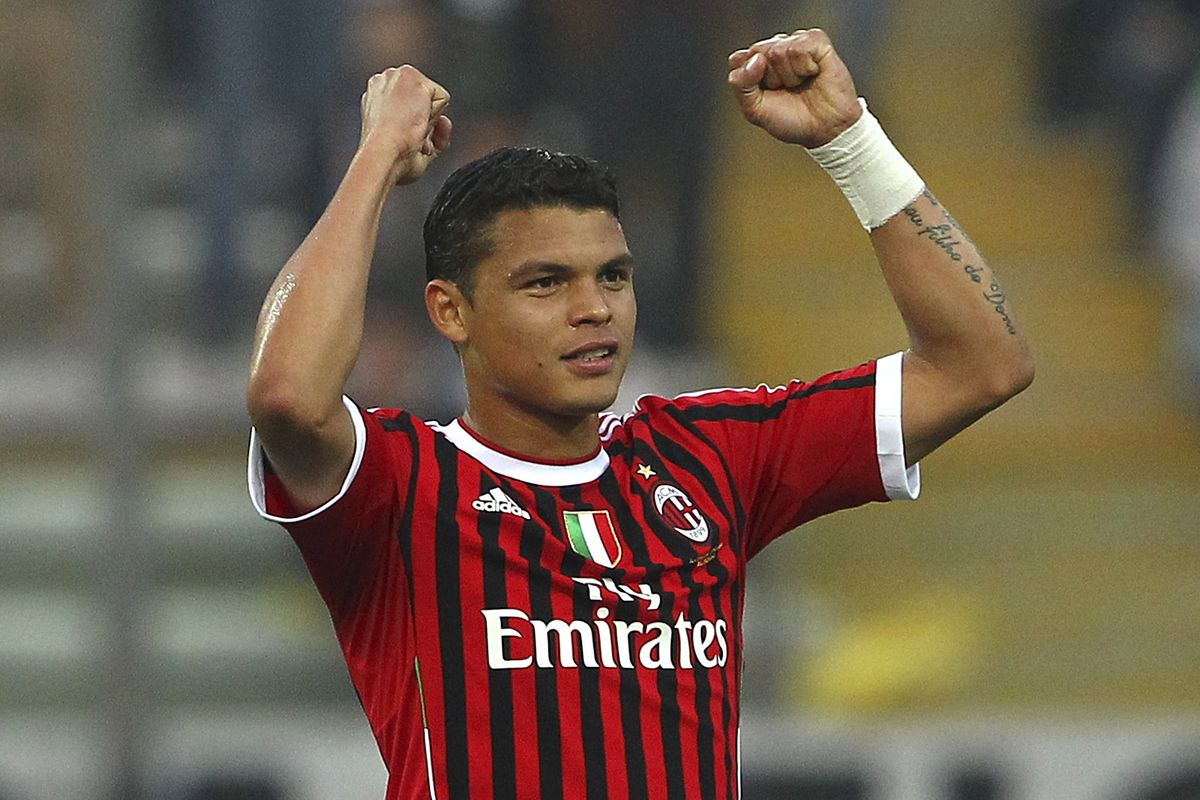 The French powerhouse deemed him surplus to requirements in 2021 so Silva joined Chelsea. He has gone on to win the Champions League and is a regular, calming presence in the defence. Therefore, it is clear that Chelsea deem him to be a very important player, having signed him till 2023.
Centre back: Alessandro Nesta
One of the greatest defenders of all time, Nesta is an Italian legend. The former Lazio hero joined Milan in 2012, going on to spend a decade at the club. Nesta was the mentor of Thiago Silva as they anchored the league's best backline. The World Cup winner is a beloved icon for the Rossoneri.
Soddisfazioni… @acmilan @OfficialSSLazio pic.twitter.com/ALDpCTqh3W

— Alessandro Nesta (@Nesta) January 22, 2015
Nesta would play in the MLS for Montreal Impact and Chennaiyan FC in India before retiring. Since then, he has been a manager but with little success. Nesta managed Miami FC, Perugia, and Frosinone but was sacked from all three jobs.
Left-back: Luca Antonini
The journeyman fullback was a Milan youth international for 11 years in the late-90s. After a succession of loan spells, Antonini rejoined the Rossoneri in 2008. In his five-year stint, he would feature more than 100 times and was a key member of Allegri.
Antonini was the perfect foil for Abate, being more defensive-minded. He had spells with Genoa, Ascoli, Livorno and Prato before retiring in 2016. Currently, Antonelli works as an agent, working as an intermediary for some Milanese targets in the market.
Defensive midfielder: Mark van Bommel
Granted he only joined in January, but Van Bommel quickly established himself as a fundamental piece. Allegri immediately put him in the lineup and his presence provided Milan's backline with additional cover.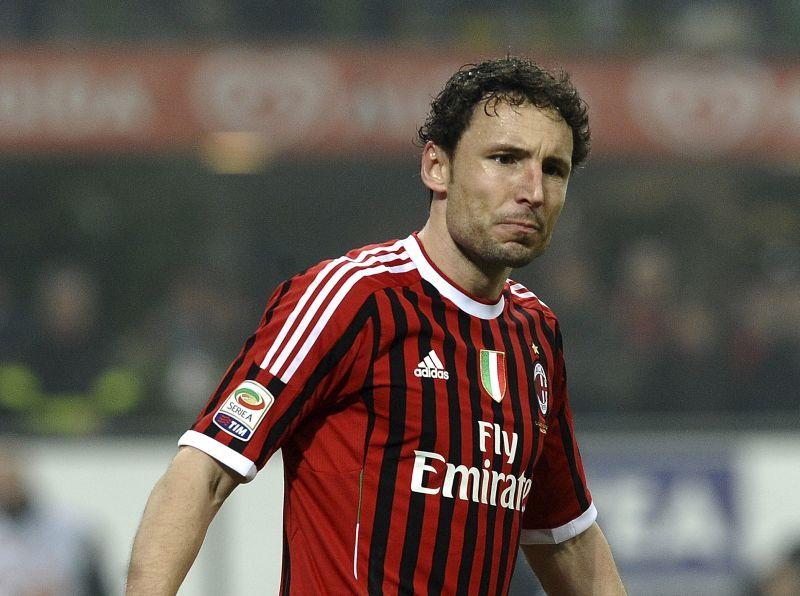 Van Bommel was already a title winner in three countries and an expert at his craft. He only spent 18 months with the club before rejoining PSV and retiring in 2013. Van Bommel has transitioned into a manager after several stints as an assistant. He led PSV and Wolfsburg respectively but was relieved of his duties one year into each job.
Mathieu Flamini was another solid presence in Milan's midfield and is a successful businessman now. Here are others who have followed that path
Right midfielder: Gennaro Gattuso 
The no-nonsense, hard tackler who took no prisoners. Gattuso was a physical beast with Milan gaining widespread notoriety. He would spend 13 years with the Rossoneri, captaining the side often and was a trusted lieutenant of Allegri. He left Milan in 2012 to have a one-year stint with Sion in Switzerland.
Happy Birthday, two-time #UCL winner Gennaro Gattuso! 🎂#UCL pic.twitter.com/WKQF8Oyc59

— UEFA Champions League (@ChampionsLeague) January 9, 2017
Consequently, he started his managerial career with the Swiss club before brief spells with Palermo, OFI Crete and Pisa. Gattuso was appointed youth coach at Milan but was handed the senior reins that same year.
Maurizio Sarri did not win a trophy in his 147 games in charge of Napoli.

Gennaro Gattuso has won the Coppa Italia after 17 games in charge of Napoli.

And he beat Maurizio Sarri to do it. pic.twitter.com/8K9HneMVq0

— Football Factly (@FootballFactly) June 20, 2020
He lasted for two years and was succeeded by Pioli himself. Gattuso took over Napoli in 2019 and led them tothe  Coppa Italia triumph in 2020. However, his latest entanglement with Fiorentina ended after a row with the club's board in 2021.
Left midfielder: Clarence Seedorf
One of the most decorated footballers of all-time, Seedorf was a four-time Champions League winner already. He was one of the veterans in the squad and a calm leader who was the glue.
Have you wished Seedorf a happy birthday, yet? Well, you should as he turns 44 today! 🎉

Oggi Clarence Seedorf festeggia 44 anni: #HBD Clarence! 🎉#SempreMilan pic.twitter.com/Mmk6hVIhJp

— AC Milan (@acmilan) April 1, 2020
Seedorf featured 30 times in 2010-11 to win his second Serie A title. Since retirement, Seedorf has been invovled with several social and charitable work in Suriname. Moreover, he has also appeared as a media analyst for several programmes. Seedorf also plays in charity football matches alongside appearing in events for FIFA and UEFA.
Attacking midfielder: Kevin-Prince Boateng
A flamboyant footballer who made headlines wherever he went. Boateng has had a journeyman career spanning Germany, Italy, England, Spain and Turkey. He was a charismatic figure who could produce abundance of magic.
120 years @acmilan auguri!! Forever in my heart ❤️🖤 pic.twitter.com/WOXrfOfLbE

— Kevin-Prince Boateng (@KPBofficial) December 16, 2019
Boateng made 26 appearances, scoring three times. Since leaving Milan in 2013, he played for a whole host of clubs and is still going strong at Hertha Berlin.
Forward: Robinho
An exciting, extremely skillful player who fell into disgrace. Robinho was a superstar with Santos, winning the Brazilian league title since the days of Pele. He joined Milan in 2010 and won the Serie A title in his debut campaign. Robinho scored 14 goals in the league and he would stay with the Rossoneri for five years.
Italy's Justice Ministry has issued an international arrest warrant for former Man City and AC Milan forward Robinho after the country's top court confirmed his conviction for rape.

— Sky Sports News (@SkySportsNews) February 16, 2022
After spells in China, Turkey and in his native land, he finally hung up his boots in 2020. However, the seeds of his downfall had already been sown many years prior to that. Robinho was convicted of sexual assault in 2017 in Italy and the judgment was upheld by the country's Supreme Court in 2022.
Therefore, there is an arrest warrant out in his name which means he will be arrested if he ever returns to Italy. Brazil does not extradite its citizens but this has been a humiliating fall for a top player and echoes the case of Mason Greenwood in the present.
Olivier Giroud has proven to be an extremely shrewd signing for Milan and is spearheading the title charge.  
Forward: Zlatan Ibrahimovic
The ageless 'lion' who never looks close to retiring. At 40-years-old, Ibrahimovic is still going strong with Milan. The Swedish legend was on loan in 2010-11 from Barcelona in what was a great deal for both teams. He netted 14 times and it would mark another chapter in his memorable career.
28 – #Ibrahimovic (28 goals in 2011/12) is the second AC Milan player to have scored the most goals in a single Serie A campaign, after Gunnar Nordahl (35 goals in 1949/50 and 34 goals in 1950/51). Zlatan. pic.twitter.com/HEjXEe6sRr

— OptaPaolo 🏆 (@OptaPaolo) December 27, 2019
Ibrahimovic would sign with PSG in 2012 and go on to become the greatest player in the club's early years under Qatari ownership. Moreover, he continued winning trophies wherever he went including in MLS with LA Galaxy. Currently, he is a key player off the bench for Pioli's side and has found the net eight times.