Two of world football's biggest giants will square up against one another on the Iberian Peninsula as second placed Barcelona take on reigning champions Real Madrid in the Spanish capital in a game that could have significant ramifications for the La Liga title race as the season's business end approaches.
#ElClásico King: #Messi at the Bernabéu 🙌

Which one do you pick? pic.twitter.com/wWbQ3OvtUC

— FC Barcelona (@FCBarcelona) April 7, 2021
Any match between FC Barcelona and Real Madrid is termed El Clasico – Spanish for 'The Classic' as both of these clubs share a historic rivalry that is underscored by the regional and political tensions that spill onto the pitch every time players from these two teams lock horns against each other.
Details make the difference. Fine-tuning our game for Saturday! ✅ #HalaMadrid #ElClasico pic.twitter.com/sOKfVLvZUQ

— Thibaut Courtois (@thibautcourtois) April 8, 2021
As such, there are a lot of mind games and tactical battles that go on even before an El Clasico commences, and this time is no different.
The Azulgrana and Los Blancos will clash at the Alfredo Di Stefano stadium, but the preceding mind games have already begun in Spain as the Catalan club have sent out a strong message to their arch-rivals in the form of an advertorial outside the Estadio Santiago Bernabeu, Real Madrid's stadium.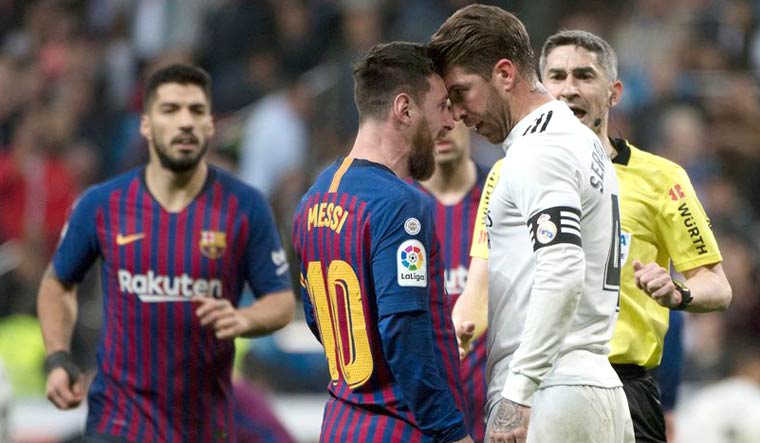 BARCELONA SENDS STRONG MESSAGE TO REAL MADRID
On a large banner outside the historic and iconic stadium, two Bacelona players – Frenkie de Jong and Pedri Gonzalez – can be seen alongside a message saying 'Ganas De Clasico', which when translated into English means 'Cannot wait for the Clasico'. The banner that has been erected is less than two hundred metres away from Real Madrid's Santiago Bernabeu, although the iconic venue hasn't hosted a single football match for more than a year now, due to ongoing construction and redevelopment projects.
GANAS DE CLÁSICO 🤩 pic.twitter.com/qZ06hrGssY

— FC Barcelona (@FCBarcelona_es) April 6, 2021
And the thing that makes this more peculiar, or rather one should say interesting is the fact that the same advertising space was used by current Barcelona president Joan Laporta in December 2021.
This was done in a bid to win the presidential elections that were held in March this year in the Catalan capital to elect the Blaugrana's new president after disgraced and maligned former president Josep Maria Bartomeu tendered his resignation from the post last year in October in the face of vehement criticism from fans and various sections of the media for his and his board members' management of the club
Laporta's banner, which was put up about a third of a year ago, when translated into English read as follows "looking forward to seeing you again" in what was viewed as a rather overt way of how as the president of Barcelona, he led the club into a period of unprecedented success and glory over Los Merengues in which the scales of power shifted from Madrid to Barcelona both domestically and on the European continent during his seven year tenure from 2003 to 2010.
And the utilisation of the very same advertising space sends a message with a connotation that might not go down well with Real Madrid fans and supporters in Spain and across the globe.
#HolaMadrid😎 pic.twitter.com/eSmCkVWyeb

— Joan Laporta Estruch🎗 (@JoanLaportaFCB) December 15, 2020
EL CLASICO – MORE THAN A FOOTBALL MATCH
But, the very fact that the game will be staged at the Estadio Alfredo Di Stefano – a player who personified the conflict and rivalry between the two clubs more completely than any other footballer – portends that it will have far-reaching effects in the Spanish La Liga which is still not decided despite only nine games being left until the season concludes in May 2021.
Di Stefano was an Argentine – regarded by many as the most complete footballer of all time – whose disputed transfer to Barcelona and then to Madrid intensified an already heated sense of antagonism between Madrid and Barcelona. And the Argentine did not help ease any of these sentiments as he helped Madrid win the first five European Cup titles  – a record that stands even today.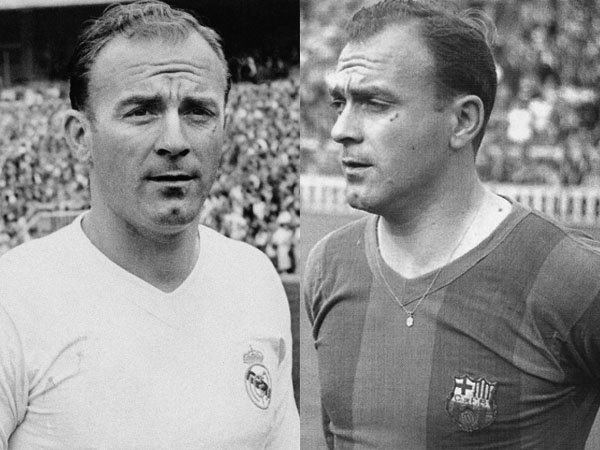 All this left a bitter taste in the mouths of Barcelona fans who saw their arch-rivals scale newer and hitherto unknown heights in terms of club success and the fact that the Barcelona players will be visiting a stadium named after Di Stefan will spur them further on to win on their enemy's turf to make a loud statement of intent