Maybe it was a 10th consecutive timid title challenge that did it. Maybe it was just this title loss, to a transitory unsettled Bayen Munich side. Or maybe it was the fact that the title was officially lost with a defeat at the Allianz Arena, with their former hero Robert Lewandowski scoring a 23rd goal against them.
Whatever it was, after a decade of suffering from a self-victimising inferiority complex, Borussia Dortmund have finally kicked into action with purpose, ready to step up to the altar.
🏆 2⃣0⃣1⃣3⃣
🏆 2⃣0⃣1⃣4⃣
🏆 2⃣0⃣1⃣5⃣
🏆 2⃣0⃣1⃣6⃣
🏆 2⃣0⃣1⃣7⃣
🏆 2⃣0⃣1⃣8⃣
🏆 2⃣0⃣1⃣9⃣
🏆 2⃣0⃣2⃣0⃣
🏆 2⃣0⃣2⃣1⃣
🏆 2⃣0⃣2⃣2⃣

TEN IN A ROW 🔴⚪#MISS10N #MiaSanMeister pic.twitter.com/WY8ByqjNcL

— FC Bayern Munich (@FCBayernEN) April 23, 2022
The first shot was fired by poaching Niklas Sule from their Bavarian rivals. The signing of Nico Schlotterbeck, from under Bayern's nose, was a massive statement. Losing Erling Haaland was a bit of a setback but within half an hour, Dortmund had announced his replacement – the irresistible electric Karim Adeyemi. 
Marco Rose has put his cards on the table with Borussia Dortmund's transfer deals being announced early. Are his side ready to emulate Jurgen Klopp's irreverent team of the early 2010s and win back the Bundesliga crown?
What they have
The Black and Yellow will finish second this season in the German league irrespective of what happens on the final day. If the top two win their final matches, the gap will be 10 points between Bayern and Dortmund. That may seem like a lot but it is much lower than the 29 in the 2017-18 campaign or 33 in 2014-15. In fact, it is the smallest gap between the two sides in the last decade with the exception of the 2018-19 season.
This is how the #Bundesliga table looks after that MD33 madness. 🔺🔻 pic.twitter.com/qKPHXv9MOf

— Bundesliga English (@Bundesliga_EN) May 8, 2022
There is nevertheless a sense of what could have been – if Bayern fail to win on the last day, their points tally would be the lowest in the same period. The Bavarians had teething issues under new manager Julian Nagelsmann and they were there for the taking. Dortmund knew that and they did not capitalise.
Rose's side this season have suffered from the familiar problem of having a very leaky defence. 51 goals conceded in 33 matches is nowhere near good enough for a title-chasing team. Dortmund have the worst defensive record amongst the top seven in the German league.
Their attack has been much better with the likes of Jude Bellingham, Gio Reyna and Donyell Mallen maturing over the season. Marco Reus has transitioned from being a pacy winger, injuries taking their toll, to being the clever attacking midfielder who can guide the youngsters and get the best out of the peaking Thorgan Hazard and Julian Brandt.
Manchester City can confirm that we have reached an agreement in principle with Borussia Dortmund for the transfer of striker Erling Haaland to the Club on 1st July 2022.

The transfer remains subject to the Club finalising terms with the player.

— Manchester City (@ManCity) May 10, 2022
Despite a very good support cast, the star of the show has been Erling Haaland. The Norwegian has missed large chunks of the season due to injury and the difference in quality with him in the side is apparent. Erling Haaland will leave the club having scored 85 goals in 88 matches in addition to the 23 assists to his name – a scarcely believable level of output.
What they are getting
It was thus clear to Dortmund, and everyone else, what they needed to do to challenge for the title in 2022-23. Manuel Akanji and Dan-Axel Zagadou seem to have hit their ceiling while Mats Hummels is no longer the force he once was. Haaland was always going to leave this summer with his contract running out in 2023. 
They needed a striker to maintain their current strengths and defenders to fortify their weaknesses. The only question was will Dortmund get the deal done or will they be happy in being a stepping stone for players destined for better things?
View this post on Instagram
Their response has been resounding. Nico Schlotterbeck has been Bundesliga's best centre-back this season and joins a side that is almost tailor-made for his playing style. Moreover, his strengths seem to complement those of Niklas Sule. Schlotterbeck is fast in recovery and skillful on the ball while Sule is physical and can pick a mean pass.
Bayern have not replaced Sule yet but no pairing from their current lineup of Upamecano, Hernandez, Pavard and Nianzou looks better on paper than Schlotterbeck and Sule.
Dortmund's replacements have often come good with a season's lag in response to their big stars leaving. Aubameyang came into his own a couple of seasons after Lewandowski left, Sancho a year after Dembele left, and Haaland arrived a year after Aubameyang left. But with Karim Adeyemi, they get one of Europe's hottest prospects, who by all means should hit the ground running.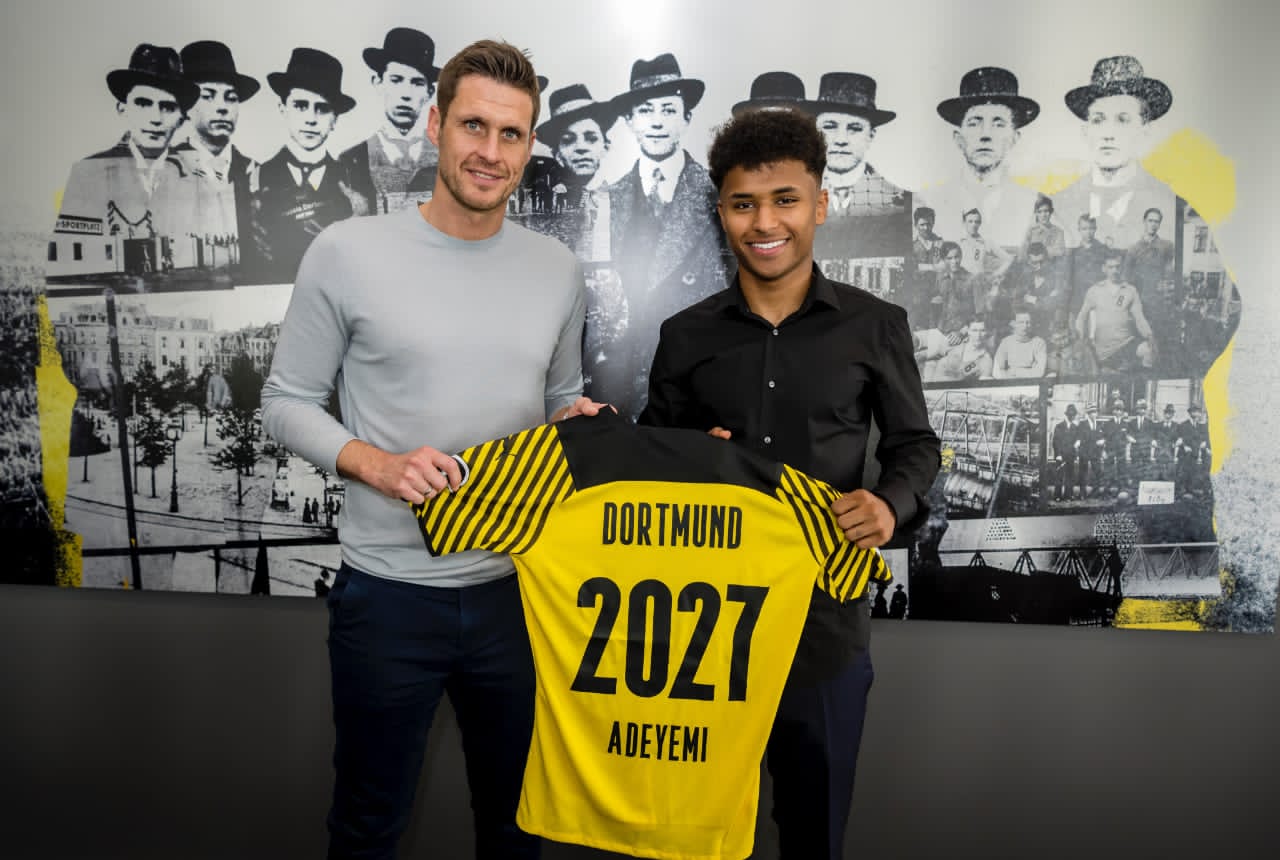 The German has scored 23 goals and provided 8 assists in all competitions this season for RB Salzburg at just 20 years of age and he is only going to get better from here. The RB scouting team rarely misses and Adeyemi is another unearthed gem. 
What they need
Despite his accolades, Adeyemi's profile is markedly different from that of Haaland. He is less physical but considerably more direct. He shoots less from sharp angles but his movement is quicker and sharper. In some ways, he fits into Dortmund's idea of being a fast-paced counter-attacking style better than Haaland.
One of Adeyemi's greatest strengths is his pressing ability and being able to use it will most likely determine whether Dortmund come good on their very early promise or not. Rose has implemented pressing sides at Salzburg and Monchengladbach to moderate success but the systems have never looked to be stable long-term.
In his defence, his previous sides had a higher turnover of personnel than even Dortmund and he deserves more time. Rose has been backed by the board better than any of his predecessors were and he needs to deliver.
Borussia Dortmund CEO Watzke tells SkyDe: "Marco Rose will stay because he does a good job, we want to have continuity in that position and we are happy with him. That's very simple", he confirmed to @plettigoal. 🟡 #BVB

— Fabrizio Romano (@FabrizioRomano) March 30, 2022
One aspect of his squad that still needs improvement is perhaps the goalkeeping situation. Dortmund signed Gregor Kobel just last summer and he started well but is he good enough for a title-winning side? They have signed Marcel Lotka from Hertha Berlin but the 20-year old has just nine senior appearances in his career. They are bound to have some spare change left over from the Haaland transfer and would do well to spend it at the back.
For the first time in years there is a sense that Borussia Dortmund's transfer deals are building the side for the present rather than for the future. Rose's starting lineup next year will still be on the younger side but they have used that excuse for far too long. It is time for this Dortmund team to step up and break the Bayern hegemony. Only time will tell whether this shrewdly assembled dream team is up to the task or not.