One of the biggest transfer sagas of 2022 happened without the market even being open. Erling Braut Haaland was announced as a new Manchester City player just a few days into the market. It bolstered an already stacked squad at the disposal of Pep Guardiola. Despite an inauspicious competitive debut at the Community Shield against Liverpool, no one is betting against Haaland becoming a huge success at Man City.
View this post on Instagram
Guardiola can finally look to end the "Dimitry Seluk curse" of the Champions League. Manchester City were always one of the favourites to land Haaland, given the family connection. His father, Alf-Inge, played for the club in the early 2000s. Erling Haaland had even visited the stadium when he was little.
❌ £64m
✅ £250m@SkyKaveh explains why Erling Haaland is set to cost Manchester City a quarter of a BILLION pounds. 💰 pic.twitter.com/Qz87gJ8Ucc

— Football Daily (@footballdaily) May 9, 2022
Alf-Inge Haaland now serves as his son's advisor in negotiations, alongside the erstwhile Mino Raiola. It is expected that he is set to receive a sizeable windfall from this mega deal.
Who is Alf-Inge (Alfie) Haaland?
Alf-Inge, or Alfie as he was known, played for three different teams in the Premier League. Apart from City, he turned out for Leeds United and Nottingham Forest. Alfie Haaland was a hard-nosed, no-nonsense tackler in midfield and had a decent career at the top. However, he is now most known for an infamous on-field incident that helped end his career. The tackle by Roy Keane on Alfie Haaland was one of the worst challenges in the history of the Premier League.
On this day, exactly 20 years ago, Roy Keane ended Alf-Inge Håland's career with one of the most horrific tackles you'll ever see on a football pitch. Pre-meditated revenge for an innocuous challenge from Håland on Roy in 1997 (a thread). pic.twitter.com/s2TZHXnPet

— Football Tweet ⚽ (@Football__Tweet) March 5, 2021
Moreover, the fallout from that echoed for a long time. Moreover, he was also a full Norway international in the late 1990s. Alfie Haaland had always been involved with his son's career. Therefore, it was no surprise to see Erling Halaand follow the same path as his father. He joined Bryne FK, which was Alfie Haaland's first club, before moving to Molde. Alfie Haaland has transitioned into a mentor for Erling, which has been a common theme.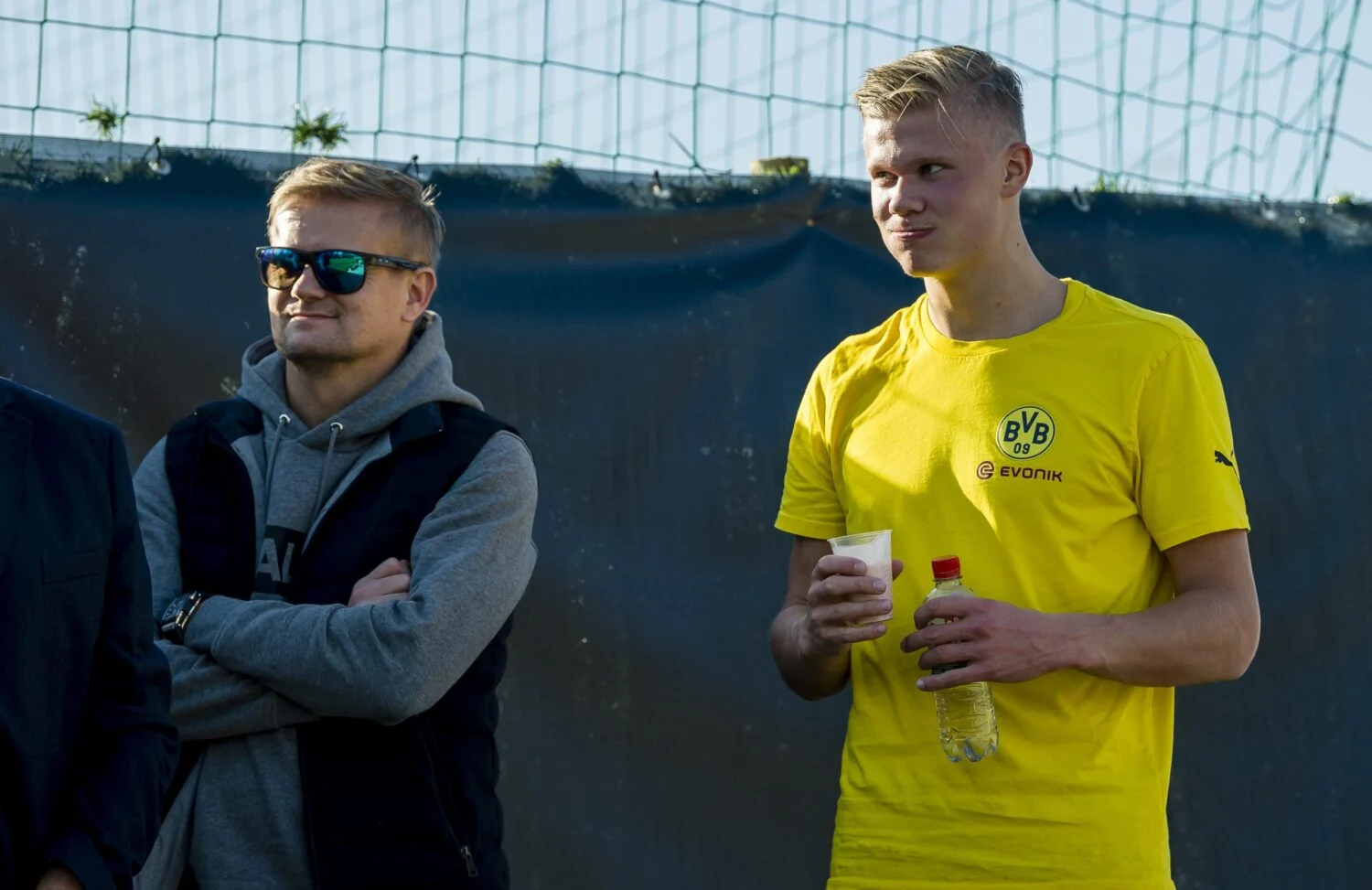 There are several examples of parents of superstar players acting as an advisor/representatives. Lionel Messi, Kylian Mbappe, and Haaland himself are just some examples. However, Alfie Haaland has earned a reputation as a tough cookie to crack when it comes to his son.
The Haaland-Raiola formidable duo 
Mino Raiola had been one of the most magnanimous figures in world football. The super-agent had several big names on his client list. One of the biggest amongst them was Erling Haaland. Raiola was extremely close with Haaland and his father, with the senior pair often travelling together. Moreover, they were spotted visiting several clubs in Europe over the past year as the negotiations for Haaland rumbled on.
Mino Raiola and Alf-Inge Haaland have landed in Barcelona to talk about Erling Haaland's future. pic.twitter.com/TOTvUT3mwT

— Transfer News (@TransfersLlVE) April 1, 2021
Alfie Haaland has been touted as the influential figure behind-the-scenes. Therefore, one of the main clauses that scared clubs away was the huge agents' fees being demanded. Alfie Haaland was steadfast in his approach, given the huge interest in Erling. Furthermore, every club official knew that dealing with Raiola and Alfie will be tough because they will not back down.
The release clause for Erling Haaland was not much, which caused the pair to hike up their pricing. Of course, Haaland's transfer fee will not cause any waves. However, the issue with his father and the late Raiola has already been picked up by everyone in football.
Future plans
The footballing genes do not include Alfie and Erling Haaland only. There is one more talent as of now. Erling Haaland's cousin, Albert Braut Tjaland, is tearing up the scoring books at Molde. There is little doubt that Alfie Haaland will play a crucial role when it comes to the future of Albert Braut Tjaland as well. Meanwhile, he is making quite a name for himself as the final matter on all things Erling Haaland.
However, the new acquisition for Manchester City has been clear many times that his job is to score goals. The off-field stuff is taken care of by his father and agents. Therefore, Alfie Haaland will relish the chance to see how his son performs for his former club. The future is extremely bright for the pair.