Danny Ings had shown great potential in his debut Premier League season with Burnley, when he scored 11 goals in the league but could not prevent them from being relegated.
This led to a move to Liverpool, where he struggled with injuries and thus was never able to gain a firm foothold in the team. Ings moved to Southampton in 2018, initially on a season-long loan which became a permanent move in July 2019 for a fee of £18 million.
He really is human*

*Must watch until the end. 😅 pic.twitter.com/TZYaklUUl6

— Southampton FC (@SouthamptonFC) February 19, 2021
At the time, it was thought to be a brilliant bit of business for Liverpool – to get that much money for a fringe injury-prone player. While he was decent in his first season on the south coast, scoring seven goals in the league, his form last season saw him second on the goalscoring charts, amid talks of a recall to the England national team.
So what's behind Danny Ings' goal scoring resurgence, and whether it is merely a hot streak or sustainable for the future.
DANNY INGS' INJURIES HAVE BEEN MERCILESS
Joining Southampton might probably be the wisest decision of Danny Ings' career.
It has been quite a story about Danny Ings' career that has been constantly plagued by injuries.
Jurgen Klopp replaced Brendan Rogers in October 2015, and during Klopp's first training session with the players after being appointed as the coach, Ings ruptured his ligament, suffering an anterior cruciate ligament (ACL) injury.
There was a lot of transfer speculation regarding Danny Ings, as there were rumours about Liverpool wanting to offload the striker. However, he managed to stay put at Anfield and looked seemingly closer to becoming a relevant player under Klopp.
Fancy winning a #SaintsFC shirt signed by @IngsDanny? 🙋‍♂‍

Just follow our Main Club Partner @Sportsbetio to win this shirt! 👇 pic.twitter.com/VeDWqgEVYh

— Southampton FC (@SouthamptonFC) February 19, 2021
Exactly a year later, just when he was beginning to win the trust of his gaffer, the jinx continued to spell disaster for Ings as his right knee got injured.
It would be safe to say that the ship had already sailed when he returned to action in September 2017. Klopp was gradually laying the blocks to create just the perfect team, with his attacking trident of Roberto Firmino, Sadio Mané, and Mohamed Salah at the forefront in the German's scheme of things.
Injuries are perhaps the worst thing that could happen to a footballer. Ings' injury troubles could have easily driven him to give up on his chances of being a first-team player and hang his boots.
Ings definitely had talent, but his motivation and never say die attitude was perhaps the most important aspect of his character. Ings requested a move away from the Reds in the summer of 2018, and joined the Saints on loan until the end of the season, a move which soon became permanent at the start of the 2019-20 season for an estimated 18 million pounds.
Klopp didn't want to let Ings go, who despite his injuries, was a positive influence in the dressing room, and a true team player. The Reds were embarking on something special under Klopp, but Ings missed the bus due to his injury-prone knees. It just wasn't meant to be.
DANNY INGS LOVES CHALLENGES
Danny Ings usually gives mementos from a rollercoaster career to his dad, but made an exception with his first, and so far only England cap. That belongs in the Southampton striker's home, serving not only as a source of pride but of inspiration throughout the past four demanding years.
"Since I was a kid, and throughout my career, my old man has all my stuff but the cap stayed with me," says Ings, who is back in the England squad for the first time since making his debut against Lithuania in October 2016. "It was a reminder. It was something for me to work towards. I kept it in the house with me because I did not want to have just one cap. It is not on display, and when I got the call it was good to get it out and hopefully I can add more to it in the future."
Ings dreamt of playing for Southampton as a child but got rejected for being too small.
His career at Southampton initially started slow, but soon picked up the pace. Ings made 24 appearances for the Saints in the 2018-19 season, and even scored seven goals, a respectable total for his first year at the club. But the best was yet to come.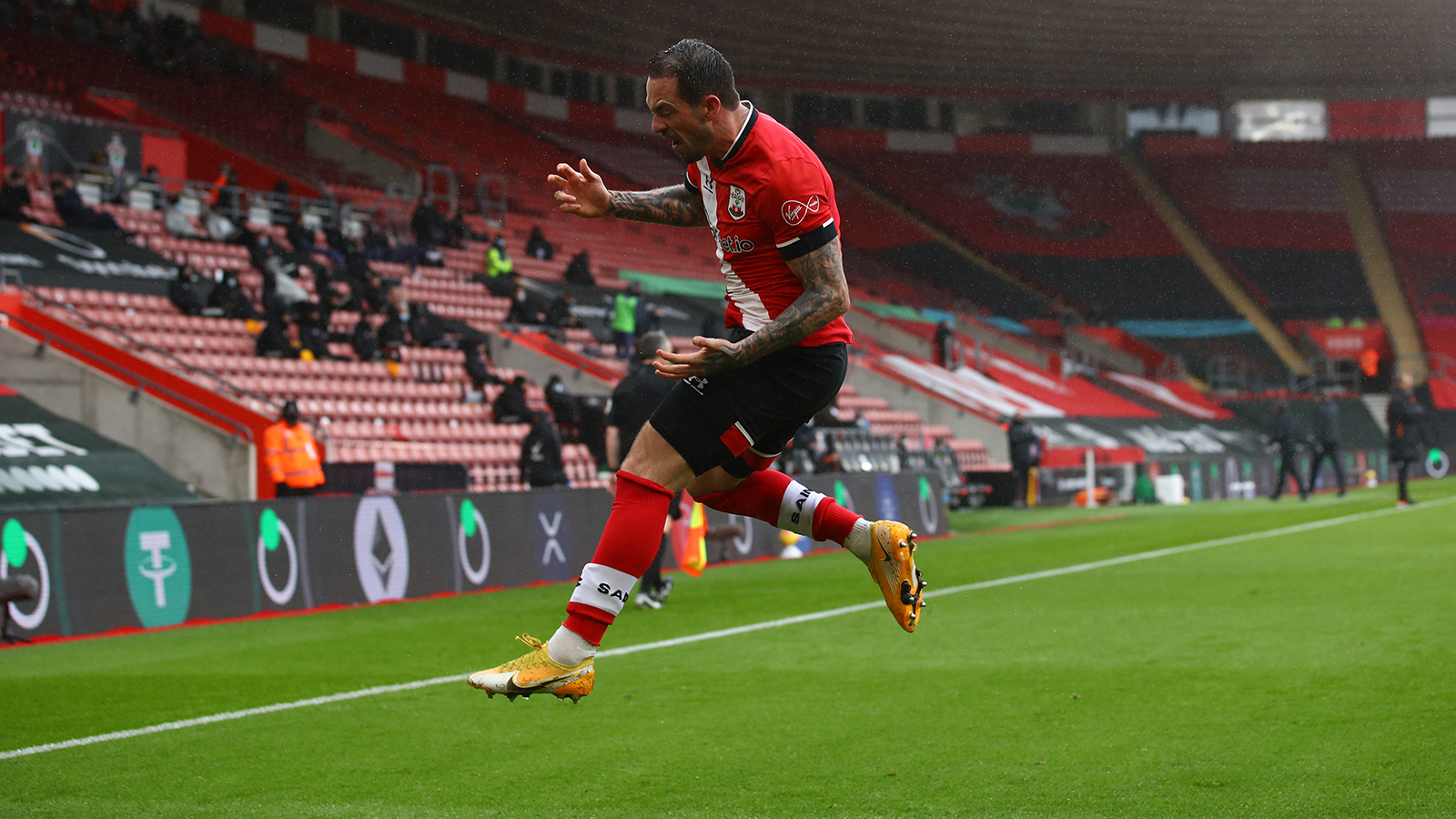 Ralph Haussenhuttl was yet to find his feet in the Premier League and the Saints found themselves hovering in and around the relegation zone till the 17th round of fixtures. Perhaps the most embarrassing defeat in the history of the club came against Leicester City at home on 25th October.
The Saints lost 0-9, the biggest home defeat in the history of the Premier League. Things were looking grim for the manager and the team, and pundits were pegging them as one of the favourites to go down.
Ings's goal-scoring form, however, was absolutely brilliant and he bagged nine goals in the first seventeen games, an impressive tally for the resolute marks.
There is talk of a new long-term contract being prepared by Southampton for the forward they released as a youngster. "I don't know what the next step is," Ings says. "I don't know what the club's intentions are but the fact they value me makes me feel good. I'm extremely humbled that the club value me."
ALWAYS BELIVED IN HIMSELF
At 28 years of age, the Englishman is finally finding his footing in the top tier of English football in a league that is rated by many pundits as the toughest league in the entire world.
Southampton lured Danny Ings, and had big plans to incorporate him in their team.
Last season, Mother Luck had blessed Danny Ings heavily. He scored 25 goals in 42 appearances in all competitions, and had single-handedly pulled Southampton out of the jaws of relegation. Southampton were languishing near the bottom of the table when the Premier League resumed, but they ended the season at 11th spot.
Southampton scored 51 goals, of which Ings scored 22, being the joint second-highest goalscorer in Premier League. Ings scored 43.17% of the team's total, the highest percentage of goals by a single player for their team.
Brilliance that can't be ignored 💫 pic.twitter.com/GQa3OOJAJG

— Southampton FC (@SouthamptonFC) February 15, 2021
It is no surprise the 28-year-old would rather look forward than back at his struggles at Liverpool, having been reinvigorated by a return to his boyhood club.
"That was a long time ago and to be honest I've left that behind now," he says of the injuries that derailed his Liverpool career. But did he worry the chance would never come again?
"To be honest, no. I think the best part of my career is going to be the second part because I did miss quite a lot of football. To have the season I have just had, I have given myself something to build on. I do feel the best football for me is going to be in the years to come. I still feel extremely fit and hungry and I don't think you stop learning as a player. There is always so much to learn in football."
The Englishman has been through hell, but his story is one of determination, perseverance and sheer grit. It takes guts to overcome repeated injuries and still find success at the highest level, but Ings has done just that. The boy from Winchester, who was once 'too short to play football' has now evolved into one of the finest strikers in the country. Danny Ings is on the brink of something special, and there's no stopping him.