Every football fan can agree that the European Super League was a doomed story the minute it was announced by the elites of football world.
However, as per sources, Barcelona leader Joan Laporta disclosed proposals for the European Super League to La Liga chief Javier Tebas at a congratulatory meal last Thursday. Last month, Laporta became the 41st president of FC Barcelona. He was previously the leader of the club from 2003 to 2010 and had gotten re-elected for a second time and Tebas decided to applaud him on his achievement.
Bona diada de Sant Jordi! Un dia molt especial que el gaudirem més a prop de la normalitat. Racons d'arreu s'omplen de llibres, roses i somriures. Una jornada de reivindicació de la nostra llengua, la nostra cultura. Sempre oberts al món! #SantJordi21 pic.twitter.com/auiwEXPKO1

— Joan Laporta Estruch🎗 (@JoanLaportaFCB) April 23, 2021
According to The New York Times, Laporta spilled the beans about the breakaway tournament to Tebas, informing the leader of Spain's highest league that six teams had already bought tickets to the competition.
According to the paper, other clubs were requested to make a call by the end of the weekend, causing outrage across Europe. Tebas met with UEFA chief Aleksander Ceferin, as well as representatives from around the globe and bosses from Europe's leading teams.
The Super League plans were then announced to the public on Sunday, with 12 teams signing up for the Money-minded league. But, the 'Big Six' in Britain withdrew 2 days later because of the outrage caused in the world of football, including fan demonstrations around the nation, and the Super League's ambitions were put on hold.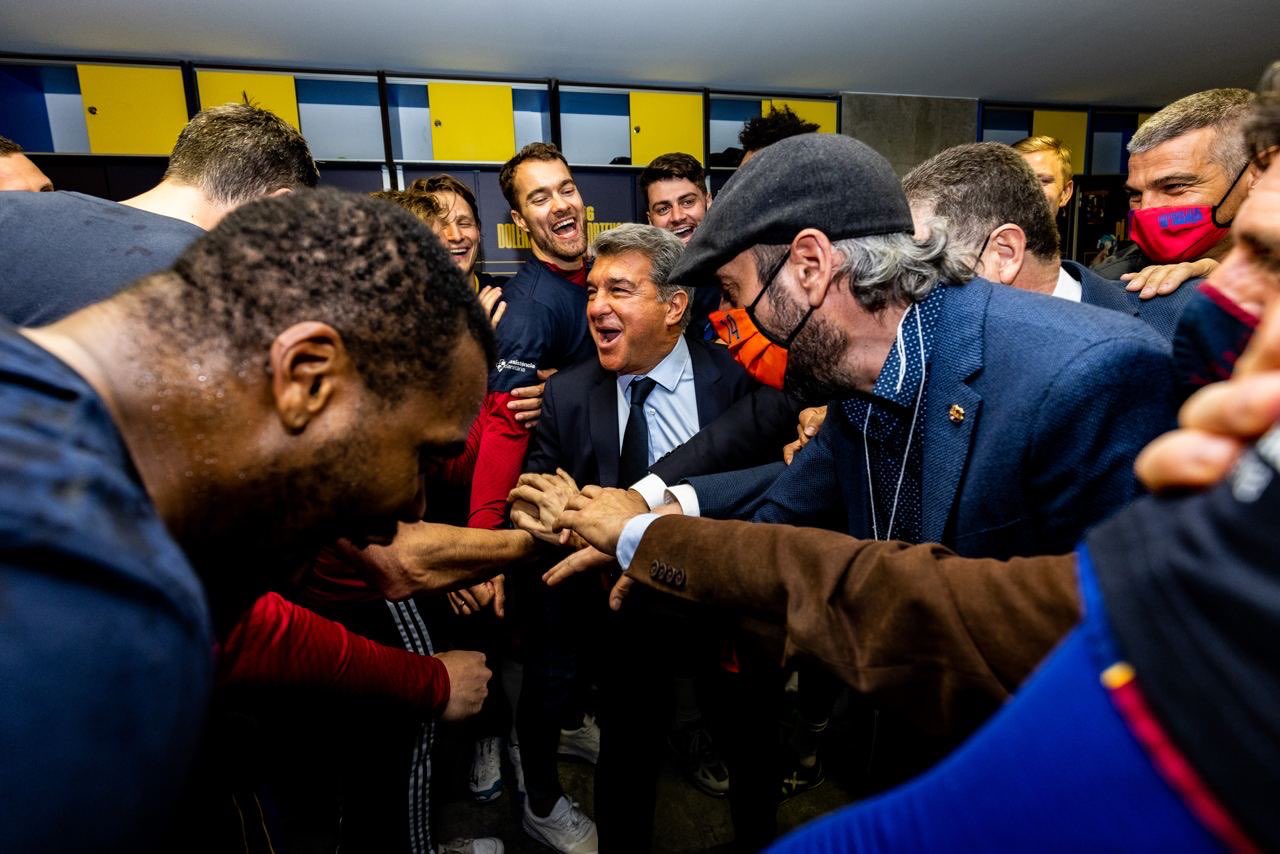 Ceferin then went on to attack owners of different clubs. Zebre' Andrea Agnelli, Red Devil's Ed Woodward, and Los Blanco's Florentino Perez were all under his radar. He also revealed that Europe's biggest entrepreneurs had deceived him and the entire world of football by announcing such a league.
Caferin also took the liberty to call Agnelli, Woodward, and Perez 'liars' and said their plans were meant for money to succeed and not football.
WHAT DID JOAN LAPORTA SAY AFTER THE WITHDRAWL?
The newly elected ringmaster of Barcelona yesterday revealed that he feels that the new Super League proposal is a 'necessity.
"We had a position and we still have one and we will explain," The Barca president told TV3. "The position is one of caution but it [Super League] is a necessity. On the other hand, as it should be, our members will have the last word on it."
According to pundits, Laporta sees the money coming from the Super League as a solution to the ongoing debt problems at the club. The Catalans owe more than one billion euros to different clubs across the globe.
🎶 𝘖𝘩, 𝘭𝘦, 𝘭𝘦! 𝘖𝘩, 𝘭𝘢, 𝘭𝘢!
🔊🏆 𝘚𝘦𝘳 𝘥𝘦𝘭 𝘉𝘢𝘳𝘤̧𝘢 𝘦́𝘴, 𝘦𝘭 𝘮𝘪𝘭𝘭𝘰𝘳 𝘲𝘶𝘦 𝘩𝘪 𝘩𝘢… pic.twitter.com/d0o0SPc5Ox

— FC Barcelona (@FCBarcelona) April 18, 2021
"There was a series of pressure which made some clubs pull out or value it in a different way, but the fact is that the proposal still exists but more resources are needed given that we have important investment, we paid important salaries and if we want football to be a spectacle through sporting merits, whoever wants this level of quality to be maintained must take into account what we are proposing." He stated.
WHAT DOES JAVIER TEBAS THINK ABOUT THE SUPER LEAGUE?
However, La Liga chief Javier Tebas disagrees with Laporta, claiming that the Super League can no longer be revived given this week's massive protests and the reluctance of German teams to participate in the venture.
He explained to the media: "I think the Super League as we know it is dead. Without the German and English teams, it is dead. It would be like a bi-national project. Let's be realistic, it is dead."
When asked about whether or not the three clubs involved in the project would receive any punishment he said: "We are not looking to apply any sanctions for the time being. They have not abandoned La Liga. It was a proposal that hasn't been fruitful."