A few months ago no one had even heard of Harrogate town; even in England. The club's gradual rise is often overlooked by football fanatics but Harrogate's recent performances in EFL League 2 have made them impossible to ignore. The Yorkshire based club are leading their league after winning 4 out of their 5 opening games this season.
From having 200-300 supporters turning up to their games to having packed stadiums, here's how the recent prominence of the underdog team shows us the unpredictability of modern-day football.
FROM LEAGUE NORTH TO 4TH DIVISION
In their 106 years, Harrogate played in the lower divisions of English football until their recent spell of good and consistent performances. In 2004, the club joined the newly founded Northern Premier League Premier division and for the next 14 years, despite reaching the playoffs multiple times, they struggled to gain promotion.
In the 2016/17 season even after a good start, the team failed to hit their usual stride again after getting stuck in a rut for many weeks in a row.
This called for major changes in the club and Harrogate's board responded accordingly. The club decided to give full-time contracts to their players for the first time to improve consistency in their camp and improve their chances of promotion. This reform did wonders for them since they gained promotion to the National League North the very next season.
For the first time in your 106-year history, welcome to the #EFL, @HarrogateTown!#EFL | @SkyBetLeagueTwo pic.twitter.com/j3ctuWDLmj

— EFL (@EFL) August 2, 2020
They were promoted to EFL League in their 2019/20 season but sadly finished 17th in their promotional season. Their major concern was to avoid relegation and they did just that. Now it is time to think about the future and keep pushing higher with time. With new academies and better facilities for their young prospective talents.
They have even hired a renowned Analys in their camp which shows how confident and serious they are about their future. The only way is up for them and they are surely playing as they mean it.
SIMON WEAVER AT THE HELM
Simon Weaver became the coach of Harrogate 13 years ago in 2009 when he joined them as a player plus manager. His father Irving Weaver is the chairman of the club and the father-son duo have grown the club by many folds.
He is not the only iconic manager out of Yorkshire since Gareth Southgate, England's national hero lives in the neighbourhood as well. Simon Weaver and Southgate are actually great friends and they first met together in a local gym.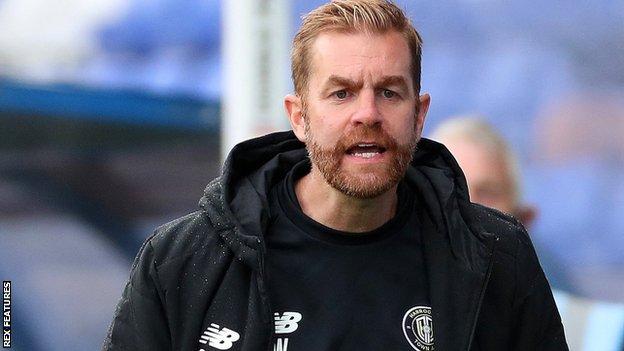 Southgate has even given a small pep talk to the Harrogate club players ahead of their National League play-off semi-final win over Boreham Wood last year. Weaver often chats with Southgate about his game and tactics which has surely impacted their overall improvement in the game.
In his 13 years, Weaver and Harrogate have worked together to rise through the ranks and ultimately get into EFL League 2. They avoided getting relegated back to the lower division last season and are looking stronger with every game this time around. Harrogate and his team have realised that 15 out of their 21 defeats last season was due to just 1 goal and that is what they will be working on.
They have only conceded 1 goal in their last 4 games which means that whatever they are doing is clearly working out for them. Winning games against teams with a higher pedigree like Leyton Orient and Rochdale goes to show how strong they have become compared to last season.
Harrogate Town supporters should be happy about the current state of their club since a promotion to League 1 this season is on the cards. One thing their club has known in recent years is how to exponentially grow over time.
Players like their captain, Falkingham, George Thomson, Ryan Fallowfield, Lloyd Kerry have been part of this club for a long time and have been part of the ride through thick and thin.
With loyal and determined players like them in their squad on top of the recent good signings, a promotion to EFL League 1 isn't just a far-fetched dream anymore.