"I told him he's one of the best centre backs in the world. He's got everything, he can do everything, and he gives everything." These were the words of Spanish coach Pep Guardiola when he was asked what he said to Joshua Kimmich on the pitch after Bayern Munich's 0-0 draw with Borussia Dortmund back in 2016.
Since then, Kimmich has starred for his club and country in the right-back position with brief stints at centre back, right attacking midfield and is now considered as one of the best defensive midfielders in the world who can switch back to the right-back position and give the same world-class performances.
In 2017, Kimmich broke a record held by none other than the legend Franz Beckenbauer, when he made a remarkable 24 consecutive appearances for Germany between June 2016 and October 2017.
Most players find it difficult to be exceptional in a single position. Kimmich, who unlike most footballers has managed to do that in two. 
What makes Kimmich so versatile?
If you look at the first full season that Kimmich played at Bayern Munich in 2016-17 you will see that he made 11 starts at centre back, seven in defensive midfield, two at right-back and one each in right midfield and central midfield.
Out of these, Bayern managed to keep a clean sheet in 13 games which included matches against Borussia Dortmund, Schalke 05 and Bayern Leverkusen who all finished in the top five that Bundesliga season.
These clean against the aforementioned trio came when he was playing in defence.
Against Dortmund, he was at his best as was evident by a clean tackle on a goal-bound Marco Reus.
That season he had a tackle success rate of 78 per cent in the league better than veterans Jerome Boateng and Phillip Lahm and second only to Matt Hummels.
And these stats have only improved in the following years
| | | | |
| --- | --- | --- | --- |
| Year  | Total Attempted Pass | Successful Pass | Pass Success Rate |
| 2017-18 | 1813 | 1639 | 90 |
| 2018-19 | 2544 | 2304 | 91 |
| 2019-20 | 2584 | 2327 | 90 |
| 2020-21 | 1937 | 1713 | 88 |
The story is the same when it comes to assists.
In the 2016-17 season, he provided 2 assists for Bayern Munich but post that he has managed to provide more than 10 assists every season.
Furthermore, barring the 2018-19 season, Kimmich has always been able to provide more or equal assists than xA (expected assists) stats.
One of the traits that makes him so successful and wasn't the prime reason that he was thrusted into the midfield is his forward passing.
Last season, he average 101 passes per 90 minutes the most by a midfielder in Bundesliga.
A prime example of this is his assist to Leroy Sane against Schalke.
Kimmich won the ball at the left flank and ran forward.
Even with Sane free, he waited till the attacker was on par with the Schalke defenders before he released the ball for Sane. 
An early release would have meant three defenders converging on Sane which would have definitely killed the counterattack.
In addition, he is just equally adept at providing inswingers from the flanks into the box chipped cross.
So in short, he has a brilliant passing range a great tenacity to keep the ball and an amazing understanding of the game.
But there are other things that act as a catalyst and elevate him to one of the best in the world.
Just look at his stats at the right-back and defensive midfield position for the 2018-19 and the last season and we can not only see his potential but also his adaptability.
In the 2018-19 season when he played the majority of his minutes at the right-back position Kimmich showed incredible versatile skill.
Smarterscout  which gives a rating between 0-99 to players on their various skills rated him 89 for link-up play, 88 for recovery and a whopping 95 and 97 rating for ball retention and attacking output. His defending quality was also rated at 76, a good enough stat for an attacking full-back,
However, his ratings took a tumble in all departments barring one when it came to Champions League. This showed that Kimmich still had lots to learn and still needed to sharpen his skills to thrive at the top level.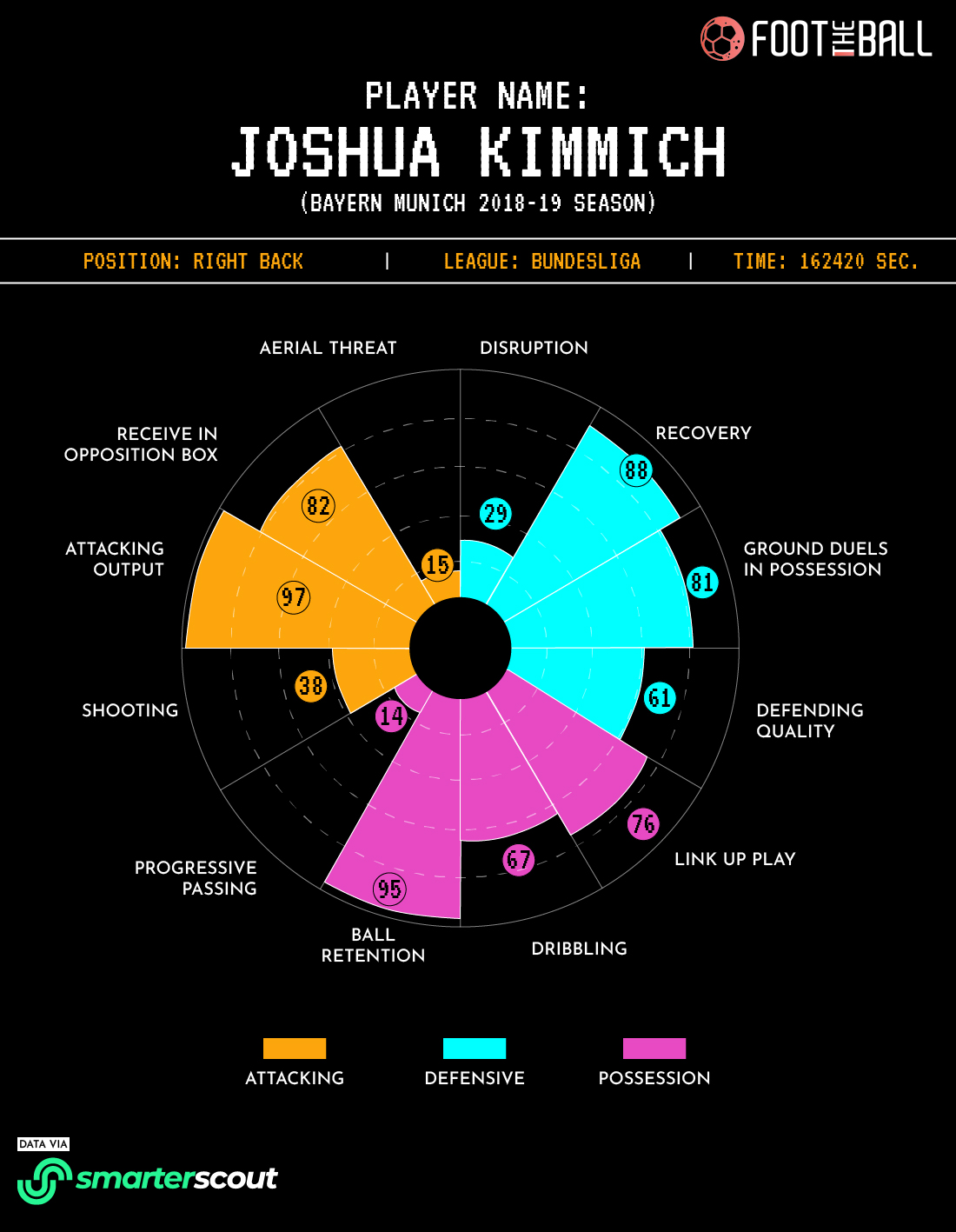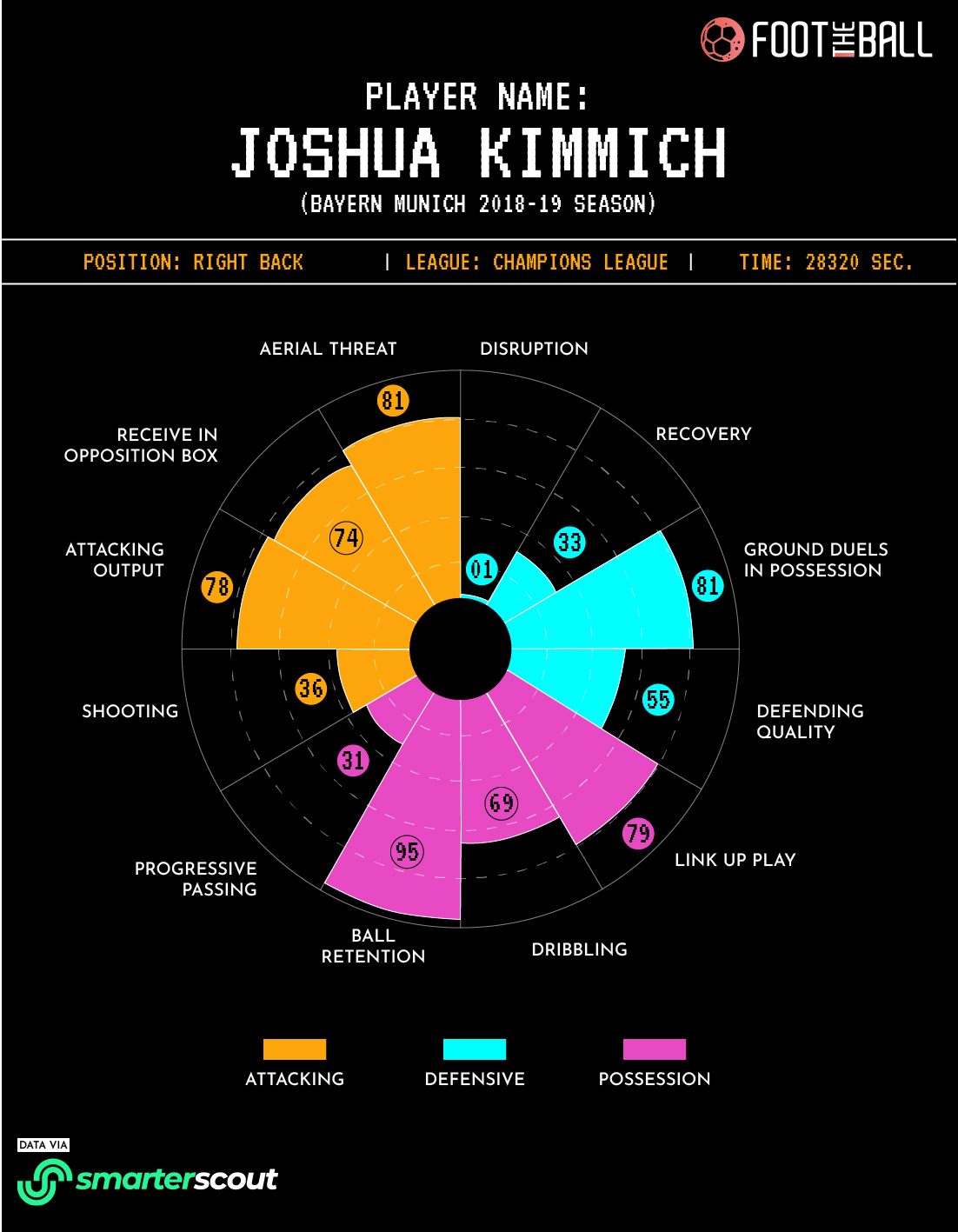 And he did hone his skills. Stats from the 2020-21 season show that when the German played in the Bundesliga he was rated 33 for disrupting the opposition's moves. However, that rating increased to a whopping 95 when it came to the Champions League. This shows that when the quality of the opposition increased so did the level of Kimmich's game.
The statistics include only Champions League and Bundesliga matches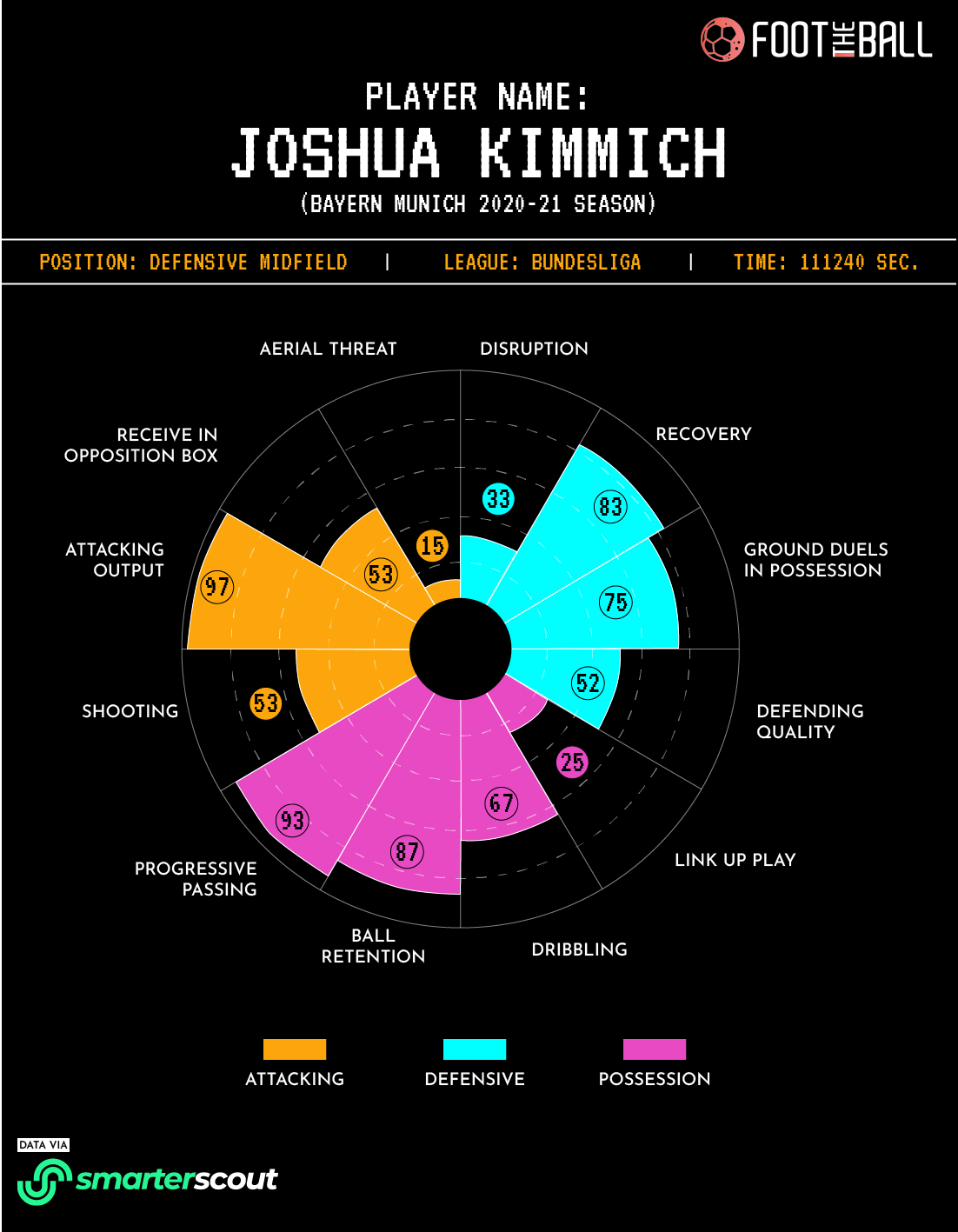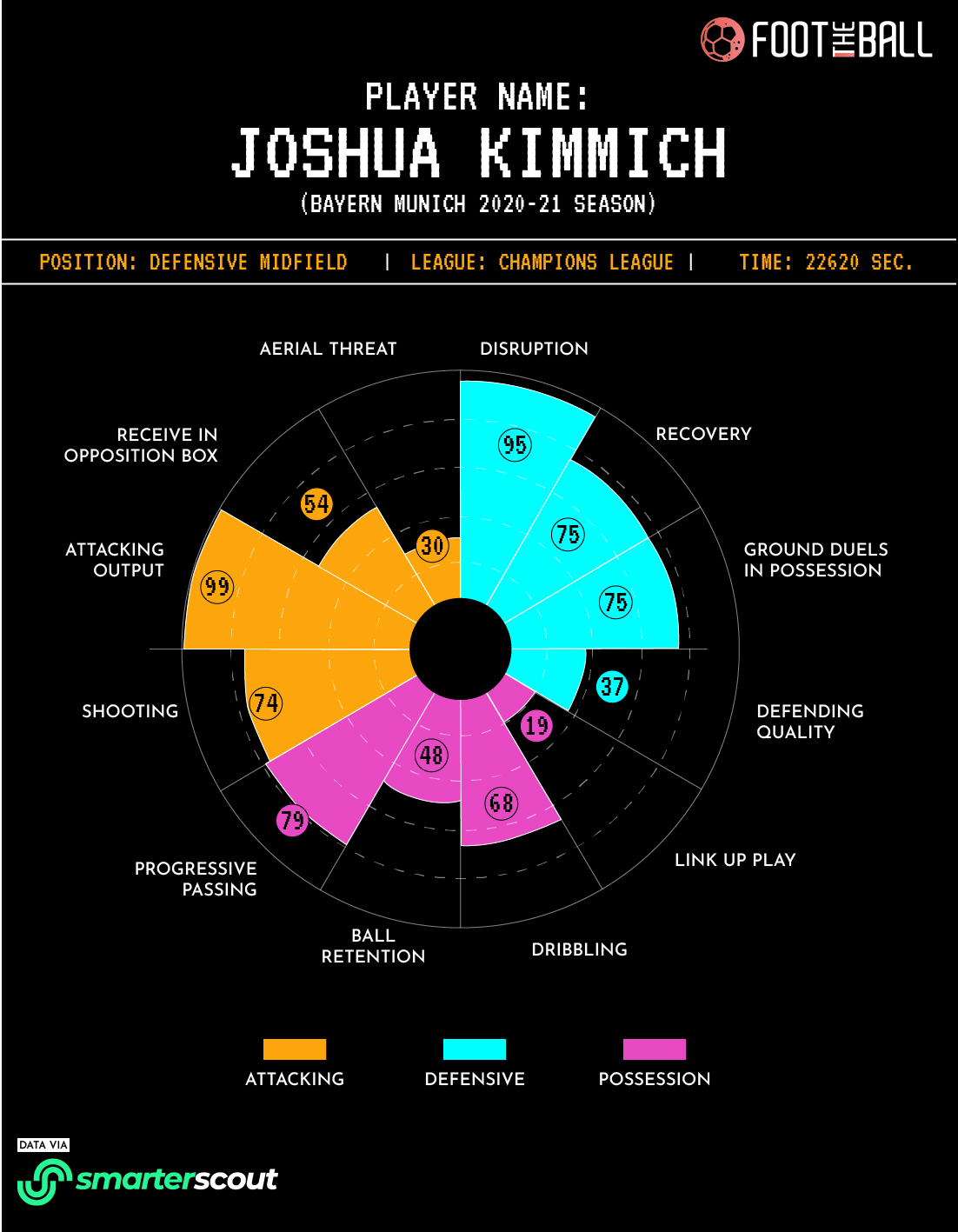 A goal threat
 What often goes unnoticed in Kimmich's game is his goal-scoring ability which like his assets comes from a diverse range.
The two examples of this are his goals against Barcelona in the Champions League and the wonder strike against Borussia Dortmund last year.
The goal against Barcelona was Kimmich making a simple run from the midfield and putting the ball into the net from Alphonso Davies's pass. 
While the goal against Dortmund was a piece of art as Kimmich chipped the ball from outside the box past a hapless Roman Burki.
The first goal requires the intelligence of knowing when to enter the final third and the second requires a high level of skill.
Now, this may be expected of a world-class striker or an attacking midfielder but Kimmich is neither of those which makes him a very rare breed of footballer that is equally skilled in attack and defense.
Fitness Freak
Another impressive quality about Kimmich which is frankly the most underrated is his injury-free career.
Since joining Bayern in 2015, the midfielder has never missed more than two matches for the Bavarians before this season.
In the past four seasons, he has always played more than 2200 minutes in the Bundesliga which shows his level of fitness.
In the previous season, Kimmich covered an average of 12.6 kilometres per game more than any Bayern player.
This means that he is always available and a strategy can be built by his club and country that can make full use of his talents.
In fact, the current season is the first where he has been out of action for so long and that too has been due to Covid-19 and his refusal over getting vaccinated.
When we look at world football we see many clubs failing to replace an important player after their departure.
Prime examples of this are Andres Iniesta for Barcelona, Patrick Viera for Arsenal.
So in short, Bayern Munich should thank their stars for having a successor to Lahm who is as skilled, motivated and tenacious to achieve greatness.
As Frrider Schrof, one of his first coaches said," He can do everything but lose".