Luck is a word that is quite often thrown around in the world of football. And this season, La Liga champions Real Madrid are the ones being accused of being lucky. Real Madrid are not the first team to be accused of it, nor they will be the last.
Now that they have been crowned La Liga champions for a record 35th time the accusations will get amplified.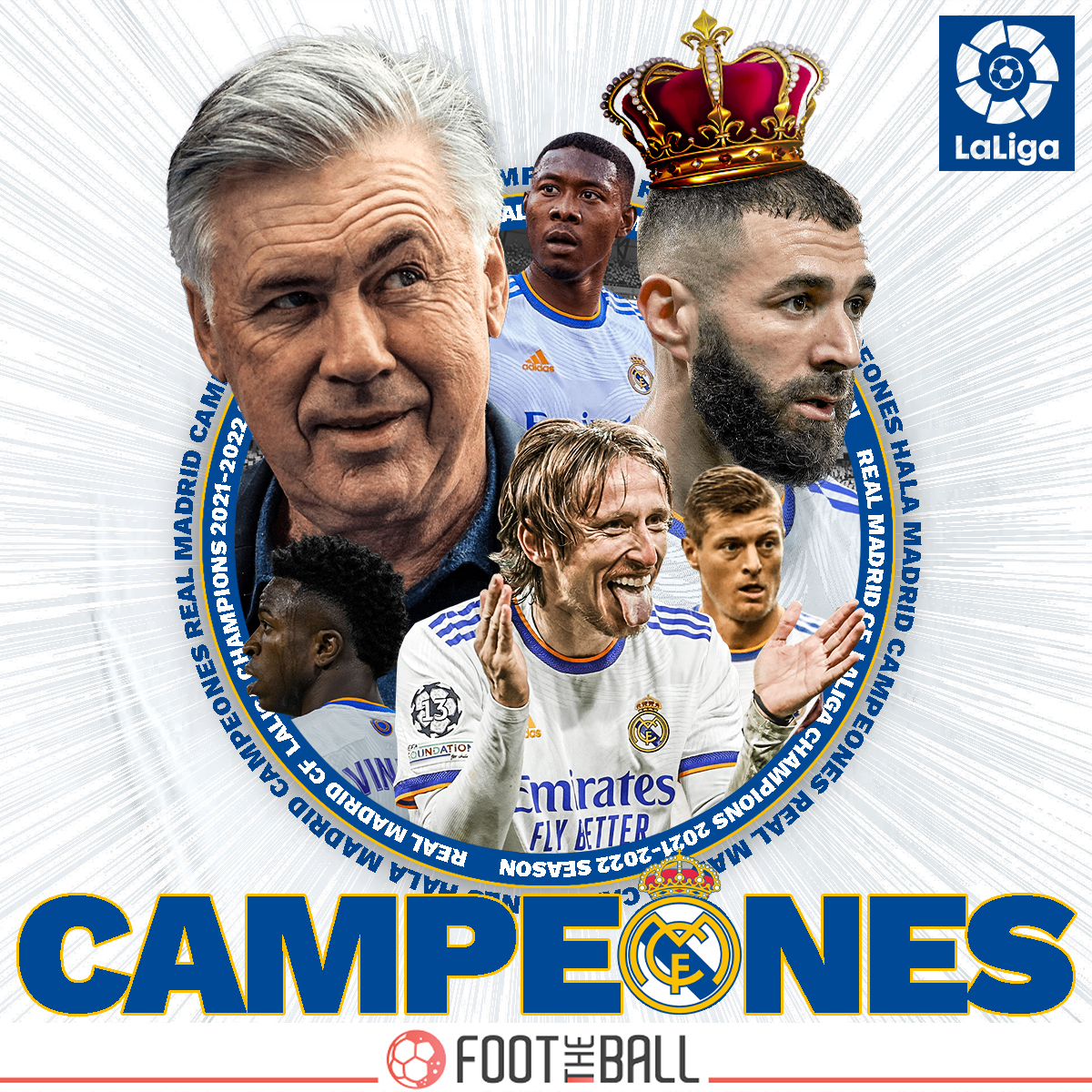 Los Blancos have been deemed lucky and are often seen as undeserved champions, a king undeserving of the crown. Madrid have failed to replicate their continental success on the domestic scene, with just three titles in the previous decade.
But they were at their very best when they defeated Paris Saint Germain 3-1 in the Champions League to complete a remarkable comeback. But a 4-0 loss at home to Xavi's Barcelona has shown that Real Madrid had a weakness.
However, their juggernaut in the Champions League continued as they defeated Chelsea 5-4 on aggregate after two brilliant matches.
And after falling 2-0 behind Pep Guardiola's Manchester City, they again showed their resilience by scoring three goals. The match ended 4-3 in City's favour, but the tie is far from over with the second leg in Santiago Bernabeu.
This has been Madrid's blueprint in the Champions League. Play breathtaking football and complete remarkable comebacks in closely fought matches.
🍿 Real Madrid 2-3 Chelsea = a #UCL classic!
🤔 Best moment at the Bernabéu?

— UEFA Champions League (@ChampionsLeague) April 15, 2022
However, things were quite different in La Liga.
Going into the match against Espanyol, they led the Spanish league by 14 points. Real Madrid had dominated La Liga, and Carlo Ancelotti had developed a side that has often punched above its weight. 
They were on the top of the table for most of the season, far ahead of any challenger. So, it was not a surprise when they wrapped up the La Liga title after winning/drawing "put score here" against the 13th best team in the league.
But stats tell a completely different story, which doesn't paint a beautiful picture of them in the league. One which says maybe they had luck on their side.
But how did Real Madrid run away with the league? Was it luck? Or were there other forces that were at play?
Overperforming Real Madrid 
Let's start from the basic metrics, i.e. expected points, expected goals, expected goals allowed and many more. According to data analytics site Soccerment, Los Blancos were expected to score 55.48 points after 29 games. Instead, they were on 66 points.
And though there is a small gap between expected and actual goals, the team has struggled with the goal conversion rate.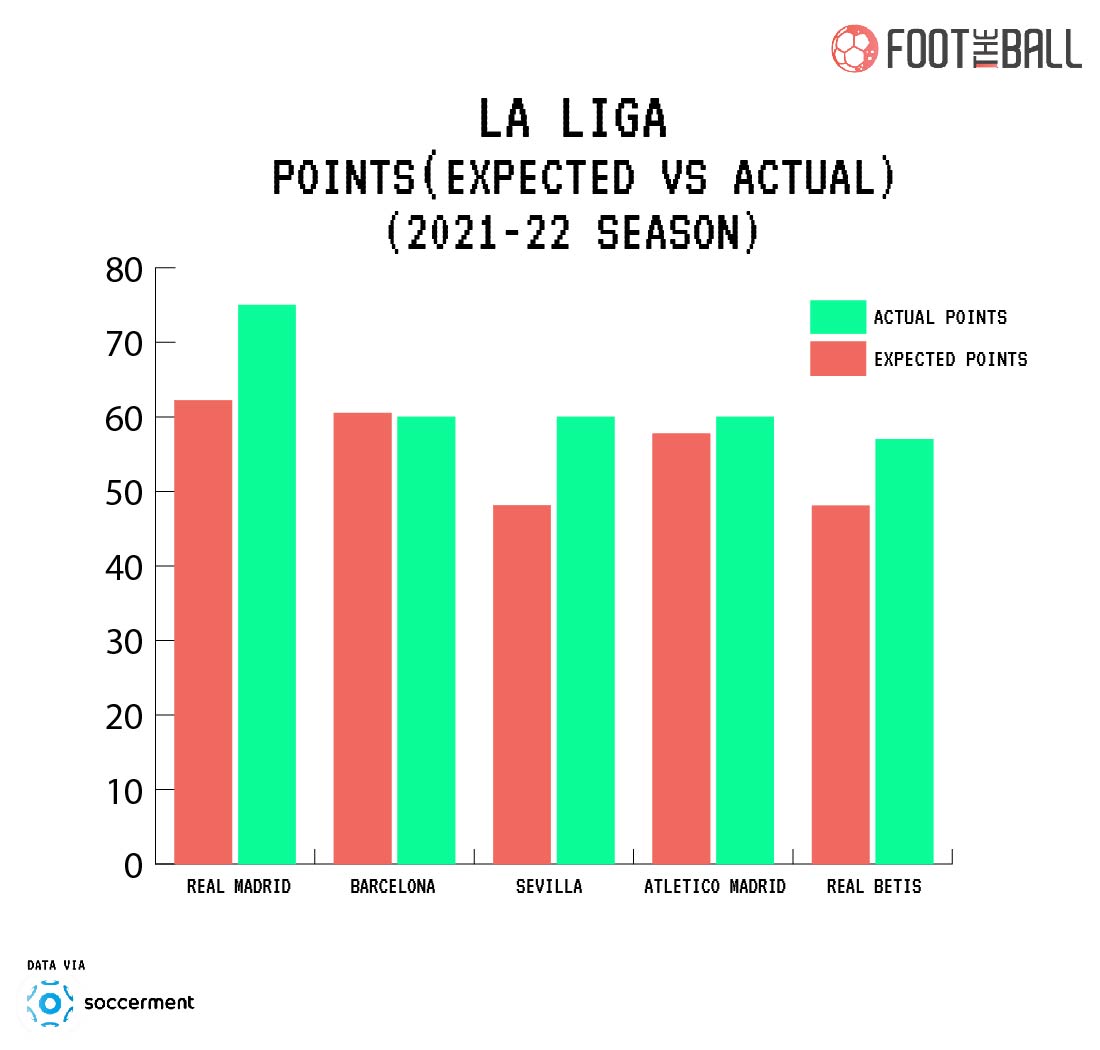 However, the La Liga has been a one-horse race for the most part, with Atletico and Barcelona slumping. And Real Madrid have also not received many challenges from the rest of the league.
And the numbers prove it. Despite being the top team in goals, shots, shots on target, and shot accuracy, they have been one of the worst-performing teams in one department. The Buildup Disruption Percentage, or BDP as it is commonly known, measures the impact that a team's pressure has on the passing of the opposition's side. So, for example, if a team is playing an intense high, pressing system, it will cause the rival team to register fewer passes due to the high pressure.
And Real Madrid have fared poorly in this metric. Their BDP rating is a minus 3.03, the fifth-worst in the top five leagues. Nevertheless, it is a startling stat as the top teams in the other leagues usually are one of the high pressing teams.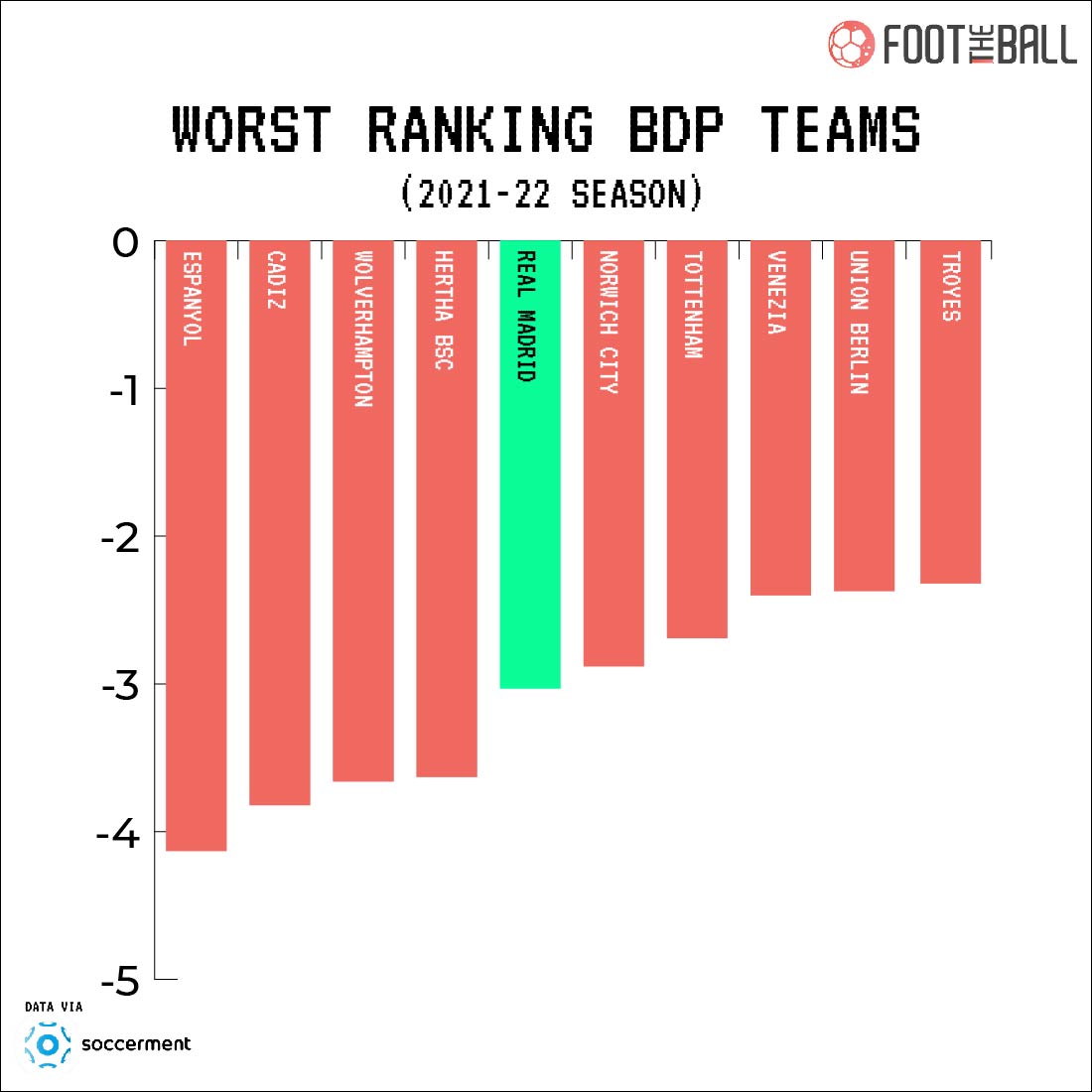 A low BDP usually means that the teams mostly play on the counter. However, another metric shows that is not the case.
Field Tilt is a concept for measuring the share of possession a team has in a game but only in terms of touches or passes in the attacking third — and it is a useful measure of how often a team was able to take the attacking initiative in a game, rather than just holding onto possession for the sake of it.
Read More: Who Is Vinicius Tobias: The Teenage Sensation Signed By Real Madrid
And in this case, Real Madrid have a field tilt of 64.88 per cent, the second-best in La Liga and the seventh-best in the top five leagues.
So, despite not pressing their opponents for the ball, the team dominates the opposition in their half.
This shows a general lack of quality in the La Liga teams who have failed to take the game to Real Madrid.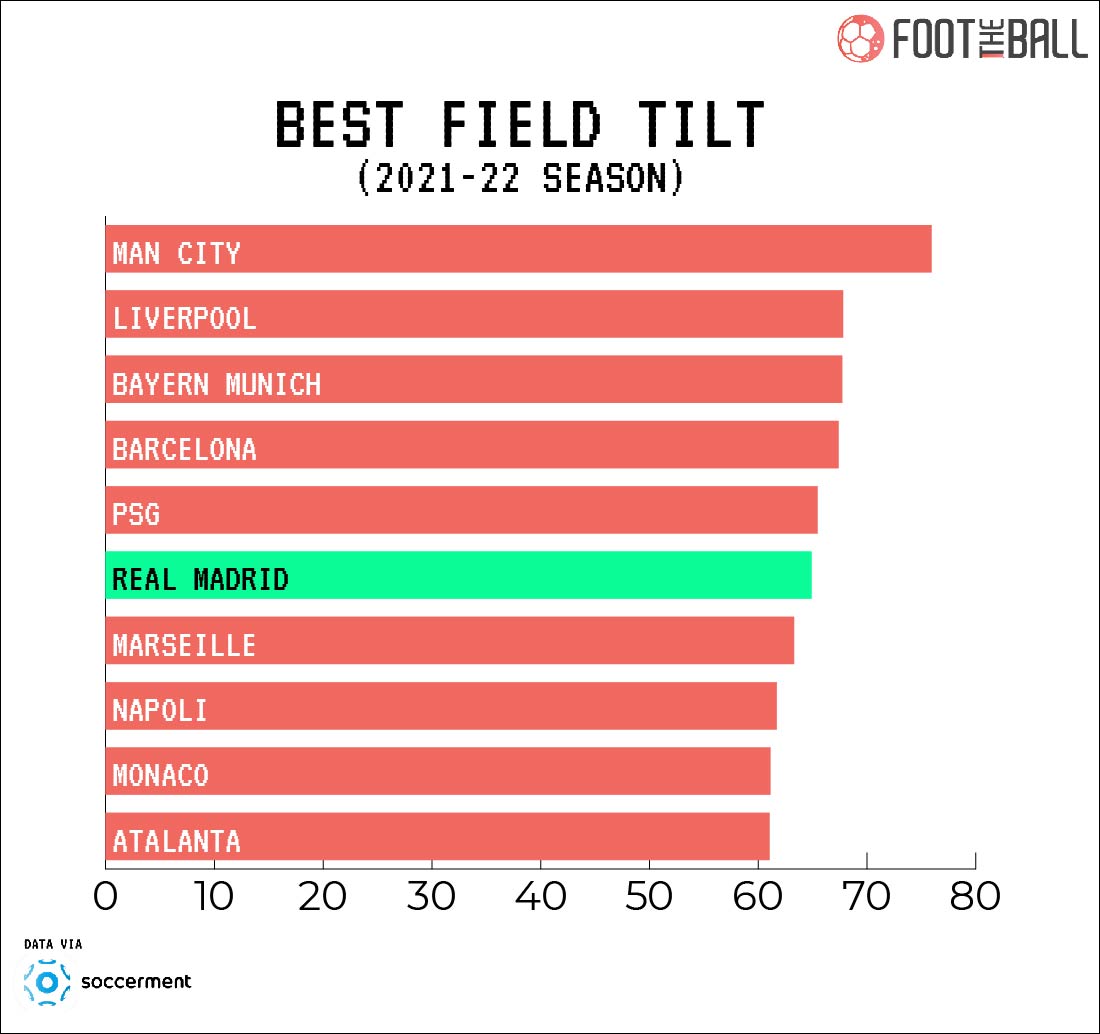 Super Karim Benzema 
If Real Madrid have been overperforming, it is down to their talismanic striker Karim Benzema. The Frenchman is having the best season of his Real Madrid career. And the Frenchman is himself performing way above what his stats suggest. Almost on the level of Messi's genius.

Ballon D'Or Benzema, sounds about right innit?🙄#Benzema #Benzemaballondor #UCL pic.twitter.com/3EHE2osolB

— FootTheBall FC (@FootTheBallFC) April 27, 2022
According to Soccerment, Benzema was expected to score 15.23 goals after 29 matches. Instead, however, he scored 22 goals, 6.77 more than expected. This overperformance is the third-best among the top five scorers of the top five leagues. Only Patrick Schik and Dusan Vlahovic have performed better than him.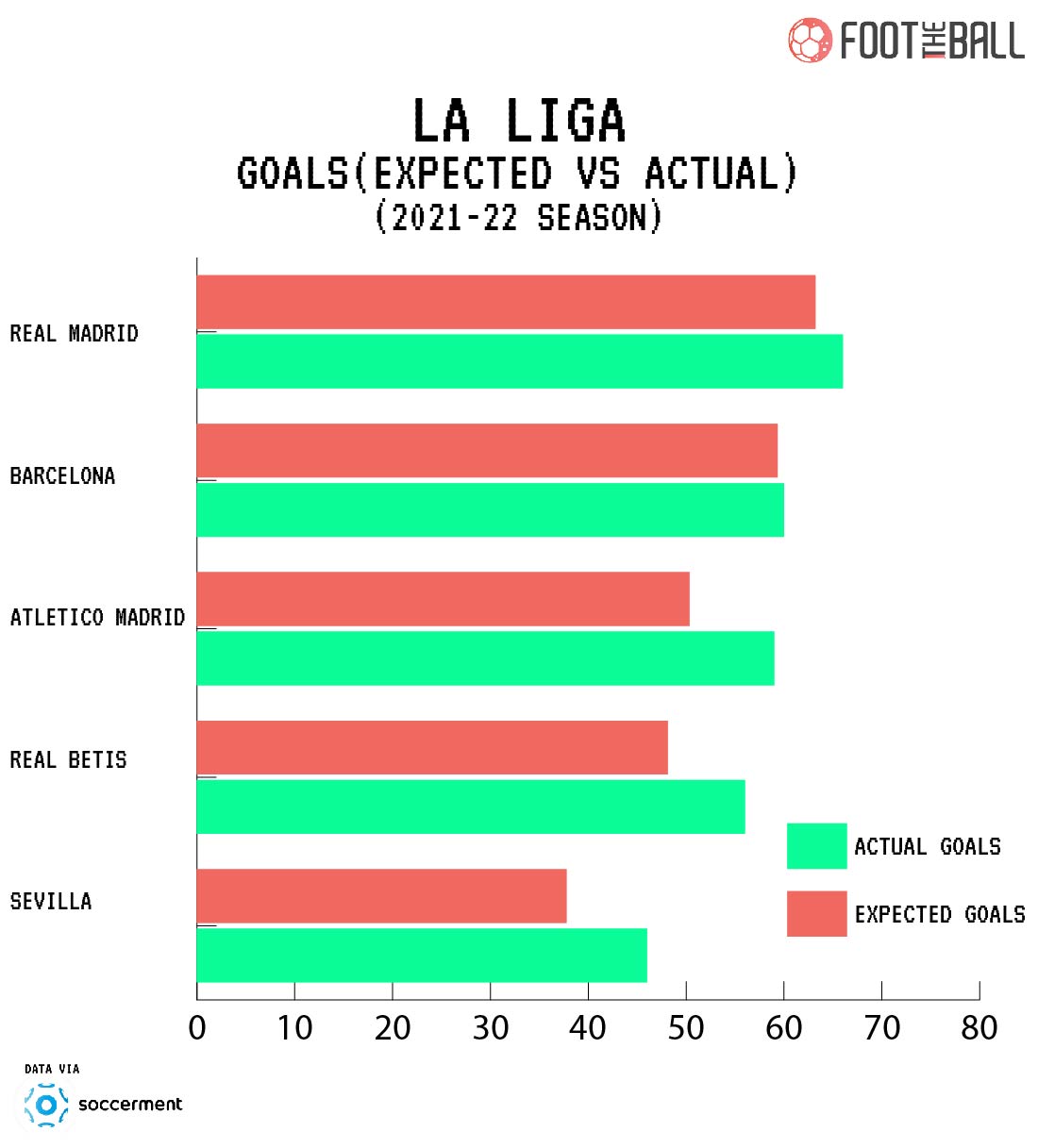 His overperformance continues in the assist department as well. After 29 matches, Benzema was expected to provide 5.52 assists but has provided 11. This positive difference of 5.48 is the third-best in all the top five leagues behind Thomas Muller and another La Liga over-performer, Oscar Trejo.
View this post on Instagram
This is a massive reason Real Madrid has been punching above their weight.
Did Real Madrid deserve the La Liga title?
Well, data suggest that Barcelona, despite their struggles, have been the better side than Madrid. They have a better-expected points tally than Madrid. They also have a Passes Allowed per Defensive Action (PPDA) of 8.74, the best in the top five leagues. This means they are not pressing the team, which was evident in the El Clasico. Barcelona's high press suffocated Madrid as they were thumped 4-0 in their backyard.
According to Understat, Madrid had an xG of 0.63 compared to 4.26 for Barcelona.
This match showed Real Madrid's weakness while also highlighting the impact of Karim Benzema, who missed the game.
Check this out: Ryan Gravenberch: The Action-Packed Midfielder Making Waves With Ajax
However, their early-season struggles had left them 12 points behind Madrid, albeit with a game in hand and by then it was already too late.
So, Real Madrid's title charge has been helped most by the complete lack of an opponent who scored consistent points.
Their loss to Barcelona has given the team the onus to press them and make the defence commit mistakes.
So Real Madrid has been lucky, but they have got the most points in the bag, which is the thing that matters most at the end of the day.