There is no doubt that Pep Guardiola is the most backed football manager in the game. No other manager in football would be allowed to sell a player like Joao Cancelo, their best defender for the last three years. However, the Catalan has always been a man known to set his players straight when they don't perform to the level the Spaniard expects.
Another reason for allowing Cancelo to leave was the emergence of the 18-year-old prodigious fullback Rico Lewis.
The youngster who is a product of the club has taken the mantle, and the more he plays, the less ridiculous the decision of letting Cancelo leave looks. Lewis's emergence is proof that years of heavy investment by the wonders in the club's youth setup is finally paying off. Phil Foden has already set a precedent going from the academy to becoming one of the team sheets' first names. Now Rico Lewis has the chance to replicate that.
While Cancelo will return from loan at Bayern Munich after the season ends, it seems Pep Guardiola has put his entire trust in the English youngster. 
A new star has emerged at Manchester City
Grab the latest kits for the reigning English League Champions
click here

Rico Lewis stats 
Rico Lewis' rise has been surprising, and the fact that he has only played 992 minutes of senior-team football in his career is a perfect indicator of that. However, even in a limited time, he has made an incredible impact at the club. One of the significant reasons Guardiola likes Lewis is his passing which he completes with a 92.9 per cent accuracy. In addition, his crossing accuracy is also a respectable 60 per cent accuracy.
Lewis is also brilliant at duels, rarely losing them. However, we know that to be a Pep Guardiola fullback, a player needs to be impressive in the attack, and this is where Rico Lewis shines. According to fbref, he averages 55.06 carries per 90 minutes this season among the top three percentile fullbacks. This trend continues with 65.94 live passes per 90 minutes, among the top five percentile of fullbacks.
What makes Rico Lewis brilliant is that the quality of his passing usually remains the same irrespective of where it occurs on the pitch. In addition, Lewis' quick feet and impressive dribbling also allow him to win fouls in advantageous situations for his team.
Lewis is also brilliant at helping his team deploy an attacking press. This season he has already averaged close to one blocked pass per match, putting him in the top four percentile of fullbacks.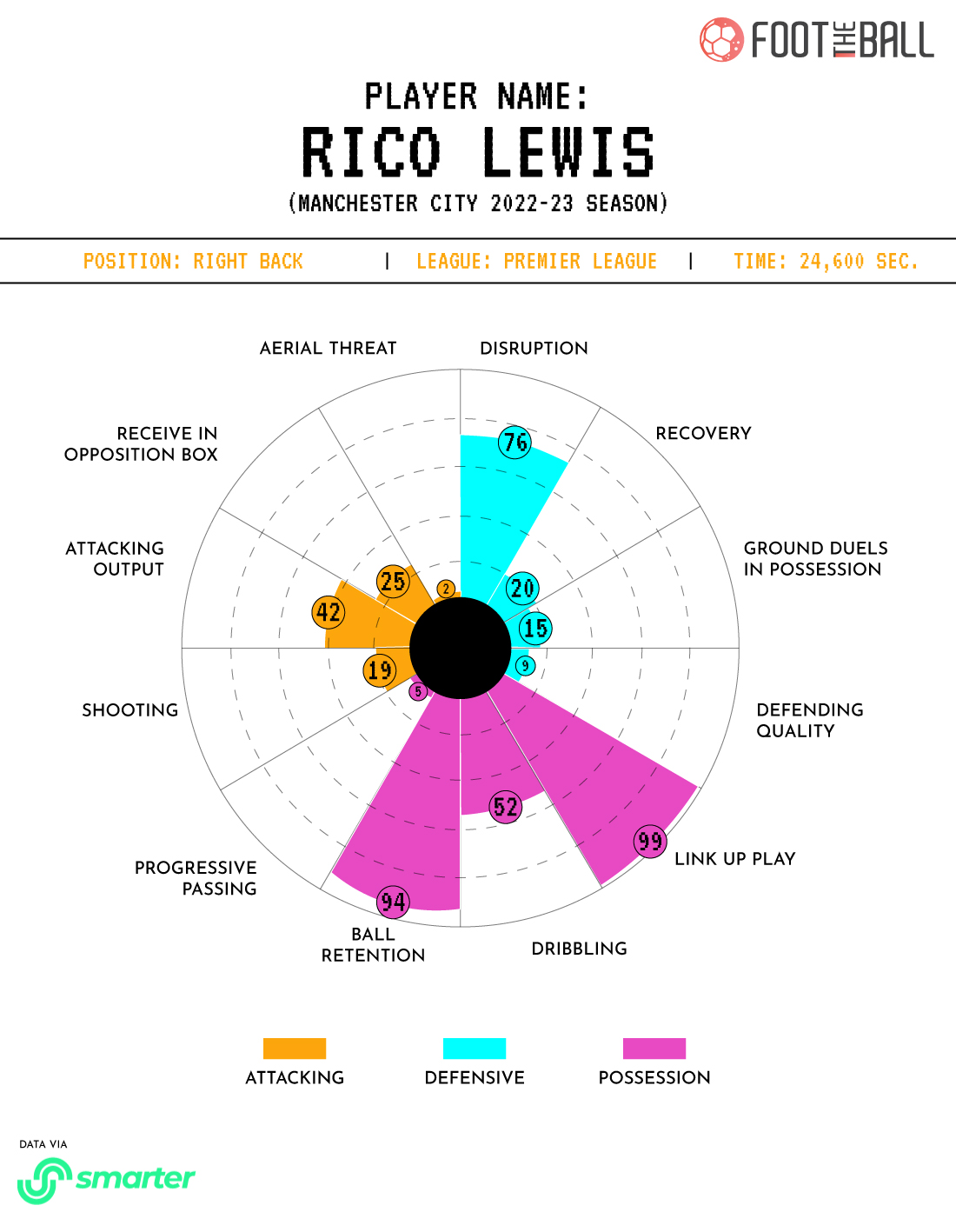 Rico Lewis's strengths and weaknesses 
Rico Lewis has been tasked with a role that is among the most difficult to execute. Being a fullback in Guardiola's system requires the defender to have the defensive acumen of a centre-back, the speed of a winger and the passing ability of a number eight midfielder. And for an 18-year-old player to have all these traits is nothing short of impressive.
A metric on which even the best players often fail when they start to play in the Premier League is the gameplay's speed and physicality. However, Lewis has not been fazed by any of that, as he has coped well with the high standards of the Premier League.
Lewis also has a brilliant intelligence on the field, such as former Guradiola's fullbacks Phillip Lahm and Joshua Kimmich. Lewis is among the top five teenagers in the top five leagues in passing accuracy, which he used significantly to create chances for his team.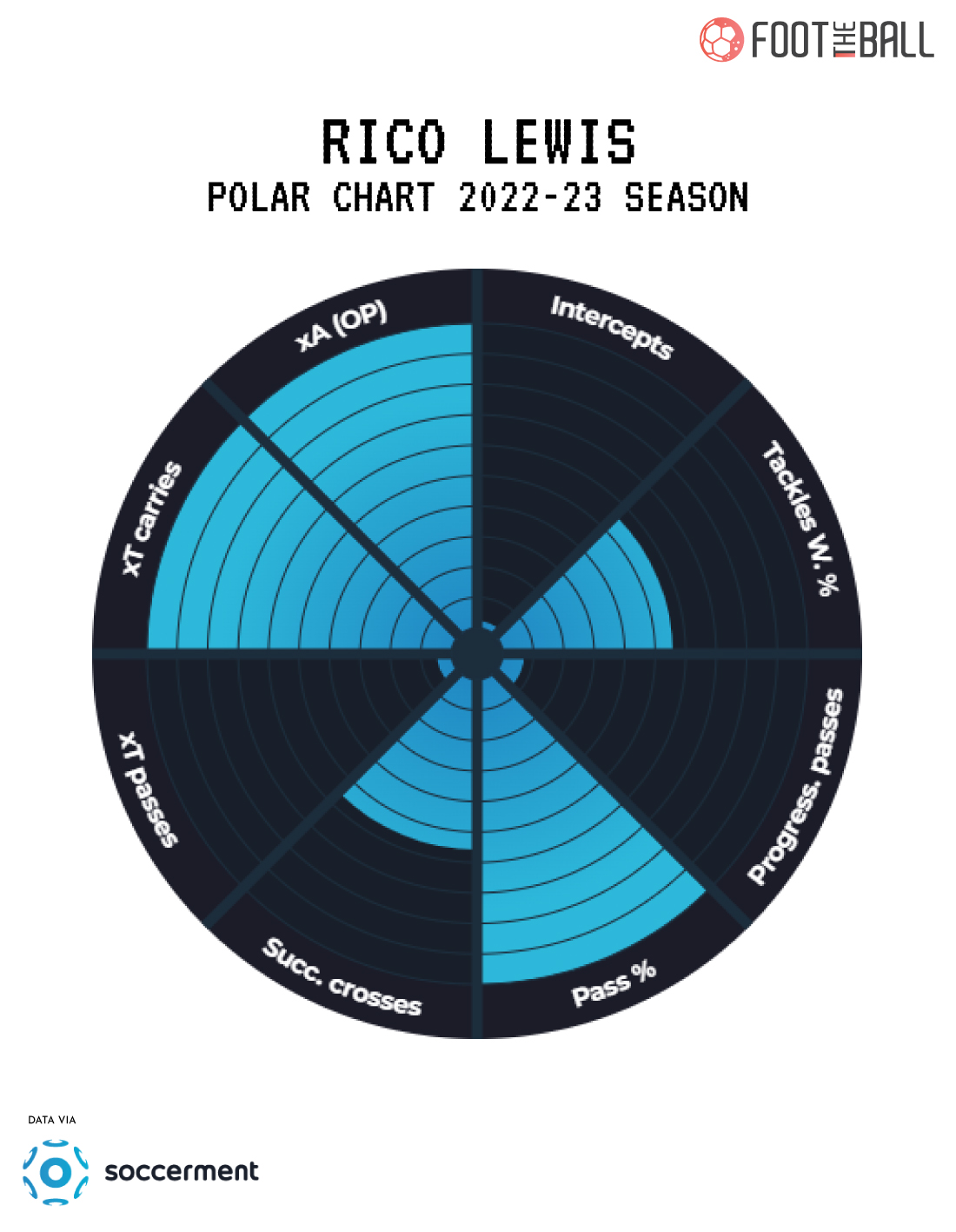 The teenager is also amazing at making inch-perfect tackles, perhaps a trait that even Cancelo did not have. In addition, his speed also allows him to track back and ensure he rarely gets caught out of position during counter-attacks.
Another impressive quality that Rico Lewis has is his ability to make well-timed runs past the opposition's defence. This allows City to move the ball forward and play cross-field passes quickly to catch the opponent off guard.
Read more:
We must remember that all this has come in a season where he has played less than 1000 minutes. With an entire pre-season under his belt, Lewis could become a far better player come next season and one that would provide the club with a long-term alternative without having to splurge an enormous amount to sign anyone near talented.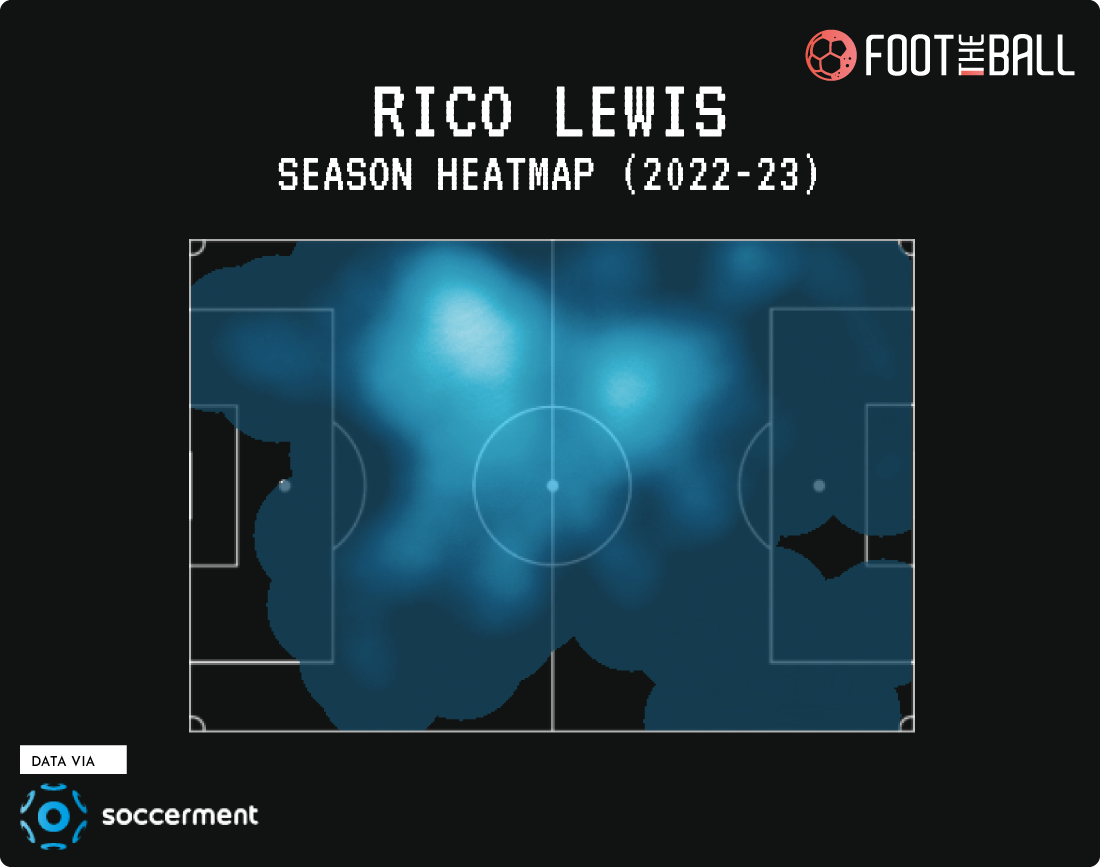 Rico Lewis future 
Well, the transfer market is such that there will always be news about a particular player going to a different club. However, in the case of Rico Lewis, one could be sure that unless the club want to sell him, he is here probably for the better part of his career. 
He is only 18 years old, so if Leiws becomes the player he is touted to be, he could be at the club for at least a decade. Back in January, Pep Guardiola had said that his squad was so used to winning that they now lacked the hunger to challenge for the title.
Since then, Guardiola has sold Joao Cancelo and is planning life after his current batch of superstars retire or leave the club. Guardiola has also said that any team that won multiple trophies over the years did so by adding world-class players every year to their roster to ensure the quality of the team was maintained.
This is the new vision of Pep Guardiola, and with the emergence of players such as Phil Foden, his vision has got an excellent start.