EA has launched the brand new FIFA 22 for all the gamers out there but fierce rivals Konami, launched their new game, eFootball 2022 right one day before them as well.
With this Konami has made it clear that they won't let their counterpart dominate them like these past couple of years. Konami have moved on from their PES series and have launched their new venture, eFootball 2022 and this time it is absolutely free for everyone across all platforms!
PES and FIFA have been battling for more than a decade now but the former couldn't reach the heights FIFA has over the last few years because of the improvements they have made in 'Fifa Ultimate Team' over the last 5 years or so.
PES was a lost cause for Konami but eFootball might be able to get them more fame and users since they made it free and free is just what the people are looking for. FootTheBall analyses both FIFA and eFootball and chooses the right pick for you.
WHAT IS NEW IN FIFA 22
There is a whole trending meme circling around social media as to how EA doesn't make any changes to the FIFA game and launch it as it is which is true up to some extent but this time, they have used a new technology called ' HyperMotion Gameplay technology' in their game mechanics but it will only be available for PS5 and Xbox X/S Series users.
The new-gen is made after getting data from a full field 11 v 11 football game played by professional football players.
They used Xsens suits to capture the movement of the players and the game looks more life-like than ever before. They have used advanced machine learning while analysing millions of games played by teams and which have enabled the players to be more tactical while playing the game and truly have control over the players as a whole.
EA has also restricted the goalkeepers from scratch and they now show realistic positioning and movement. They have also added off-ball player animations to give a humane effect to the game. All these changes might not be visible while playing the game but have a major impact on the game experience as a whole.
For players who enjoy the offline game modes more, you now have the ability to build your own club in career mode in any league in the game of your liking. You can set the average age and rating of your squad beforehand and then you will be given a team with fictional players and can build your squad ahead after that.
The players are also allowed to customise their stadium and the chants the fans shout from the stands which makes the experience of having your own club even better.
Another major improvement in the game is the restructuring of the post-match statistics. Now the players will be getting a more in-depth analysis of the game and the players individual performances. Stats like Xg, Xa, SPG that are used by professional scouts and pundits in real life can be seen after the game to truly understand the match the player just played.
The manager mode has remained the same more or less but the cut scenes have changed. The Player Career Mode is more interesting this time since you can earn traits and skill points to improve the areas of your own liking. There is even a manager rating system that decides your importance in the squad.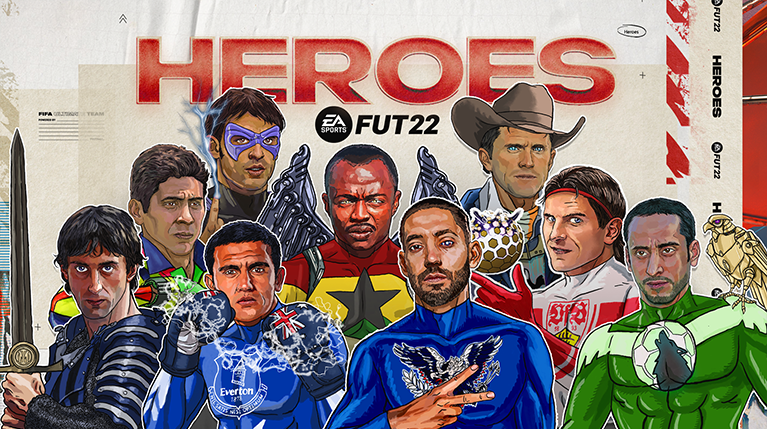 A new card called 'FUT Heroes is available in Ultimate Team and now even Female players can be created for Pro Clubs. New games have been added to Volta mode and more focus on skills has been made this time around.
HOW IS EFOOTBALL 2022 DIFFERENT
Konami are confident eFootball 2022 is going to work well since they targeted areas where FIFA has been lacking over time. First of all, they have switched from the outdated Pro Evo's Fox Engine and have used the Unreal Engine.
The same engine famous games like Fortnite and Valorant use. Konami too have used Xsens suits while building the game and have based their focus on improving the one-on-one dynamics between the attacker and the defender.
The biggest revolution they are bringing is that players will be able to play cross-platform, which means Playstation, Xbox, PC or mobile players, all can play against each other despite the difference in their systems, this is something FIFA fans have been dying for but haven't received yet. A player can also play across various devices using the same account which is also a great new feature to have.
I mean this sincerely, #eFootball2022 looks fucking class pic.twitter.com/t1SIghrdRC

— Robert Borthwick (@RFBorthwick) September 30, 2021
Although eFootball 2020 should do well with these new features, they have received an overwhelming amount of negative reviews in just 1 day and is the worst-rated game on Steam.
This is majorly because of random glitches and the faces of the players. Gamers have also noticed that the players in the game take a touch before anything they do, whether it be a pass or a shot on goal.
WHICH ONE SHOULD YOU PICK
FIFA is a tough game to beat since they have been dominating the industry for a long time now and their games just keep getting better. They implement newer technology in their game mechanics and improve the already existing modes for the users.
FIFA 22 is surely a better game than eFootball but if you aren't playing on PS5 or Xbox X/S, then one can buy an older and cheaper version of the game as well, that is if the user doesn't want to play online. If you are a regular player of the Ultimate Team then FIFA 22 is surely a necessity for you if you wish to continue playing FIFA.
Since FIFA 22 costs around £59.99, a lot of players refrain from buying the game and have second thoughts as to if it is worth it. eFootball is the best alternative out there for users who want to play a game like FIFA but for absolutely free.
eFootball will surely have a lot of users since the game is free and is available for cross-platform gaming. It is true that the game has many bugs and issues at the moment, but that is purely because this isn't the complete game.
Konami has decided to separate its launch into 3 stages throughout autumn and winter. The developers have ensured that they will keep working and improve the game over the launch period after analysing the reaction of the players.
All modes will be unlocked in mid-autumn for PC users and the game will be available for mobile phone users by the start of winter. The game might surprise everyone by fixing the issues and producing the best version of itself over time.
Since the game is free, it will definitely be worth downloading it and trying it out for yourself, but if you are looking for the best virtual football game out there, FIFA 22 is surely the one for you.