It was a sunny Wednesday morning in Cobham in May this year. It was derby day. Arsenal vs Chelsea. An epic derby where fireworks are guaranteed, even if the boots on the ground are Under-18s. 21 minutes till the final whistle goes off and Chelsea were two goals down. But then begins a scintillating run down the middle. The number 10 Joe Haigh has dribbled past 2 players only to be cynically brought down right on the edge of the penalty area. The fluffy-haired boy from Tooting, England steps up and then curls the ball over the wall, right into the top corner. Almost Lionel Messi-esque, only with the right foot, and no goalkeeper in this world would have stopped that free-kick with the pace Haigh generated. 
Little wonder they are calling him the 'wunderkind'.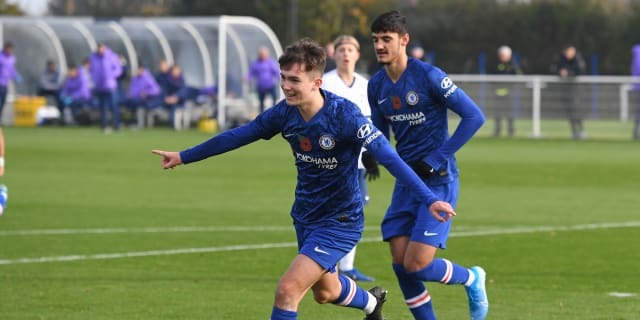 A player joining the club of his dreams at less than 10-years-old, rising through the ranks of age-group football, ultimately making his debut for the club and helping them win the Champions League title as a crucial cog in the team. This is the stuff dreams are made of, a dream which Mason Mount just lived last season at Chelsea. In the process, he might just have inspired the next generation of "Mason Mounts" to work towards living their own dreams. At the forefront of that queue stands 18-year-old Joe Haigh. 
Raw numbers always catch the eye, so here are some. 14 goals and five assists for the U18 Chelsea team, from attacking midfield. Goals are the most priceless commodity in football and if someone guarantees those returns from midfield, whispers are bound to arise that the club have someone special on their hands. Not that Joe, who's also been capped by England U19, pays any attention to the hype around him. 
"I don't really pay too much attention to what's written in the media. My family make sure that I keep my head focused on football and not on social media, which I agree with massively. There's always a bit of pressure when you're playing for Chelsea, but you just have to relish it. I'm here and I've got to show why I've got to this level, show what I can do," he says. 
ON HIS LOVE FOR FOOTBALL
Make your passion your profession, and you won't have to work a day in your life. Joe Haigh exudes similar energy when asked about how it all started. 
"Ever since I was a little kid, I played in the garden with my brother and my dad. Since I was pretty much born, all I can remember is playing football. So it just grew from there, to playing more competitively. All I think about is football, football and football," he says, with the enthusiasm of someone who is thankful that his passion did become his profession. 
"Back when I was a kid, I couldn't wait to go to football training after school. I just waited for the school bell to go so I could rush to the football pitch," he says with a twinkle in his eye. 
Fortunately for Joe, this enthusiasm was apparent in his game too from a very early age, which is why clubs were queueing up to sign him as soon as he came on their radar. The kid from Ashtead was making waves and catching the eye of elite clubs.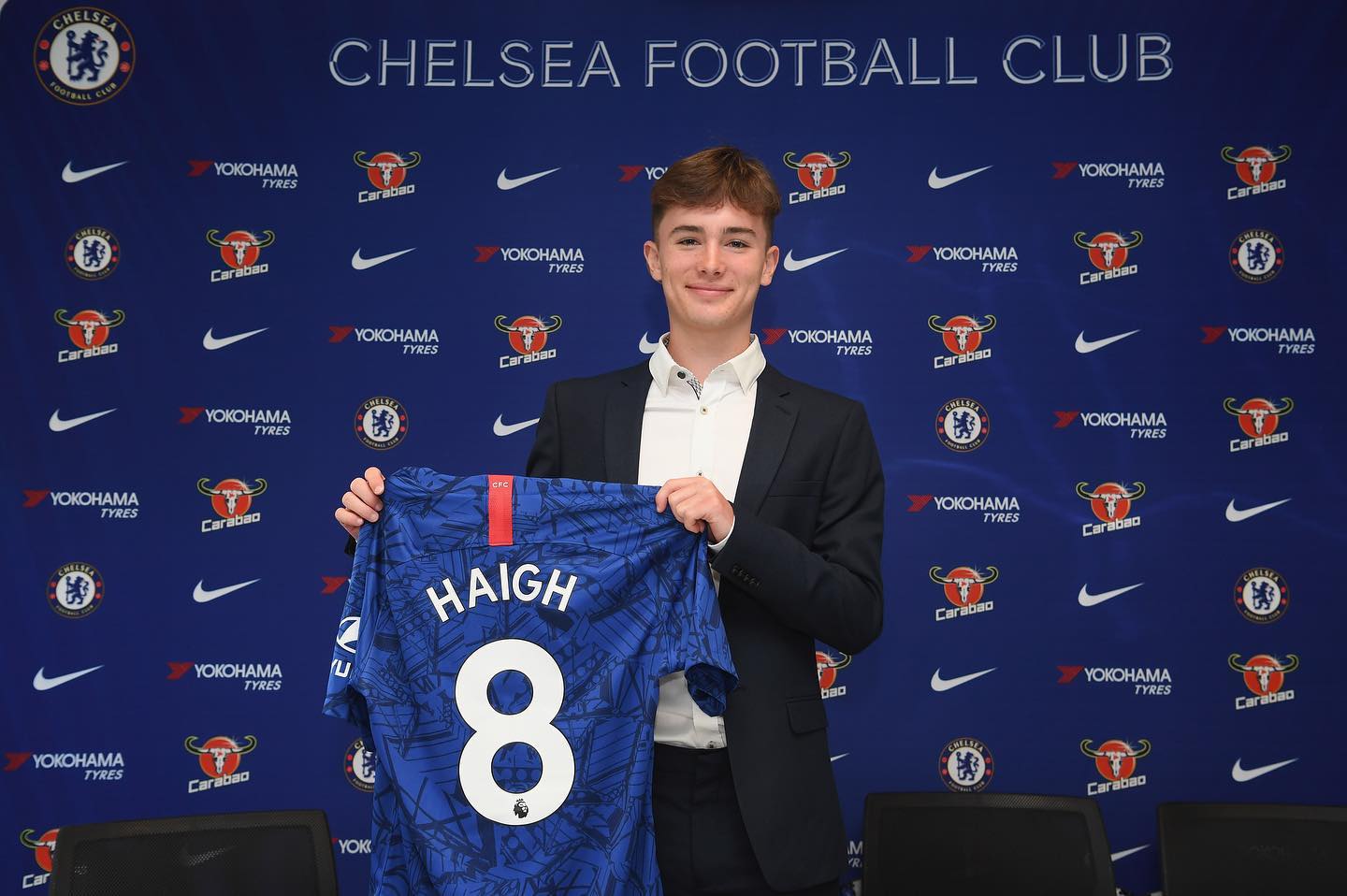 "When I was playing for my local team, I first got scouted by Fulham, and I was going to Fulham while in U9s," he said. However, things changed when the offer arrived from his dream club. 
"Then Chelsea came in, soon as Chelsea came, for a little kid, everyone would fall on their knees for that. So I went straight there, had a trial. It was mind-blowing how good the facilities were, straight away I knew, Chelsea were the club for me," he says, which would be music to the supporters of Chelsea. Almost every player nowadays says that the club they are at or joining was his dream club, however, the childlike glee with which Haigh talks about Chelsea confirms his love for the Blues. His role models hammer home that point. 
ON CHILDHOOD ROLE MODELS
Lionel Messi and Cristiano Ronaldo have defined this era of football like no others. They've been the idols of countless attackers and Haigh is no different, with his idol being the diminutive magician from Argentina. For Haigh, though, another Barcelona midfielder caught his eye. 
"Obviously, Lionel Messi is everyone's idol. I like to base my game around Lionel Messi. I also try to base my game around how Iniesta used to play, very team-based. Just keep the ball, get on the ball as much as possible and try to influence the game."
[espl_quote]"From a Chelsea perspective, I like to base my game on Mason Mount and Pulisic, a combined game of the two. I like running with the ball, beating players, creating goals and assists," he says.[/espl_quote]
It would be fair to say that Haigh's modelling of his game has paid dividends so far, with 19 goal contributions from 28 games in the U18 Premier League. However, the mental side of the game is as important as the technical side, and Haigh has chosen a good role model for that too, in Steven Gerrard.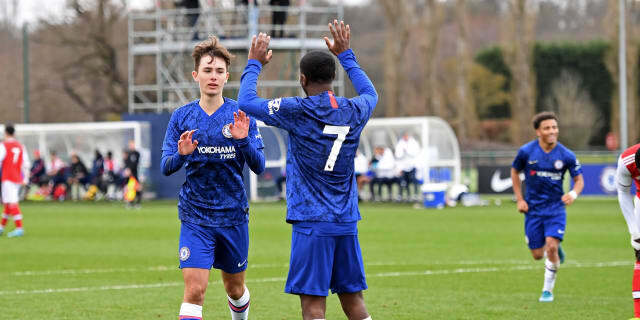 "Seeing his [Gerrard's] leadership, winning mentality, I have that. I want to win at all costs. That winning mentality is something I've cultivated all my life. Losing just hurts me, and it continues to this day," he says. This is something that is found in elite sportspersons across all sports. Chelsea can rest easy knowing that Haigh has got the mental part sorted out, something more difficult to fix than technical or tactical deficiencies. 
This mental strength helped him overcome a disruptive injury that curtailed a promising first season in full-time football. "I've had a couple of injuries but nothing serious so that's good. As a footballer, being injured is the worst thing. Seeing your teammates and friends playing football while you're stuck inside, just going to the physios is just the worst. You really notice which part of your body is stronger than others and you work on it, and come back a better player," he says.
ON SUPPORT FROM HIS FAMILY
Such elite mentality is often the result of a good upbringing. Haigh is quick to give credit to his family and support network who have played a huge role in getting him to where he is right now. 
"My family and friends are a massive reason for why I'm here. My dad, mum and brother always helped me so much in my career. When I was younger, just taking me to the training, driving there and back, countless times a week. My dad, my mum, just being there for me, keeping me happy when I have tough times, and ensuring I don't get too big for my boots in good times!" he said. 
ON HIS PLAYING STYLE
Haigh is a player very much in the mould of the new generation of English players-fearless, full of flair, and forward-thinking. 
"The best piece of advice I ever got was just to play with no fear. To go out there and enjoy myself. Just play with a smile on my face as football is what I love to do.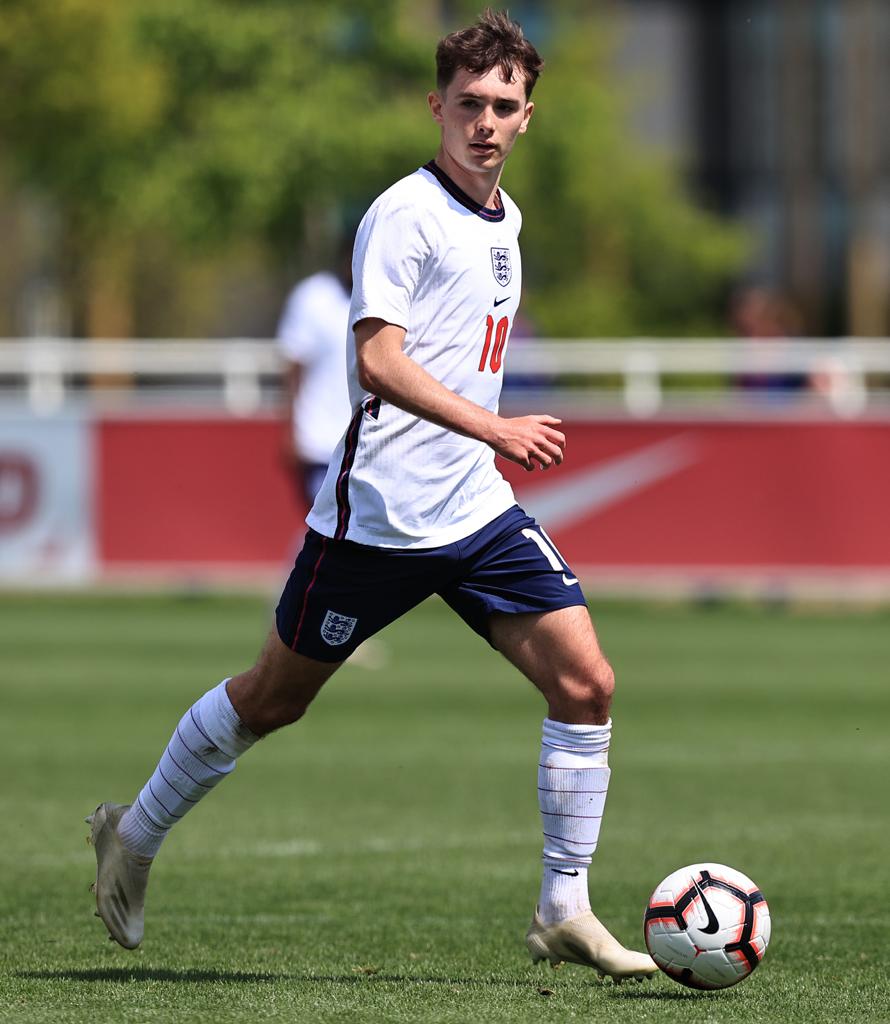 "My favourite position is the No.10 role. Of course, as long as I am on the pitch, I don't mind playing anywhere but definitely, the No.10 spot is where I feel like I can be most effective," he says. 
It has been a trend recently that the position of 'No.10' in the classic sense is fading, with playmakers in the mould of James Rodriguez, Juan Roman Riquelme going out of vogue. However, for young players, this just means that the style of play needs to be adapted. For Haigh, his figures at the U18 level confirm that adaptation. He is not a No.10 in its classic, languid artistry sense. 
ON HIS PLANS AND AMBITIONS
Coming back as a better player after an injury disrupted past season is what Joe Haigh is determined to do as he signed a new contract at the club this July, one which keeps him at Chelsea till 2023. When injury curtailed his season, he had already been promoted once, getting in appearances for the development squad at Chelsea. Consistent performances in the upcoming season resulting in a first-team breakthrough remains on the agenda for Haigh. 
Beyond the goals and assists, one thing that makes Haigh primed to make a breakthrough sooner rather than later is his versatility on the field. Able to play on either wing and in both, central and central attacking midfield, might make Haigh a valuable asset to any team he is a part of. He has even played as a striker at times for Chelsea and is eager to prove himself anywhere on the pitch. 
"The first-team manager needs to be able to trust you to play in multiple positions if needed. So, while in the long-term, you need that one position so you can't be like a journeyman, playing loads of different positions. Still, at the start of the career, you need to have that versatility," he says. 
Still, for an attacker, nothing tops the feeling of hitting the ball in the back of the net. "As an attacker, I always want to score goals, but obviously, if a player is in a better position, then pass and get the assist. For me, it's all about getting on the ball, and just creating and trying to score, create problems for the defence. Still, the team winning is the main thing at the end of the day," he says. 
WHAT NEXT FOR JOE HAIGH?
Singing his pro-contract for Chelsea and his recent call up for England's U19 squad have been the landmark moments of his professional career so far. 
"When I signed my pro-contract, that was my biggest moment. Also, debuting for the England youth teams, singing the national anthem, playing with the best talents in the country is special. But again, it's a long journey, and this is just the start really. Ever since I started playing football, I've wanted to do it professionally and hopefully, this [signing first pro-contract] remains the first step along the way," he said.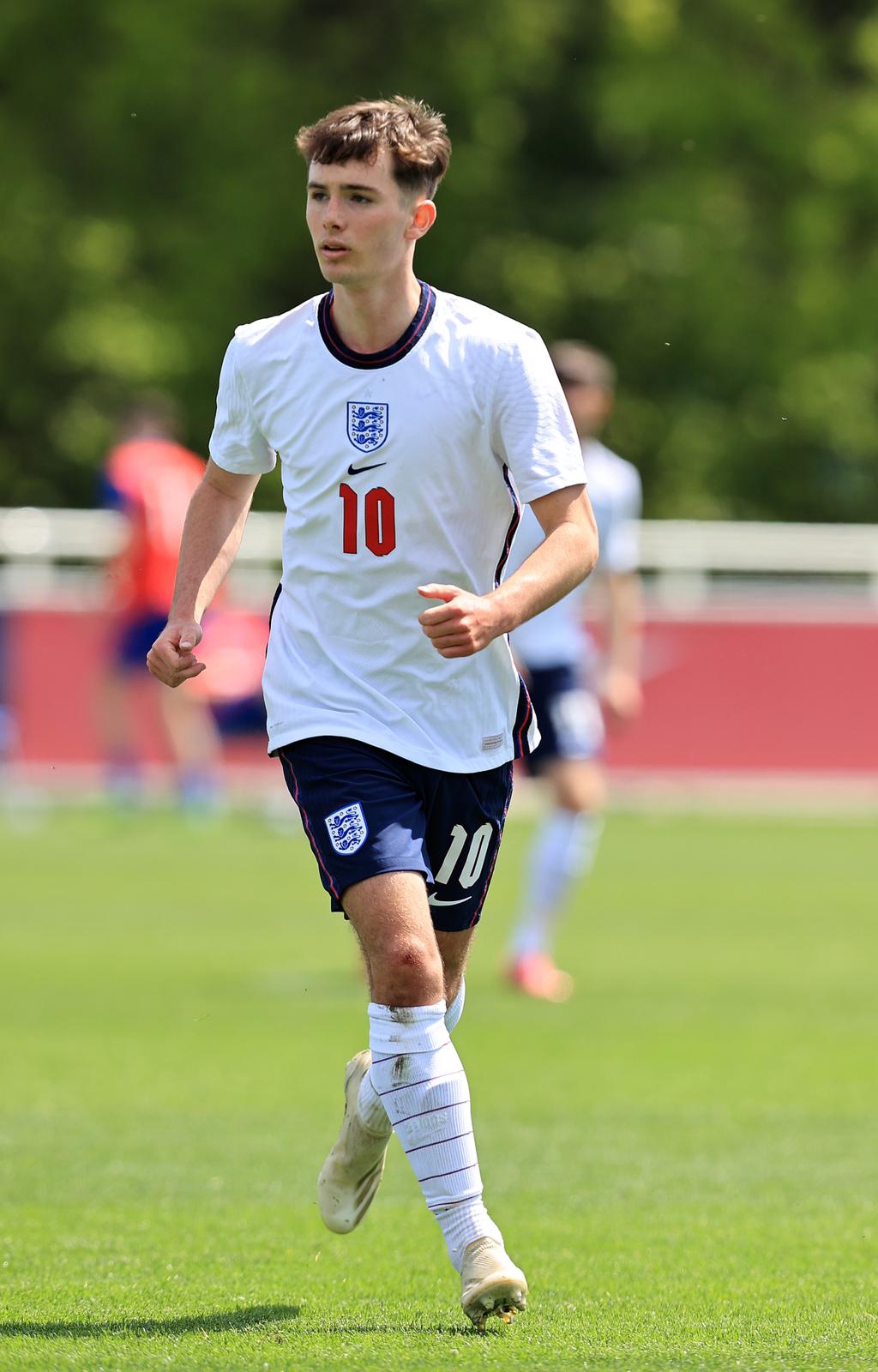 A local kid who grew up dreaming to represent his favourite club is a dream that supporters live vicariously through players like Mason Mount. First-team success for the likes of Reece James, Tammy Abraham and Mason Mount, just to name a few, has been like a shot in the arm of academy prospects, suddenly feeling like anything is achievable. 
[espl_quote]"It's very inspirational what they've done. It motivates all academy players to try and do the same that they've done as they were in the same position as me and my teammates. So, that gives us that belief, 'Why can't it be us? Why can't we do what they're doing?'. So that pushes and motivates us to get to their level. [/espl_quote]
Joe Haigh was already on his way to getting fast-tracked to this level near the end of last season. He plans to be in and around the first-team squad for the upcoming season while maintaining his sterling performance levels for the U19 UEFA Youth League and U23 development teams. For now, he is not ruling anything out. 
"You see with Mason Mount, he went to Vitesse, then Derby and now he's established in the first-team. So that's something we can look at, in the future. Right now, I have to maintain my performance standards. Also, with U19 Euros coming in 2022, that's something to look forward to and I'm aiming to be selected for that," he says. The holy grail still remains a first-team appearance for Chelsea, something Haigh is approaching with an elite mindset. 
"No one's really guaranteed anything, it's just about how you perform and if I perform well, or my teammates perform well, you'll get the chance," he says. A number of factors work in his favour in this regard, with his drive to be the best near the top. That drive, combined with his on-pitch product and versatility, makes him well poised to follow his idol in Mason Mount. As he puts it succinctly with the utmost professionalism, "Whatever position Mr Tuchel calls me for, I'm on it!" If his current career trajectory is anything to go by, everything points to that phone ringing soon.