Record after record kept tumbling in the Championship this season. Three months after breaking Ivan Toney's record of 31 goals in the Championship, Fulham hitman Aleksandar Mitrovic has broken Guy Whittingham's all-time record.
The Serbian ace netter his 42nd and 43rd goal of the Championship season against a hapless Luton. Fulham ran riot to the tune of seven goals against Luton Town. With this, a clear argument can be made that the Serb is the greatest Championship striker of all time.
Aleksandar Mitrović has 33 goals across 30 Championship games 🔥

He is averaging a goal every 79 minutes – with only five penalties.

Ivan Toney got 31 across 45 games last season.

The greatest striker in Championship history is here 🇷🇸 pic.twitter.com/ddsFl5Hb6J

— Rhys Daly (@RhysDalySport) February 23, 2022
The Cottagers sit eight points clear atop the Championship, confirmed as the winners. However, the headlines have all been garnered by Mitrovic, who has established a name as one of the most reliable strikers in the English second-division. Even by his lofty standards of previous years, Mitrovic has surpassed expectations. With a game to go, he could well cross the 45-goal mark, which will be one of the most remarkable achievements in football.
Championship hero
To be fair, Aleksandar Mitrovic has considerable experience in finding the net at this level. His first taste came in the 2016-17 season, scoring four times along with six assists. The following campaign saw the goal tally increase to 12. A couple of seasons in the Premier League was followed by his first truly spectacular year. 26 goals and two assists in the 2019-20 season made him a hero for Fulham, but his return to the top-flight was not so successful as he could score only three times. Having returned to his favoured opponents for this year once again, Mitrovic has feasted since day one. A deep dive into his stats shows just how lethal he has been.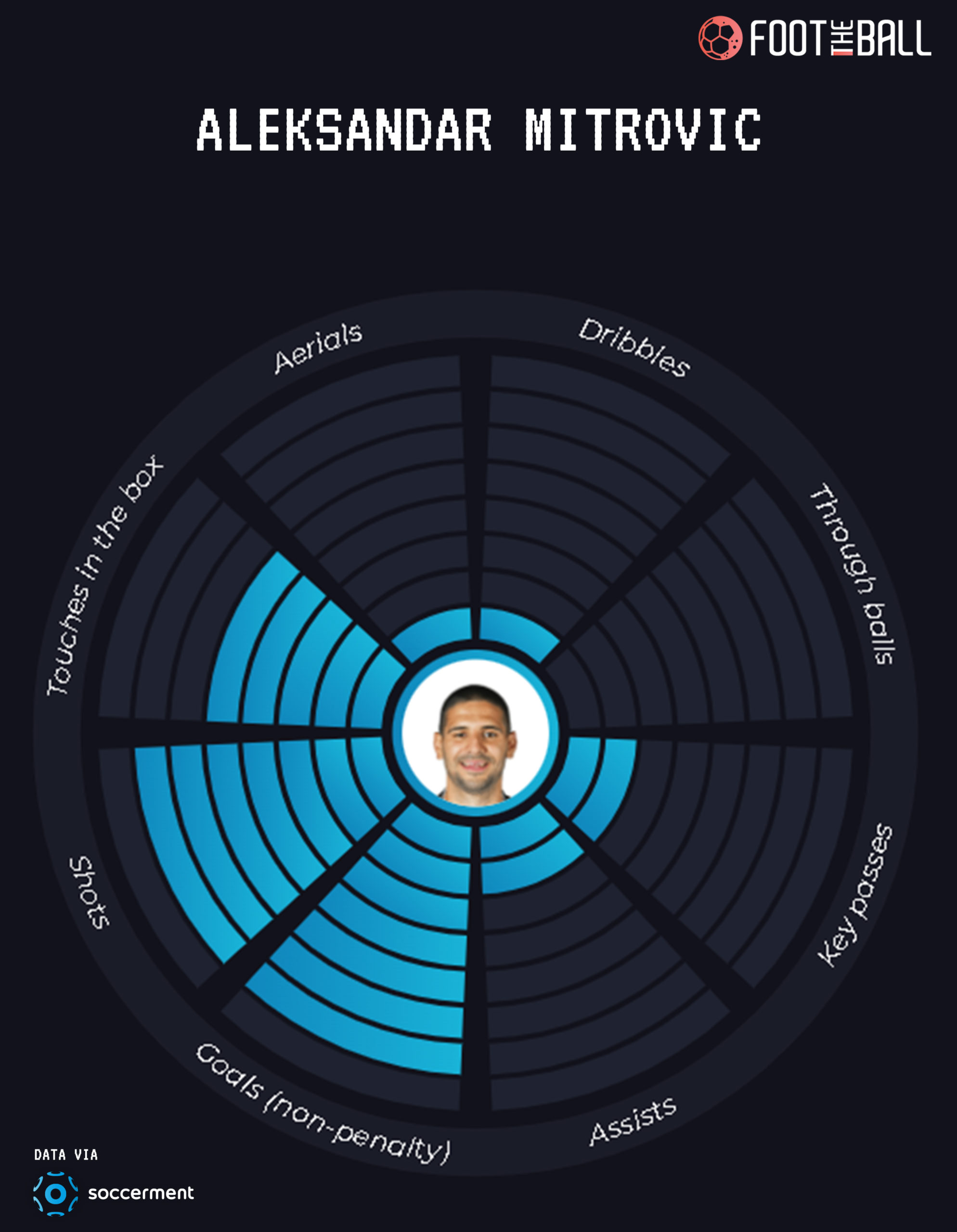 He is averaging a truly ridiculous more than a goal per game from 4.55 shots per 90. It is no surprise that Mitrovic is outperforming his xG by some distance. It is also beneficial that he is surrounded by some excellent talents in Neeskens Kebano, Harvey Wilson and of course, the highly reputed Fabio Carvalho. They have been supplying Mitrovic with excellent balls all season long, and it is shaping up to be one of the greatest ever seasons by a striker in English football.
All-round improvement
It is not only his goals and shots that have increased for Aleksandar Mitrovic. A number of other areas have also seen considerable improvement from last season including assists per 90 (0.26 from 0.19), accurate passes per 90 (22.2 from 18.2), successful dribbles per 90 (0.59 from 0.45) and blocks per 90 (0.22 from 0.19). These just highlight how highly involved he remains in attacking moments of games, and how much his teammates look for him when moving forward. The below graphic shows in detail how wonderfully he is developing into a consistent performer.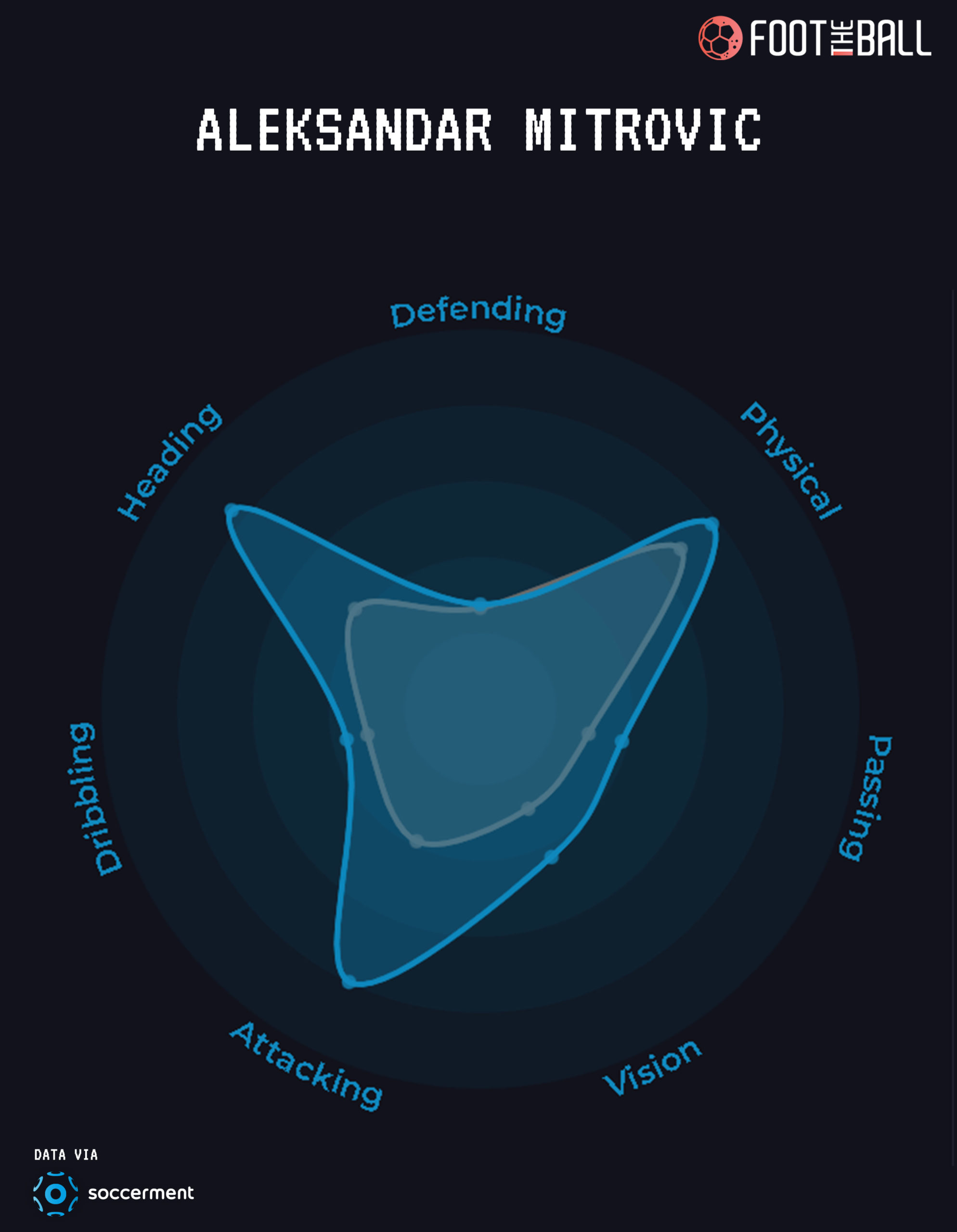 Furthermore, his seven assists is also the most he has ever managed in his career, thereby showing a more playmaking and wiser side of him which helps the team as a whole in front of goal. Mitrovic is also becoming more of an adept shooter who is regularly making the opposition goalkeeper work. His shots-on-target percentage is 48.8 (60/123), the highest it has been in his career so far.
🔥 Aleksandar Mitrovic becomes just the third player to score 30 goals in a @SkyBetChamp season.
😲 And Fulham still have 17 matches left to play. pic.twitter.com/WAIV4L8F7t

— Sporting Life Football & Infogol (@InfogolApp) February 8, 2022
Hence, it is no surprise that Marco Silva's side have scored at a record pace- a century of goals, an incredulous 34 goals more than Bournemouth in second place. Indeed, the Serb has outscored 10 Premier League teams by himself and could see some big offers coming his way this summer.
Can he do it consistently?
Mitrovic has traditionally struggled in the Premier League like his team. He has only managed 24 goals in the four seasons he has played at that level, but there is no doubt regarding the fact that his place rightfully belongs there. The challenge now begins for Mitrovic to replicate some of this form in the Premier League.
If he is able to hit even double figures, or in Fulham's ideal case, 15-20 goals, then Marco Silva's outfit are going to be formidable opposition for England's elite next season.