Patson Daka is a 22-year-old forward from Zambia who has recently been a prominent name among the top transfer targets of many Premier League club. Here's why the youngster has so many suitors looking for the opportunity to snub him off RB Salzburg.
Daka started off his football career in his home country, Zambia at an early age. FC Liefering, RB Salzburg's farmer club found this jewel playing in the Zambian Super League in 2017 and the teenager's life has changed forever ever since as he got the taste of European football.
🇿🇲🌍#Chipolopolo#PD20🤦🏾‍♂️#12MANagement pic.twitter.com/t94RZs8Zc6

— Patson Daka (@PatsonDaka20) March 25, 2021
Patson Daka also made his debut for the senior team of the Zambia National Football team at the mere age of 16 as the Zambian coach realised the potential of the kid. He is a natural talent and has impressed everyone he has played with.
He also won the African Youth Player Of The Year in 2017 making him one of the two Zambian footballers to win the award in history. But with high praise comes high expectations and he lived up to his name in his last season with RB Salzburg.
PATSON DAKA FOR RB SALZBURG
Daka has turned into one of the best goalscorers in the Austrian Bundesliga and has only grown as a player since 2018. In the 2019/20 season, Daka was named the best young player of the tournament. The Zambian is following the footsteps of his predecessors Sadio Mane and Erling Haaland who themselves played really well in Salzburg and eventually joined a top European club.
This is only the beginning of my story. I'm happy to have great teammates and great coaches that make the game easier. BIG WIN FOR US YESTERDAY! Lets keep up the momentum.#WirSindSalzburg #PD20🤦🏾‍♂️#MakeJesusYourAim#RBS#12MANagement pic.twitter.com/XmAzc7Ancl

— Patson Daka (@PatsonDaka20) October 5, 2020
In the last season, the prolific centre-forward has scored 27 goals in 32 appearances across all competitions making him the highest goal scorer in the Austrian Bundesliga. He has also provided 5 assists ensuring RB Salzburg wins the league title.
PATSON DAKA – PLAYER ANALYSIS
It is no secret that Patson Dak loves to score, but that is just the tip of the iceberg. Apart from scoring Patson Daka contributes a lot more for his team. Across the whole of Europe, no striker has had a better conversion rate than Patson Daka since he hardly takes risky shots from outside the box.
He is tactically sound and hence positions himself inside the box well increasing his chances of scoring. He is double footed as well which just helps us make his case even stronger.
Someone: You only score easy tap-ins.

Me: Okay say no more🚀💥 #MakeJesusYourAim🙏🏾#PD20🤦🏾‍♂️ #12MANagement pic.twitter.com/dxONn5aB13

— Patson Daka (@PatsonDaka20) March 15, 2021
Youngsters these days only use their pace rather than working on the technical aspects of the game but Daka is an exception. He uses his pace to move forward quickly but he has also nailed down the basics of a complete attacker. He is good with the ball at his feet, he is decent with his passing and has the finishing of a true poacher like Luis Suarez.
What makes Patson Daka special is his work off the ball. The youngster is really smart when it comes to weakening the opposing backline. He likes to exploit the half-spaces which either gives his teammates an opportunity to pass him the ball or lure defenders out of the way to create space for someone else to score. His unpredictability is what makes him a great asset to have in your squad.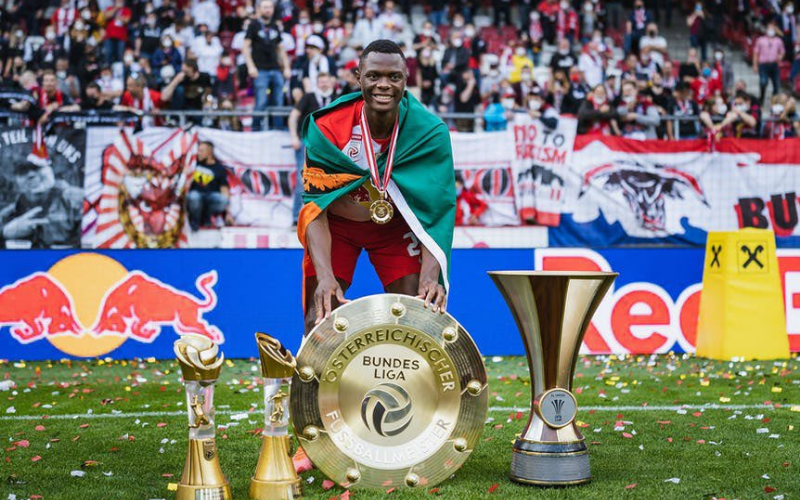 He has been consistently playing well for the past 2 seasons and the time has come for him to take the big step of joining an elite club, the question is, which club would the player choose?
TRANSFER RUMOURS
As of now, nearly all top European clubs have shown interest in the young lad. For the majority of the season, Liverpool was looking like his most likely destination but things didn't go the way their fans wanted.
Patson Daka has stated in an interview that growing up, his favourite club has always been Liverpool and it still is. He idolizes Sadio Mane and wants to play with his African counterpart someday. For some reason, the club has decided to look at other options.
Well, Liverpool's loss is Leicester's gain as they are looking to pounce on the opportunity to snatch him off their rivals. With Jamie Vardy close to his retirement, it is about damn time Leicesester starts thinking about its future. Daka would be a wonderful and effective addition to the foxes as they try to repeat their 2015/16 campaign next season.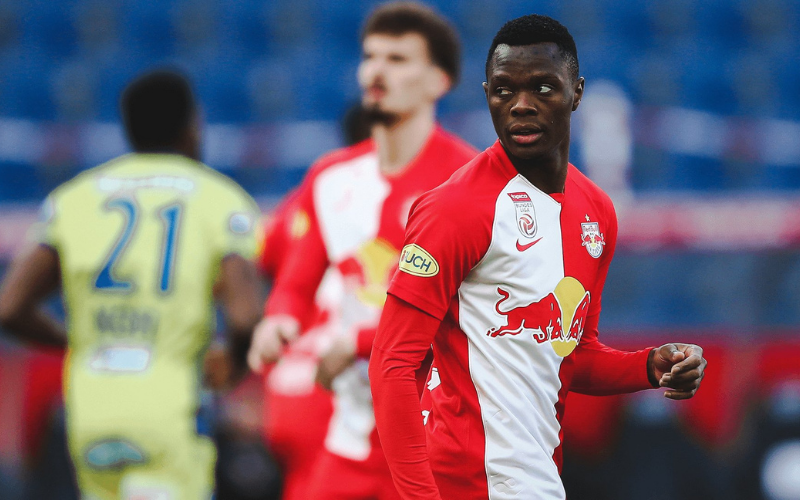 Another possoibe landing spot for teh younsgetr is the Bundesliga side, RB Leipzig. RB Salzburg has produced a number of young talents for RB Leipzig to use in the past and there is no reason why he wouldn't be one of them. If Salzburg don't get a decent offer soon, Daka will be passed onto their parent club which can actually be fruitful for the forward as he can improve a lot more under a side like Leipzig.
If Daka moves to a big English club, he won't get as many minutes on the pitch as he'd want and he will also need to time to get used to the horrible English weather. Bundesliga is a lot similar to the Austrian footballing scene and it won't take him much time to fit right in. Wherever Patson Daka decides to go, we can assure you that he will score a lot of goals for the club, remember, you heard it here first at FootTheBall.