Some players have their year. Others maybe a couple. But 'Little Kaiser' had a decade. The Little Emperor; Michael Ballack; the "little" only compared to the big, original Der Kaiser, Franz Beckenbauer who was an ironclad fixture of German football.
Michael Ballack also embodied a type of player on the cliff of a changing game, with a personality and style of play that was difficult to figure out. During his career, this made him largely misunderstood and ultimately, his legacy overlooked.
Michael Ballack grew up in Chemnitz in East Germany during the era of a divided Germany. There he played youth football with FC Karl-Marx-Stadt (Chemnitzer FC from 1990).
Chemnitz gave him his first professional contract in 1995, and in 1997 he transferred to FC Kaiserslautern, who had just been promoted to the Bundesliga. He appeared in 16 matches in his inaugural campaign with Kaiserslautern, as the team became the first club to win the Bundesliga title in its first season after a promotion.
"Winning the league is one thing, but for me it was always a dream to win the Champions League."
Michael Ballack's dream never came true.
BAYERN 🔴⚪
I
R
T
H
D
A
Y

Happy 4⃣4⃣th birthday to midfield legend, @Ballack! 🎉🎁

— 🇺🇸 FC Bayern US 🇨🇦 (@FCBayernUS) September 26, 2020
The pursuit of that elusive trophy did, however, shape so many of his moves across some of Europe's biggest clubs.
Michael Ballack was known for being a versatile and well-conditioned player, equally in attack and defence, able to play in almost any position in midfield.
He was regarded as one of the most lethal headers in the world but is equally competent with his powerful left and right feet. These attributes had earned him the German player of the year award on three occasions (2002, 2003, 2005), a feat surpassed only by German legend Franz Beckenbauer, who won the award four times.
Ballack will go down as one of the greats of German football, but the biggest titles always eluded the classy midfielder. He will leave unforgettable memories behind, despite an ignominious end to his career at the BayArena that saw him fall out with the club's hierarchy, and his exploits with the Germany national team will not be forgotten anytime soon.
PLAYING CAREER
Since before he was a teenager, "Little Emperor" Michael Ballack has been the center of attention due to his outstanding talent. But his career only began to climb high when he appeared in the German Bundesliga 2 in 1995.
Chemnitzer FC
As a youngster, Ballack emerged at a fairly mediocre Chemnitzer FC, where early flashes of promise, which earned him his 'Little Kaiser' nickname, couldn't stop his team's ultimate relegation from 2. Bundesliga in his first season.
Still, the lower level gave him a stage upon which he duly impressed, soon making the jump to Kaiserslautern, a side on the up, having just secured promotion to the Bundesliga.
FC Kaiserslautern
Aged just 22, he played a key role for history-making Kaiserslautern as they became the first newly-promoted side to win the league title in 1998.
After another season with Kaiserslautern – wherein Ballack established himself as a leading name in German football as his side made it into the 1998/99 Champions League quarter-finals – came a move to Bayer Leverkusen, for a spell of mixed success, setting the tone for his complicated legacy.
Bayer Leverkusen
Going into the final game of their 1999/2000 campaign, Leverkusen looked set to snare the Bundesliga title, facing Unterhaching and requiring only a single point against the minnows. Nearest rivals Bayern Munich were up against Werder Breman, who they brushed aside and subsequently claimed another title as it was a tragic Ballack own-goal that killed Leverkusen's hopes.
It didn't take long for a chance at vindication to arise, though. Leverkusen were in a similar position, although stronger as a whole, pushing towards the final three games of the 2001/02 season, five points ahead in the league. Set for a historic treble, they were also in the Champions League final and the same stage of the DFB-Pokal. Seemingly swallowed whole by the pressure, they gave up their lead, losing out on the title at the death for a second successive season. They also lost both finals and earned, for their troubles, a media rebrand: "Bayer Neverkusen".
Bayern Munich
After the 2002 World Cup, Ballack signed with German power Bayern Munich, where he was once again a member of a Bundesliga championship-winning squad in his first year with a new franchise; Ballack powered Bayern Munich to both the league title and the German Cup en route to earning the 2003 German Footballer of the Year award.
Bayern captured the league-cup double again in both 2005 and 2006, with Ballack earning national Player of the Year honours in 2005.
Ballack's contract with Bayern ended at the close of the 2005–06 season, which led to a heated bidding for his services by the top European clubs. He ultimately signed with England's Chelsea FC and became for a time the highest-paid footballer in the world.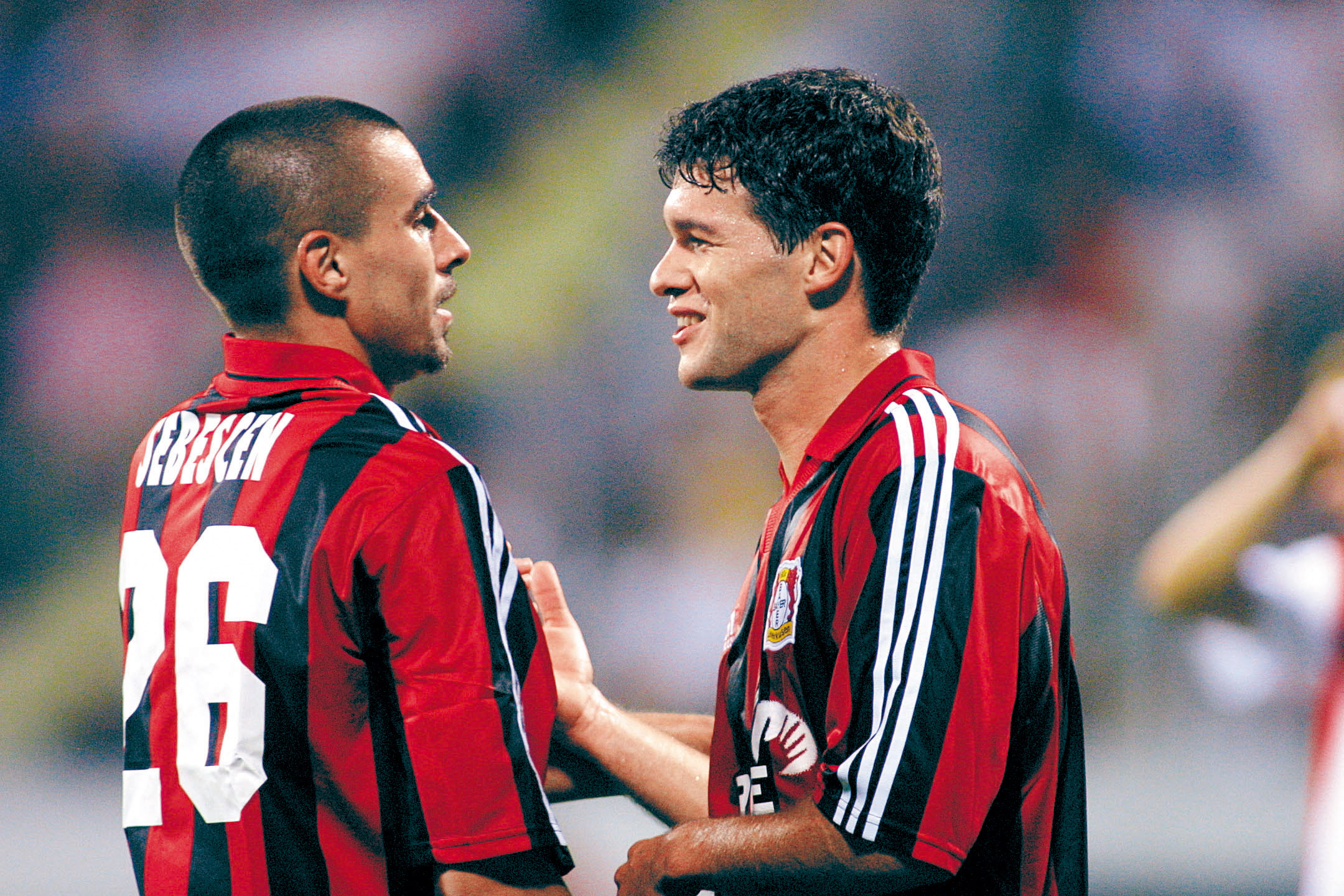 It was the catalyst for a spectacular falling out at Bayern Munich.
"Unless they invested that money to improve the team, I didn't see a real point to extend my contract," he explains.
There was the snubbing of Manchester United.
"United were not as good as they had been before. In 2006, they went out in the group stages," Ballack says.
At Bayern Munich, Ballack won the Bundesliga and DFB-Pokal double in 2003, 2005 and 2006, whilst being named German Player of the Year in two of those campaigns, before then moving on to Chelsea and winning two FA Cups, the Premier League and a reasonable second-place spot in the Champions League over his four years there.
Chelsea
At 29, the free agent had the world at his feet, or Europe at least.
"One of the first to show interest were Man United," Ballack says. "They had not had the best year.
"It was not easy to decide with which team I could really attack this trophy, because there are so many good clubs.
"Chelsea had won the league twice with Jose Mourinho. They had invested in a lot of players and, having huge ambitions also myself, I chose Chelsea."
Similar to the infamous 'Neverkusen' spell, his time at Chelsea cast up old demons. In their 2007/08 campaign, the London side finished runners-up in the League Cup, the Champions League and marginally lost out on the league.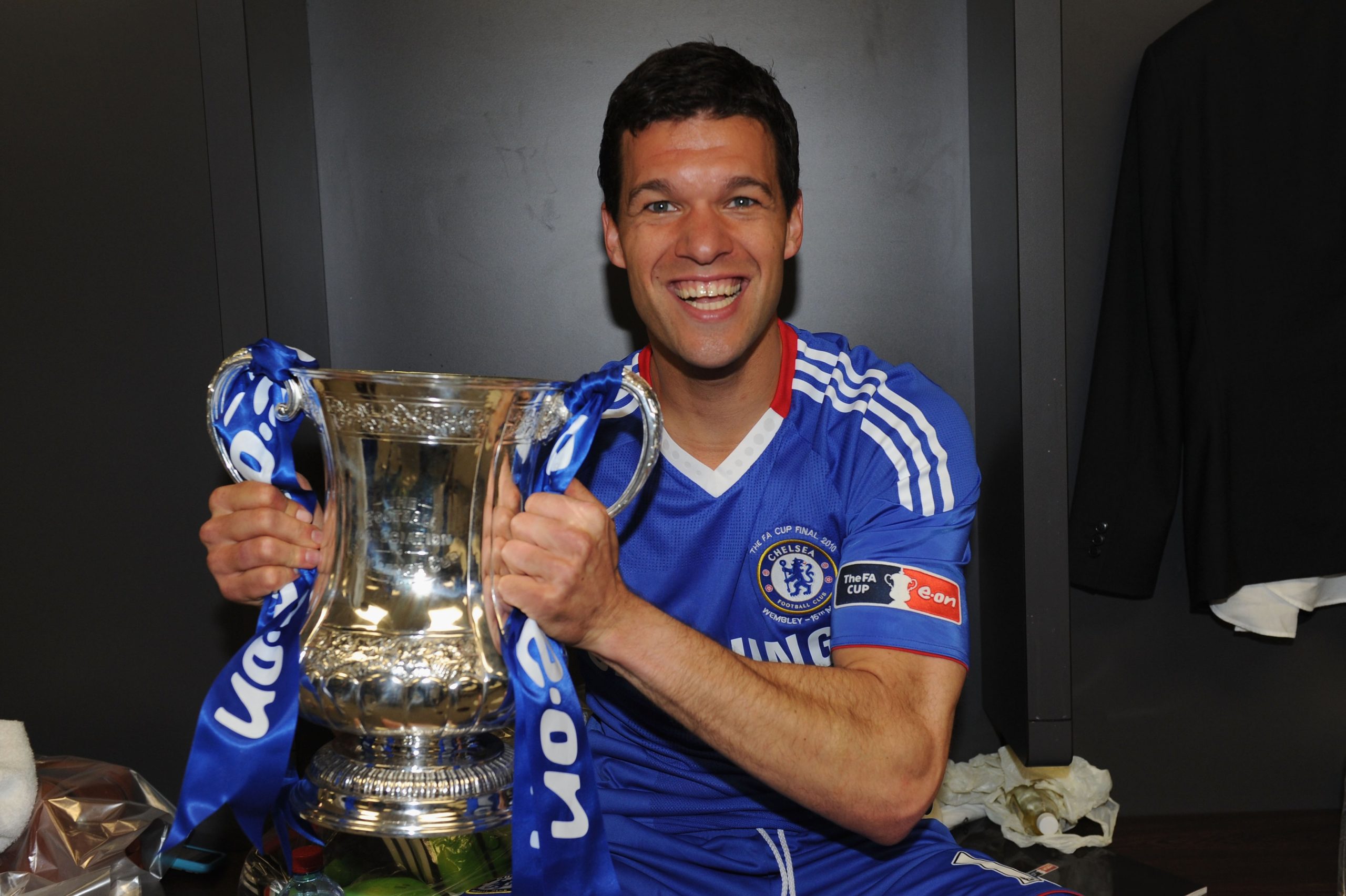 United would win the race to the Premier League title in Ballack's first season in England, but a year later he had a chance for revenge and second shot at making his "dream" come true.
Ballack's agony was clear to see.
Having stepped up and scored Chelsea's first penalty in the 2008 final shootout in Moscow, the German watched on as John Terry slipped, Nicolas Anelka missed and United took the spoils once more.
History appeared to be repeating itself a year later as United booked their spot in the 2009 Champions League final.
After finishing goalless in the Camp Nou, Chelsea needed just a home win against Barcelona to join United in Rome.
The Blues looked like weathering a frantic evening in west London when Michael Essien scored and Eric Abidal was sent off, but yet more heartbreak was to follow.
Andres Iniesta's stoppage-time equaliser secured the crucial away goal for Barcelona and, minutes later, referee Ovrebo added to a list of contentious decisions by failing to spot a Barcelona handball from a Ballack volley.
"There were so many things going on in the game which we felt were unfair," Ballack says.
"We totally dominated them [Barcelona].
"It was so disappointing because we were probably even stronger than in 2008 when we reached the final. We really felt we could win that title."
Ballack furiously set after Ovrebo, who later admitted to his mistakes, but the damage was done. The dream had died forever.
With Chelsea, Ballack had a hand in a Premier League championship in 2010, three FA Cup titles (2007, 2009, and 2010), and a second-place finish in the Champions League in 2008. In June 2010 he signed a contract to return to Bayer Leverkusen for two seasons. He retired from professional football in October 2012.
INTERNATIONAL CAREER
A good place to start in understanding the commanding midfielder is his being given the captain's armband for the German national team in 2004, succeeding the same-but-different school of leadership presided over by goalkeeper Oliver Kahn.
Perhaps it stung so much as it was served as a dessert to Germany's previous competition in 2002, when heroic efforts from Ballack and Khan dragged Germany through to the final against eventual champions Brazil.
Just like the selfless efforts of Roy Keane and Paul Scholes in Manchester United's 1999 final, Ballack guided his team to a shot at tournament glory, making a tactical foul that meant he'd miss the final from suspension. They were hailed as heroes, yet his act was forgotten.
The 2006 World Cup was another oh-so-near scenario. Germany were hosts of the tournament and, with Ballack as captain, Jurgen Klinsmann's side were progressing nicely until their traditional nemesis, Italy, inflicted a 2-0 semi-final defeat on Die Mannschaft.
They beat Portugal to seal third place, but for Ballack, it was not enough. He had his heart set on winning the tournament.
🙌🇩🇪 Uno de los grandes centrocampistas que ha dado el fútbol alemán…

¡Feliz cumpleaños, Michael @Ballack! 🥳🎂#HBD | @DFB_Team_ES pic.twitter.com/WKToVl8T09

— UEFA.com en español (@UEFAcom_es) September 26, 2020
He had an opportunity to put that disappointment behind him at Euro 2008, which turned out to be his last major international tournament, but once again his hopes were dashed at the final hurdle, with Fernando Torres' goal vanquishing Joachim Low's side.
It was slowly becoming obvious that he would never get his hands on the titles that he so craved, and perhaps deserved.
The 2010 World Cup could have provided one last chance for success. Now a veteran amongst youngsters, he had successfully led his country through qualification, but a cruel foul from Portsmouth's Kevin-Prince Boateng ruled him out of the tournament. Mesut Ozil was fantastic in his place, Philipp Lahm ousted him from the captaincy, and his international career was over.
As Beckenbauer said of him: "Michael Ballack is a leader. He is a real captain, the man in the house, accepted by everyone, involved in the crucial situations."
Eventually, though, Ballack was forced out of the Germany side, losing his captaincy through injury and seemed unable to return to the fray. He retired with just shy of 100 caps, with his national side even suggesting an organised tie against Brazil to make it 100. He shrugged the idea off as "a farce".
⏮ 2️⃣0️⃣0️⃣2️⃣🇰🇷🇯🇵

🗓 Heute vor 18 Jahren schoss Michael Ballack Deutschland🇩🇪 gegen Gastgeber Südkorea🇰🇷 ins WM-Finale.#Onthisday | @Ballack | @DFB_Team pic.twitter.com/i6vmCIp3p4

— FIFA Fussball-Weltmeisterschaft (@fifaworldcup_de) June 25, 2020
INDIVIDUAL ACCOLADES
In spite of the collective failure, punctuated by three seasons of disappointment, Ballack had gone from strength-to-strength personally.
Devastating losses in the league, Champions League final, Pokal final and even the 2002 World Cup final absorbed, Ballack was crowned UEFA Club Midfielder of the Year, German Footballer of the Year and named as part of both UEFA's Team of the Year and the FIFA XI.
It stands to reason that, had he won even one of these trophies, Michael Ballack would be remembered very differently, indeed.
LIFE AFTER FOOTBALL
After retirement Ballack has moved into broadcasting and has provided punditry for many television channels including the BBC, Sky Sports, ESPN and most recently BT Sport.
After a professional career spanning 17 years, the former Germany captain can only look back on his time in football and consider what might have been.
🔮 13, unlucky for some. 13, unlucky for all when facing @Ballack 🇩🇪

💫 MB13 scored 42 goals in 98 internationals from midfield & helped @DFB_Team_EN finish 2nd & 3rd at the #WorldCup. Happy 44th birthday to one of the best players of his generation 🎂pic.twitter.com/hC0FIBwPUE

— FIFA World Cup (@FIFAWorldCup) September 26, 2020
There's no doubt that Ballack will go down in history as one of the greatest players in German football, and he leaves behind numerous, unforgettable memories for both, country and clubs he's played for.
In his generation, Michael Ballack could be considered as the most talented German player. He had the skills, techniques, and charisma that is extraordinary to lead his colleagues on the field. However, he had such bad memories as a player: he often loses in the final match.
The curse on Ballack seemed to be getting worse because he often used the back number 13. The number 13 is generally known as an unlucky number. Ballack certainly did not believe such a thing and he still used his jersey number 13. After all, Alessandro Nesta who is also synonymous with jersey number 13 still achieved success by winning the World Cup in 2006.
Never bringing the German national team The World Cup does not mean to be a deep slump for Ballack. With all his dedication and struggle, he remains to be a part of German legends. He has won the hearts of German supporters.
And maybe, that's the sweetest victory he ever achieved in his career.